Accelerated online degrees what you need to know?
Making the decision to pursue an online program can be intimidating for students. But if you want to earn a credential quickly and potentially reduce costs, then accelerated online learning may be an option to consider. In this article, you will find the reasons for it.
Updated by Akshay Nair P R on 11th June 2018
Accelerated online degrees what you need to know?
This course stays true to its name as offers students with a legitimate way to complete certification or a degree program much faster than any traditional program.
This would help them to save time and money and also this would give them a headstart to their career.
These programs help students to be motivated and achieve their career goal at a shorter span of time.
Online accelerated programs are: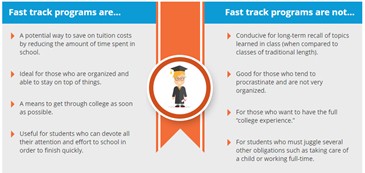 Source:https://www.affordablecollegesonline.org/college-resource-center/accelerated-degrees
Many colleges are experimenting and trying different things so that they can make this degree program in such a way that it can serve busy adults with short timelines who are motivated to complete their degree fast and to earn a credential.
---
Popular online accelerated courses
Nursing
Management-MBA
Bachelors in Computer Science
Masters in Accounting
Bachelors in Information Technology
The example curriculum for Bachelors in Information Technology is given below.
Semester 1 or Quarters 1-2

Writing

Ethics

Management information systems

Semester 2 or Quarters 3-4

Business statistics

Database design

Network administration

Semester 3 or Quarters 5-6

Data security

Information technology seminar

Project

management
---
Online accelerated Pros and Cons
Pros

Cons

Cohort learning is a new type of structure online programs

practises

as this facilitates students to work and learn in a group rather than individually.

Such type of thing in most cases is not possible due to time constraints. Sometimes students have to leave their part-time work to do an Accelerated Program.

Money saving is one of the most important factors why people choose online courses. As the course is of less time and since it is an online course they might save even on tuition and academic fees.

Since all courses cannot be sped up, therefore the options of courses available are less.

It has a defined plan from the way the classes are arranged and conducted, credits received per class to the time allotment everything is well planned.

While this is not common in most of the colleges, but

certain

program requires students to have a certain credit to apply for that degree.

Getting degree faster, and means the sooner the students get their graduation degree the sooner they can advance to their professional career.

Students have to spend 20-30 hours per week outside of the class studying and this in most cases is not possible for students. As they might have their work or even other courses.

Focused and faster learning as these programs

are

focused on two or three programs at a particular time.

Some courses reduce classes into a short period that forces students to work hard after class to retain knowledge over time

.
---
Online colleges offering Accelerated Programs
---
Conclusion
These type of courses works well for someone who is focused on the finish line as this program demands great concentration and study, sometimes courses that take 3-4 years are compressed and are completed in just half the time. This makes it extremely hard for students. But, with dedication and constant and daily work it can be achieved without any lag or problem.
---