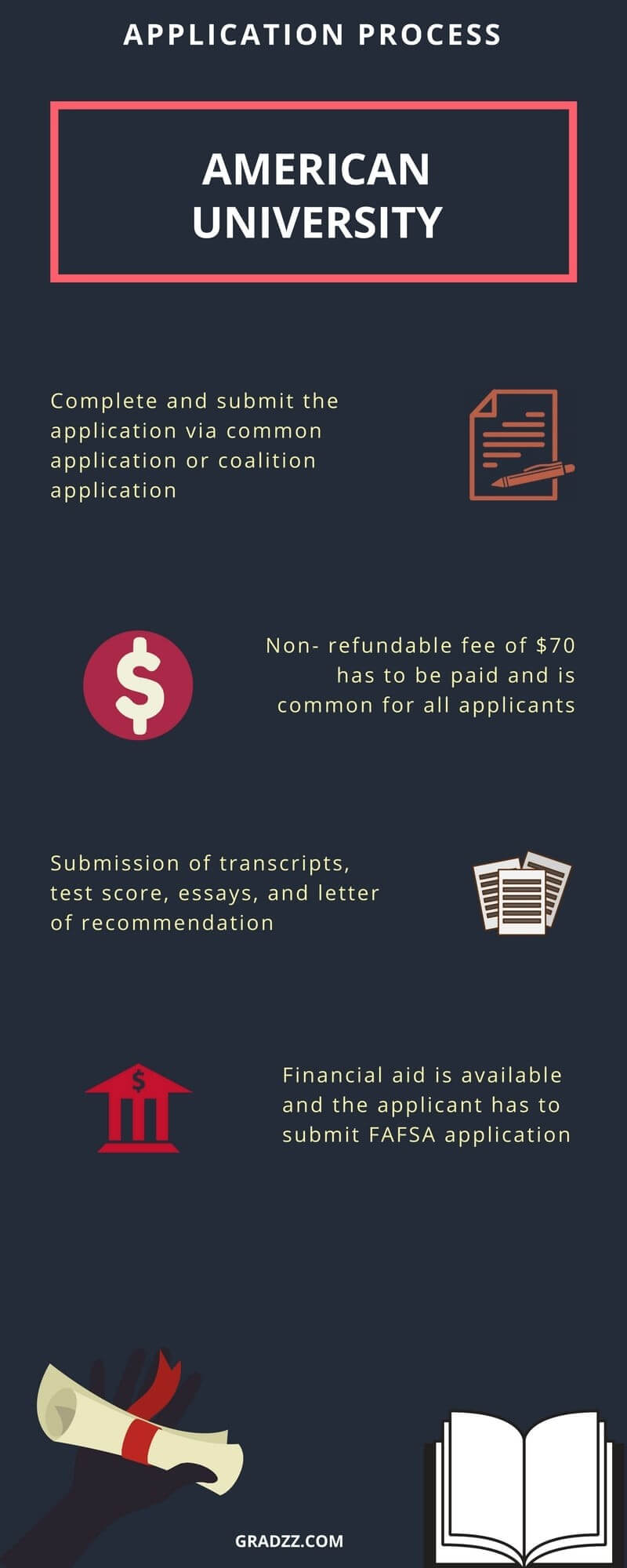 Admission Process of American University
The admission process at American University is designed in such a way that it takes few minutes to complete it. For the convenience and smooth processing, a different division has been flourished to guide students for online program admission. Candidates who wanted to enroll in graduate degree and certificate courses in an online stream with American University need to have an undergraduate degree course program proof document or certificate with a demonstration. Here the second condition before taking admission in the institute, university or college from where the candidate has achieved degree should be renowned, authorized and certified.
Requirements for Online Programs
Should have high-speed internet and cozy with the use of internet
Good and fast learner and comfortable to adopt new skills and training to perform assignment using those computer skills
Know every tip how to operate software on internet
Can operate Microsoft Office - Word, Excel, Powerpoint
Sound in email processing for communication and additional steps of file attachments or presentations
Students can go for two online degree courses at a time with American University. More than two courses at a time are not allowed and will not be taken into consideration. Students will get a good quality education with a solid future base under the guidance of the world-class faculty of American University, admirable performance in academics and global exclusive outlook. The admission process in every online program is different from one another although the change is very little. For national students process is different and for international students it is different.
Documents to be Submitted
Latest curriculum vitae or resume of candidate
Application with details filled attentively
A letter demonstrating the reason for doing the particular online course
Fee of 55 dollars for Admission application
Recommendation letter is given by authorized personnel
Authorized and official documents as well as documents from where the candidate has gained the credit
For any queries, the candidate can contact on 855-725-7614 admission executive will help students regarding any issue or questions.
Details for International Students
American University is a place where international students, as well as national students, are gladly cherished. The students who are a scholar, passionate about their achievements, who have a desire to grab education, who wanted to engage in the effective initiative are on the top list of American University and are eligible to take admission to American university by following some simple steps. All the documents mentioned above and fee all of them need to be with international candidates and the additional steps are described below:
Recommendation letter provided by concerned official
Score of GRE, present and authorized and will be deferred for candidate who has masters or higher degree
If the candidate has given TOEFL or IELTS then the score of it (This condition is dependent on certain condition)
Official transcripts and if the transcript is not in English then interpretation will be needed plus original transcript and adequate assessment assistance
Online Courses offered for which these steps are useful are:
Masters in Strategic Communication
Masters in Public Administration and Policy
Masters in Economics, Applied Economics Specialization
Masters in Agile Project Management
Masters in Healthcare Management
Master of Science in Human Resource Analytics and Management
Master's in Instructional Design and Learning Analytics
Master of Science in Measurement and Evaluation
Master of Science (MS) in Nutrition Education
Master of Science (MS) in Sports Analytics and Management
Graduate Certificate in Agile Project Management
Graduate Certificate in Healthcare Management
Graduate Certificate in Human Resource Analytics and Management
Graduate Certificate in Instructional Design and Learning Analytics
Graduate Certificate in Project Monitoring and Evaluation
Graduate Certificate in Sports Analytics & Management
Applicants can take admission into any of these courses for online learning format and by following the steps described above.
Details for Military Students
Applicants who are serving in the military or their family members are sacrificing many things for them can apply for the online courses with American University as well as those applicants who are leaving the military and wanted to live nonmilitary life their applications are also appreciated at American University.
Online learning program will be very helpful to military students admission and learning process designed is very easy and smooth. Veterans and other effective members can apply for any online courses and as per the rules and regulations, maximum two courses are allowed to d oat a time. GI Jobs Magzine after research has got into a conclusion that American university is so affable for military personnel. Yellow Ribbon Program has been designed for those students who lost their family members in 9/qq incidence. GI is the one who started this Yellow Ribbon GI Education Enhancement Program. Veterans Educational Assistance Act of 2008 is a provision for the students.