Ascent student loans reviews
This article gives you a brief overview of Ascent Student Loans. It provides thorough information on Ascent Tuition and Independent loans, as well as their interest rates, loan terms, and amount.
Updated by Sagar.C on 20th July 2019
Goal Structured Solutions, Inc has opened Ascent Student Loans in San Diego, California. It was constructed to shape education financing in a better way.
Ascent offers student loans which can be approved without a co-signer and it also gives financial advice regarding education, to help students and their families. It has partnered with Richland State bank to provide loans to their applicants.
The loan structure is prepared in such a way that student should not get limited when it comes to pursuing higher education. Loans are provided on the basis of creditworthiness, school, cost of attendance, majors and other factors. Loans are serviced by university accounting service, LLC.
Type of Ascent Student loans
Ascent Tuition

Ascent Independent
Let us explore more about both the loan options and the factors affecting them.
---
Table of contents
---
Ascent Tuition Loan
If you have a co-signer then this is the best loan offered to students. Why do students need a co-signer? The answer is simply because their credit history is not up to the mark or they don't have a good credit history at all.
With this loan program, co-signer should remain for 24 months and it is also mandatory for students to be enrolled in an accredited institution at least half-time. There is an eligibility requirement for co-signer that they need to have a FICO score of 550 or over.
A co-signer should meet the credit history requirements then only a student will qualify for the loan. it covers tuition and eligible living expenses. The application is free of cost, there are no fees taken by Ascent for tuition loans. As you have a cosigner then you will receive lower interest rates.
A co-signer can be released if you make loan payments for 2 years on time. So, you can release your co-signer from a long repayment period.
Interest rates loan amount and loan term
| | |
| --- | --- |
| Factors | Figures |
| Fixed APR | 5.07% – 14.15% |
| Variable APR | 4.24% – 13.24% |
| Loan Terms | 5, 10, or 15 |
| Loan Amounts | $2,000 – $200,000 |
The interest rates offered to borrowers under Ascent Tuition are quite flexible and low. The fixed and variable interest rates are your option. You can compare the rates in the above table.
The variable APR will be fluctuating on the basis of 1 month London Interbank Offered Rate (LIBOR) index. The loan amount you will get is from $2,000 to $200,000 if you're eligible for the loan. If you're not a U.S. citizen or a permanent resident then you should get a co-signer who is fulfilling the residency requirement for this private lender.
Ascent Tuition Loan Eligibility
You need to be enrolled at least half time in a degree program at an eligible school

There should not be any defaulted private or federal loans

You shouldn't have filed for bankruptcies in the past five years

In the past two years, your cosigner shouldn't have any delinquencies of 60 days or more

Judgments, foreclosures, tax liens, unsatisfied repossessions or garnishments by creditors

You should have more than $100 of no charge-off or collections accounts

A cosigner should have non-student loan trades credit history for two years

FICO score should meet the minimum requirement

Your cosigner's incomes should match the debt ration according to the standards

Co-signer needs to be employed for the past two years and he/she needs to provide proof of their income
Repayment for Ascent Tuition Loan
Under this loan program, you will get the ability to tailor your repayment options. With variable interest rate loan you can choose your term between 5 to 15 years and for fixed you have options of 5 and 10 years repayment terms. If you pay off your loans early then there will be no penalty.
There few options such as in-school deferment, interest-only payment, and minimum $25 monthly payment. For in-school deferment, you can postpone payments until six months after school ends. Interest-only and minimum $25 monthly payment plans can be paid during the schooling period.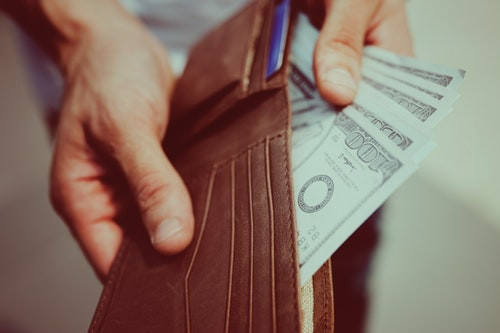 Source: pexels.com
---
Ascent Independent Student Loan
If you're a student who doesn't need a cosigner then this loan is appropriate for you. However, there are requirements which you need to fulfill, you need to be a junior, senior or graduate student who is attending school full time at an eligible school. 2.5-grade point average (GPA) is a minimum requirement for this loan. You should be a U.S. citizen or a permanent resident of the U.S.
Loan amounts, interest rates, and loan term
| | |
| --- | --- |
| Factors | Figures |
| Fixed APR | 6.69% – 13.45% |
| Variable APR | 5.88% – 13.16% |
| Loan Terms | 5, 10, or 15 |
| Loan Amounts | $2,000 – $200,000 |
Repayment for the Ascent Independent Loan Amount
Interest rates and loan terms are almost the same as tuition loan but without a co-signer. You can check the above-given table for the interest rates which have a bit of difference than ascent tuition loan.
Under a fixed rate you can choose 10 years repayment terms wherein variable-rate loans you can choose up to 10 or 15 years. This loan comes into existence when you deferred repayment while in school, with payments starting six months after you left your school.
Ascent Independent Loan Qualification Requirement
Graduation student

Earning potential

Sincere academic progress

Credit score

Program

Graduation date

Cost of attendance

Major

School
You should have a 680 FICO score to qualify for Ascent Independent Loan.
---
[ Also Read: Affect of credit score on student loans ]
---
Pros and cons for Ascent student loans
Let us go through the pros and cons of Ascent student loans to have a better idea about co-signer, application process and monthly payments.
| | |
| --- | --- |
| Pros | Cons |
| Application Process is easy and fast | This loan is not offered to all schools |
| The application process is one of its own as they check the overall background before accepting the application | ​You might be able to get a better interest rate with another private student loan lender |
| ​The monthly payments are affordable | If you don't have a cosigner then the disbursement and approval time will be longer |
| You might not need a cosigner to apply for the Independent student loan | A cosigner is a must for an Ascent Tuition Loan |
---
Deferment with Ascent Loan
Ascent Loan does give an option called 'Deferred Repayment' if the student is enrolled at least half-time. It allows the student to postpone their loan payment up to 60 months. In-school interest will keep on accruing during this period.
Following are the type of deferments which can be granted by Ascent -
In-School Deferment

Residency / Internship Deferment

Administrative Forbearance

Active Duty Military Deferment

Temporary Hardship Forbearance
---
Substitutes for Ascent student loans
Whenever you're considering to get student loan you should always consider checking the other options. It will help you to check with different compatible interest rates. You should always consider options for free money such as the scholarships options.
Fill and submit your Federal Student Aid Form to check the eligibility for grants. If you exhaust all the possible options then you should opt a private lender.
---
[ Learn about Private student loans ]
---
Conclusion
We do consider Ascent a decent choice for student loans, if you're self-sufficient and have a good credit score then Ascent is best for you because you won't be needing any cosigner. Plus if you apply for a loan here then you will get the benefit for a customizable repayment plan, this will make your life pleasant after school.
There are no hidden fees like loan application fees, origination fees, and disbursement fees. 0.25% interest rate reduction can be enjoyed by the applicants and if you qualify can get cash back graduation reward of ascent's 1%.
---
FAQ's
Can students that are Non-U.S. citizens apply for Ascent Student Loans?
---
Yes. with a creditworthy cosigner, you can apply for a loan at ascent. You need to submit a few documents.
Non-Permanent Resident Aliens (temporary residents): Valid visa - acceptable forms: F-1; J-1, M-1; E-1; H-1; L-1; G series; U.S. Permanent Resident Aliens: Permanent Resident Card (USCIS form I‐551); or TN-1; TN-2.
What are the income requirements for solo Tuition applicants or cosigners for Tuition applicants?
---
There is a term called Monthly Debt To Income (DTI) Ratio, you need to meet the required monthly DTI ration
Proof of income is required plus you need to be employed for the past 2 years.

Minimum total yearly income should be of $24,000

These requirements are for both cosigner or solo tuition applicants
---
Full form of LIBOR is London Interbank Offered Rate. this rate is used by most of the leading banks in the world to charge for short term loans Ascent loans use LIBOR for variable interest rates.
How can I check the status of my loan?
---
You can any day use this option to check your loan status
Call Ascent Customer Service directly at 877-216-0876

Email help@ascentprogram.com

Visit my.ascentstudentloans.com to log into the borrower portal
Is there a minimum amount for Ascent Tuition and Independent loan?
---
Yes, there is a minimum amount for both the loans it is $2,000 amount.
Is there a penalty or fee if I pay off my loan early, before the repayment term?
---
No. there are no penalties or fees for paying off your loan early with Ascent Loans.
Do Ascent offer forgiveness for death and/or disability?
---
Yes. if the student faces death or becomes permanently disable then the loan can be forgiven.
Who are Goal Structured Solutions?
---
GS2 is the partner Company for Ascent Student Loans. Full form of GS2 is Goal Structured Solutions, Inc. ("GS2").
Who is Richland State Bank?
---
RSB is the Member of FDIC who makes loans for the different loan providers.
---
University Account Service acts as a loan servicer for the Ascent Student Loans. They are in action to send statements, provide guidance and process payments.