Benefits of GI Bill
Officially known as the Servicemen's Readjustment Act of 1944, which was approved by President Franklin D. Roosevelt on June 22, 1944, also known as the G.I. Bill and it was created to help veterans of World War II. To know more about the Benefits associated with this bill read this article.
Updated by Akshay Nair P R on 29th June 2018
Benefits of GI Bill
This bill which was originally created to help the veterans of the World War 2, for that there were new hospitals established, there were different policies in the education field according to which the veterans could attend colleges and their fees would be covered.
During the year of 1944 to 1949, nearly about 9 million veterans had received close to $4 billion a compensation from the bill's unemployment compensation program.
To know more about what is a GI Bill click here.
---
Some of the Benefits of the GI Bill
Veterans can resume their higher studies from where they had left.

Congressional Budget Office, said that about $50 million will go toward restoring benefits to thousands of veterans in the coming year.

New service members after January 1, 2013, can use this facility for 15 years. This will help more veterans to complete their higher education, which will increase their salary.

There will be a special focus on the education of STEM focuses degrees. Veterans who are opting for this would be getting either nine months more of educational benefits or a maximum lump sum up to $30,000. This would be available from August 19, 2019.

As per September 2001, all the Purple Heart recipients are now eligible for higher education who got Purple Heart on or after September 2001.

The Post-9/11 GI Bill empowered the veterans with 36 months educational benefits.

These veterans would be getting large numbers of Compensation.
---
Compensation
The disability compensation provides Veterans monthly benefits in recognition of disabilities, diseases, or injuries incurred or aggravated during active military service. By this program surviving spouse, dependent children, and parents get monthly payments. Some of the disability compensation are:
Disability Compensation
Dependency and Indemnity Compensation (DIC)
Special Monthly Compensation (SMC)
Claims Based on Special Circumstances
---
Forever GI Bill
President Donald Trump Signed the Harry W. Colmery Veterans Educational Assistance Act, also called the Forever GI Bill, into law in 2017.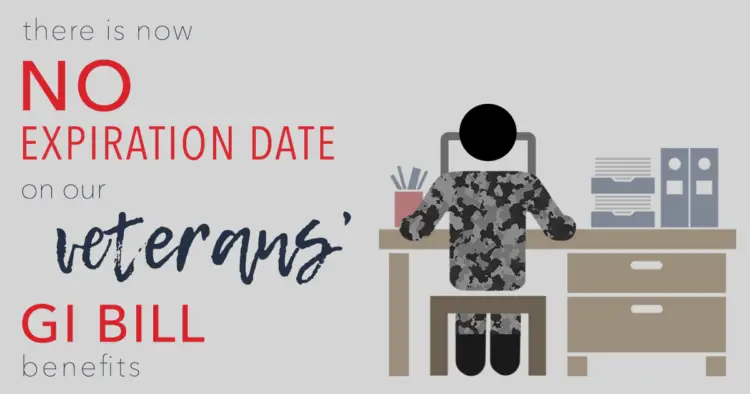 Source:militarybenefits.info/forever-gi-bill
This bill further improves the educational benefits provided to the veterans, as the bill would eliminate the 15-year limitation on Post-9/11 GI Bill benefits for eligible veterans and their dependents.
It started a vocational rehabilitation program due to which offers VetSuccess on Campus program, due to which veterans can study across the country.
This bill also offers credits to the Reservists who lost eligibility under the Reserve Educational Assistance Program (REAP).
---
Online Colleges that Provide best GI Bill educational benefits
---
Conclusion
This GI Bill has helped Veterans to fell more connected to their country.
As now due to these all benefits, they feel that they are rewarded for the work they do for their country.
The benefits of this bill have helped them to rise in their status due to improving their education and this has helped in improving the overall status of the American middle class.
Since the benefits are not only limited to the people serving their country but also to their family members who are also sacrificing so much for their country.
Thus, this bill has such a good impact that can never have happened by any type of other monetary compensation as somethings are more than what money can provide.
---
FAQ'S
1) What percentage of people use the GI Bill?
---
According to the stats of the Student Veterans of America, 52% of former troops used the GI Bill and completed their education.
2) I retired from the military before 2009, am I or my dependents not eligible for the Post-9/11 GI Bill?
---
Anyone who served for at least 90 days on active duty after September 11, 2001, is eligible for the Post-9/11 GI Bill. While those who served for less than 36 months since 9/11 will have reduced benefits and those who have retired prior to August 1, 2009, are not eligible to transfer benefits to their dependents.
3) Am I entitled to a housing stipend from the Post-9/11 Bill if I am attending correspondence school or taking online classes?
---
If you are doing your full course online then you are eligible for up to 50% of the national average housing stipend. Apart from this if you are pursuing a correspondence course then rules might change a little.
4) Does ROTC count toward the Post-9/11 GI Bill?
---
ROTC and Service Academy graduates are not eligible for this bill until they complete their initial active duty commitment.