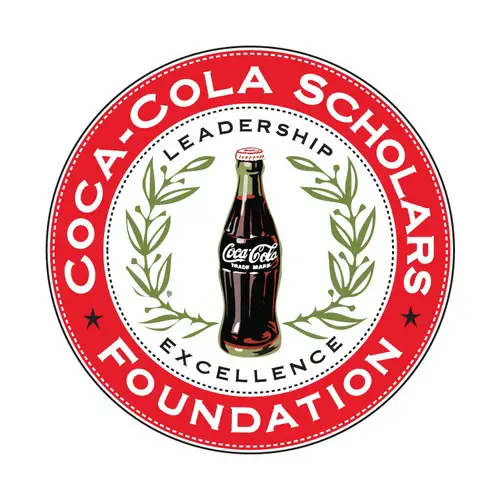 What is Coca-Cola scholarship?
It's not only a beverage or a soft drink company but this acclaimed soft drink brand has a preeminent wing known as Coca-Cola Scholars Foundation or the CCSF.
It is a non-profit organization controlled and funded by the Coca-Cola Company.
This foundation is based in Atlanta, Georgia, was started in 1986 as a gift to the people because of whom Coca-Cola was able to reach their diamond jubilee.
During it's first-year, four-year grants were awarded to the 150 graduating seniors who were planning to attend the college.
From there this foundation has helped the needy and now annually they provide scholarships to approximately 1,400 students that would amount to over $3.4 million each year.
---
What are the Eligibility criteria?
The student must be a current high school or home-school senior student planning to graduate from a school or program in the United States during the same academic year in which application is made.

Apart from this for the Coca-Cola Scholarship, the student must be a U.S. Citizens, U.S. Nationals, U.S. Permanent Residents, Temporary Residents (legalization program), Refugees, Asylee, Cuban-Haitian Entrants, or Humanitarian Parolees.

The applicant should plan to pursue a degree at an accredited U.S. post-secondary institution and carry a minimum 3.00 GPA at the end of your junior year of high school.

Apart from this, the student should not be children or grandchildren of employees, officers, or owners of Coca−Cola bottling companies, The Coca−Cola Company or any other bottler or Company divisions or subsidiaries.

Applicant should not only be academically sound but should also be actively involved and participated in the activities of their school.
---
Application Process
If the interested candidate meets all the above eligibility criteria then that candidate can apply for the Coca-Cola Scholarship 2018 by following the procedures given below.
For applying one must go to the Coca-Cola Scholarship login page the fill in their information.
The applicant should fill the information such as Biographical information, School Activities, member of any club or organization, Community Activity, Academic Information, Employment Information.
Final submission of the application.
This is the step to be followed for applying for this Scholarship, as for now the Coca-Cola Scholarship notification date for this year is August 2018.
---
Selection Process
On an average, the foundation receives an average of 85,000 to 110,000 applications, from which 2,500 are selected for the semifinals. From them, 250 finalists are selected on the basis of a complete written application.

Then, the finalists will have to go through an interview process, where the final 150 Coco-Cola Scholars would be selected, who will be eligible for the scholarship.

This would not be wrong to say that this is a type of CSR activity that Coca-Cola Started, and this is certainly helping a lot of students. Unlike other scholarship, this is not a need-based scholarship, but it is an achievement based scholarship. Thus, making sure that people who are willing to get this scholarship they are willing to work for it.
As said by Coca-Cola Scholars Foundation they hope to,
"develop a powerful network of community leaders, touched by Coca−Cola, whose vision will help shape the world, leaving a lasting legacy for generations to come."
---
Conclusion
Each year, Coca-Cola Scholarship recipients are welcomed into the colorful and growing family of students that fosters lasting connections. Program alumni stay in contact through regional events, service summits, and through their native college campuses. Alumni usually unite to arrange and implement community service projects that enable them to create a good larger impact along.
As one of the most important corporate-sponsored, achievement-based scholarship programs of its kind within the country, the Coca-Cola scholars Program believes that investing in students in this method, ends up in positive, sustainable change.
---
FAQ
1) How hard is it to get a Coca-Cola scholars sponsorship ?
---
There are set requirements and parameters which you need to fulfill if you want to be a part of the alumni of the coca-cola scholar's foundation. Those requirements are as follows:
The applicant not only should excel academically but also in other fields. The applicant's participation in different co-curricular activities also matters a lot. They should actively involve in school activities.

Students who tend to apply for the scholarship should have a minimum of 3.0 unweighted GPA in their High School. 

The selection procedure is pretty rigorous. First, your application will be reviewed, if you are shortlisted the college admissions counselors and high school advisors will review your application again, If selected you'll be called for a regional interview process taken by the Coca-Cola Scholar foundation officials.

You shouldn't be a grandchild or child of a coca-cola official or employee.  
2) What do they ask in the Coca-Cola scholarship Interview ?
---
Interviews can be unexpected. The Coca-cola scholars foundation officials might ask about one's achievements and failures, but there are few questions which are frequently asked. Some of them are as follows:
What should people know about you?

Which is your favorite Coca-Cola company product, and why?

What inspired you to join the Coca-Cola Scholar foundation community?
3) How much does the Coca-cola Scholar Foundation pay ? 
---
The Coca-Cola Scholar foundation grants $20,000 annually to the 150 students who are selected after the Regional Interview Process. 
4) What are the perks of becoming a Coca-cola scholar ?
---
There are many benefits of becoming a Coca-Cola Scholar. Few of them are listed below:
You will be granted $20,000 annually for the further studies in the U.S affiliated College. 

You will be frequently engaging in service activities.

You will be provided with internships and also have employment opportunities. 

You will be a part of a community which has a huge influence among the people and is active in Social events.
5) Is the grant amount of Coca-Cola scholar foundation only for tuition fee ? 
---
If you are eligible for the Coca-Cola Scholar foundation grant amount, you can spend the grant amount for any school-related expenses, like Tuition fee, accommodation, books and laptop/computer. The scholarship is flexible. You can use the amount in the time frame between 4-10 years.