College vs. University - The Thin Line Of Difference
In the US, University or College follows once the high school or secondary school is completed. College and University programs begin within the thirteenth year of college once a student is seventeen or eighteen years old or older.
A four-year college or university offers a bachelors degree. Programs that supply these degrees are referred to as undergraduate colleges.
Many colleges offer graduate programs in designated subjects. However, it's typically universities that provide graduate programs. So Americans use the word university and not college when they talk about the graduate study.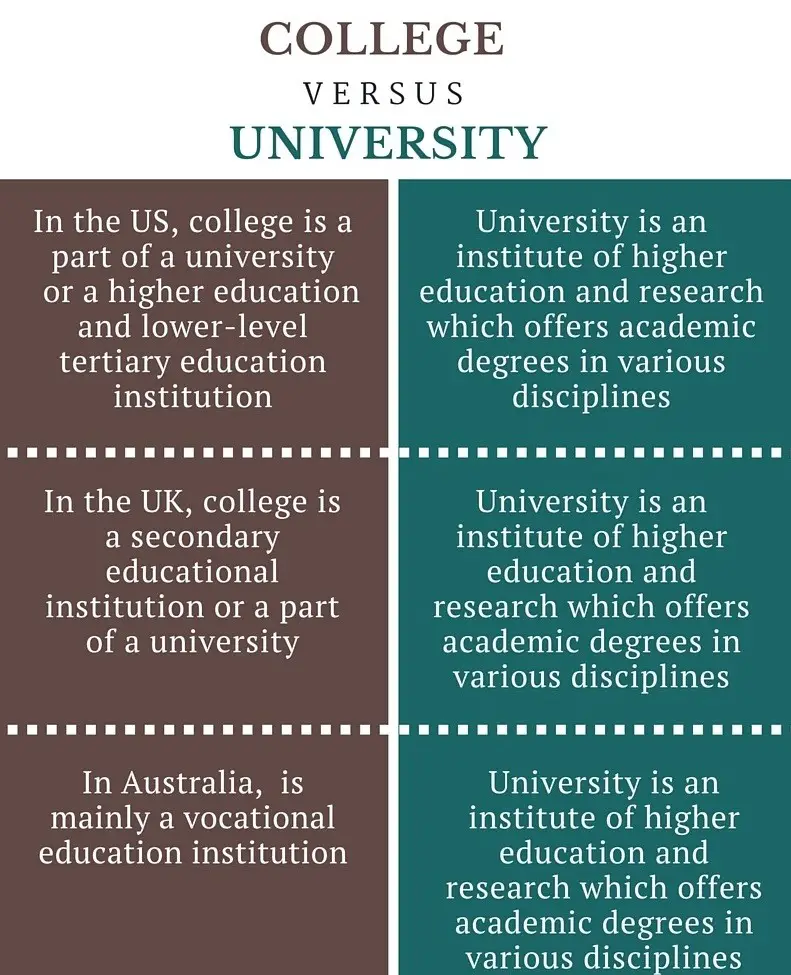 Source: http://pediaa.com/difference-between-college-and-university
Before moving on let's just have a look into the key differences which makes a College different from a University
Definition - A college is a learning institution which offers degree and diploma courses to its students. A university is a higher education research center which offers an award degree and diploma to its learners.

Scope - The scope of college as compared to the university is less since many colleges can be affiliated to a single university. College does not offer a research program to its students, but the university offers the same.

Affiliation - Affiliation to a college can be granted by a university or the college can behave as an autonomous body. Conversely, University doesn't require any affiliation from another university.

Courses Available - Colleges have a limited number of courses. On the other hand, universities provide a diverse range of courses and programs.
---
What is a College?
A smaller institution that characteristically offers undergraduate degree is termed as a college.
Colleges such as community college and junior college might offer degrees of two years duration.
A college typically offers degrees in arts and science provided for a duration of four years.
Few colleges correspondingly offer advanced degrees, for instance, Masters or other graduate degrees, after a student has earned a Bachelors degree.
Specialized Colleges in the US includes
Community College
They offer two-year programs leading to the Associate of Arts (AA) or Associate of Science (AS) degree. These colleges also have technical and vocational programs with close links to secondary/high schools, community groups, and employers in the local community.
Junior College
It offers two years of studies corresponding to those in the first two years of a four-year college and that often offers technical, vocational, and liberal studies to the adults of a community
Technical College
Technical colleges commonly offer programs in automotive technology, cosmetology, culinary arts, health sciences and skilled trades, such as welding. These programs may result in an associate's degree, certificate of completion or diploma, depending on the school.
Colleges are usually small, with smaller class sizes, and students tend to have more individual attention from faculty and are goal oriented.
Top Online Colleges in the US
Some of the best colleges in the United States are given here.
Boston College

Ashworth College

Bay State College

Wesleyan College

Virginia College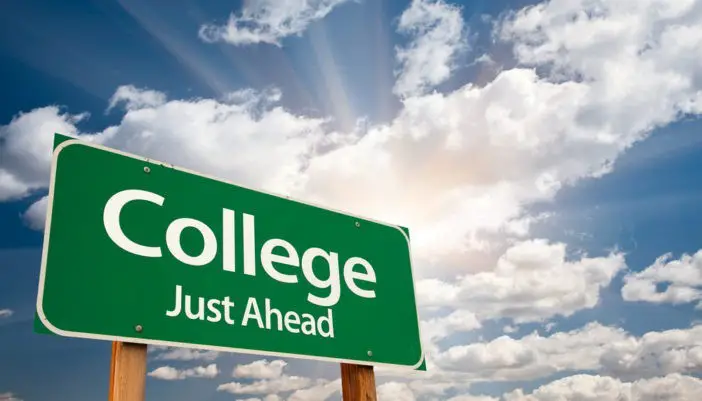 Source: whitneyguidance.com
---
What is a University?
A university is termed as an institution that provides both undergraduate and graduate degree. Universities present graduate curricula leading to a Masters degree or a Ph.D. Universities might also hold medical or law school for students who wish to peruse professional degrees. Mostly, universities own more contradictory offering of session and programs than a college as it enrolls a larger number of students.
As universities tend to be larger than schools and hence focus on scholarly or scientific research.
So, technically a University is a superset of a college offering a multitude of programs and courses to choose from usually showcasing an interdisciplinary design of the study.
Some of the top Universities in the United States which are known for providing the best online education had been listed in the below table
| | |
| --- | --- |
| Rank | Top Universities In the United States |
| 1 | University Of Massachusetts |
| 2 | Northeastern University |
| 3 | Indiana University Bloomington |
| 4 | Arizona State University |
| 5 | The University of Arizona |
---
Criteria For A College To Become A University
The following requirements must be met for a College to apply for University.
Programs - It should include an undergraduate program that principals to a bachelor's degree in an extensive range of academic subjects as well as graduate studies program

Organization - An organization must include graduate studies program and its associated programs also can be detached from undergraduate programs and the complete organization.

Resources - It must essential be able to economically hold its graduate and professional programs and must include amenities and equipment needed to display the level of effort required in both.

Accreditation - It must be accredited and reliant on the state, conceivably approved and merged within the state.
---
Is A University Better Than A College?
Well, that depends specifically upon the choice of the student. A College and a University are academically equal. Depending on the student's needs, one type of institution may be a better choice. For example, if a student wants to attend a school with a variety of programs and classes, then a university may be a better choice.
If a student values small class sizes and a closer relationship with professors, then a college might be the best option. If you are a student considering getting a bachelor's or graduate degree, your school's name is less important than whether or not the school is a good fit. Think about what you want your college experience to be like, and choose the college or university that meets your expectations.
---
Conclusion
It all boils right down to the size of the school system. Universities tend to supply full undergrad and graduate programs, that means there are multiple schools inside its system. Many students ask if a university is better than a college. Well, the choice lays in the hands of a student to choose a college or a university for pursuing the degree.
Both of them have their own ups and downs, it completely depends on the student to choose it. However, in my opinion, the change in infrastructure may sometimes impact the quality of education being provided.
---
FAQ
Are Online Colleges Accredited?
---
Yes it is required for an online college to be accredited.
How Are Online Degrees Perceived in the Workplace?
---
It hasn't been too long ago that online degrees were not taken seriously by employers, treating the credentials as certificate programs. The attitude back then was that these non-traditional degrees were not comparable to degrees earned from traditional schools in an on-campus setting. However, attitudes have changed as new technologies boosted the popularity of virtual learning, encouraging the participation of traditional schools in this new format.
Are there age limitations to attend U.S. universities? 
---
In general, you must have completed high school and you must be at least 17 years of age.
What is the academic calendar for universities in the United States?
---
The academic year usually runs from August through May with breaks for holidays. Most universities use either the semester system (two terms), the quarter system (students attend three out of four total terms), or the trimester system (three terms).
Can I transfer to a U.S. university from a university outside of the United States?
---
Yes, although you may lose some credits and require extra time to complete your degree.
Why should I attend community college?
---
 Community colleges offer lower costs, easier admission policies, close ties to state schools, and many of the required courses connected to a degree.
What is a liberal arts college?
---
A liberal arts college offers courses in humanities, languages, math, social and natural sciences, and students take 25-50% of their courses in their major.