What is a Bachelor's Degree?
A bachelor's degree is known as a baccalaureate degree.

It can also be termed as a post-secondary undergraduate degree.

If we go back in history the term "College degree" meant a baccalaureate degree or a traditional four-year program.

Most of these degrees in the United States is given by accredited liberal arts colleges.

These Liberal Arts Classes is a must in all bachelors degree courses, mostly more than half of the bachelor's degree consists of general education or liberal arts courses which are English, Mathematics, Psychology, Critical thinking, History. This four-year course will comprise 120-semester credits.

This bachelors degree is important because it will act as a gate opener for a promising career, it can even be a job or a masters degrees prospect.
---
When should one go for a bachelors degree?
If you have an associate degree.

Have more than 60-semester college credit.

When you realize that you want a graduate degree for a growth in career.
---
Associate Vs Bachelors Degree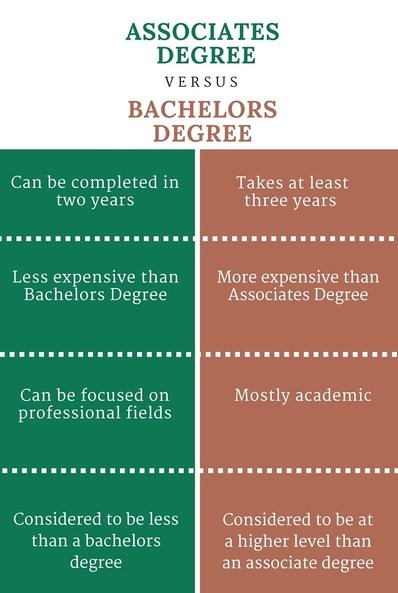 Source:- pediaa.com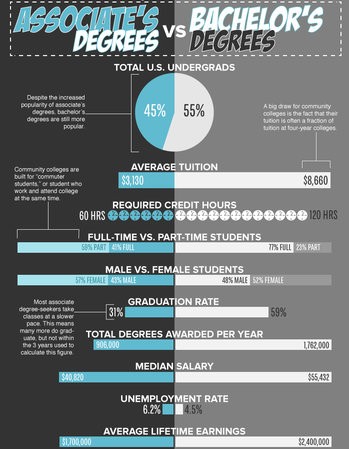 Source:- degreecentral.com
---
Types of Bachelors Degree
The most common type of Bachelors degree are:
Bachelor of Fine Arts (B.F.A.)

Bachelor of Social Work (B.S.W.)

Bachelor of Engineering (B.Eng.)

Bachelor of Science in Public Affairs (B.S.P.A)

Bachelor of Science in Nursing (B.S.N.)

Bachelor of Philosophy (B.Phil.)

Bachelor of Architecture Degree (B.Arch.)

Bachelor of Design (B.Des.)
---
How to choose a Bachelor's Degree Program?
One should consider these points before applying for a Bachelor's Degree Course
Will this course fulfill the requirement of your required profession

Will this transfer into master's degree if you intends to do masters in future

Is financial aid available

Is the course semester based on trimester based?
---
Application and Eligibility
At first one would have to fill the application form.
They can get the application form on the official college website or you can even mail to the college then they will revert back.
This process should be done at least 4-5 months prior to taking the admission.
This would include your information, academic record, extra-curricular activity record, community service record if any.
After the acceptance of application criteria, the eligibility criteria would be decided:
Completion of twelve years of elementary and secondary education.

Sometimes there is a requirement of TOEFL/IELTS, SAT1, SAT 2, ACT score.

Letter of Recommendation

Statement of Purpose

Financial Support

Interview
After this final interview student is selected for the Bachelor's degree course.
---
Earning a Degree
For earning a Bachelors degree one must fulfill the following criteria:
Satisfy the CLAS and UI residence requirement

Fulfill the college academic standards

A minimum of 120 semester hour of credit towards graduation should be completed

The requirement of General Education program should be fulfilled

Completing a Major

Clear any "I" marks from your record

Meeting the college's academic standards

All work attempted in the major

All college work has to be accepted

The minimum grade average point should be C (2.00)
---
Conclusion
Whether you want to take a bachelors degree is totally your call. You have to understand that will this degree take you to the career position where you aspire to reach. On the other hand, having a bachelors degree will certainly increase your pay scale and job security.
---