How to get a Scholarship?
Scholarships are the most reliable sources of financial aid that a student can get. As scholarships needn't be repaid, they are also the most popular financial aids. This article puts forward a few tips to attain the most number of scholarships in the easiest possible ways.
Updated by Theres Ann on 5th February 2019
What are scholarships?
Scholarships are the financial aids that you needn't pay back. And that quality of scholarships makes it the most acceptable among the students. Who would want to miss the chance of completing your education for free?
Application for a scholarship involves writing essays and a recommendation letter. Creative essays with unique viewpoints can attract the attention of the scrutinizing committee, thus increasing your chances of winning a scholarship. Correct and punctual scholarship applications can sometimes win you more money.
---
Types of scholarships
Students receive scholarships for a variety of categories. The different categories for which the students receive the scholarships are as follows.
Types of scholarships
Merit Scholarships
Need-Based Scholarship
School Specific Scholarships
Country Based Scholarships
Government Funded Scholarships
Privately Funded Scholarships
Merit Scholarships - The scholarships that are awarded based on the excellence of the student is known as the merit scholarship. Merit Scholarships can either be academic scholarships, average academic scholarships or sports scholarships. The merit scholarships are regulated by NCAA, NAIA and, NJCAA.
Need-Based Scholarships - Based on the financial need of students need-based scholarships are imbursed.
School Specific Individual Scholarships- Students who meet specific requirements such as admission into a specific branch are eligible for this scholarship. These scholarships are funded privately by the alumni.
Country Based Scholarships - Several scholarships are provided by many institutions to students from specific countries say developing countries.
Government Funded Scholarships - Fulbright Foreign Student Program and the Hubert Humphrey Fellowship Program are the two examples of Government Funded Scholarships.
Privately Funded Scholarships are distributed for a variety of causes such as the minority representation of a community, under-development of a country, gender-inequality and many more.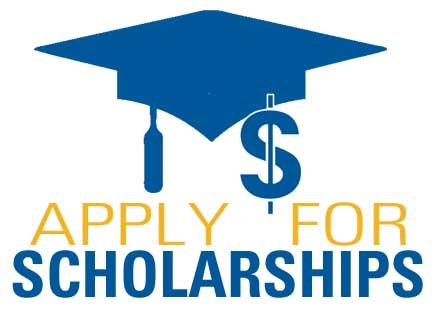 Source: Loudon County Public Schools
---
Where do I find scholarships?
Students can search and apply for scholarships in a number of ways. A few methods of application are as given below.
The first stop for scholarship application is the Financial Aid Office of the college that you plan to apply to.

The US Department of Labour offers a Free Scholarship Search Tool that can be availed by students.

Federal Scholarship Agency and the State Grant Agency can also be approached for scholarship information and application.

Several organizations as those with members of common interests such as ethnicity, religion, talents and more also sometimes offer specialized scholarships.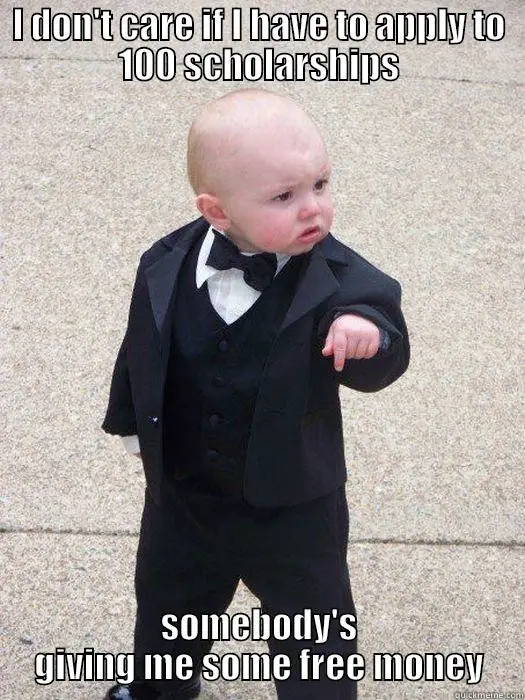 Source: Quickmeme
---
When does the application for scholarships start?
Different Scholarships have different periods of application. The deadlines and the application duration mostly varies. So if a student has plans to apply for scholarships, he/she needs to research throughout the previous year.
Browse frequently through the scholarship pages of your prospective college's website.

Take advice, suggestions, and updates from your current school's/ college's academic counselor.

Inquire at your local clubs, organizations and religious groups to check if they offer any scholarships.

Never fall prey to scams. Be aware that you don't need to pay anywhere for any scholarship information.

Once you are aware of a scholarship, make sure that you apply before the deadline.

Appear for both the SAT and ACT exams because most scholarships ask for the same.

Never ignore smaller scholarship amounts. Remember that little sums add up to make big amounts.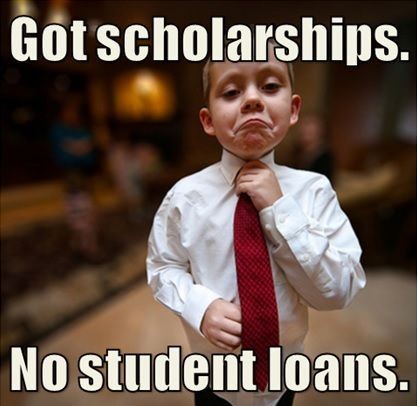 Source: Pinterest
---
3 tips to win the most number of scholarships
A few tips that can increase your chance of winning scholarships is as given below.
Don't give the same application for every scholarship that comes in your way. Don't ever write the same old boring essays for the application. Understand what the sponsor wants. Be specific and unique in your viewpoints.

Never be hesitant to search, ask and find out the requirements for the scholarships. If there is some art or sport that you are good at, find out if any welfare organizations are providing scholarships for the same.

Don't ignore a scholarship because the amount is small or you don't feel that you meet all the eligibility requirements. The fact is no amount of money is actually small. Sometimes several scholarships aren't imbursed as no one has applied for it. In such cases, the selection committee wouldn't mind granting the scholarship to the most eligible candidate who has applied.
---
How is the scholarship money imbursed?
The mode of scholarship reimbursement varies from one scholarship to the other. The different methods in which scholarships are imbursed are as given below.
For some scholarships, the amount directly goes to the college wherein the student's educational expenses are covered.

Sometimes cheques are also sent to students, who can cash it at the bank.

Some other times, items for the college such as books, instruments and more are bought and presented to students.
Once you have applied for the scholarship, keep track of the progress of the application.
---
FAQ'S
How do I apply for a scholarship? 
---
If you want a scholarship, your first step should be visiting your school/College/University's financial aid office or you can even start by filling up a FAFSA form for Scholarships. See the programs and apply for the one which you are most suitable and eligible for.  
What are the ways through which one can win a college scholarship? 
---
There are some tips and tricks through which you can increase your chances of your scholarship application being selected. They are listed below:
Identify what the sponsor has asked for and fill the applications accordingly. 

Get involved in a community to increase your presence in social activities. Scholarship sponsors look for people who are involved in social activities. 

Apply for scholarships which you are eligible for. 

Don't ignore the optional questions asked in your scholarship application form. 
How do I get scholarships in top American Universities? 
---
Some top universities in America like Harvard, Yale, Stanford are among the few that provide with very generous financial aid packages.

If you are accepted, you will almost certainly receive a very generous need-based financial aid package.

For example, At Harvard, the students whose family income is less than $150k per year, are expected to pay not more than 10% of the college fees, and students whose family income is less than $60k per year are expected to pay nothing.

The financial aid is a need-based scholarship program. 
How much will be the grant amount if I am awarded a scholarship?
---
The grant amount totally depends upon many factors, the scholarship you are applying for, the scholarship foundation, your eligibility etc. The scholarship amount may range from $750 up to $20,000.
How quickly will I be notified if I will be awarded a scholarship or not? 
---
You will be notified within a week of the declaration. But this depends on the different scholarships providing organization. There maybe be organizations who will notify you early, some may take a few days or week. 
How to avoid various scholarship scams?
---
If the application process to these scholarships is too easy or if they have asked you to pay then reconsider the authenticity of the scholarship. Moreover, if the site provides you a guaranteed scholarship, or has less information at various other sources, think twice before applying.
Can the scholarship money be spent on something other than tuition?
---
Most often the scholarship money is directly passed on to the institution that you have applied to and hence is basically used for tuition.