'Accreditation'- Ever wondered what this term means and how is this related to you. Every student when selecting a college- whether online or campus should make sure that the college must be accredited. So, let's explore what is accreditation and why is it important.
What is Accreditation?
Accreditation is a process of validation in which colleges, universities and other institutions of higher learning are evaluated. The standards for accreditation are set by a peer review board whose members include faculty from various accredited colleges and universities
Source-therightu.com
---
Why Accreditation is important?
Accreditation has the following purposes-
Helps determine if an institution meets or exceeds minimum standards of quality.

Helps students determine acceptable institutions for enrolment.

Assist institutions in determining an acceptability of transfer credits.

Helps employers determine the validity of programs of study and whether a graduate is qualified.

Provides a basis for determining eligibility for federal student assistance.
---
Types of Online College Accreditation
Regional Accreditation

National Accreditation

Specialized Accreditation
Regional Accreditation
The word 'regional' seems to be deceiving, but it actually refers to the area or the region where the accrediting organization operates.
When people ask if you have attended an "accredited university" in the United States, they most commonly mean a regionally accredited university.
It is considered the most esteemed and widely- recognized type of accreditation. Regionally-accredited schools are reviewed by their designated regional agency.
According to the U.S. Department of Education, more than 85 percent of all colleges in the United States are regionally accredited. A vast majority of online schools are regionally accredited.
Six major regional accreditation bodies are-
MSA/MSCHE — Middle States Association of Colleges & Schools

NASC — Northwest Commission on Colleges & Universities

NCA — North Central Association of Colleges & Schools

NEASC — New England Association of Schools & Colleges

SACS — Southern Association of Colleges & Schools

WASC — Western Association of Schools & Colleges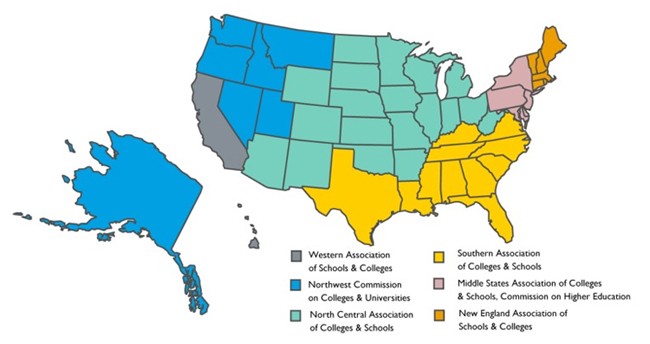 Source-fullbright.org.uk
Regionally Accredited Online Institutions
These are some of the examples of different colleges and their respective accreditation bodies-
| | |
| --- | --- |
| College/University | Regional Accrediting Body |
| Drexel University | MSCHE |
| George Washington University | MSHCE |
| Norwich University | NEASC |
| George Mason University | SACS |
| Trident University International | WASC |
---
National Accreditation
National Accreditation is a much newer concept. Many people get misled by the term 'national,' thinking it is better or more widely-recognized than regional accreditation.
Nationally accredited schools, in general, are profit oriented or religiously affiliated, offering vocational or technical programs. They award both certificates and degrees.
Nationally accredited schools are reviewed once every 3-5 years to ensure that they continue to meet the requirements standards laid down by accrediting agencies.
The Council for Higher Education Accreditation (CHEA) also recognizes a number of 'national accreditation agencies'.
The two most popular "national" college accreditation agencies recognized by CHEA are:
Distance Education & Training Council (DETC/DEAC)

Accrediting Commission of Career Schools and Colleges (ACCSC)
Other national accreditation agencies include:
Council on Occupational Education (COE)

Transnational Association of Christian Colleges and Schools, Accreditation Commission (TRACS)

source-en.wikepedia.org
---
National Accreditation Online Institutions
These are some of the examples of different colleges and their respective accreditation bodies-
| | |
| --- | --- |
| College/University | Accrediting Agency |
| Abraham Lincoln University | DEAC |
| Crown College | ABHE |
| Catholic Distance University | DEAC |
| Full Sail University | ACCSC |
| Columbia Southern University | DEAC |
---
Specialized or Programmatic Accreditation
Specialized or programmatic accrediting agencies review programs within a college or university that has already been accredited by one of the regional or national accrediting bodies.
Programmatic accreditation is offered to singular programs, departments, or schools within a college and the accrediting body is often focused on an individual discipline, such as pharmaceutical science or engineering.
This ensures that students are given quality education in a particular area of study. Though different than regional accreditation, it offers the same level of prestige.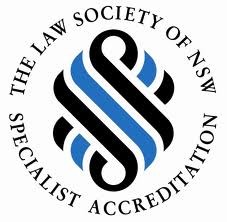 source-coxwest.com.au
---
Eligibility Requirements for Online Accredited Colleges
In order for a school to even be considered for accreditation, there are a number of requirements they must first meet. These include:
Required to be operating as an "educational institution or organization whose primary purpose is providing education or training".

Must be properly "licensed, authorized, exempted or approved" by the appropriate institutional authority for the state and be compliant with all local, state, and federal requirements.

When applying, should have been offering classes for at least two years.

Must be able to document that the institution is financially healthy and able to meet any financial responsibilities.

Agrees to the possibility of owners, officers, and managers undergoing a background check.

Cannot have any pending or finalized action enacted by a state or accrediting agency.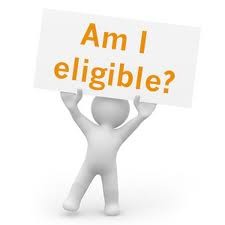 source-losmedanos.au
---
What to Avoid- Fake Accreditation
In order for accreditation to have any meaning, it is important that your online college's accrediting agency be recognized by the Council on Higher Education Accreditation (CHEA) or the U.S. Department of Education. Essentially, the accrediting agency itself needs to be accredited.
With the increase in the trend of online colleges, the number of fake and bogus online college accreditors has also increased. Hundreds of fake online colleges have been heavily advertised on the web. These colleges are accredited by fake agencies with very official sound-names.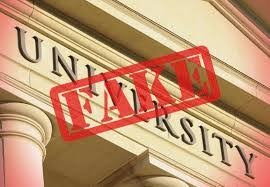 source-digitallearning.electonline.com
---
Conclusion
So, to finally conclude Accreditation is the quality-assurance process for colleges and universities.
It plays a crucial role in online colleges as accreditation ensures whether the degree or program will be recognized by the employer or not. If you are in the course of choosing your college, be very sure that the colleges on your list must have proper accreditation.
---