What can you do with a Biology Degree?
A Biology degree can help you to get jobs in areas like nutritionist, biologist, forensic expert, quality technician, medical reps and many more. Go further and explore the options while choosing the right college of your choice.
Updated by Shubharthi Dey on 30th January 2019
What can you do with a Biology Degree?
Are you wondering what you should do with a biology degree? Of late, jobs in this area of science are attracting the attention of all kinds of people. But unlike other areas of study with well-defined career paths, professional pursuing a career in biology outcomes can sometimes be trickier to figure out, because of the huge gamut of the options available out there.
Let's look into some of the things one is going to learn if he/she pursues a career in the domain of biology.
A career in biology provides chances of learning about different living organisms- human, plants, animals, and bacteria, understanding them for reasons like disease treatment, and sustaining the natural environment.

Many biology degree graduates have that urge of going to post-graduation level with attaining specialization in a particular field in order to boost their expertise.

A person who pursues a career as a Forensic Biologist inspects crime scenes with the belief of getting evidence in the form of blood, saliva, and hair, and thereby analyze them in the laboratory, focusing on DNA analysis.

Source:www.memegenerator.net
---
Typical Careers with a Biology Degree
A biology degree holder has a wide variety of scopes in their arena. You can continue with a bachelor's degree or go further and complete your post-graduation degrees.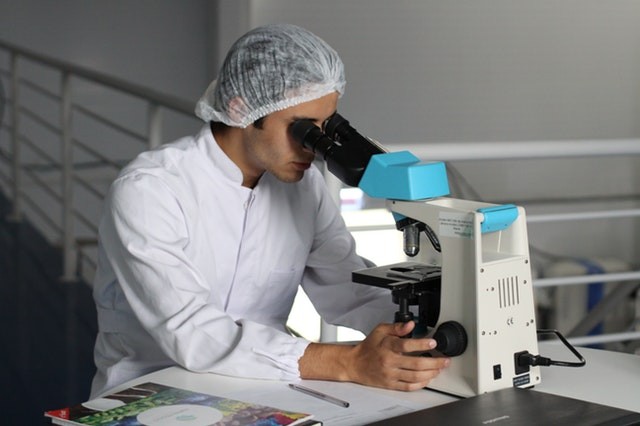 source - pexels.com
Well, there are many jobs you can go for in this field, to name a few-
Anesthesiologist- Anesthesiologists are doctors specialized in perioperative care, developing anesthetic plans, and the administration of anesthetics. Anesthesiologist handles the responsibility of designing and implementing plans to usher patients safely through surgery.

Bioinformatics Researchers- A bioinformatics researcher's point is to better comprehend life through an application of a mix of computer science, statistics, life sciences, molecular biology, genetics, chemistry, etc. A bioinformatics analyst tries to display, find, and oversee biological data normally through computational means.

Forensic Scientist- A forensic scientist has to collect & analyze crime scenes and evidence to come closer to the main culprits. As a forensic scientist, you can specialize in crime scene investigations and laboratory research.

Nutritionist or Dieticians- Nutritionists work on peoples' health and advise them about the type of food to be eaten according to their health. They also work with food and help patients to recover from unhealthy habits.

Pharmacists- Working pair with specialists, pharmaceutical organizations, and the general population, Pharmacist are given the extraordinary duty to guarantee safe pharmacological practices. Pharmacists fill prescriptions, inspecting the orders and all related information for accuracy.

Registered nurse- A biology degree would be helpful in attaining a position of a registered nurse in renowned hospitals, private or government. Studying human biology, helping doctors and serving humanity is a noble cause. Nurses are anyways said to be in the noblest professions from ages.
There are many other career scopes like ecologists, zoologists, teachers or professors, researchers or research assistants, dental hygienists, soil conservationists and many more.
---
Less Typical Careers With A Biology Degree
Now let's see some of the areas which seek the help of abled biologists, however, they are not one of those domains which receives much demand but undoubtedly can be the most involving and challenging career.
Biotechnology
Biotechnology is the implementation of scientific principles to enhance technology within a certain number of sectors, including the consumer goods market, the technology market, and business and industry. The main focus is often on agriculture, food science, and medicine, where biotechnologists are involved with the domain of genetic engineering, drug development and advancing technologies related to medicine such as nanotechnology.
Forensic Science
The forensic scientists usually specialize in specific areas which include forensic odontology (dental evidence), forensic anthropology (the examination human of decomposition), crime scene examination and medical examiner roles which still requires further study and research.
Government And Policy
Biology careers in government involve closely working with the governmental officials so that one can recommend and create new legislation for important topics comprising of biomedical research and environmental regulation.
Business And Industry
The pharmaceutical sector is a multi-billion dollar industry and is in constant need of biologists to work in research and development and to test new products and prepare them for the marketplace. Apart from these, the other commercial industries where biologists may find vivid application includes areas such as scientific services companies, marketing, and sales.
Economics
People who have a knack for mathematics may want to go pursue a career in biological economics. This requires you to work with the government or some authorized organizations to examine the economic impact of biological problems on society which includes problems such as extinction, pollution, and deforestation.
---
Colleges offering Biology Degrees
Now let's look into some of the popular colleges and universities in the United States which offers a biology degree.
Top 10 Universities Offering A Biology Degree
Salem International University
Albany State University
Emporia State University
Concordia University-Saint Paul
Arizona State University
Cardinal Stritch University
Drexel University Online
Emory University
Colorado State University
George Washington University
---
Conclusion
Clearly, there are many other career options with a biology degree. A biology degree, bachelor's or master's, has to be taken to go for any senior-level positions. Go further and check out the colleges that provide quality education in biology.
---
FAQ'S
Does a biology degree prepare me for medical or dental school?
---
Yes, many biology majors go on to pursue degrees in medicine, dentistry, and other graduate fields. The prerequisites for medical and dental school are built into the biology and College of Science curricula.
Can I have a second major or minor if I am majoring in biology?
---
Yes, and in fact, the majority of biology majors have a second major and/or minor. The biology major offers a flexible schedule in which students are encouraged to pursue their multidisciplinary interests.
I started off in a different major.  If I switch to biology, will I still be able to graduate on time?
---
The answer to this question depends on when you switched majors and what your previous major was, but most students who switch from another science major as late as first semester sophomore year have no problems graduating in four years. After the first four semesters, the core and elective curricula become flexible and allow a student to create a course load that fits his or her needs.
What is a typical class size for biology majors?
---
Freshman begins with two semesters of introductory biology in a large lecture hall but have the opportunity to meet students and experience a smaller class size in their introductory labs. Each progressive year, classes become smaller and more specialized, providing personal attention to students.
How soon can I get involved in research?
---
Take a semester or two to meet people, adjust to living away from home, and taking classes that might be challenging for you. If you are interested, there is an Introduction to Undergraduate Research course in the spring of your freshman year that can help you understand the research process before entering a lab.
How do I declare a Biology Major?
---
You should first select one of the faculty members in the department to be your major advisor  and then fill out the Major Declaration Form. You will need to indicate the name of your Biology advisor and get the form signed by the Associate Chair.
What does AP or IB credit in Biology mean?
---
If you earned a score of 5 on the Biology or Environmental Sciences Advanced Placement exam, you will be credited with 2 credits towards the major and receive credit for a 4-cr course for non-majors (listed as a college elective).

If you earned a score of 4 on the Biology or Environmental Sciences Advanced Placement exam, you will be credited with 1 credit towards the major and receive a 3-cr course for non-majors.
A score of 6 or 7 on the Higher-level Biology IB exam is treated the same as a score of 5 on the AP exam in Biology.