"The art of communication is the language of leadership"
What can you do with a communication degree?
It is a degree which can be applied to any field. It is useful in all the fields and every organization requires a solid communication for its smooth functioning.

Everything work because of this aspect only we can see then it's importance as each and every organism in this universe tries to communicate in one form or the other.

So, we can see how important this is whether it is interpersonal or professional interaction, or even social interaction communication is an aspect that is needed everywhere.

A communication degree can help you to know how should one communication information effectively to a diverse group of audience effectively.

Any organization needs a person with a strong communication skill in this artillery as because of this quality of that person the company can have a number of things worked out.

Communication is mostly studied with media and journalism at an undergraduate level, communication is also treated as a subject on its own.
---
What do they do?
Along with the HR team, they would help to recruit, train and retain valued staff. Sometimes a certain organization has a separate cell for communication. In this cell the people who have the duty to train the staff on certain aspects of how to communicate with their customers. The people with a communication degree can also help in the field of digital media; as this is also a field that requires persons with a good command of communication.
---
Job possibilities
Career in Business

Career in HR

Career in Marketing

Career in Public relations

Career in Media

Career in Law

Career in Education

Career in Digital media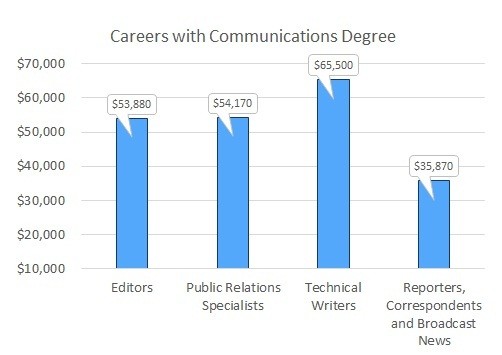 Source:- http://www.excite.com/education/business/communications/bachelor
---
Kinds of Communication degree programs
Associate degree in Communication
The program for an Associate's Degree in Communications can generally need you to finish sixty credit hours or two years of coursework.

You'll learn the way to hone each your writing and speaking skills whereas learning the leading communication theories, the history of mass media, and a few of the technical skills needed to work within the field.

This can be a wonderful way to start if you're hoping to ultimately go into a four-year program however it may be an immediate pathway into an entry-level position.

For example, associate 's degree in communications will prepare you for work as a broadcasting technician, a production assistant, or as a copy-editor for a marketing firm.
Colleges offering an Associate degree in Communication
Bachelors in Communication
The Bachelor's Degree in Communications is the customary degree for those seeking a profession in media, broadcasting, Marketing, journalism, or Public relations.

This four-year degree—typically requiring a hundred and twenty credit hours—is among the more popular Liberal arts degrees, each attributable to the subject matter and since it will function an entry to a large spectrum of skilled possibilities.

Additionally to introductory-level education within the leading theories, History, and technical dimensions of communication, you'll have a chance to check a lot of refined subjects like interpersonal relations, brand management, and linguistics.

Colleges offering Bachelors of Communication
Because several career ways in Communications are directly accessible to those with a bachelor's degree, the Master's degree is somewhat specialized.

This is often the program for you if you're still working to sharpen your technical writing and presentation skills, if you've got an unconditional interest in conducting additional intensive analysis in your field, or if you aspire to work with an academic mentor in a specific subject field.

This is often also an honest possibility if you're an aspiring media or communication professional as you will board a state that needs a master's degree simply to sit down for a teaching certification exam.

The same is true if you hope to become a university prof in the field, in which case, you would possibly also continue on to earn your Ph.D.

Moreover, a degree from this two-year graduate program will facilitate to strengthen your credentials as you enter the job market.

That said, you must make certain that this is often necessary for your chosen path before you dedicate the time and cash to a sophisticated degree.

In fields like journalism, Public relations, or Marketing, you would possibly really benefit more from entering directly into your field of work first.

As you progress up in your profession, determine if there area unit specific advanced degrees that may make you a candidate for promotion or enhanced earnings. Some firms can even offer some tuition help if you're willing to create a long-run commitment.
Colleges offering Masters in Communication
---
Conclusion
A communications degree is a diverse degree program that allows you to build a career in a number of different fields, With the variety of career paths related to communication, the courses that you take will vary based upon your area of interest. Thus, choosing a career in communication is something that can be called as a sure shot way to success.
---