What can you do with a Computer Science Degree?
A computer Science degree can help you in getting career options like web developer, video games developer, systems analyst, software engineer, graphic designer, and what not. It has a wide scope in today's market with the new emergence of digitisation era.
Updated by Theres Ann on 7th February 2019
What can you do with a Computer Science degree?
Unlike the other domains, computer science is an ever-evolving domain. Every day there is a new technology introduced. Every second a new innovation is happening and every millisecond terabytes and petabytes of data are added to the data centers across the globe. And Information Technology is the only domain, that offers you the freedom to change your job-roles at any moment. This also has a challenge associated with it - you need to be a life-long learner. And if that learning doesn't happen, forget your space in the industry.
Computer Science is a global career. Most professions today have at least a tint of computer science into it. And hence earning a certificate in computer science would never make you jobless, provided your skills prove that you are employable. There are a variety of career options available across different domains after the completion of a computer science degree.
Flexible careers make computer science degrees acceptable by all genders, age-groups, and economies.

Work-at-home options and free-lancing opportunities are the cherries on the cake for those with a computer science degree.
---
Career options after a Computer Science degree
Some of the domains that offer a job for technical roles are as given below.
Financial Organisations

Management Consultancy firms

Software Houses

Communications companies

Data warehouses

Multinational Companies

Government Agencies

Education sector

Hospitals
Some of the job-roles available for computer science graduates are as given below.
Computer Programmer- A computer programmer is someone who writes, executes and tests code for software and applications through the use of programming languages like java, python, C++. After the Designer Designs the front end of the software, the Programmer is responsible for the proper functioning of application and software.

Software Engineer- Computer software engineers apply the principles and techniques of computer science, engineering, and mathematical analysis to the design, development, testing, and evaluation of the software and the systems that enable computers to perform their many applications.

Computer engineer- A computer engineer needs to develop computer games and applications, a new operating system and provide technical support. A software engineer is also responsible to develop either software or hardware systems of a computer.

Graphic Designer- Graphic designers are visual developers who design and develop print and electronic media such as magazines, television graphics, logos, and websites. They are the people responsible for proper structuring of the graphics data. They are generally appointed in advertising agencies, publishing houses, design companies to design content.

Video Game Designers- A video game designer has to develop video games and design those with creativity. They have to come up with story, characters, settings, and gameplay. Designers must work with artists and programmers to blend the creativity and bring out interesting games.

Web Developer- A web developer has to create, write, and edit web content. They develop, design and code the content and create websites. Web developers are required to know programming languages to make sure of the proper functioning of the websites, and add or remove features to maximize customer interface. They are the face of the website creation as they are the ones who need to handle designing to technical implementations.

Systems Engineer- As a systems engineer, you will examine existing IT systems and business models, modify and improve existing systems to integrate new features, all to improve business efficiencies and productivity. A system engineer has to look after and report to both internal and external clients and support the organization to grow.
IT Consultant- An IT consultant advises companies to implement and adopt proper and trending information technology systems to increase productivity and improve the IT systems. As this is a broad role, you have equal weight to work with that to systems engineer, programmer and systems designer. You will also be responsible for business development thereby developing relations with clients all around.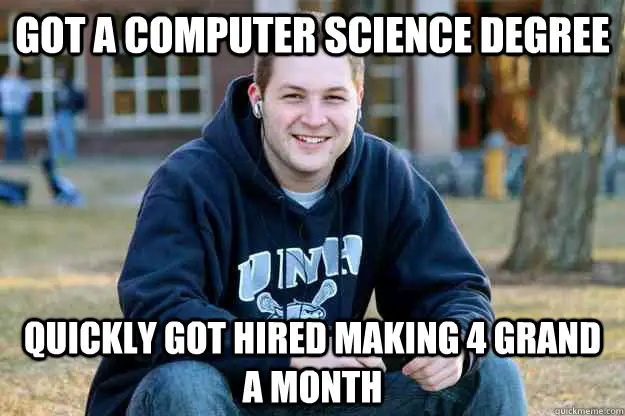 Source: Quickmeme
---
Institutions offering Computer Science Degree
A few institutions that offer programs in computer science are as given below.
| | |
| --- | --- |
| Name of the Institution | Name of the Institution |
| | |
| | |
| | |
| | |
| | |
---
Highest Paying Jobs in Computer Science
Some of the highest paying jobs in the Computer Science domain are as follows.
Business Continuity Analyst

Data Scientist

Research & Development

System Software Engineer

Network Security Specialists

System Analysts

Security Analysts

IT Auditors

Hackers

Software engineers and programmers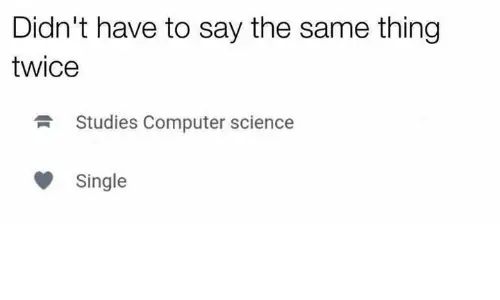 Source: Funny
---
Conclusion
Career options including network systems administrator, database administrator, Cybersecurity consultant, Information systems manager, and many more are also available in the industry. Your choice defines your future. Computer Science is a field that frequently analyses the employability of an individual. So it is necessary to upgrade yourself every day. Regular updates on the newest technologies can place you on the cream-layer. If excellence is your motto, then IT is for you.
---
FAQ'S
What are the kinds of jobs to be expected after a computer science degree?
---
You can choose from a variety of job-roles including Analyst, Manager, developer, designer, administrator and many more
What is the duration of a computer science degree?
---
An associate degree in computer science takes 2 years for completion whereas a bachelors degree in computer science takes 4 years for completion.
Which are the highest paying jobs in computer science?
---
The computer architects and data scientists earn the highest salaries in the IT industry today.
Name a few certifications in computer science.
---
Certifications such as ComptiA A+ Certification, CISSP, CRISC, CISM, CISA, CCNA, CCEE include a few in-demand certifications in computer science.
Name a few computer sciences agencies/ organisations.
---
Association for Computing Machinery (ACM), Computing Research Association (CRA), IEEE Computing Society, Institution of Engineering and Technology are a few of the professional organizations for computer science.
What is the syllabus for most computer science degrees?
---
The syllabus for computer science degrees is always subjected to change so as to include trending technologies. A few of the trending topics in computer science include Artificial Intelligence, Machine Learning, Software Architecture, Algorithms, Web Application programming, Big Data Technologies an