"This is not "His - Story"; this is, our "Story"; we should learn from our past as history always tells you the future."
What is a History Degree?
Like any other major course, a history degree involves studying the subject to its depths, understanding it and using this knowledge to shape your career. History degree refers to getting a certification in history-related subjects from an accredited educational institution.
Acquiring a history degree involves diving into the depths of the past and developing a knack for analyzing and relating everything that has happened in the past.
Before going into this direction always keep in mind where you are heading to- Everything from Stone men To Marvels of the World is History. History always has something hidden in its bag, from which we can learn things and understand our world better.
What does it mean to study history?
Study of History is not limited to just memorizing the facts related to significant historical events. It is extremely diverse and involves the following features.
Studying and analyzing historical events

Analyzing the overall impact of historic occurrences, trends, and artifacts on the world

Evolving efficient communication, reading, and public speaking skills

In-depth research in your specialized area of interest
source - Pexels.com
---
What can you do with a History degree?
If you here, then you definitely have a charged neuron triggering your curiosity for the details related to studying history. Well, let me help you out. Let us first start with types of degree and history majors involved.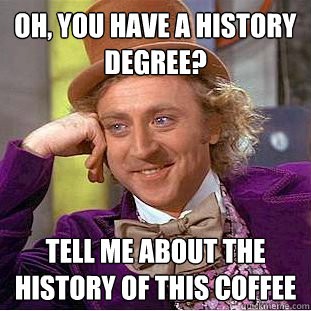 If you are planning to obtain a degree in history, be ready for such questions!!
---
Types of History degrees
Associate Degree - Fewer credit hours, foundation knowledge and lessers course work compared to a bachelors degree. This degree prepares you for a full-fledged bachelors degree.

Bachelor's Degree in history - Takes you deep into the waters to help you understand how things have evolved over time in the domestic and global areas. More Coursework, Field Trips and Overview knowledge of everything that will help while choosing your major.

Master's Degree in history - Specialized course targeting a particular timeline or domain helping you to get deeper insights about the subject through text readings, site visits and discussions with experts.

Ph.D. in History - The ultimate level of specialization where you focus on the single specialized topic out of the hundreds of topics that have studied in your masters.
---
Types of History Majors
A nonexhaustive list of topics in which you can pursue history majors is given.
List of History Majors
American History
The American Civil War
European History
Slavery in America
Non-Western History
Myth and Reality in the American Past
The Holocaust
World War Era And Post
---
History Careers
A number of history degrees jobs are open up for those having a degree in the field of history and related subject area. Let us start with what you can do after having done your majors.
source - historians.org
Entry level jobs for History majors
In contrary to common belief, history careers are not confined to becoming a historian or teaching history in a college or school. Let us explore the opportunities that are waiting for you.
Geographer - Understanding world history and its impact allow you to have in-depth knowledge about various geographical locations as well, which can help you in this profession.

Archivist - They take care of historical documents. Their primary responsibility is to authenticate and preserve documents.

Museum Technician - They assist curators in evaluating collections and helping them to make it available for display. They keep note of every item being stored in the museum.

Proofreader - A sound knowledge of history can land you a job in cultural and political journals where you can proofread history related articles.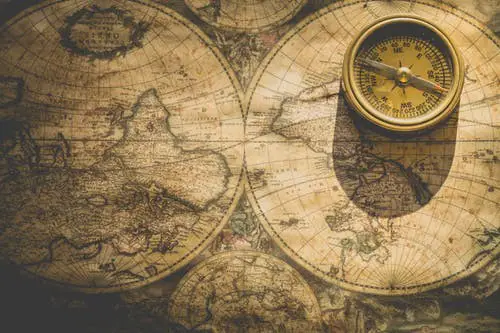 source - Pexels.com
---
History degree jobs in government
Besides joining the Civil Administrative services or teaching in a state or public university, there are many other jobs in the government sector which are given.
Archaeologist - Study the excavation sites, monuments and many other historical sites, gather data about them, evaluate those items and prepare a report regarding these sites.

Historian - Conducting research work and Digging deep to analyze what is hidden in the past.

Political scientist - Understand the trend in the current political environment and co-relate it with historical events to advise the government.

Museum curator - They oversee the museums' collections including the sale of certain items and also categorize and evaluate the things kept in the museum.

Librarian - Official bookkeeper in the government libraries. main duties include preserving and maintaining historical books and journals.
---
History degree jobs salary
Having only an undergraduate degree in history might not be enough to find a lucrative paying job. However, once you have completed your masters in a history major, then a lot of exciting options with high pay will open up for you.
The table shows the average salary earned if you take up these particular jobs.
History jobs and associated salaries
Job Position
Average Salary
Middle School Teacher
$47,831
Assistant Professor
$49,382
Archivist
$49,495
High School Teacher
$50,231
Non-Profit Executive Director
$63,500
Executive Assistant
$45,000
---
Colleges offering a degree in History
There is a growing fascination for History as students are trying to explore various study areas associated with this field. The following table lists the colleges and universities offering a graduate or undergraduate degree in history.
List of Universities offering History Degree
Graduate
Undergraduate
American Public University
Bob Jones University
George Mason University
Brandeis University
Kansas State University
Columbus State University
University of Kentucky
University of North Dakota
---
Conclusion
A degree in history, whether bachelor's or advanced, prepares graduates for a large variety of careers. As analysis and writing skills are needed for several professional methods, the historian's skills span industries.
Besides becoming an educator or archivist, people with this degree are just as much in demand in politics, law, libraries and also the literary world. Thus, taking a degree in history would add one more feather to your cap.
---
FAQ
What jobs can I do with a history degree?
---
There are a number of jobs for you to apply for such as in the teaching profession, archaeologist, archivist, civil service administrator, and more. Some students also prefer to pursue a law degree and work in high paying corporate firms.
What is the average salary for a history major?
---
According to the New York Federal Reserve Bank\'s 2017 Labor Market study, history majors earn a mid-career median salary of $62,000 a year, which is roughly $25,000 higher than the national median salary reported by the U.S. Bureau of Labor Statistics.


What can I do with a Master's degree in history?
---
If mystery solving and exploring entices you, the best career option you can opt for is becoming a historian. Also, you can try for other job positions such as archivist, civil services, and more.
How do I become a Historian?
---
In order to become a historian, you need to complete your bachelors followed by a masters degree in history. Then, you can find yourself a lucrative job and continue with your research.


What can you do with a History of Arts degree?
---
If you have earned a degree in Arts, you can go for a number of jobs such as an academic librarian, arts administrator, estates manager, archivist, and more.
How much do Historians earn?
---
According to BLS, the average salary of Historians is $60990 per year.
What skills does a History degree give you?
---
There are many skills that you will develop while pursuing a degree in histories such as critical thinking and analytical abilities. You will be able to deal with abundant documents and extensive research.