What can you do with a Political Science Degree?
A political science degree is an eye-opener to the world's issues both globally and locally. A variety of job opportunities, accreditation and pre-requisites of a political science degree is explained in detail below.
Updated by Theres Ann on 1st February 2019
What is Political Science?
Political Science is the systematic study of governance and examines the states, its institutions, and the subsidiary organizations. Political scientists analyze the thoughts and behaviors across different levels of government. The focus is laid not on just local governments, but just state, national and international governments. Political methodology, political theory, comparative politics, political theory, public policy, and public administration act as the base of political science.
The creation and formulation of public policy are analyzed along with the social and economic impact of the policy. Strong research and communication skills along with analytical skills make you the master of political analysis.
Evaluation of political parties along with the impact of the change in authority can significantly affect the way in which the society works. The unique configuration of values, skills, personality, and interest can deeply influence the entire social set-up.
Different government systems include communism, monarchies, clans, fascism, oligarchy, republicanism, hybrids and more. It is definitely difficult to choose the best form of government. Such a difficult analysis of government systems is done by political scientists.
The working of a government, policy creation and formulation, intersection of social, cultural and economic factors with political systems, and the evolution of political history is studied by a political science student.
Communication skills, analytical thinking, and communication skills are must-needs in this industry. The unique configuration of values, skills, personality traits, interests and more create the perfect combo of a politically stable society.
After the completion of a degree in political science, you would probably obtain a thorough knowledge about the complex structures of government, the public and private sectors, document examination and other methods of communication and creation of a critical analysis of this information. Political theory, comparative politics, international relations, and political methodology are the related subfields of political science.
Source: Odyssey
---
Accreditation for Political Science Programs
There are two types of accreditation for political science.
The first type of accreditation is the Institutional Accreditation and the second type is the programmatic accreditation.
Institutional accreditation is awarded on the basis of the quality of programs offered at the institutional level and programmatic accreditations are provided based on the quality of programs awarded by these institutions. Moreover, institutional accreditations are granted by regional accrediting agencies and then the national accrediting agencies. However, the credibility of a regional accrediting agency is higher than that of a national accrediting agency. A few of the regional accrediting agencies are as given below.
The Higher Learning Commission

Western Association of Schools and Colleges

Middle States Commission on Schools and Colleges

Western Association of Schools and Colleges Commission on College

New England Association of Schools and Colleges

Southern Association of Colleges and Schools Commission on Colleges

Northwest Commission on Colleges and Universities
Depending upon the majors and the profession that you choose the programmatic accreditation can vary. The American Bar Association provides a programmatic accreditation for the law programs.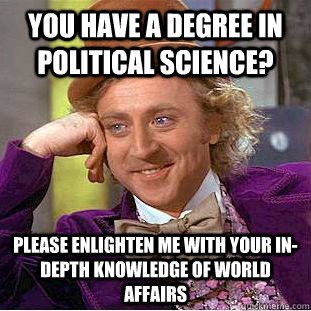 Source: Quickmeme
---
Types of degrees offered in Political Science
4-degree types are associated with the Political Science program. They are as given below.
Associate degree

Bachelors degree

Masters degree

Ph.D. Programs
Associate degree – Introductory level courses in government and its history, theories of administration and government operation, civil liberties, religion and politics and more are taught in this degree program.
Bachelors degree – A Bachelors program in political science provides an overview of politics, public policy, and law. Introductory level education on policy development, political systems, civil rights movement, the emergence of global political dynamics, race relations and more offered in a Bachelors degree program. The course structure itself makes you competent for a career in campaign management, public service, think tank search, political journalism and more. Courses on political parties, interest groups, international conflict and negation, global governance and more are included within the Bachelors program in Political Science.
Masters degree – Contemporary political thought, interest groups, lobbying, ethics, campaign management, strategic management and more are included in the Masters program in Political Science.
A Ph.D. in political science would touch topics including American founding, Marxism, international law, conflict resolution, political thought, and urban policy.
Doctor of Jurisprudence is another related degree program for Political Science and includes civil procedure, constitutional law, contracts, torts, property, criminal law, and law foundations.
Source: Meme Generator
---
Careers after a Political Science Program
A variety of career opportunities await those who have completed a political science program. Campaign Director roles, legislative assistant roles, city administrative roles, teacher roles, policy analyst roles, political consultant roles, human rights advocate roles and many more best suits a political science graduate.
A few of the trending jobs after a political science degree are as given below.
Policy analyst – The reasons for why or why not to adopt a particular policy is studied and presented by a policy analyst. They also identify and promote the best policymakers.

Legislative assistants – These professionals help the policymakers and leaders to carry out their tasks with ease. The current political issues and views of the elected officials are learned within a positive framework. The legislation is tracked and surveyed by the legislative assistants.

Public Relations Specialist – Study on opinions, the role of media, and, current event research is performed by the public relations specialist. Study on mechanics of campaign organizing and public appearances are performed by the public relations specialist.

Social Media Manager – Public opinion tracking, views on administration and current issues, the influence of media, and instrumentation and formulation of policies are also performed by the social media managers.

Marketing Research Analyst – The response of consumers to products or services, a survey of consumer reactions, presentation of findings to clients, and data is backed up with recommendations.
After obtaining a degree in political science, students can also opt for careers including the attorney, intelligence analyst, political campaign staff, leadership officer, activist, and more.
Skills such as critical thinking, decision making, logical reasoning, and organizational leadership should be exhibited for a promising career in political science.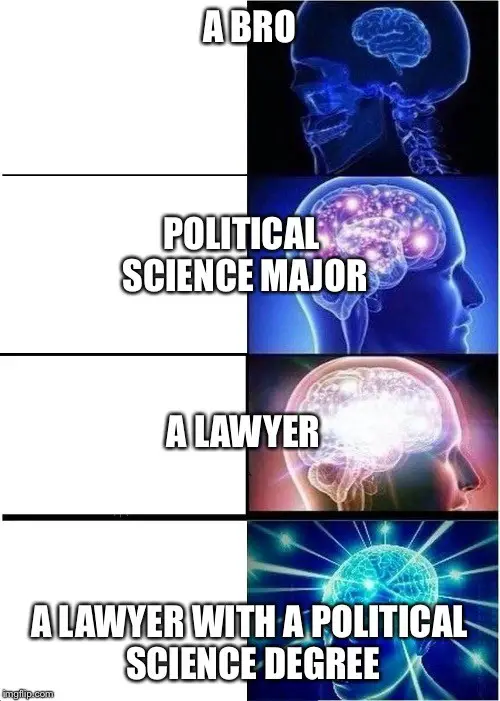 Source: imgflip
---
Conclusion
A career in political science would truly portray your values and ethics. More than a career, political science jobs offer a platform to present your views. However, you should also be flexible in your decisions so as to work under organizations that believe in ideologies totally against yours. In fact, political science offers a challenging future and is for those who have the will for all the challenges that come along the way.
---
FAQ'S
What is the duration of a Bachelor's degree in Political Science?
---
Any Bachelor's degree takes minimum 4 years for completion.
Can a political science graduate become a lawyer?
---
Yes, if the major chosen is law then the student can become a lawyer.
Which are the career options available for a political science student?
---
A political science graduate can become a volunteer, legislative aide, policy analyst, communications cordinator, pollster, lobbyist, campaign manager, political contestant, media strategist and many more.
Which are the professional organizations for a political science graduate?
---
Organizations such as the American Political Science Association, numerous think tanks, political parties, are open to provide memberships to political science graduates.
Which universities provide the top political science programs?
---
Top universities such as Standford University, Princeton University, University of California, Yale University, Columbia University and many more.
Name a few politicians who did a major in political science.
---
Politicians including Barack Obhama, Joe Biden, Paul Ryan, John Cerry, and, Nancy Pelosi are a few of the politicians who earned a major in political science.