What can you do with a Sociology Degree?
Though less-known the scope of sociology degree is beyond the common jobs that you have ever imagined. Explore the variety of opportunities, scope and pre-requisites for a degree in sociology.
Updated by Theres Ann on 31st January 2019
What is sociology?
Are you interested to learn about human relationships? Were you excited to learn more about crime, religion, family, state, divisions of race, social class, common culture, social stability and more? Wondered how human consciousness is reshaped by cultural and social structures? Then sociology is the major that best suits you.
Sociology is the domain with dedicated research topics including personal lives, communities, and, world. Sociology studies the causes and consequences of complications in human and community relationships. Sociology studies are based on three levels of human interactions. The first level is the personal level, the second level is the societal level and the third level is the global level. At the personal level issues related to love, gender, and racial inequality, family, behavior, age, religion and more are identified and solved. At the societal level matters such as crime, economy, discrimination, education and social movements are sorted out. As the name suggests, global issues such as population, migration, peace, and, economic development is handled in the global level of sociology.
---
Kinds of degrees in Sociology
There are four different kinds of degrees in sociology. They are as given below.
Associate degree in Sociology - An associate degree in any subject provides a basic introduction to a given subject. This is a 2-year long program that offers 60 credits and provides foundations in subjects including family dynamics, criminal deviance, social structures, behavioral science, psychology, communications and many more. After completion of an associate degree, you can expect an entry level job in any of the fields including counseling, case-working, community outreach, and more. If a job is not your goal, then you can take up a Bachelor's degree in any field.

Bachelor of Sociology - Bachelor of Sociology is a 4-year degree program and is awarded 120 credits. Sociological perspectives, Crime and violence sociology, race, gender and, social structures, social justice movements, research methods, and, behavioral psychology are few subjects that are included in the Bachelor of Sociology course.

Master of Sociology – In this two-year degree program, interdisciplinary studies that track the relation between sociology and related fields such as economics, politics, psychology, race as religion are taken. If you have an interest in public research or administrative leadership, the Masters program best suits the achievement of your goals.

Doctorate in Sociology – If you have the confidence to pioneer research in a private research foundation, government-funded agency, or university then a Doctorate in sociology is the best choice you can make.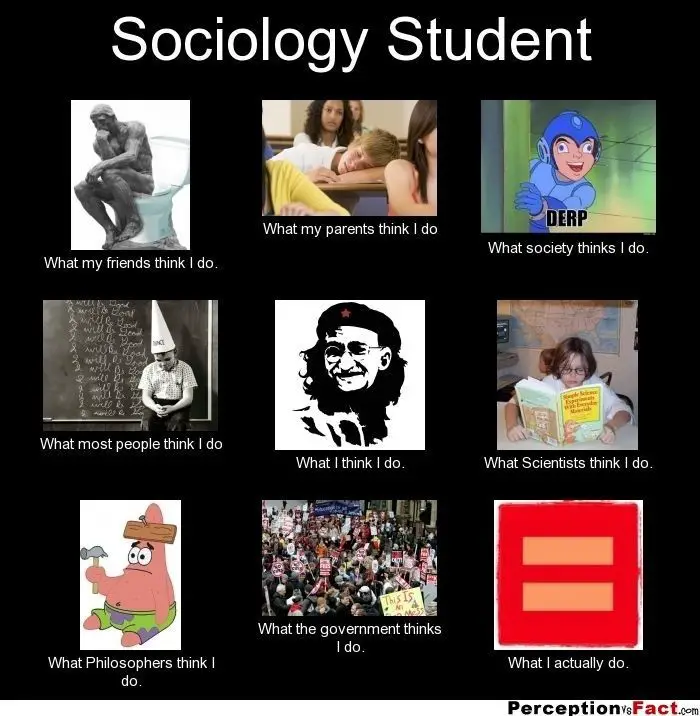 Source: Pinterest
---
Careers in Sociology
A career in sociology is definitely a dream come true for all those who are interested in public services, administration, counseling, education, and related fields. A few of the career opportunities available for a sociology career is as given below.
| | |
| --- | --- |
| Educator | Counselor |
| Therapist | Probationary officer |
| Rehabilitation Specialist | Social Worker |
| Human Services Assistant | Behavioral Disorder Counselor |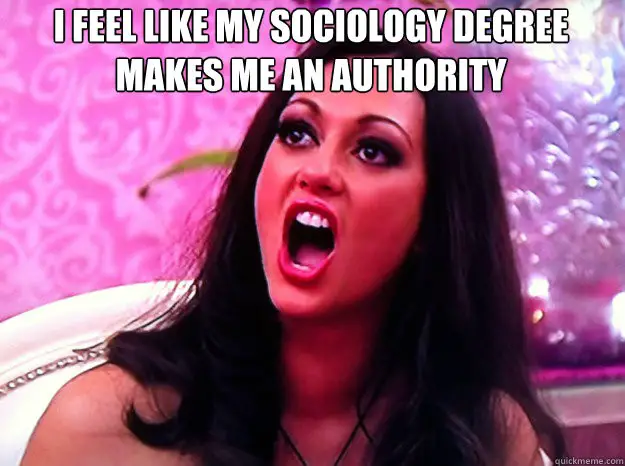 Source: Quick Meme
---
Sociology Organizations
Being a part of an organization, helps you to identify the recent updates regarding the subject of specialization. It also helps you to connect with people of the same interests. A few of the sociology organizations that you must take a membership are as follows.
American Sociology Association

Eastern Sociological Society

Council on Social Work Education

International Sociological Association

The Society for Social Research and many more
---
Skills for sociology jobs
A few of the essential skills required for a sociology job includes active listening, analytical abilities, creativity, critical thinking, empathy, interpersonal skills, logical reasoning, marketing, prioritization, and many more. The trending sociology jobs such as guidance counselor, human resources representative, lawyer, management consultant, market research analyst, media planner, and policy analyst have the previously mentioned skills as a pre-requisite for application.
---
Conclusion
Going against the general assumptions, a career in sociology offers a wide range of opportunities to those who have a will to explore. With the adequate skill-set and a will to work, sociologists can even find roles even in top-positions in an organization. Sociology is in a way the knowledge of empathy and, humaneness. The subject is far-reachable and provides scope to change career paths whenever one wishes for. Thorough knowledge of causes and consequences of common human experiences and issues, love, faith, equality, prejudice, education, economics, relationships and more in the sociology program transforms you into a better individual, additionally providing you adequate career opportunities.
---
FAQ'S
Which are the accreditations available for a sociology degree?
---
Institutional accreditation is granted by institutions such as the Higher Learning Commission, the New England Association of Schools and Colleges, Middle States Commission on Higher Education, Northwest Commission on Colleges and Universities, Western Association of Schools and Colleges and many more. However, programmatic accreditation is granted by organisations including the Council on Social Work Education and many more.
Which are the variety of career options for a sociology degree?
---
After the completion of a degree in sociology, you can probably take up job roles such as Social Research Assistants, Survey Researchers, Political Scientists, Sociology teachers, health workers, therpist, counselors, managers and more
How long does it take to earn a bachelors degree in sociology?
---
Full-time students complete the degree within 4 years whereas part-time students usually take 4 to 7 years for completion.
What is the duration of a Masters degree in sociology?
---
A Masters degree in sociology usually takes 2 to 3 years for completion.
Which are the most paid jobs after a sociology degree?
---
Archaeologists, economists, guidance counselors, lawyers, analysts, public relations specialists are a few of the most paid jobs after a sociology degree.
---
A person who studies, the behavior in societies, organizations, institutions, to identify how communities evolve with respect to people is known as a sociologist. Sociologists work in research organizations, institutions, government organizations, service firms and many more.