What can you do with a Web Development degree?
Web development is a broad term for the work deployed in developing and designing a website for internet or an intranet. If you have ever aspired to become a web developer, you are at the right place. To know about the job options and future aspects after acquiring this degree, read the blog.
Updated by Ankita Tiwari on 24th January 2019
"Everyone needs a website. As a web developer, you'll never be short of work"
What is a Web Development Degree?
It is an Associate/Bachelor's/Master's degree which is offered by most community colleges, universities, and online schools.
During the tenure of this course, you will learn the basics of how to build a website and mobile application, web page etc.
A person with an associate degree in web design usually has to work on simple application programming and website design such as MySQL, HTML, and CSS theming.
Apart from this, a web developer must also analyze user needs and make sure that the graphics, structure and the content are according to the requirement of the user and the owner of the website.
---
What Does It Mean To Study Web Development?
The growth of the World Wide Web since its development in the 1990s has been phenomenal.
It has changed society in various ways. A new set of career choices has sprung up in the field of web design and web development due to the enormous success of the Internet.
Study Of Web Development includes the following.
Developing and creating dynamic content for a website

Programming of the special features of the site

Selecting and setting up the proper software

Assessing the organization's hosting requirements

Ensuring that the entire process runs smoothly and in the right way
source - meme.org
---
Use of College Degree In Web Development
Web Development is a field that is growing and will not see a stagnant or a low phase in the near future.
How To Become A Web Developer
In order to become a web developer and be successful in the field of web development and web designing, do follow the given steps.
Choose a track
Decide where you want to go - frontend or backend. If you like them both you can also opt to become full-stack development. Choosing a track will help you to focus on specialized technologies related to that track.

Do a formal course
Although you can become a decent web-developer without having a formal degree but getting one can expose you to technical details which will take time when you are self-learning. Moreover having a degree can boost up your employment chances.

Hone Technical Skills
Learn relevant skills, like for frontend ( JS, CSS, HTML, React) or Backend (Ruby on Rails, Node, Django, PHP). Stay focused and don't switch until you master a particular technology.

Practice
Practice is the key to become efficient in any domain, and web development is no different. Try experimenting with the learned technologies and practice to implement different features for a standard website. Alternatively, you can practice exercise for standard websites like w3schools, code academy.

Online Portfolio
What is a better way to get work without showing off? Make flamboyant portfolio having examples of your work using your learned technologies to impress your clients.
---
Degree Levels In Web Development
There are four types of degree levels that you can opt for.
Web Development Certificates
The certificate option is designed for targeted educational training. It is meant is for students who need practical and fundamental knowledge relating to web development.
Prior programming and computer technology experience can be helpful, but may not be required.
The length of the program can last from a few months to several years, depending on the course load and curriculum.
The potential classes covered in the certification include the following.
Introduction To Coding - This class provides a foundation in computer programming and teaches the basic principles of how computers use the software.

HTML and JavaScipt Programming - Students can learn the basics of HTML and JavaScript which are essential for creating interactive web pages.

Introduction To Web Design - This course teaches how to successfully create a useful and effective web page.
source - Pexels.com
---
Associate Degrees In Web Development
This is a two-year degree course and no prior technical knowledge is required. It can serve as a base for your future Bachelor's degree.
Some of the topics covered under this degree are given.
Website Graphics - This focuses on graphics and how they're used in website design.

Web Page Multimedia - In addition to the use of graphics, students will learn about animation, video and objects and how they can be used when creating websites

E-Commerce - Students will learn to create websites for businesses, taking into consideration the needs unique to businesses.

Database Management - This involves learning the fundamental concepts of database and design.
---
Bachelor's Degree in Web Development
The typical bachelor's degree takes four years of full-time study to complete. The eligibility requirements for a Bachelor's degree in web development is given.

The degree covers a variety of subjects, such as the four listed below.
Website Usability - This course teaches students the basic principles of what makes a website easy to use.

Social Media and Collaboration - Students are exposed to web-based interaction and collaboration technologies and then learn how to apply those technologies to a given objective or purpose.

Optimizing Websites - Techniques used to improve web traffic, streamline efficiency and monitor website performance are covered in this class.

Advanced Web Design - Complex and advanced web creation techniques will be taught in this class. The website process from start to finish will be explained.

source - pinterest.com
Is that so? You will find out on your own!
---
Master's Web Development Degrees
Generally, a two-year degree course, it is the highest degree that an individual can receive after having done their bachelors.
It involves specialization in the field of web development and design and includes the following common classes.
Content Management Systems - This course explains how content management systems work and how they can be used to streamline the creation of web content.

Digital Communications - Students will learn how communication theories apply to digital and Internet age.

Web Development For Servers - Creation of web applications for servers using specialized programming languages.

Capstone Project - It is the final step before completing the master's degree, the capstone project pulls together major concepts covered in prior classes to provide an opportunity to demonstrate the students' understanding of web development.
---
Web Developer Skills
If you are going to make a career in the field of web development, then knowledge of some of the development kits such as Android, iOS, Laravel, Microsoft. Net, Django is required.

During the tenure of this course, you would be taught various programming languages and building apps using model-view-controller architecture.

Some technical skills and web development languages that are must in the arsenal of any web development degree holder are PHP, JavaScript, HTML5, JAVA, jQuery.

Not only this, but a web development degree will also teach you the business side of the web development.

A web development degree also teaches you the business side of working in web design and depending on the school you go to, it may also offer training in visual design.
Source - www.Majestictech.co.in
---
What Do Web Development Graduates Do?
If we go by the stats total employment in this field will grow by 13 % by 2026, which is 7 % more than any average occurs in the United States.
Thus it is certain that if you have a degree in Web Development, it will assure you a good job as this something for a long run. After you have some experience then you can go for freelancing or start your own business.
Career Destinations
Destination
Percentage

Employed

74.3

Further study

9.7

Working and studying

3.2

Unemployed

8.5

Other

4.3
There are opportunities available in a plethora of fields like IT, Retail, Marketing etc. Percentage of Employments in these sectors is given in the table.
Type Of Work After Degree

Type of work

Percentage

Information technology

39.5

Retail, catering and bar work

16.8

Arts, design, and media

13.4

Marketing, PR, and sales

4.8

Other

25.5
source - yourdesignonline.com
How true is that?
---
Web Development Jobs
Once you have learned the basic web development skills, a lot of job options are open for you. However, some of them might require a bachelor's or master's degree in web development courses.
Some may require additional skills and a few years of work experience as well. Some of the positions in the field of web development are given.
Web Administrators - It is a senior leadership position offered by larger companies. Web Administrators are usually part of the executive team and are responsible for the overall development, monitoring, and maintenance of the organization's website.

Web Designers - They are primarily concerned with the look and feel of the page. A true web designer understands visual communication and creates useful, attractive, and effective web pages.

Web Application Developer - Develops a project based on a specific web application and is responsible for developing, designing, and maintaining the interactive features of the site.

Web Programmers - A web programmer is responsible for the programming aspect which makes the webpage from code to a visual page. Expertise in HTML, JavaScript, and CSS is required.

WebMaster - As the job title implies, he is responsible for the content, quality, and style of the website. It is required that the applicable Web Standards are met and there is a constant improvement in the quality of the existing web pages.

Web Technologists - They assist in managing the Internet and Intranet infrastructure. It means ensuring that the technology used is current and appropriate in order to meet the organization's goals.
Besides the jobs that directly relate to the degree, there are many other positions like Technical Writer, Software Engineer, etc., where your degree would be useful.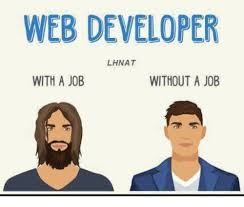 source - me.me
Saw that, right! Which one are you willing to become?
---
Typical Employers
There are numerous web design agencies that specialize in developing and maintaining websites for other organizations. They usually have their own web designer or an in-house team.
Small design studios or Advertising firms hire web developers with a flair in design.
Large IT and telecommunication companies also value these development and designing skills.
---
Web Development Career Trends
Web developers are scattered throughout every segment of the U.S. economic scene. However, However, the most prominent industry that relies on a strong online presence is the retail business.
These businesses require great expertise in designing pages that are easily navigable for the customer.
Also, as in other computer-based careers, the job market is growing faster than the national average and is expected to continue for the next several years.
Particularly experienced Web developers may be able to earn salaries high above the average computer professional.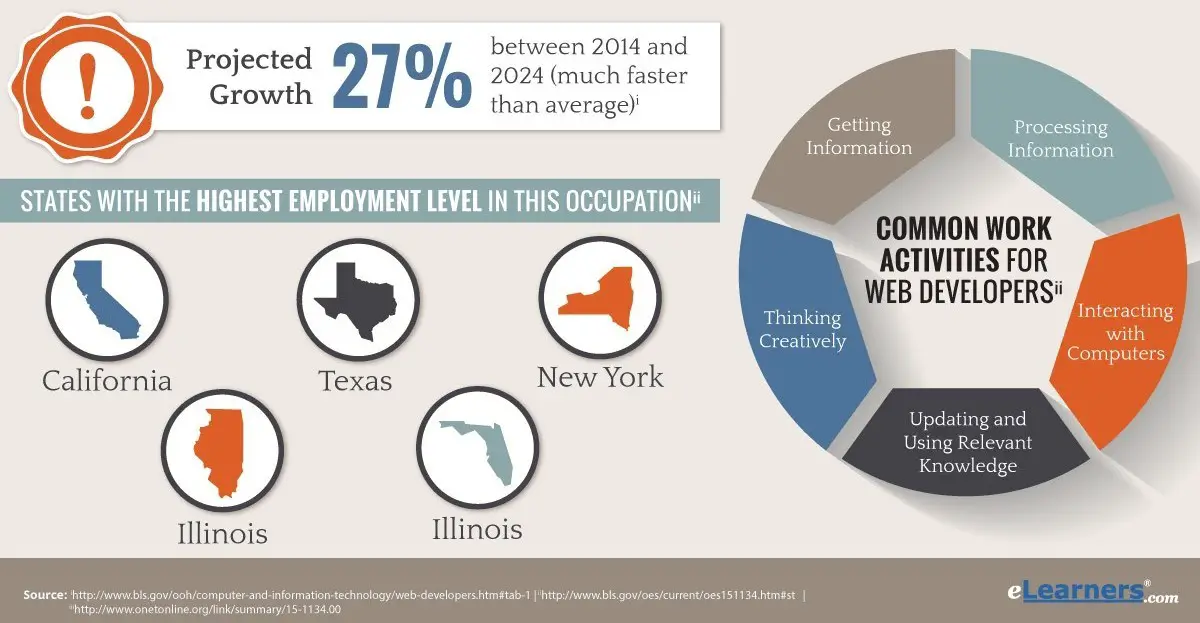 Source - www.elearners.com
---
Web Development Salaries
Web developers are the "rock stars" of the digital age. There has been an excellent rise in web development salaries in the past few years.
For example, in 2015, wages in the web development field grew at 3.6%. Going back four years earlier than 2015, in 2011, wages only grew 1.4%.
If the current trendline holds, we can expect a 4% wage growth rate in 2018. This would be followed by a nearly 4.5% growth rate in 2019, and finally, a 5% growth rate in 2020.
Below, we chart the growth rate in wages and extrapolate the growth rate to 2020.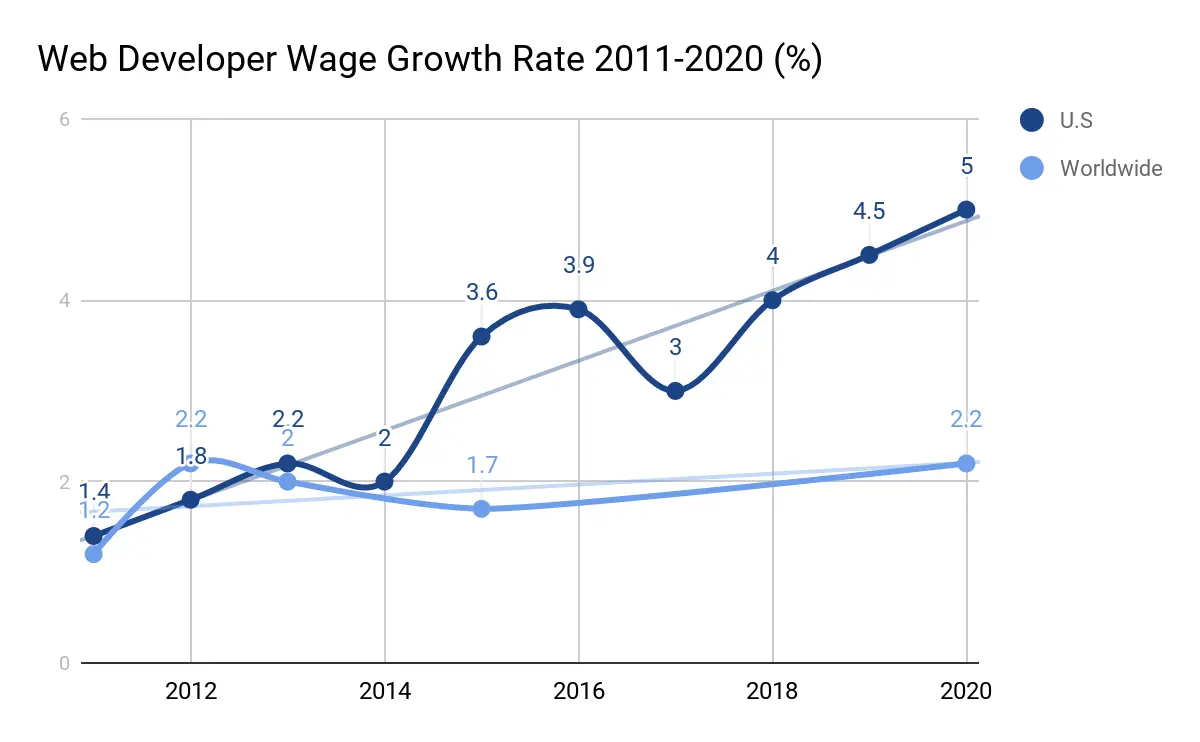 Source - pinterest.com
---
Colleges Offering Web Development Courses
There are a number of online degree colleges rendering courses in Web Development and Web Designing. A list of some of these colleges is given in the following table.
Few Colleges Offering Web Development Courses

American Public University System

DePaul University

Boston University

Fort Hays State University

Dartmouth State college

Stark State College
---
Tips To Succeed In Web Development
If You Are Interested In Web Development, you must follow the given three tips in order to make a successful career in the field of Web Development.
Take every opportunity you're given - Opportunities can provide you with great experience, help you develop new skills and make contacts in the profession.

Don't be afraid to ask questions - Web development is a continual learning process and you need to be enthusiastic to learn and ask questions.

Don't be afraid to fail - Failure is essential to succeed and you will definitely grow from every mistake.
---
Conclusion
Once you have acquired a degree in web designing, you can apply for various jobs.
Web development knowledge coupled with technical skills can land you a great and high-paid job. A student can even go for a higher degree.
When it comes to a fast and affordable degree, web development is a good choice.
With a good creative mind and strong designing skills, it is certain that you will excel in this field.
---
FAQ'S
What can I do with a web development degree?
---
Once you get a degree in Web Development, you can apply for jobs directly associated with web designing and development, or any other software jobs. You can also pursue higher education or work as a freelancer.
Are web developers in demand?
---
Yes, definitely. Web developers a playing a major role in keeping up with the increasing demands in services. A vast majority of web developers and designers are growing a whopping 25 percent or more a year.
How do I get a web developer job with no experience?
---
Here are a few steps to follow to land a junior web developer job-
1)Build a Portfolio Site Full of Relevant Work.
2)Do Freelance Projects.
3)Put Your Code On GitHub.
4)Contribute to an Open- Source Project.
5)Participate In a Hackathon.
6)Meet Techies Online and IRL.
7)Follow Industry News
8)Keep Learning.
Do you need a University degree to be a web developer?
---
No. These days, having a degree in computer science is not a requirement to find a job in web development.
Is web development a good career option?
---
If you have good analytical and designing skills, pursuing a career in web development can be a great option for you. The growth of jobs in this field has been phenomenal and you will definitely not land unemployed.
What is the role of a junior web developer?
---
Work in entry-level Web development can include-
Gathering relevant content and information from key company personnel;
Developing the Web design concept and page organization;
Presenting the site for approval or refinement from company personnel;
Designing, building, and testing Web pages and links; and
Updating contents and maintaining the site.
What language should I learn first for web development?
---
The most important language you need to learn is JavaScript, along with  HTML and CSS.
How much does a web designer earn in the United States?
---
The average Web Designer salary in the United States is$75,998 as of December 01, 2018, but the range typically falls between $64,978 and $86,876.