Get detailed information about tuition, accreditation, career prospects, scholarships, admission details, and much more
Online degrees are popular today, and learning about the best online colleges is more important than ever. 
The idea of being an online student in an online school may be new to you, but these accredited schools provide the same level of education as an in-person program and the option to pursue both a bachelor's degree and master's degree. 
Balancing life and work with your studies sounds difficult, but a good online degree program can make it easier — especially one that's a good fit for your educational needs. 
In this guide, we'll walk you through today's 10 best online colleges, why you should choose an online degree program, and what you should consider when searching for the best online school for your master's degree or bachelor's degree.
Let's dive in.
What are the 10 best online colleges?
On our website, we've listed more than 3,000 colleges for every state, degree level, and specialization. You'll find a complete guide with information on each college and its rankings. 
The College Monk strives to provide a holistic approach to education. With that in mind, we also provide exhaustive information on tuition, careers, online program features, undergraduate program options, graduate program options, and more.
Below, we've listed the 10 best colleges for online programs. 
Our rankings are based on tuition, financial aid, acceptance rate, and more to help you find the best educational experience.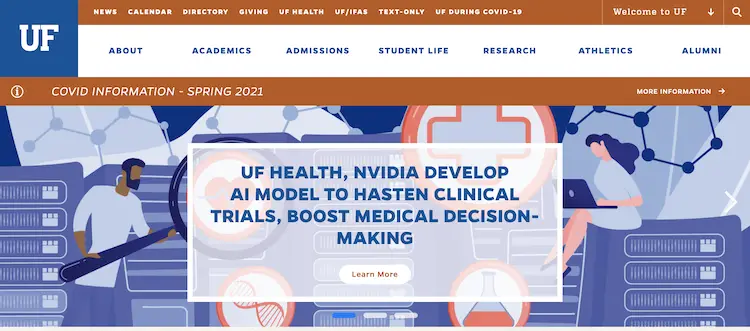 Established more than 160 years ago, the University of Florida (UF) is a dynamic school that's known for its research activities and educational programs. UF has established around 200 educational and research centers, institutions, and bureaus.
Students at UF learn from world-class faculty who encourage students to achieve career goals. 
Around 80% of UF students receive financial aid, and the university has one of the country's most comprehensive library systems for every discipline. The average GPA of UF students is 4.35, and the average SAT score is 1919. 
Last year, UF received $838 million in research awards. The online university also offers career services and the same accredited undergraduate degree and graduate degree program options available on-campus.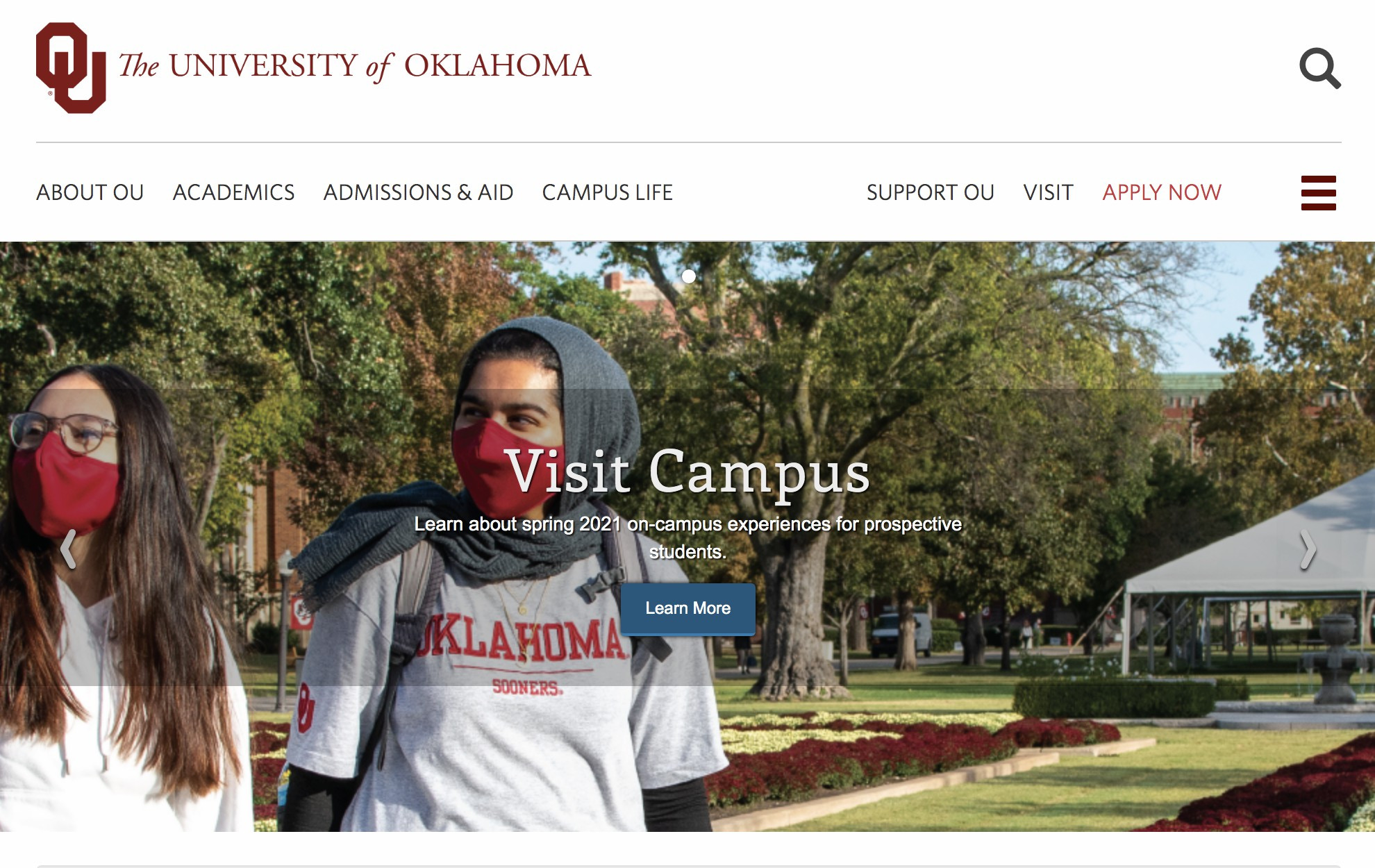 Founded in 1890, The University of Oklahoma (OU) is home to more than 20,000 students. It offers around 170 bachelor's degrees and boasts a diverse curriculum. It offers graduation coaching and peer mentoring, along with academic and personal support.
OU is one of the largest research universities in Oklahoma and stresses high academic achievement. The average ACT score of students at OU is 26.4, and more than 1,000 students are national merit scholars.
The university is also home to the National Weather Center, and students can pursue their research starting from Freshman year.
The University of Utah (UoU) is one of the most innovative universities out there. In fact, the university has created multiple startup companies and encourages student and staff research. The university was founded in 1850 and has over 31,000 students.
It offers more than 80 majors in different degree levels. The university believes in providing an enlightening and unique education to each of its students and has created a portal, "Muse,'' to connect students with great experiences.
Online programs and on-campus courses are delivered by the same faculty. They provide career service counseling to students as well.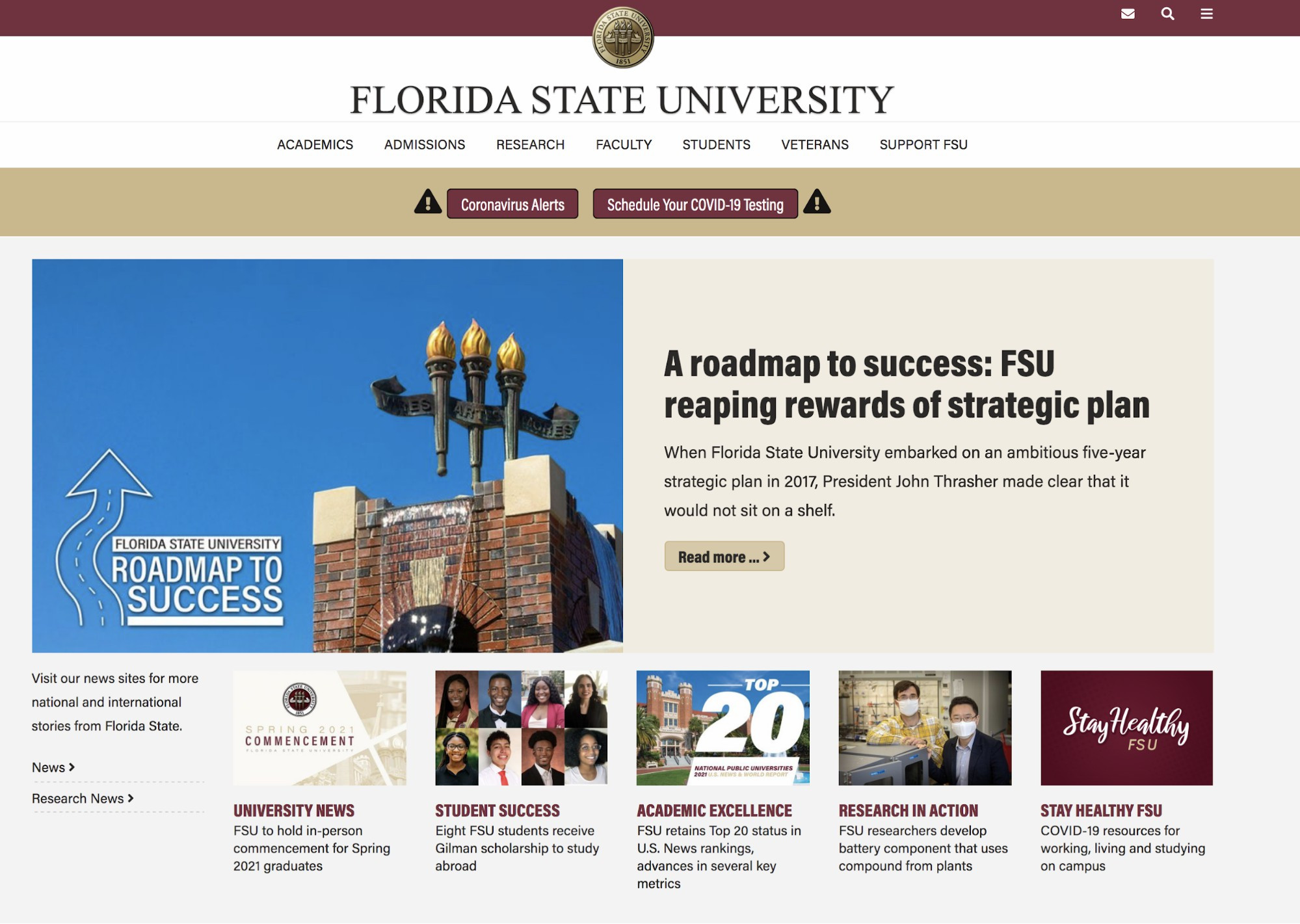 Florida State University (FSU) was founded in 1851. It has a rich history surrounding the teaching of arts, science, technology, research, and more.
The university offers 301 programs in various degree levels, including available graduate and undergraduate programs in a variety of fields. Recently, the university received around $210 million in grants and contracts.
FSU is the alma mater of six Nobel Laureates. The university preserves liberal arts traditions but also fosters diversity. This university has a Carnegie Commission classification of 'Highest Research Activity' in doctoral universities.
It's also one of the best entrepreneurial universities, providing exceptional training and online education to undergraduate and graduate students alike.

Oklahoma State University (OSU) is a diverse university, boasting students from across 100 countries. Since its inception in 1890, it's grown from an agricultural and mechanical college into a land-granting university. Oklahoma State University is also a leader in research subjects, including engineering and health.
The school's several scholarships and financial aid opportunities make the university affordable. Almost 50% of OSU students graduate without debt.
OSU also offers excellent online learning programs. According to OSU, 87% of its graduates have annual earnings of $45,000 or higher.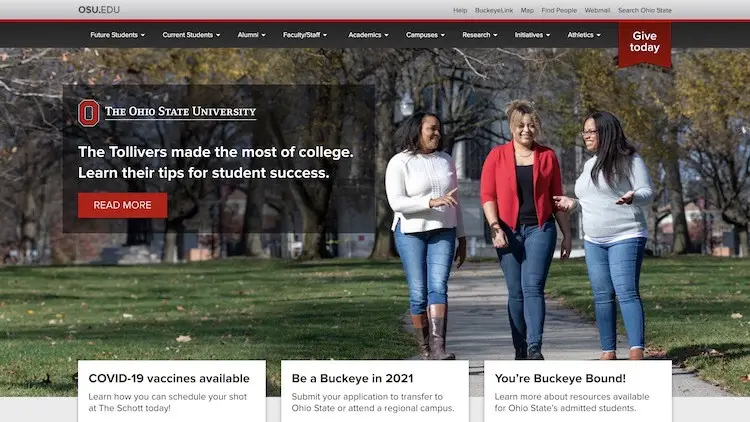 Ohio State University (OSU) is a public institution that dates back more than 100 years. It provides quality education for both traditional and online students. OSU is one of the largest research universities in Columbus, with regional accreditation granted by the Higher Learning Commission (HLC). 
The university also provides financial assistance to students in the form of loans, grants, and scholarships.
The total population of OSU is 54,482, of which 51,817 are full-time students. The remaining 7,665 are part-time students. The institution is very selective, with an acceptance rate of 54% and a graduation rate of 84%. 
Ohio State University offers online programs to earn an associate degree, bachelor's degree, master's degree, and even a doctoral degree, all taught by well-trained and experienced professionals.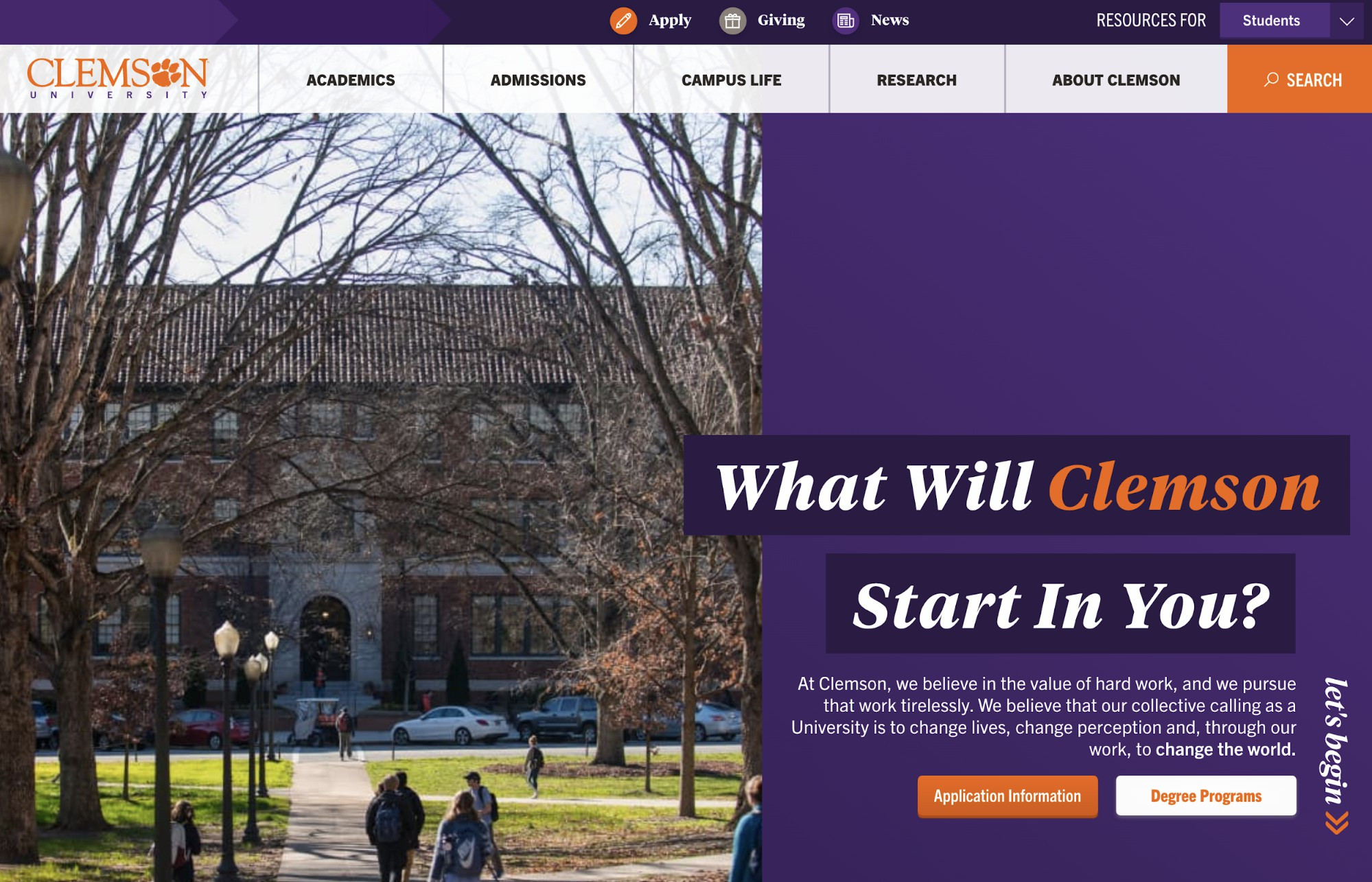 Clemson University (CU) is a four-year public institution established in 1889. From the start, the mission of the university has been to help students get the best education at an affordable cost. 
Clemson's online and on-campus programs are well-structured and designed to cater to the needs of students who want to learn on their own. CU has an acceptance rate of 51% and a graduation rate of 81%.
Students can pursue their online education in various specializations and majors such as Health Science, Biology, Engineering, Business Management, Environmental Science, and more. These programs allow individuals to take classes at their own pace, with the flexibility of learning from anywhere.
The university's financial aid unit provides financial support to almost 87% of students every year. This financial assistance comes in the form of grants and a few state and institutional scholarships available to students who demonstrate exceptional academic backgrounds.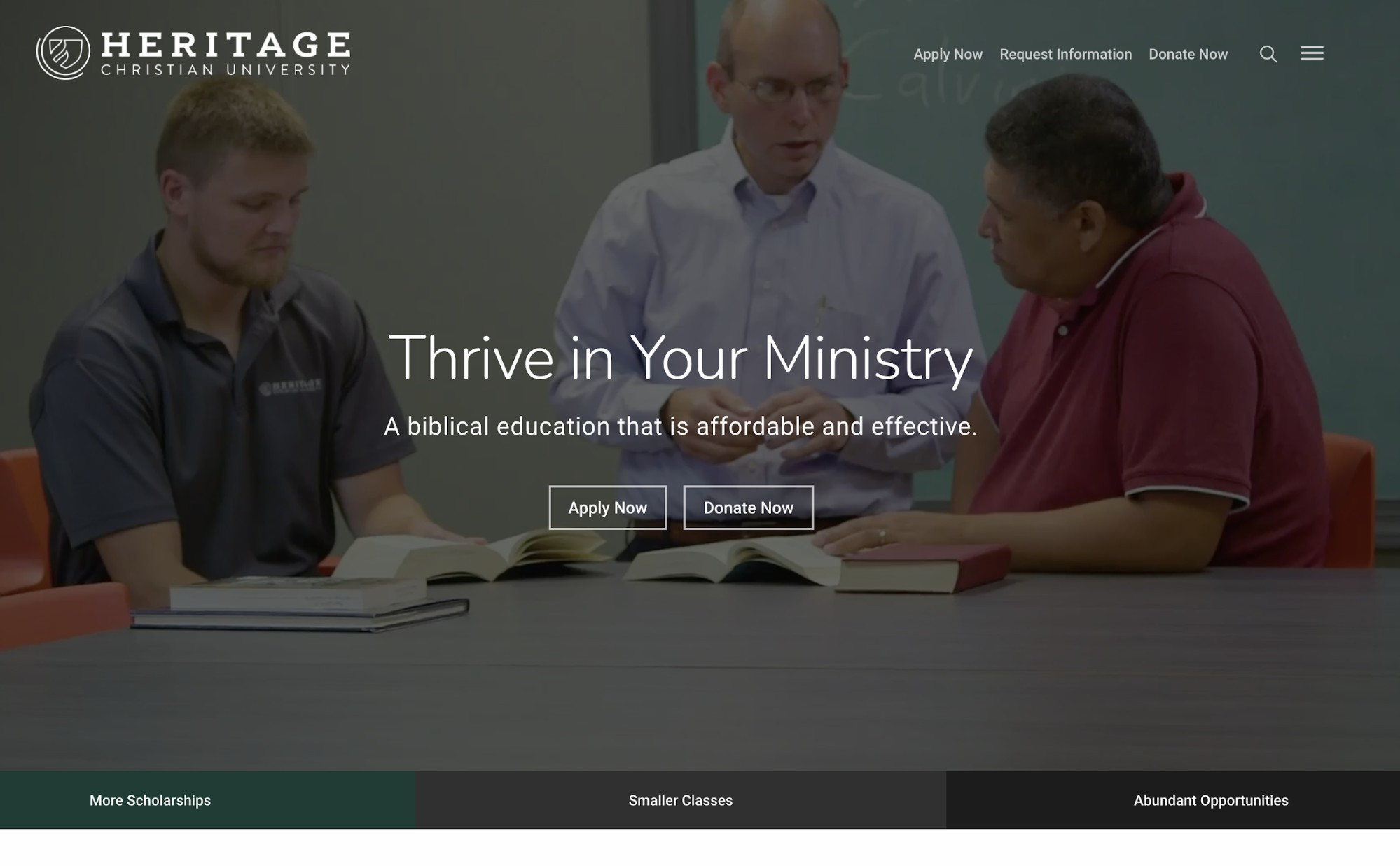 Heritage Christian University (HCU) is a not-for-profit, private bible institution established in 1968.
HCU is regionally recognized and accredited by the Association for Biblical Higher Education (ABHE).
The university provides various online courses to support individuals who don't want to commute to the campus to earn an undergraduate or graduate degree. 
The majors for these programs include Theology and Arts. The financial aid department of the university provides financial support in the form of loans, grants, and scholarships, including the Legacy Scholarship and the Undergraduate and Graduate Student Scholarship.
For both online and on-campus students, the Department of Student Affairs strives to enhance a student's emotional, intellectual, social, and physical well-being through events and opportunities.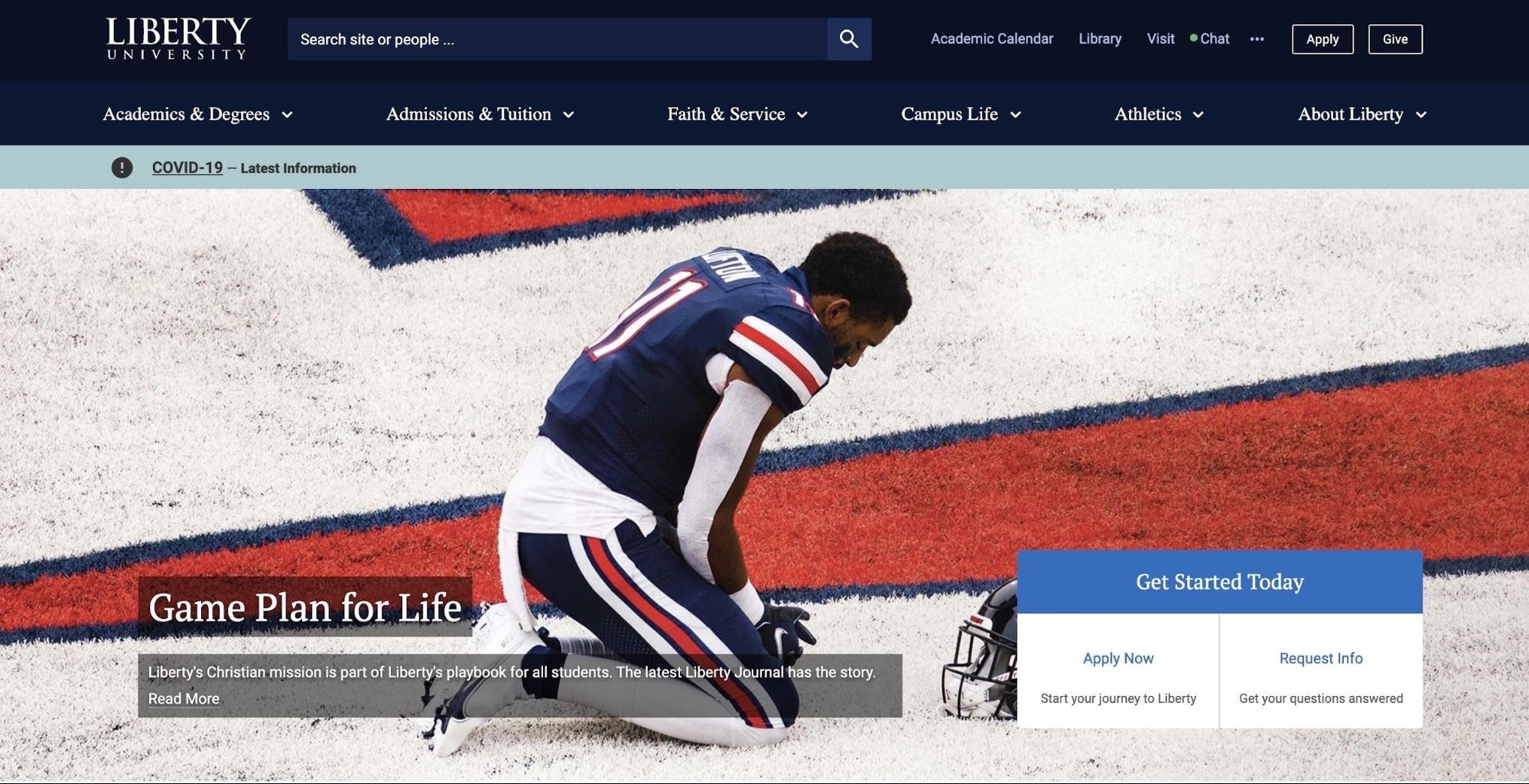 Liberty University (LU) is a not-for-profit institution that's one of the country's largest Christian universities, with over 75,756 students from different parts of the world. 
LU has an acceptance rate of 30%, with a graduation rate of 51%. Liberty is the world leader in online programs that are well-structured and can help students pursue their online bachelor's degree conveniently. 
Students at LU can pursue degrees including associate's, bachelor's, master's, and even doctoral degrees in majors such as Nursing, Political Science, Public Administration, Sociology, Biomedical Science, and more. 
The tuition and fees at LU are affordable, and the university offers financial assistance. Currently, more than 72% of LU students receive financial assistance in the form of loans, grants, and several state and institutional scholarships.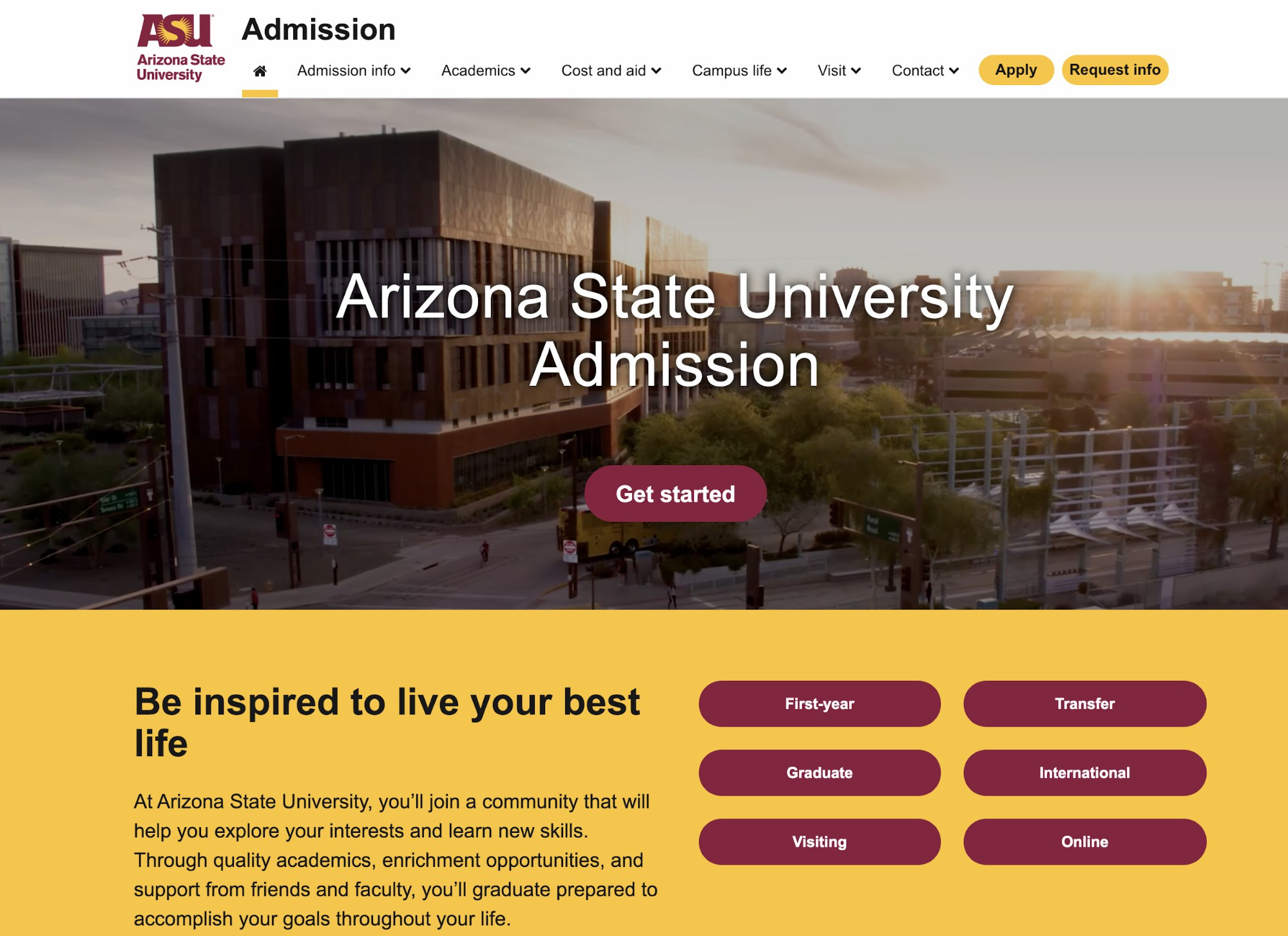 Arizona State University (ASU) is a public institution located in Scottsdale, Arizona. It offers online and traditional courses that are perfect for students who want to pursue education from the comfort of their own homes. The university has 51,869 enrolled students from different corners of the world.
ASU offers online programs in various specializations, including Corporate Accounting, Certificate in Biomimicry, Art History, Family and Human Development, Biochemistry, and more. 
The tuition and fees vary from program to program. Financial assistance is available in the form of grants and scholarships. Some students can even fund their education through work-study programs.
FAQs about online colleges
Online learning is new to a lot of people, so it's natural to have questions.
To help you get started, let's break down a few of the most frequently asked questions about online colleges.
Why choose an online college?
We all have different learning styles. Some of us learn better by doing things with our hands, and others need to be face-to-face or working in groups. Some students perform better when they're working online.
Although online learning isn't right for everybody, there are some major benefits to pursuing your college degree in this way.
Enhanced flexibility
First and foremost, there's an element of flexibility. 
When you're in a traditional face-to-face learning environment, everything has to be meticulously scheduled. That means your 9 a.m. class is always going to be at 9 a.m., no matter what morning crisis you've had with work or family. 
When you're pursuing an online degree, rigid schedules aren't as much of an issue.
Online college degrees are typically composed of various classes or modules that you can work through at your own pace. This is a critical consideration for many students and a large driver of growing distance education enrollment rates. 
You may have a certain live online class or lecture that does have a set time. However, many online universities and online colleges will let you go back and watch these on-demand.
With this added flexibility, you're able to maintain a current job, juggle gaps in childcare, or simply enjoy more leisure activities without having to sacrifice your college degree.
Lower costs and debts
Let's face the facts here: college degrees are expensive.
For the 2020-21 academic year, the average tuition for an in-person public out-of-state college was sitting at $27,020 per year. Want to go private? You're talking about $37,650 of tuition per year.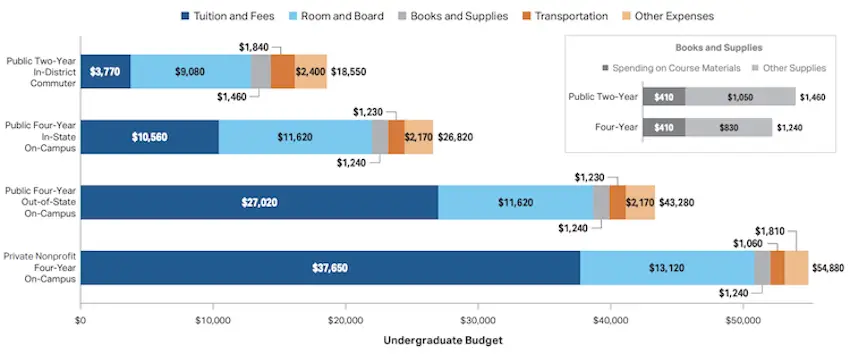 But that's only the tip of the iceberg where costs are concerned.
You can add in an average spend of $11,620 for room and board, $1,240 for books, $1,230 for transportation, and $2,170 for other expenses. 
Still with us? If math isn't your thing, all of the above equates to $43,280 in costs each year — and that's just for an out-of-state public school.
Whether you study online or in person, you're always going to have to budget for tuition.
But by choosing an online college and pursuing distance learning, you're going to slash those expenses dramatically. 
Because you can study from wherever you want, you don't need to worry about dropping loads of cash on room and board or transportation.
Likewise, a lot of online courses come with more affordable (or even free) ebook options that can save you thousands on textbooks throughout your studies.
That means your finances won't be as stretched, and you won't have to take out sky-high student loans to make ends meet.
Access to great colleges without moving
If you live in a rural area, there might not be many options for higher education around you. 
Even if you're in a metropolitan area with plenty of educational opportunities, maybe you're not near your dream school, or you're still too far from the program you want to attend. 
In these cases, distance learning could be a great option. As online education becomes more popular, it's expanding accessibility for students around the world. Today, it's possible to attend the university of your dreams, all without uprooting your family or changing your life. 
Stay in the place you love while obtaining the education of your dreams. It's a win-win for everyone. 
The ability to learn the way you want
If you're someone who thrives in a digital environment, in-person schooling might be a bit difficult for you. 
Online learning, on the other hand, could be your wheelhouse. There are different learning styles, and online learning may be easiest for people who are "read-and-write" or visual learners.
Online colleges give learners like you the freedom to absorb new information in the way that suits them best. There's no more cramming yourself into someone else's educational model. 
Digital learning is a great way to take charge of your education and absorb as much information as possible. 
What's college like as an online learner?
No two colleges are 100% alike — even online colleges. Yet, you can expect a few basic similarities between each online college no matter which institution you decide to go for.
The first thing you can expect as an online learner is that you'll be attending lectures and seminars at home or work instead of at a university campus. All of the teaching, materials, and support you'd normally expect from a college are delivered 100% online.
Online courses are generally condensed into bite-size credits. You'll achieve a credit each time you finish a part of your course. After you're awarded enough credits, you'll be able to complete the course.
When you're studying with an online college, you'll still need to log in frequently for classes. 
You won't be required to meet weekly in a classroom like a traditional college class — so online students are expected to log in as much as possible to digest the coursework, watch lectures, and study on their own time.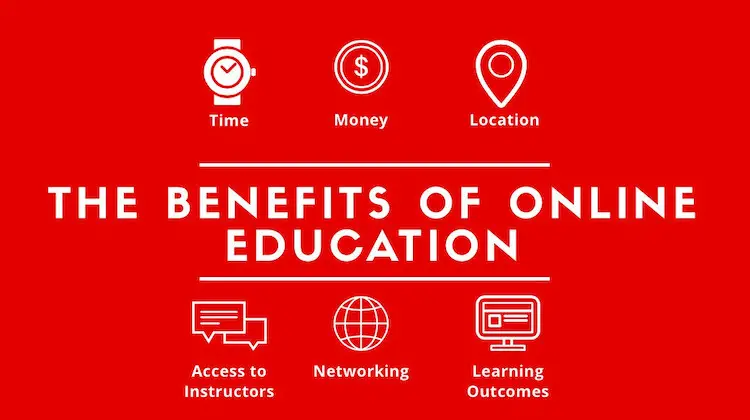 Just like an in-person college course, online learners are required to submit assignments and quizzes in line with the online course syllabus. The vast majority of this coursework will be submitted online through the online college's virtual learning platform. 
But every once in a while, you may need to travel onto campus to take a big test in person. That sort of requirement will depend on what course you're taking and the university or college you've chosen to study with.
Finally, it's important to remember that even though you're earning your degree remotely, you should still expect some engagement with your peers. 
Most online college classes will feature virtual discussion forums so that you can discuss ideas with fellow online learners and benefit from the same seminar style that in-person college students would receive.
Again, these forums are typically delivered online via the college's online learning platform.
How to choose the best online college for you
There are a whole lot of online colleges out there — so it can be a little bit daunting when you're first embarking on any sort of college search. At the end of the day, you've got to go with your gut and choose the school that feels right for you.
That being said, there are a few important elements that you should bear in mind when looking for the best online college.
Accreditation
First and foremost, you probably won't want to waste your time looking at online colleges that are not accredited.
Accreditation is a vetting process colleges, universities, or certain degree programs undergo to make sure they fulfill a set of universal guidelines. Simply put, accreditation is a quality-control procedure.
Any online college worth its salt will voluntarily submit to the accreditation process to demonstrate to educators, students, and employers that the learning material is credible and acknowledged by relevant industries as satisfactory.
There are loads of accreditation bodies out there, so it's important to do your homework and make sure that the online course you're considering is accredited by a reputable institution. 
The US Department of Education and the Council for Higher Education Accreditation recognize several accreditors.
Some of these bodies are specific to certain regions within the US, and other bodies are industry-specific. For a complete list of bodies recognized by the US Government, it's worth looking at the Department of Education website.
A word of caution: accreditation isn't simply a matter of looking posh or ticking boxes. If you choose to go to an online college that isn't accredited either nationally or regionally, you could end up paying the price in other ways.
For example, you are rarely going to receive federal financial aid if you're trying to attend an unaccredited online college.
Likewise, going for an unaccredited online school will almost always block you from switching schools or programs if you spot something you're more interested in. 
Typically, when you transfer to another online college, you can take credits that you've already earned with you. That means you won't be starting from square one and can pick up with your new course where you left off with your old one.
But if you're studying at an unaccredited college, other institutions aren't going to recognize the credits you've already attained.
Finally, picking an online college that isn't properly accredited will almost definitely hurt your future employment chances. 
Most employers carry out background checks on prospective students — which means they're going to research the school you attended. If your desired employer isn't satisfied with the degree you've attained, you're going to miss out on jobs before you even get to the interview stage.
Cost
Although online degrees are typically a lot more affordable than traditional in-person courses, the cost is still going to vary from online college to online college. That's why you must do your research to make sure you're getting a fair price.
It's important to note that colleges are businesses that need to make money. There's no such thing as a free lunch — so you shouldn't expect to get a degree for free either.
That being said, you should do your homework beforehand and look at the sticker price of each online degree you're considering. Look at how they differ, and try to decipher if the more expensive courses offer any enhanced benefits or resources that you might get some use out of.
Likewise, you shouldn't be afraid to approach online colleges directly to ask for a breakdown of fees before applying. Sometimes, colleges will advertise a certain tuition fee price — but then a student could be faced with an extra thousand dollars in their first invoice for hidden registration fees.
When in doubt, you should choose an affordable online college that is upfront about the costs you're going to be expected to pay. If you're still not sure how you're going to pay for college, take some time to research scholarships and student loan opportunities. 
There are dozens of funding methods available, and finding the right one for you is as simple as doing your homework and talking with trusted advisors and financial aid experts at the school of your choice. 
Tech support
Let's be honest; we're not all tech wizards, right? 
Not all virtual learning platforms are 100% intuitive, and sometimes we all need a helping hand with learning a new app or system. That's why you must limit your online college search to schools that offer great virtual support.
The best online colleges should be able to offer you access to a dedicated IT or tech support team that can walk you through how to make the most of your virtual resources or complete tasks. This is typically going to be delivered through a live chat, responsive email threads, or even over the phone.
But the online support shouldn't end there.
Because online degrees aren't normally as structured as typical degree programs, you may also sometimes find you have trouble keeping on track and remaining focused. 
That's why your online college should offer access to a guidance counselor and support staff that can walk you through any issues you may be having or help you prioritize the new workload.
After all, just because you're not physically on campus doesn't mean your college shouldn't exercise a duty of care. If you're a student at a college, it's in that college's interest to see you succeed. 
Don't settle for an online institution without any guidance or career support to help you achieve success.
Course offerings
One of the trickiest parts of searching for the perfect online college degree is how many different courses there are. 
The market is flooded with similar-sounding online degree programs. Even after you separate all of the online colleges that offer an accredited bachelor's program with great support, you're still probably going to be staring at a shortlist of 100 different degree possibilities.
That's why you should also consider how the courses are structured and what they offer in terms of added value.
For example, at first glance, you might find an incredible-sounding online computer science degree program. But once you look at the module breakdown, you realize that this particular course is going to require you to earn 22 credits studying ancient Rome. 
If you're paying to learn about computer science, taking tests about gladiators is going to be a waste of your time and money, right?

So, do your homework and analyze how each course is composed. 
Many of the best online colleges and universities will now even let you create your own degree to a certain extent. That means you may choose an academic program, but then you'll be permitted to pick or drop certain elements based on your unique interests.
At the end of the day, most undergraduate students choose to pursue an online degree because they want flexibility and to save money without compromising on quality. Your time as an online student is every bit as valuable as the time of a traditional in-person college student. 
That means you should be focused on taking courses that cater to your interests and fall in line with your desired career trajectory.
Cohort
Last but not least, you should consider the kinds of people you want to go to school with. 
As you move through your online college application process, there will probably be several questions about why you're choosing to attend the university. There will likely also be questions about what you hope to gain from said university, besides a degree. 
In asking these questions, most online colleges are trying to get a sense of the people entering the program and whether each online student is a good cultural fit for the school.
Here's the bottom line:
Each university attracts a different cohort for different reasons. 
Some people attend an online degree program because of its prestigious name or because the program offers a track or focus that appeals to them. Some are searching for flexibility, while others want to learn from a particular professor or faculty member. 
Whatever the case may be for you, make sure you're taking some time to research the culture of the university in question. How large are the classes and cohorts? How much face-to-face time can you expect with your classmates? Is there group work? 
Every student's motivation to attend a university is different. At the end of the day, though, you should choose a university that places you alongside like-minded people who want to learn and grow the same way you do.
If you take your time and choose the right online program, you could emerge from this educational experience with lifelong friends and valuable connections.  
Conclusion
Everybody expects to get something different out of college. But with online distance learning, you can expect to get a quality degree at a more affordable price. 
You can also expect to access a learning model that works for your life. Online college is great for non-traditional students, people working full-time jobs or raising families, and students who want to take a digital approach to a great education. 
Online colleges are not for everybody.
But if you're on the hunt for an accredited online college program that can be flexible around your existing lifestyle, cuts out unnecessary expenses, and offers high levels of virtual support, there are plenty of incredible online colleges to choose from — perfect for a motivated online learner.
Just remember: no two colleges or online degrees are alike. So, if you need help comparing degree programs, we're here to help. Start comparing online colleges now.