Top 5 Best Online Computer Science Degree Programs
Get detailed information about the best online Computer Science degree programs and their tuition, accreditation, career prospects, scholarships, admission details, and much more
If you've been considering earning a degree in computer science, chances are you're already well aware of the opportunities it may present you. You don't even have to earn the best online computer science degree to be able to find a well-paying job. And, you don't have to work in tech, since computer science experts are needed in just about any industry.
Luckily, there are now so many colleges and universities offering top online computer science programs. If you'd like to know more about some of them, this guide lists five of the best online CS degrees. Read on to find out more!
What to Expect in an Online Computer Science Degree Program
If you enroll in an online college for a computer science degree, there are a few things you can expect. First and foremost, you can anticipate an education that is flexible so you can earn your degree without having to compromise your daily schedule and responsibilities too much. You can also expect your education to be at least somewhat more affordable than an on-campus equivalent, especially since you'll likely save money on living and transport expenses.
Other things to expect may vary, depending on your program and its curriculum.
In general, an online CS degree will help you learn how to think not just logically, but also analytically. You'll learn how to evaluate situations and find solutions to some very complex problems. Your courses will teach you the theory and the fundamentals of software/web development, then you'll apply your knowledge in coursework. Depending on your program, you may also learn some specialized knowledge.
You won't just be sitting through classes and lectures, you'll also be doing a lot of practical exercises to help you learn by doing. Some programs may even require you to finish a capstone project to graduate.
Some Common Computer Science Degree Courses
When you start working toward your degree in computer science, there are a few common courses you'll probably encounter. Beyond general studies, there are a few courses that overlap from program to program and from school to school.
Some courses commonly found in online CS degrees are:
Courses for programming languages, where you can learn the fundamentals of various programming languages. You'll also learn how to use those languages with practical coding exercises and experience.
Project management courses, which will teach you the basics of business principles and management so you can become an effective manager. You'll also learn some soft skills like collaboration, communication, and leadership — all skills that can help you in your future career.
Classes in software security, where you'll learn how to make sure your code is secure so you can create software and apps that are good enough to meet the security standards in the industry.
Courses aimed at teaching you how to become a full-stack dev handling both the back and front-end development of a website or software. It's likely you'll also learn some frameworks along the way.
Depending on the program you are enrolled in, you may also have some mobile architecture classes, which will teach you what you need to know to develop and launch an intuitive and user-friendly mobile app.
5 Best Online Computer Science Degree Programs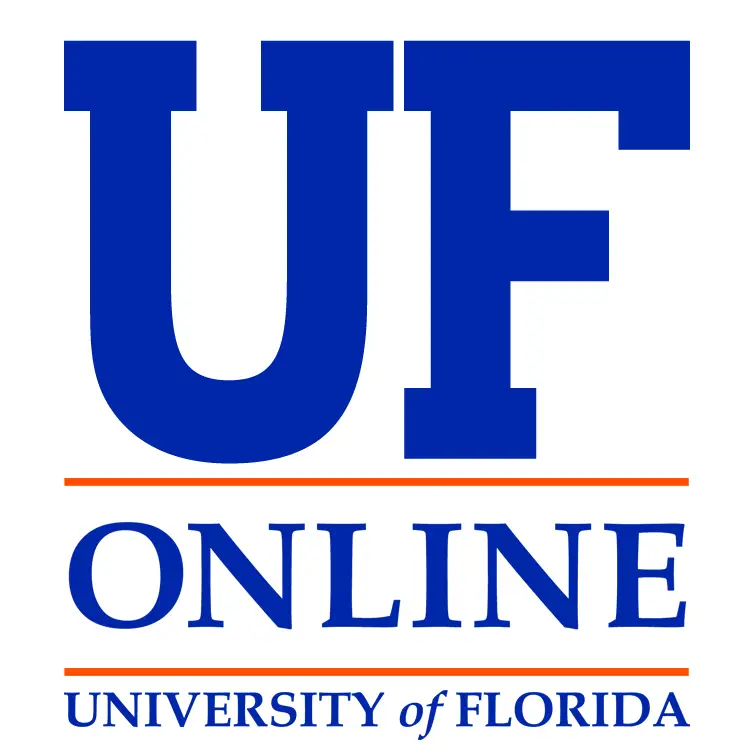 Credit requirement: 70, four-year program
Acceptance rate: 31.1%
Graduation rate: 88.5%
Accreditation: SACS
Cost per credit: $129.18 per credit hour for in-state; $552.62 per credit hour for out-of-state
If you'd like a strong foundation in computer science, the BSCS program at the UF Online can give that to you. Enrolling in this program will also give you a strong education in other areas like the social and behavioral sciences and the humanities.
What makes UF Online's program one of the best online computer science degrees is the fact that even as an online student, you'll get the same level of education and the same learning opportunities as students earning their degrees on-campus.

Credit requirement: 120, four-year program
Acceptance rate: 95.4%
Graduation rate: 50.9%
Accreditation: SACSCOC
Cost per credit: $356 per credit hour for in-state; $407 per credit hour for out-of-state
One thing that sets Old Dominion University's online Bachelor of Science in Computer Science degree apart is the fact that it is one of the most affordable programs offered by a private institution. On top of this lower cost, ODU also offers active military members a discount on their undergraduate tuition fees.
ODU's program is 100% online, so you'll never have to set foot on campus. You'll learn about the fundamentals of computer science, which is a given. But on top of that, you'll also have lessons on topics like computer networking, data science, programming paradigms, information security, and more.
ODU's BSCS program is one of the best online degrees in computer science available internationally. Students from more than 60 countries are welcome to apply.

Credit requirement: 60, one to four years on average
Acceptance rate: 82.2%
Graduation rate: 66%
Accreditation: NWCCU
Cost per credit: $403 per credit hour regardless of whether you are in or out-of-state
As one of the West Coast's top research universities, Oregon State University is able to offer top-notch education — even online. Students here will earn their BS Computer Science Degree as offered by OSU's School of Electrical Engineering and Computer Science.
One of the best reasons to choose the program at OSU is the fact that only 60 credit hours are required. As a result, you can complete your degree as quickly as one year, especially if you opt for some of the more accelerated tracks available.
This program accepts students from over forty countries.

Credit requirement: 120, four-year program
Acceptance rate: 70.2%
Graduation rate: 72%
Accreditation: HLC
Cost per credit: $722 for part-time; for full-time, see the package rates listed here
Concentrations available: Software Development, Game Systems
DePaul University is a private Catholic institution — the largest in the US, in fact. Its four-year BS CS degree program requires you to complete 120 credit hours, so it'll be a lot of work. Add to that the fact that you'll also need to complete two capstone projects (one during your sophomore year and one during your senior year) and it's going to be a busy four years indeed.
The program at DePaul, although online, is synchronous. The synchronous format means you have to follow the school's schedule, and the program is not self-paced. However, you are more than welcome to review course material at your convenience.
Credit requirement: 120, four-year program
Acceptance rate: 49%
Graduation rate: 11%
Accreditation: WASC
Cost per credit: $405 for standard; $330 for retired military, veterans, and their immediate family members; $250 for DoD employees and active military and their family members
Concentrations available: Cybersecurity
Trident University is a 100% online institution, but that doesn't mean they don't offer a quality education. Earning your degree here will afford you support services much like what you'll find at a brick-and-mortar campus. You'll also get some flexibility and quality instructors.
Frequently Asked Questions:
Are online computer science degrees respected?
Yes — most employers these days recognize and accept online degrees as valid and respectable, especially if they come from well-known and respected institutions. You don't have to study at the best online schools for computer science, but one thing you should keep in mind is that you should earn your degree from an accredited college. Otherwise, employers may not respect your degree at all.
What is the best computer science degree to get?
The best degree for you is the one that fits your interests the best. You may want to look at factors like cost, flexibility, duration, credits required, and the availability of concentrations.
If you feel like working things at the software level isn't so much your jam, you might want to look at a degree in computer engineering instead.
Is a computer science degree worth it?
The United States Bureau of Labor and Statistics has data that shows jobs in computer and information technology will grow by 13% from 2020-2030. On top of this, some specialist fields like information security analysts can grow by up to 33% until 2030. This fact alone gives you a good idea of your chances of employment after graduating. Add to that the fact that many working in the field earn six figures, and you have your answer — a degree in computer science can definitely be worth it.
Want to know more about this degree? Check out this College Monk Guide on Computer Science.
What can you do with a computer science degree?
Graduating from the best online computer science programs can open many doors for you — and not just in tech. Your degree can land you employment in industries like information technology, healthcare, government, law, business, non-profit organizations, and more. You can work as a programmer, a web or software developer, or even a consultant. With enough hard work, you can climb the ladder and become a c-level executive.
How much is a degree in computer science?
What you'll end up paying for a degree in computer science can vary depending on your school of choice. Generally, a CS degree requires 120 credit hours to finish, and some schools can charge you as low as $130/credit hour, while others can charge upwards of $650/credit hour. This is just the tuition fee, of course, so you'll have to add other fees on top of that.
*Note that an online computer science degree may be more affordable, especially if you study at a school that offers a flat, lower rate regardless of whether you are in or out-of-state. If you are concerned about cost, consider applying for computer science scholarships.
How long does it take to get a degree in computer science?
Degrees in Computer Science generally ask you to complete 120 credit hours to graduate, with an expectation of completion within four years. You're not required to finish it within four years, especially if you've chosen to study part-time. If you are taking an accelerated program or transferring into your program with previous credits, you may be able to finish your degree much sooner — as quickly as two years.
Conclusion
Finding the best online computer science degree for you is a matter of weighing all the options and considering factors such as cost, curriculum, course requirements, and what benefits the school offers. In the end, you'll have a degree that can help you earn a good salary in almost any industry you choose.