HLC- Higher Learning Commission
The Higher Learning Commission is a non-profit organization charged with the responsibility of regionally accrediting educational institutes in the United States. learn more about HCL.
The Higher Learning Commission(HLC) is an independent and non-profit organization established in 1895 and it is one of the six regional institutional accreditors in the United States.
Higher Learning Commission provides accreditation for degree-granting post-secondary educational institutions in the North Central Region and it is assigned as Regional Accrediting Institution by The United States Department of Education and The Council for Higher Education Accreditation.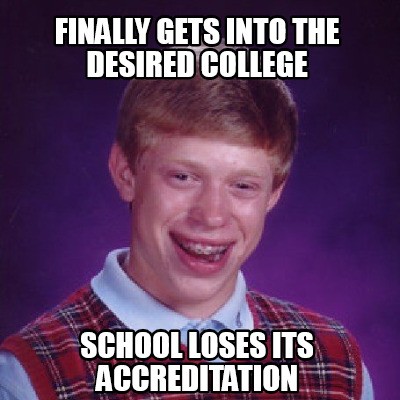 Source: www.memegenerator.net
The HLC accredits online colleges and universities in areas such as Midwestern and South-central states like Arizona, Missouri, Arkansas, Nebraska, Colorado, New Mexico, Illinois, North Dakota and more.
Programs and Events held by HLC
Annual Conference: It is held annually in the spring in Chicago, the conference offers learning, professional development and networking opportunities for HLC members.

HLC Academies: These are the programs that are aimed at helping institutions to define, develop and implement strong strategies for institutional development.

HLC Workshops: It's hands-on workshops stimulate professional improvement and institutional development efforts.
What are the guiding values for HLC?
Higher Learning Commission's criteria for accreditation reflect a set of guiding values which are as mentioned below.
Focus on student learning

Integrity, transparency, and ethical behavior or practice

Education as a public purpose

Governance for the well-being of the institution

Education for a diverse, technological, globally connected world Planning and management of resources to ensure institutional sustainability

A culture of continuous improvement

Mission-centered evaluation

Evidence-based institutional learning and self-presentation Accreditation through peer review 
Eligibility requirements of HLC
An institution should essentially satisfy the below-mentioned eligibility requirements before it is approved a candidate status. During eligibility filing,  an institution must present evidence that it meets all the requirements before a site visit. The requirements are tabulated below.
Eligibility Requirements
Jurisdiction of the Commission
Learning Resources
Legal Status
Student Support Services
Governing Board
Planning
Stability
Policies and Procedures
Mission Statement
Current Activity
Educational Programs
The integrity of Business and Academic Operations
Information to the Public
The consistency of Description Among Agencies
Financial Capacity
Accreditation Record
Administration
Good Faith and Planning to Achieve Accreditation
Eligibility Seeking Process of HLC
In Seeking Accreditation, an institution may not publicly indicate that it is seeking status with HLC until just prior to being granted Candidacy. An institution does not hold any status with HLC until it is granted Candidacy. Here is a step by step process to seek eligibility and accreditation. 
Letter of Inquiry with Preliminary Evidence

Preliminary Evidence Review and Response

Pre-application Interview

Post-interview Letter

Letter of Intent to Submit Eligibility Filing

Institutional Submission of the Eligibility Filing

Eligibility Review

Letter on Eligibility
---
Higher Learning Commission Accredited Universities
Here, we have mentioned a few universities that are accredited by HLC and have benefited by it.
Dickinson State University

Indiana State University

East Central University

Arizona State University

Doane University

Colorado Technical University

Ferris State University

Walden University

Fontbonne University

University of Phoenix

Fort Hays State University

National American University
Decision Making Bodies of HLC
The HLC affiliated institution's decisions or actions are engaged by institutional representatives and public members collectively termed as decision making bodies. All decision-making bodies stand by HLC's conflict of interest procedures, few are listed below
Board of Trustees: Board of Trustees is made up of approximately 15-21 members termed as Governing Body of HLC. Trustees are elected by Member institutions. One member out of seven represents the public.

Institutional Actions Council: They represent HCL institution members and the public, approximately 90 members. IAC members are appointed and authorized by the Board of Trustees.

Appeals Body: They serve on Appeal panels and are elected by the Board of Trustees.
Strategies for Student Success
HLC will team up with institution members to outline student success in a much authentic way which can be understood effortlessly, sensitive to institutional aim and observant to the explanations students pursue higher education.

HLC will analyze the Criteria for Accreditation and associated requirements to certify sensitivity to institutional works and student requirements, to verify if they concentrate on career training, pre-professional guidance, liberal education else a combination all these for individual and society befits.

HLC will advance the agenda on the assessment of student learning.

Data related to student success is collected, organized and published by HLC for improved decision making by the institution. 
Training Programs for Students and Scholars
HLC provides internship openings to visiting scholars and graduate disciples to ensure the listed goals:
To develop a research project by making use of data submitted to HLC by their institution members or peer reviewers.

To seek research by means of HLC's information and alternate resources.

To produce resource constituents to assist institution associates or the higher education community.

To develop a research project acknowledged by a scholar or graduate student that enhances grant and support the community upright. 
Conclusion
The higher learning commission is a non-profit organization that accredits degree-granting post-secondary educational institutions in the United States. It has played a phenomenal role in checking the quality of the colleges and has been a pivotal body in assuring that those colleges continue to provide quality education over the years.
Frequently Asked Questions
1.Are an institution's online programs accreditated?  

An institution's accreditation will generally encompass all methods of delivery, though approval is sometimes needed before an institution can offer distance education.

2.Will my credits or degree transfer from an HLC-accreditated institution?

Each institution determines its own policies and procedures for accepting transfer credits. HLC expects institutions to have clear policies on transfer of credit. Questions about the transferability of credits should be directed to the institution that the student is interested in attending.

3.What is the difference between regional accreditation and state licensure?    

Many states require an educational institution to be licensed to legally operate. This legal requirement is not accreditation, which determines the educational quality provided by the institution.

4.What is the difference between HLC and other agencies? 

There are two types of educational accreditation: institutional and specialized. HLC provides institutional accreditation. Specialized accrediting bodies evaluate particular units, schools, or programs within an institution.

5.What is the Mark Of Accreditation?

The Mark of Affiliation is used on member institutions' websites to indicate their affiliation status with HLC. It is a key component of HLC's program to provide information to the public about the accreditation relationship between HLC and an institution.

6.Why is attending an accredited college or university important?

Quality education: accredited colleges and universities deliver high-quality educational programs Financial aid: accredited schools receive federal student financial aid dollars Transfer: most schools will only accept transfer credits from an accredited school Graduate school: most graduate programs will only accept students with degrees from accredited schools