How Long Does the ACT Take?
How long does the ACT take, when does it actually start and end? Learn about the duration of ACT and other details related to the ACT test here.
Do you remember the White Rabbit in Alice in Wonderland? He was obsessed with time, and would always be yelling, "I'm late, I'm late, I'm late!" 
Now he might seem like an extremist to some, but his attitude would be ideal for the ACT. You can bet that the White Rabbit knows the ins and outs of all ACT test times, and he can definitely answer the question, "What time does the ACT start?" 
He'd probably score well on the test too! Why? Because timing is of the essence when it comes to writing any standardized test or exam, including the ACT.  Without timing yourself correctly, you risk ruining your chance at a decent ACT score. 
So, it's always better to be prepared when it comes to timing and writing the ACT. To be prepared, you need to know about the ACT starting time, and know the answer to the question, "how long does the ACT test take?" Once you know what you're working with, you can plan and manage your time as efficiently as possible. 
In this article, we'll discuss exact ACT test times, the breakdown and duration of each section, and more.
Read More: What is the ACT?
How Long Is the ACT Test?
The ACT test takes 3 hours and 30 minutes long with the optional essay without the breaks and with breaks, it takes about 4 hours. Without choosing the essay, you can complete the test in 2 hours 55 minutes (approximately 3 hours).
The ACT is 3 hours and 35 minutes long, including the optional essay. The students who do not write the essay can leave once you have finished the four sections (English, Math, Reading, Science).
The students are expected to report on or before 8:00 AM on the day of the test. However, the test starts around 8:30 AM. For the students to check-in and fill out their information on their test booklets and answer sheets.
The ACT examination is usually completed by 12.15 PM for non-essay students. Those who have enrolled to appear for the Essay test, complete their paper by 1.15 PM. 
How Long Does Each Section of the ACT Take? 
Each section of the ACT varies in duration. You have 45 minutes to complete the 75 questions in the English section. Additionally, you have 60 minutes to complete the 60 questions in the math section. You have 35 minutes each to complete the 40 questions in each the Science section and the Reading section.  Finally, you have 40 minutes to complete the optional essay section. 
You also receive a 20 minute break. 
The graphic below shows the breakdown of the number of questions and time allowed for each section.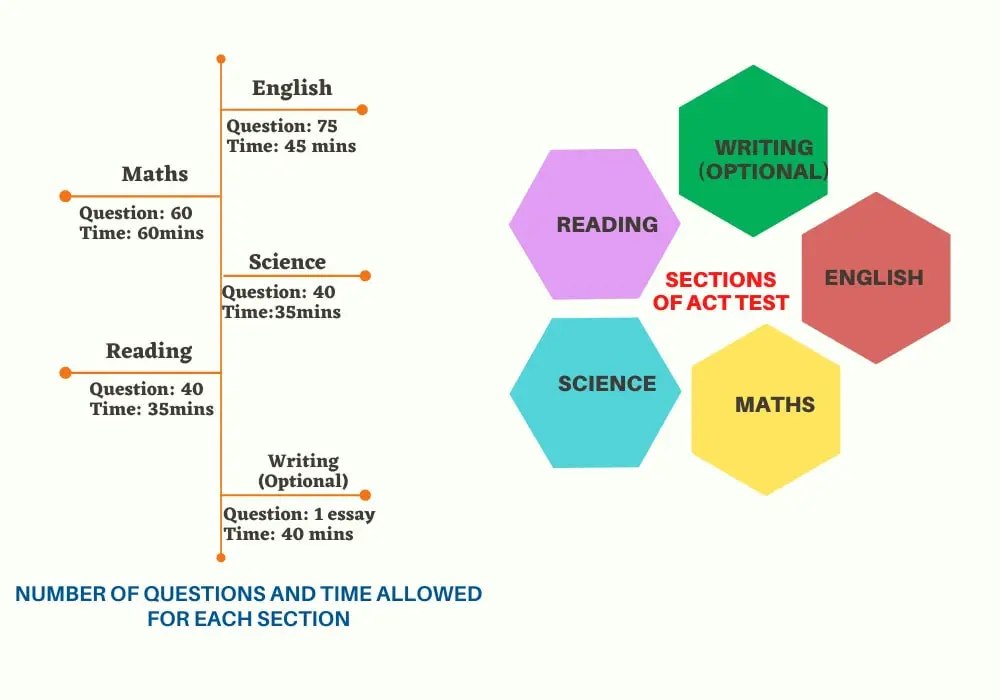 How Long Should You Spend Answering Each ACT Question?
Starting with the English section, you shouldn't take more than 36 seconds to answer one question. In the math section, you should not take more than 1 minute per question. In both the science and reading sections, you should not take more than 52 seconds per question. Finally, if you opt for writing you will have 40 minutes to complete your essay. So plan your time well.
The following table shows information on the breakdown of time per question in the ACT test. This information might help you improve your practice test sessions.
The time allotted in the above table per question in the ACT test isn't true for everyone. They are simply recommendations. Prepare well and take practice tests to get better. This whole process will help you with improving your ability to pace yourself during the test. 
How Long Does the ACT Take With Extended Time?
Now, you might be wondering, "when does the ACT test start and end?"
Reporting time, or the time you're required to show up at the testing center, is 8:00 A.M. The test usually doesn't start until 8:30 A.M., however. 
As a result of feedback from the students and the examination board, the duration of the ACT test has actually changed for students with accessibility needs. Find the extended time schedule, as well as the schedule without extended time, below: 
| | | |
| --- | --- | --- |
| SECTIONS | WITHOUT EXTENDED TIME | WITH EXTENDED TIME |
| English | 8:30 - 9:15 AM | 8:30 - 9:40 AM |
| Math | 9:15 - 10:15 AM | 9:15 - 10:45 AM |
| Break | 10:15 - 10:25 AM | 10:45 - 11:00 AM |
| Reading | 10:25 - 11:00 AM | 10:25 - 11:20 AM |
| Science | 11:00 - 11:35 AM | 11:00 - 11:55 AM |
| Break(Students not taking the writing section may leave) | 11:35 - 11:40 AM | 11:55 - 12:10 PM |
| Writing | 11:40 - 12:20 PM | 12:10 - 01:10 PM |
The College Board added this time extension to accommodate students with accessibility needs. Other examples of accommodation include:
Wheelchair accessible desk
Large-print test book
Alternate test formats
Permission to mark answers on the test booklet instead of an answer sheet
Permission to eat and drink in the test room
Accomodations, including time extensions for the test, require a request made upon registration for the test. To request an accomodation, visit the ACT's website.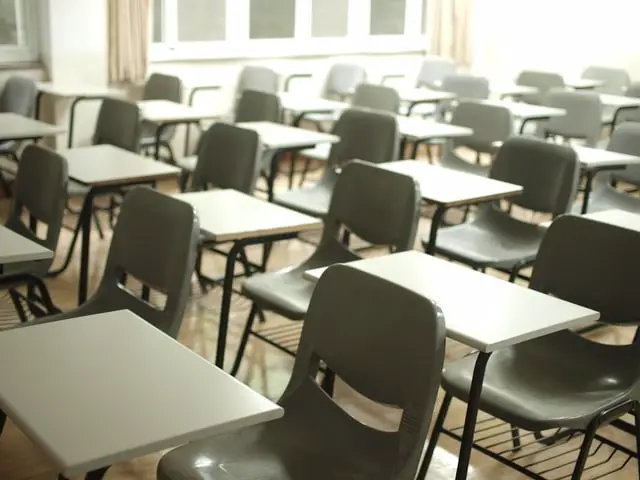 Analyze Your Strengths and Weaknesses
Every individual has their own strengths and weaknesses. Some people might be better at math, while others are stronger in writing subjects. Identify your strengths and weaknesses to prepare for the ACT test. Practice frequently with mock up tests, and notice how quickly you complete each section. 
In subsequent mock up tests, focus more on the areas that you are weakest in. This  will help you perform better. To set your goals and plan your strategy ahead, check out what is a good ACT score?
ACT Test Requirements
Now that you have a general idea about ACT test times, the duration and how you should prepare for it, let's explore other aspects of the ACT. 
Before you show up to your test, you must make sure you have everything required. We're serious - if you're missing an ID or ticket, the test center won't allow you to write the test!
Below are a few things listed that you should carry with you to the test center.
ACT Test Hall Ticket: It is always recommended that you carry multiple copies of your hall ticket. Remember, you won't be admitted into the exam room without this ticket! 
Identification Proof With Photo: Always carry a couple of pieces of I.D. Make sure any I.D. you have is acceptable, and not expired, and are acceptable. For more information about acceptable I.D., visit the ACT's website. 
ACT Student Identification Form With Photo: This form proves that you aren't carrying any fake identification. Make sure you finalize this form one week before the ACT test day.
ACT Talent Search Student Identification Form: This form is required if you are participating in an academic talent search program. This document also can replace the ID requirement in some cases.
Basic Calculator: In standardized tests like the ACT, scientific calculators are not allowed, since they allow students the ability to cheat. It's always better to carry basic calculators. If you want to learn more about the types of calculators you can take with you, then read the ACT Calculator Policy.
Stationery: Carry two pencils and two erasers, just in case! 
It is vital that you carry all the required documents with you. Refer to the list above and check it twice before leaving for the test. 
Time Management Tips for the ACT Test
Time management is vital for a high ACT score. Here are a few tips to help you manage your time effectively and ace your ACT.
| | |
| --- | --- |
| SECTIONS | THINGS TO REMEMBER |
| English Test | Your top objective is to attempt all questions. Answer the easy questions before spending more time on the difficult ones. |
| Math Test | Fast and accurate wins the race! The math section is a fierce race of accuracy against time. It is advised to practice multiple test papers to upskill your accuracy and speed. |
| Science Test | The ACT science test generally has 6-7 passages. Answer the questions that feel intuitive first, and then attempt the difficult ones. |
| Reading Test | You can take one of two approaches for the reading test. First, you can read slowly but thoroughly with the assumption that you're answering questions correctly. Or, answer only the questions you're 100% certain about quickly and go to the rest after. The aim is to answer as many questions (from all the passages) as you can correctly. |
| Writing Test | Before writing the body, create an outline. This helps you organize your thoughts better.  |
| All Sections | ACT does not institute any penalty for incorrect answers. There is no harm in attempting questions you are unsure of or don't know. |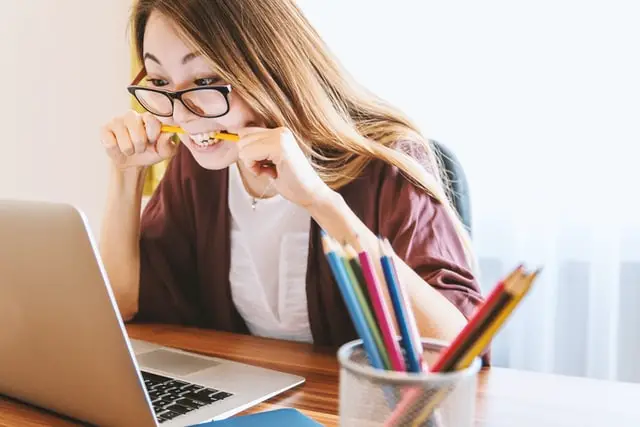 With less than a minute available per question, timing for ACT tests can be challenging. The above-mentioned tips should help you prioritize sections according to their weightage, and how to go about it. First attempt the sections and questions you are confident in answering, and then attempt the challenging sections, since they will eat up more time. 
Conclusion
Knowing the answer to the question, "how long does the ACT take?" and being aware of ACT test times are both pivotal to your success. This information helps you practice to develop a steady and favorable pace for each section of the ACT. Your preliminary objectives are to complete the entire test before the end time, and attempt each question successfully. 
Students are expected to keep themselves updated on the changes, amendments of the ACT exam. With some preparation, students can pass the ACT test with flying colors.