How Long Does The ACT Take?
How long does the ACT take, when does it actually start and end? Learn about the duration of ACT and other details related to the ACT test here.
Updated by TCM Staff on 28th October 2020
We all know that time is something that you cannot get back upon losing it. Especially in exams like the ACT, without knowing the proper timing, there are chances of the exams getting ruined. So it is better to know how long the ACT takes and how to manage the given time efficiently.
The ACT test takes 3 hours and 30 minutes long with the optional essay without the breaks and with breaks, it takes about 4 hours. Without choosing the essay, you can complete the test in 2 hours 55 minutes (approximately 3 hours).
In this article, we will be discussing the exact ACT exam time, the breakdown of each section, and more.
Also, Read About What is the ACT?
Duration Of ACT Test
The ACT is 3 hours and 35 minutes long, including the optional essay. The students who do not write the essay can leave once you have finished the four sections(English, Math, Reading, Science)
The students are expected to report on or before 8:00 AM on the day of the test. However, the test starts around 8:30 AM. For the students to check-in and fill out their information on their test booklets and answer sheets.
The ACT examination is usually completed by 12.15 PM for non-essay students. Those who have enrolled to appear for the Essay test, complete their paper by 1.15 PM.
Section-wise Breakdown Of Time During ACT
The timings of the ACT test depends on its section. For English, it takes approximately 45 minutes to complete 75 questions. Similarly, for Maths and Science tests it takes 60 minutes and 35 mins respectively. And the final reading test takes 35 minutes to answer 40 questions if you are not choosing a writing test. But, if you are opting for writing, you will be given 60minutes. The following table shows the breakdown of the number of questions and time allowed for each section.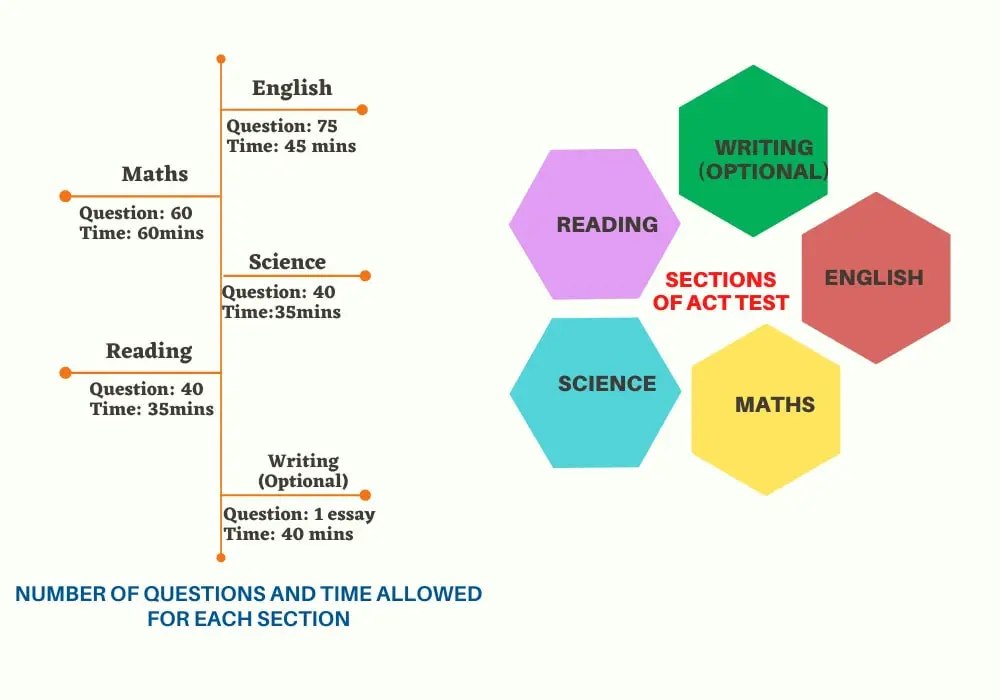 *note: the time per question section is an estimation.
The total break-time for ACT is 20 minutes.
Now. that you have an idea about the time required to complete each section of the ACT test. Let's further see how much time should you invest in answering each question of every section respectively. Starting with the English section, you shall take not more than 36 seconds to answer one question. Similarly, in the Maths section, you should not take more than 1 minute to solve the problem. And in the science and reading section, you should not take more than 52 seconds per question. Finally, if you opt for writing you will have 40 minutes to complete your essay. So plan your time well.
The following table shows the information on the breakdown of time per question in the ACT test. This information is provided for helping you improve your practice test sessions.
The time allotted in the above table per question in the ACT test is an estimation. Prepare well and take up practice tests for getting better at this. This whole process will help you with improving self-pacing.
How Long Does ACT Take With Extended Time?
Now, you might have a question, what is the exact starting and ending time of each section? As a result of feedback from the students and the examination board, the duration of the ACT test is changed. The extended time schedule, as well as the schedule without extended time, is given below for your reference,
| | | |
| --- | --- | --- |
| SECTIONS | WITHOUT EXTENDED TIME | WITH EXTENDED TIME |
| English | 8:30 - 9:15 AM | 8:30 - 9:40 AM |
| Math | 9:15 - 10:15 AM | 9:15 - 10:45 AM |
| Break | 10:15 - 10:25 AM | 10:45 - 11:00 AM |
| Reading | 10:25 - 11:00 AM | 10:25 - 11:20 AM |
| Science | 11:00 - 11:35 AM | 11:00 - 11:55 AM |
| Break(Students not taking the writing section may leave) | 11:35 - 11:40 AM | 11:55 - 12:10 PM |
| Writing | 11:40 - 12:20 PM | 12:10 - 01:10 PM |
As you may see, this change has and also will provide the students as well as the invigilators with new experiences in a good way. It will bring more flexibility and fairness for all the examinees. According to ACT, this change is introduced in order to avoid the negative impact of self-pacing during the ACT test.
Analyze Your Strengths And Weaknesses
Every individual has their own strengths and weaknesses. Identify yours to prepare well for the ACT test. Practice well with previous year papers. Assess yourself by taking up mock tests. This will help you to pace yourself for the ACT test.
Focus more on the areas that you are weakest in, it will help you perform better. To set your goals and plan your strategy ahead, check out what is a good ACT score?
ACT Test Requirements
Now that you pretty much have an idea of what the duration of the ACT test is and how should you prepare for it. Let's find out what are the other things that are important on the day of your ACT test?
Below are a few things listed that you should carry with you to the test center.
1- ACT Test Hall Ticket: It is always recommended that you carry multiple copies of your hall ticket. Remember that you will not be permitted to sit for the exam unless you provide the hall ticket.
2- Identification Proof With Photo: Always carry a couple of ids with you. Make sure these ID's are not expired and are acceptable. This means that it is assigned to you by either the govt, agencies, or your school.
3- ACT Student Identification Form With Photo: You may provide this as identification proof if you are not carrying any ID's that are mentioned above. However, get this ready one week before the ACT test day.
4- ACT Talent Search Student Identification Form: This form is required if you are participating in an academic talent search program. So, if you were not to submit any ID, then you will need to provide an ACT talent search student identification form.
5- Basic Calculator: In tests like the ACT, scientific calculators are not allowed. It is always better to carry basic calculators. If you want to learn more about the types of calculators you can take with you, then read the ACT calculator Policy.
6- Stationery Requirements: Carry two sets of a pencil eraser and other stationery which might be useful to you at the time of the examination.
It is vitally important that you carry all the required documents with you. If I were to suggest, I would say, recheck for the above-listed requirements twice before leaving home.
Time Management Tips For ACT Test
Time management is instrumental for a successful ACT. Here are a few tips to help you manage time and ace your ACT.
| | |
| --- | --- |
| SECTIONS | THINGS TO REMEMBER |
| English Test | Your foremost objective is to attempt all questions. Answer the easy questions before spending time on the relatively difficult ones in the English section. |
| Maths Test | Fast and accurate wins the race! The Math section is a fierce race of accuracy against time. It is advised to practice multiple test papers and upskill your accuracy and speed. |
| Science Test | The ACT science test generally has 6-7 passages. Answer the questions you are capable of and then attempt on the difficult ones. |
| Reading Test | Either you read slow but thoroughly and get all your answers correct on your attempted questions or you answer the questions (you are capable of) in each passage and guess on the rest. The aim is to answer as many questions (from all the passages) as you can correctly. |
| Writing Test | Outline it, it helps you keep track. Organize your essay, a systematic essay leads to favorable scores. ACT does not institute any penalty for incorrect answers. There is no harm in attempting questions you are unsure of or don't know. |
With having less than a minute per question, the ACT tests can get challenging. Above mentioned tips are to help you understand which section has more weightage and how to go about it. Attempt the sections and questions you are confident about answering first and then attempt the challenging sections.
Conclusion
It is pivotal to be aware of the ACT exam duration to develop a steady and favorable pace for each section of the ACT. The preliminary objective is to complete the entire paper and attempt each question successfully. Students are expected to keep themselves updated on the changes, amendments of the ACT exam. The aforementioned tricks can help a candidate keep up with the SAT time limit and come with flying colors.
All the best!