4 Different Types of College Deadlines
Keep up with all your pre-college tasks by learning about the deadline for college applications, early decision deadlines, and more.
Every student is guilty of procrastination—cramming all night for an exam is almost a rite of passage for any high school student. And it's proven that forgetting and missing deadlines is quite common. While you might get a chance to make up that history assignment, you usually won't get another chance to apply to your dream school if you forget the deadline for college applications. But, with different types of college admissions and types of college applications, it's easy to mix up dates here and there. 
Read on to learn more about the 4 different types of college deadlines, including early decision deadlines and application deadlines for college.  
Early Decision Deadline
Most schools offer early decision in November of the year preceding your freshman year. Early decision is binding, which means you should only apply for one school in this fashion. Although early decision isn't legally binding, going back on your pledge can ruin your reputation for other colleges. All students can apply for early decision, and there are many benefits of applying for early decision:
You Have a Better Chance of Acceptance
Applying by the early decision deadline ensures your competition is less fierce. It also demonstrates strong interest and commitment to the school you're applying to, which colleges will take seriously. 
You Can Negotiate More Financial Aid
Let's be clear—you should plan ahead and prepare financially before you apply for early decision by estimating costs and financial aid. But, if you can't afford tuition and you're accepted for early decision, your status gives you leverage to negotiate a better financial aid package. And, chances are that if you're a serious candidate for early decision, you're probably eligible for more scholarships anyway.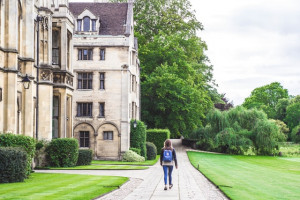 Early Action Deadline 
Early action (EA) is often confused with early decision because they have similar deadlines, but the two are quite different. Unlike early decision, early action is a non-binding contract. Students can apply for early action in November, but for multiple schools, not just one. And, they can inform the college of their decision on May 1, whereas an ED applicant would have to commit with a deposit much sooner. Students usually hear back on EA decisions by December. 
Some colleges, especially the Ivy leagues, have restrictive clauses attached to early action. For example, Harvard restricts you from applying to early action anywhere else if you have applied for early action with them. The same goes for Stanford, Princeton, and Yale. Scoring an early action acceptance has one main benefit:
You Reduce Some Stress 
You can get your college applications out of the way early by applying for early actions. If every school you're interested in offers early action, you can finish up all your applications by November. Finding out whether or not you're accepted early can also reduce some stress, since you'll know that you got in somewhere, and you'll have more time to plan out financial aid. 
Regular Decision Deadline 
The regular decision deadline is your typical application deadline for college. These are the most commonly available deadlines. Like early action, the regular decision is also non-binding. That means you can apply to as many colleges as you'd like without having to commit to any of them upon acceptance. 
For fall admission, regular decision deadlines are usually in January or on February 1st, at the latest. must reach colleges by January or February of that year to get an admission decision by the next month. If you're relying on financial aid to fund much of your education, you might want to apply by the regular decision deadline or early action deadline. 
There aren't any real benefits to applying by the regular decision deadline, other than the fact that you're ensuring your application is considered. The only drawback is the long wait time. Usually, applicants must wait at least three months after the application deadline for college to hear a decision. With early decision or early action, you only need to wait 1-2 months.  
Rolling Admission Deadline
The rolling admission deadline offers students a large time window for applications. Rolling admission applications are processed once received by the admissions office, so available seats can fill up quickly. This particular deadline for college applications is a first-come, first-served type of scenario—so you should apply early. Students don't choose rolling admission deadlines; rather, they're subjected to it if the college has a rolling admission policy. 
Most colleges that offer rolling admissions also have certain deadlines. For example, Penn State offers rolling admissions with a deadline of December 1. Here's one con of applying to colleges with rolling admissions deadlines: 
Applying by the Deadline Doesn't Guarantee Consideration for Admission
If a school with a rolling admissions policy receives thousands of applications a month before the deadline and finds all of their candidates, they won't wait for the deadline to see other applications. They'll simply send out their letters of acceptance early. 
Conclusion
Not all colleges offer all the different types of college admissions deadlines, so keep track of individual ones by visiting school websites. Don't procrastinate! Set alarms and reminders if necessary to make sure you get all of your documents and applications in before the schools' deadlines. 
Good Luck!