How to become a dental hygienist
Learn how to become a dental hygienist. Plus job growth, career prospects, and university degrees.
How to Become a Dental Hygienist
There are around 226,400 dental hygienist jobs in the US, and the industry is set to grow by 6% in the next ten years. 
If you're interested in oral hygiene, you may be considering a career as a dental hygienist. 
But is a dental hygiene career right for you?
We've put together the following article for prospective dental hygienists so you can decide whether it's a field worth pursuing.
Read on for more information about the role, and the education and licensure you'll need to be successful.
Plus, we'll tell you about the best courses and colleges, and the skills you'll need for the job.
What is a dental hygienist?
Dental hygienists work with patients to maintain and improve their oral health.
They work in public and private practices with dentists or orthodontists, and dental assistants. Dental hygienists provide preventive oral-care, and check for conditions such as tooth decay, and gum disease.
The procedures may be preventive, or treatment for existing conditions such as receding gums and gingivitis. They look for damage and signs of wear-and-tear, and work closely with the dentist to make sure the mouth is healthy.
Most dentists ask patients to visit a dental hygienist every six months. They should also have their teeth cleaned before any major treatment, such as braces, implants, or veneers.
Dental hygienists may have an associate degree, bachelor's degree, or master's degree.
What does a dental hygenist do?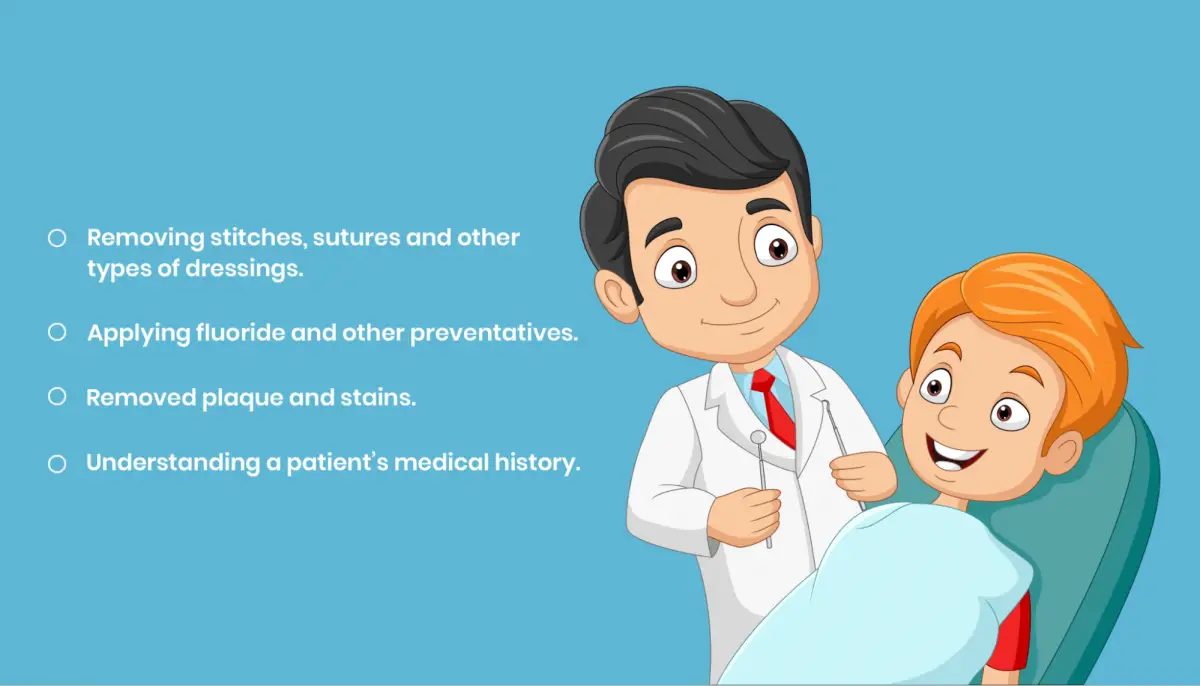 A dental hygenist is an individual who is responsible for maintaining the oral health and cleanliness of potential and regular clients. They are under the employ of accredited dentists and are inherently responsible for providing preventive oral care along with a regular routine checkup of various diseases like gingivitis and so on so forth. A dental hygenist usually conducts a preliminary exam before the dentist starts the actual procedure. This procedure would entail routine procedures like cleaning and removing plaque and stains from the patient's teeth, they would also apply sealants and fluorides to guarantee tooth protection.
They are also responsible for certain pre-surgery procedures like taking and developing X-rays and administering local anaesthesia for a pending surgical procedure. the majority of dental hygienists work in private or public practices, amongst dentists,orthodontists or even dental assistants. Their main purpose is to provide assistance to a dentist or a senior orthodontist and improve efficiency. Dental hygienists and dental assistants are similar but are not one and the same, as they differ in terms of education requirements, salary and even duties and responsibilities. A dental assistant usually escorts patients to their appointments and schedule any future appointments.
Dental hygienists work for accredited dentists. They educate patients and give them advice on how to correctly clean and care for their smile.
A dental hygienist usually conducts a preliminary exam before a dental procedure. They may clean and remove plaque and stains from the patient's teeth. 
Dental hygienists apply sealants and fluorides to help protect the teeth. And they may be responsible for certain pre-surgery procedures. For example,  they may take x-rays, and administer local anaesthesia.
Dental hygienists must use several tools as part of their job. The list includes hand tools, power tools, and ultrasonic tools for cleaning and polishing teeth. 
They may take patient x-rays to check for issues with teeth and jaws. They may also use lasers.
How to become a dental hygienist
If you're an aspiring dental hygienist, these are the steps you need to take to get qualified:
#1. Finish high school
Before you can become a registered dental hygienist, you'll need a high school diploma or GED (General Educational Development).
The US Bureau of Labor Statistics (BLS) recommends majoring in relevant subjects such as math, chemistry, physics, and biology. These subjects help prepare students for an accredited dental hygiene program or associate degree.
#2. Complete a dental hygienist program
The Commission of Dental Accreditation has approved multiple dental programs. 
Most prospective dental hygienists complete an associate degree in a certified dental program before they pursue further education. After completing the dental program, they may enroll in a  bachelor's degree or master's degree. 
A dental hygiene program offers valuable experience in the classroom, laboratory, and clinical settings. These courses give students the opportunity to learn and practice dental procedures.
#3. Get an undergraduate degree
Most dental hygienists get an associate degree before pursuing a bachelor's degree or master's degree. 
The most popular option is an associate degree of Applied Science in Dental Hygiene. 
To further their careers, most dental hygienists expand their knowledge and clinical and laboratory skills with a bachelor's degree, or master's degree. Higher education study can take three to four years.
#4. Obtain a license
All states require dental hygienists to have a license and dental accreditation.
In most states except Alabama, there are two written examinations. Prospective dental hygienists take these tests under the supervision of dental examiners.
Once they've completed their education at a dental hygienist school, qualified candidates sit for the National Board Dental Hygiene Examination. The test is a written exam administered by the American Dental Association.
They also need to complete a regional or state clinical board examination.
#5. Consider an advanced degree
An associate degree can be enough, but most dental hygienists work towards an advanced degree.
Continuing education helps to advance their careers and secure higher-paying jobs with more benefits. 
Bachelor's and master's degrees in dental hygiene may qualify hygienists for careers beyond the dental office, such as in teaching and research. 
Advanced degrees may be necessary for some positions. For example, there may be the opportunity to work for a school dental clinic or public health service.
#6. Get a job
The Bureau of Labor Statistics reported that job openings for dental hygienists will grow much faster than the average through 2028. This growth is well above the average career. 
Most dental hygienists work in a private dental office, but some also work in employment services, offices of physicians and outpatient care services. 
Professionals working in in-home health care services gained the highest median annual salary of $89,790.
When you find meaningful employment, you'll be able to hone your skills, examine real patients' mouths, and learn outside the classroom environment.
How much does a dental hygienist earn?
Dental hygienists across the country earn an average annual wage of $74,680.  
The salary is dependent on different factors, including the position, experience, education and the work setting.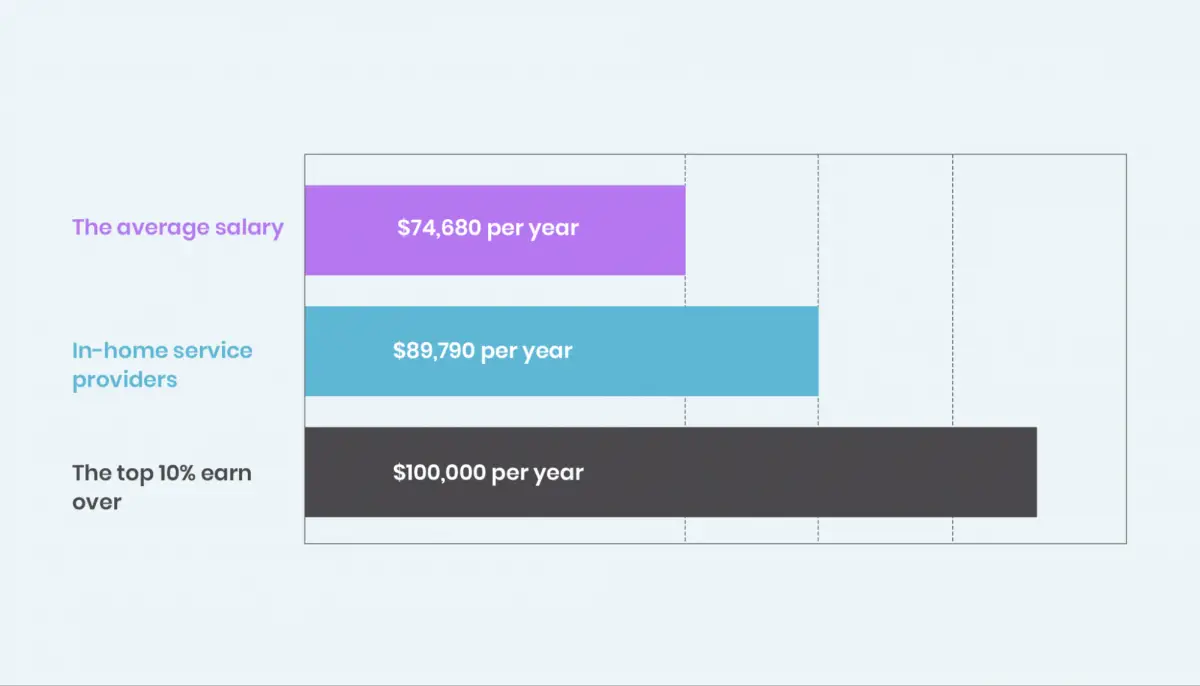 An entry-level dental hygienist who works in a private dental office may earn less, while those in research, teaching, or corporate positions will likely earn more. 
In 2017, the top 10% of dental hygienists had salaries of over $100,000 a year.
Professionals working in in-home health care services had the highest average annual salary of $89,790. 
Dental hygienists also receive work benefits, such as flexible schedules and health benefits.
What is the job growth outlook for dental hygienists?
According to the BLS, the demand for dental hygienists will increase by 20% through 2026. 
After completion of an accredited dental hygiene program, you may choose to pursue additional training.
For example, you may like to work in education, long-term patient care, business administration, marketing, or public health. 
This extra knowledge can help you find more specialized high-level roles while increasing your earning potential.
School and university programs to consider
Dental hygienists receive their education through academic programs. An aspiring dental hygienist can attend a community college, technical college, dental school or university.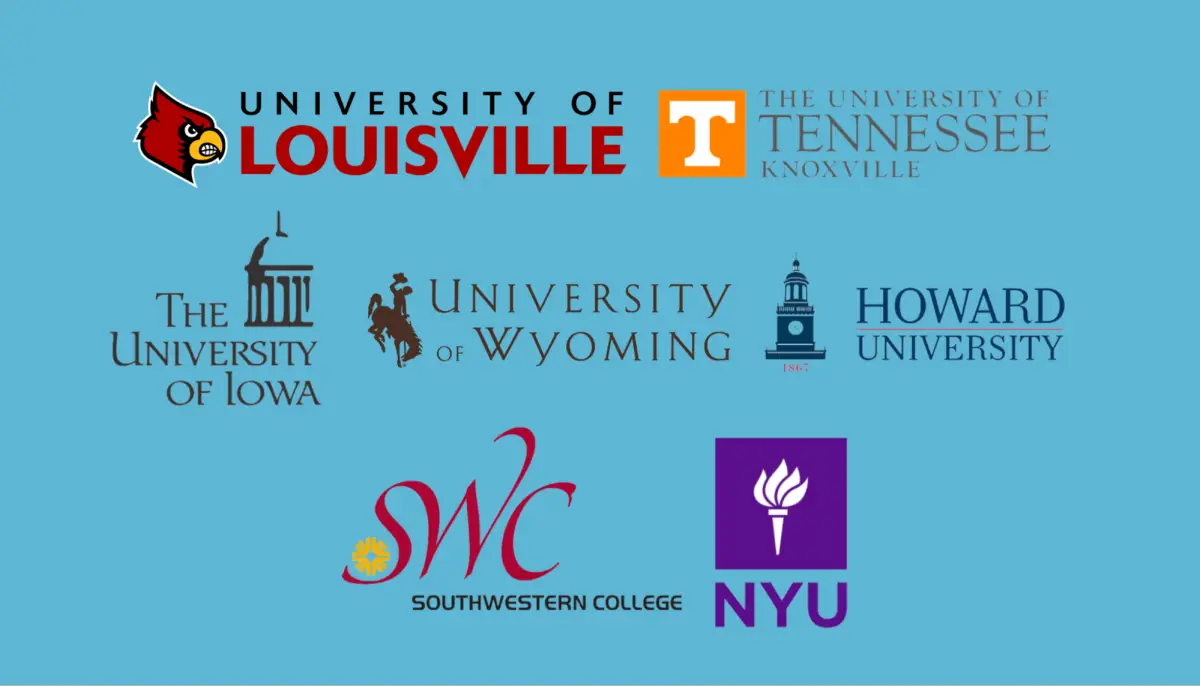 Most community college programs take at least two years to complete, with graduates receiving an associate degree. 
This degree lets a hygienist take licensure examinations nationally, state-wide, or regionally.
They can then work in a dental office as a licensed dental hygienist. 
Here's a list of accredited and prestigious colleges and universities that are suitable for those who want a career in dental hygiene:
University of Louisville
The University of Louisville opened in 1798, and is in Louisville, Kentucky. It has a national university ranking of 176. 
If you'd like to work as a dental hygienist, you can attend their School of Dentistry and study for a Bachelor of Science in Dental Hygiene degree.
New York University 
New York University (NYU) opened in 1831, and is in New York City. It has a national university ranking of 42.
You can attend the NYU College of Dentistry and participate in their dental hygiene program.
University of Iowa
The University of Iowa opened in 1847, and is in Iowa City. It has a national university ranking of 88.
They have a dental hygiene program that students can access via their College of Dentistry.
The University of Tennessee
The University of Tennessee opened in 1794, and is in Knoxville, Tennessee. It has a national university ranking of 112.
The university offers a Bachelor of Science Degree in Dental Hygiene through their Health Science Center.
University of Wyoming
The University of Wyoming opened in 1886, and is in Laramie, Wyoming. It has a national university ranking of 196.
The University of Wyoming and Sheridan College offer a dental hygiene degree.
Howard University
Howard University opened in 1876, and is in Washington, D.C. It has a national university ranking of 80.
The university has a College of Dentistry with an accredited dental hygiene program.
Southwestern College
Southwestern College opened in 1961, and is in Chula Vista, California. It has a national university ranking of 102. 
There's a Southwestern College Dental Hygiene Clinic and students can complete their dental hygienist program.
Types of degrees for dental hygienists
The minimum level of education required for a career in dental hygiene is a high school diploma or a GED. 
After completing high school, you can pursue an associate's degree, bachelor's degree or a masters degree. You can get these degrees at community colleges or technical schools. 
You can expect to be a dental hygiene student for up to four years.
Associate's degree:
An associate's degree gives you the education you need to work as a dental hygienist.
As part of the associate's degree program, you'll get clinical experience with supervision.
In your first year, you'll get experience in clinical services. You can expect between eight and twelve hours of hands-on practice per week. In your second year, this will increase to between twelve and sixteen hours per week.
Bachelor's degree:
Dental hygienists who want to pursue a role in specialized care will need a bachelor's degree. 
For example, they may be interested in practicing or developing programs within public health or school settings. 
You'll take classroom courses in dental hygiene and participate in supervised clinical practice, as well as receive an education in liberal arts. 
Bachelor's degrees usually take four years to complete. However, you can earn one in less time if you already have an associate degree in dental hygiene. 
If you already have your dental hygiene license, you can enroll in a degree-completion program.
Master's degree:
A master's degree is usually pursued by dental hygienists who want to teach, conduct research, or work in administration or management. 
With these degrees, you can get higher-level roles such as:
Oral disease prevention specialists
Community program directors
Dental health education leaders
Career paths for dental hygienists
Where can a degree as a dental hygienist take you? Let's take a look at some of the most popular career paths:
Dental hygiene educator:
Dental hygienists that are skilled in oral health, preventive oral hygiene, and periodontal treatment can work in vocational schools, community colleges and dental schools.
A dental hygiene educator is responsible for teaching students the basics of periodontal treatment and oral healthcare. Their median annual salary is $49,391.
Pediatric dental hygienist:
Dental hygienists that are interested in the care and preventive oral treatment of children and toddlers are pediatric dental hygienists. 
They're responsible for specialized classes related to the development of both baby and permanent teeth, how to educate children in good oral health, and other topics affecting pediatric dentistry.
Periodontal dental hygienist:
Periodontal dental hygienists are responsible and skilled at oral cancer screenings, tongue hygiene, denture care, and nutrition. 
These professionals work in both private dental offices and public health clinics.
Preparing yourself for a career as a dental hygienist
What can you expect while you study for a dental hygienist career?
Vocational school:
The average cumulative period for the completion of a dental program is two to four years.
However, there are certain trade and vocational schools that allow students to enter the working world much sooner. Some institutions give you laboratory experience and instruction after seventeen months.
Dental school:
Dental schools usually have programs that help students obtain a dental hygienist license. 
Dental schools offer a variety of educational opportunities, including associate's degrees and master's degrees. 
Community college:
Dental programme graduates may be offered education in protective oral health, periodontal care and aftercare.
These community colleges provide comprehensive and extensive learning and instruction.
What skills do you need to be a dental hygienist?
To be a successful dental hygienist, you'll need the following skills:
Good Communication
To effectively treat patients, you'll need excellent communication skills. 
Dental hygienists record patient histories, discuss oral care routines, and explain treatments. You'll need to be a confident, and strong communicator.
Attention to detail
Being detail-oriented is another important trait for dental hygienists. To complete treatments, you'll need to pay attention to what you're doing. 
You'll need to be able to focus on patients' teeth and gums.
Missing small details can mean patients don't get the right treatments, and it could be detrimental to their health.
Problem solving
Every patient is different. You'll encounter unique challenges with each dental patient, and you'll need to be a good problem solver to handle these challenges.
Conducting assessments
One of the hard skills you'll learn as a dental hygienist is how to complete dental assessments. 
You'll examine patients' mouths first, and then the dentist will provide the necessary treatments.
Manual dexterity 
To be a competent and successful dental hygienist, you'll need manual dexterity. 
You'll need to be confident using all the necessary tools for the job.
Computer skills
Dental hygienists need to write reports, and input patient information into a computer system. They may also need to read x-rays, and type their findings.
To work in the dental industry, you'll need basic to moderate computer skills.
What careers are similar to dental hygiene?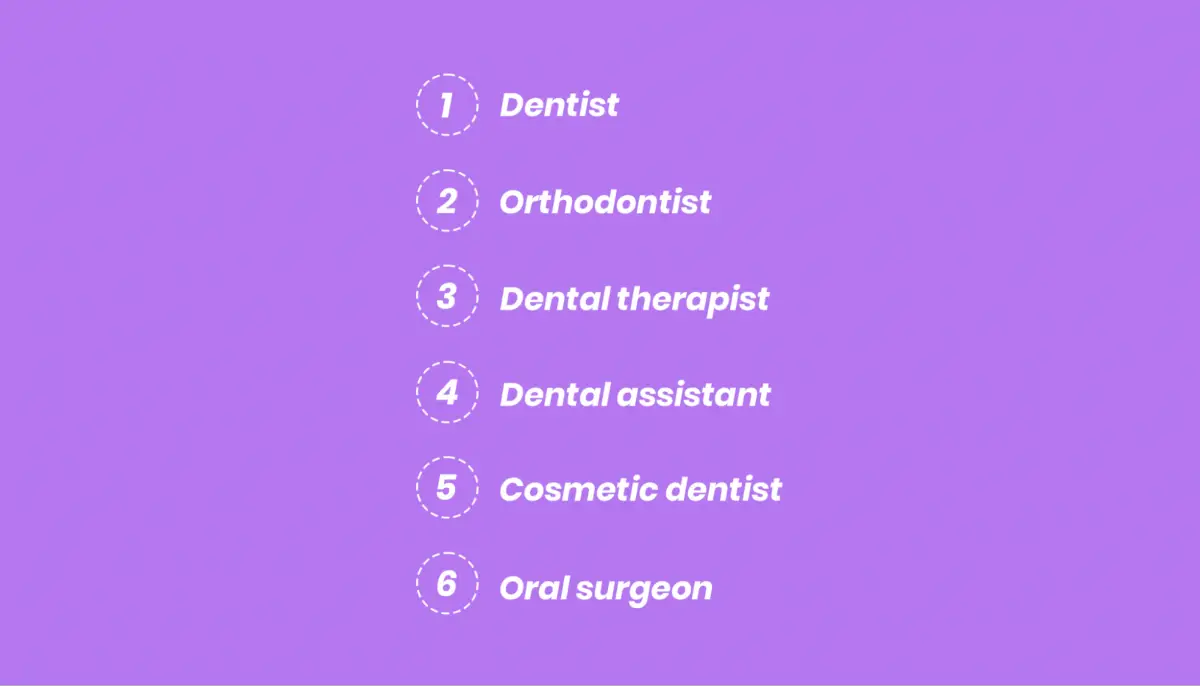 Are you thinking about a dental hygiene career? You may also like to consider these other dental care roles:
Orthodontist
Dental therapist
Cosmetic dentist
Oral surgeon
Becoming a dental hygienist
If you're interested in dental health, you may like to start a dental hygiene career.
The role involves working in a dental clinic, and providing patient care. Dental hygienists treat gum disease, educate patients, and help prevent oral disease.
In this article, we told you about different career opportunities, and the training and licenses you need to be successful.
Not sure if dental hygiene is the right fit for you? Browse our career guide section.