How to become an Event Planner
This article provides in-depth information into What is an Event Planner? What Event Planners do? Degrees for Event Planners, Steps to become Event Planner and much more.
The College Monk: How to Become an Event Planner
What is an event planner? What do event planners do? Which degrees do event planners need? This article provides in-depth information about how to become an event planner and begin this rewarding career. 
Special events like birthday parties, business meetings, or government fundraisers,  planning, attention, and creativity. Unfortunately, many companies and individuals don't have the time or bandwidth to invest those things in their special events. 
That's where an event planner comes in. 
What does an Event Planner do ?
Event planners (sometimes also called event coordinators) meet with prospective clients to discuss the purpose and goals of an event and determine the best way to organize it. 
Often, the event planner is responsible for taking a client's vision and bringing it to life. 
Event planners coordinate with caterers, vendors, musicians, DJs, venues, and more in the event space to create memorable occasions for clients. 
Why become an event planner?
What could be better than planning parties and special events for a living? If you're considering joining the events industry and becoming a party planner, here are a few compelling reasons to take the plunge.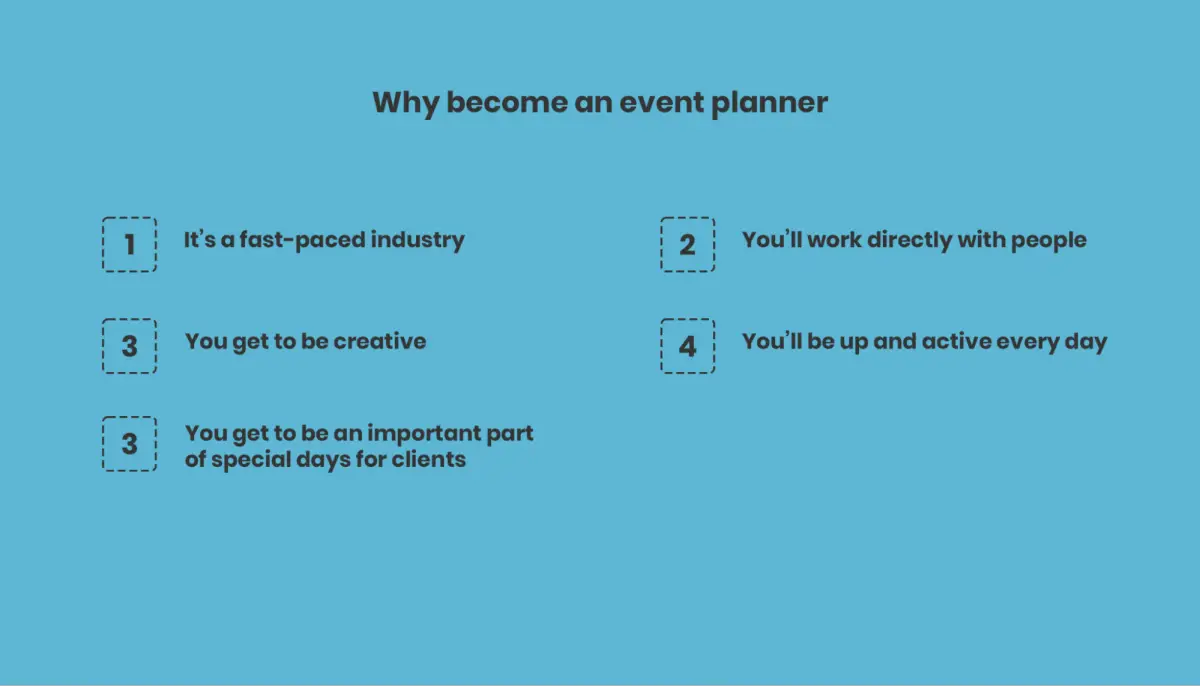 It's a fast-paced industry
Nobody wants to spend their career in a boring field that doesn't provide any excitement. Fortunately, event planners never have to worry about that. 
Every job is different, every client has new and exciting goals, and the fast-paced nature of the events industry is sure to keep any event planner on their toes.
You'll work directly with people
If you love face-to-face interaction with clients and colleagues, you'll love being an event planner. This is a business built on relationships, and you'll be the most successful if you're a "people person." 
Being an event planner means attending events, meeting all sorts of interesting vendors, musicians, suppliers, and chefs, plus broadening your professional network daily.
You get to be creative
Becoming an event planner is a great option for anyone who loves to inject creativity into their field. 
Since each event is different, you'll need to be creative. Being able to think on your feet will ensure great results for your clients. When a client asks for something special, like a themed event or a surprise event, you'll get to be even more creative as you develop a plan to bring it to life. 
You'll be up and active every day
Do you hate sitting at a desk? Being an event planner will get you out of the office and into the real world. 
While you'll have plenty of paperwork and contracts to fill out and sign, you'll also get to get out into the field to check out new venues, meet new vendors, and explore new sites for parties and events. 
You get to be an important part of special days for clients
If you ask someone in the wedding industry why they love their job, they'll probably tell you that they love being a part of special events and seeing the joy these events bring to their clients.  
Being an event planner is similar. This position allows you to work closely with clients and help make their event dreams a reality. You'll take part in all sorts of special occasions — from birthday parties to retirement bashes, fundraisers, and beyond.
The steps to becoming an event planner
Ready to begin this exciting career? Follow these steps:
---
Steps for becoming an Event Planner
1
Pursue Higher Education
Professional event planners leave a mark in the industry if they are identified to specialize in the field. Pursuing an education on event planning and management can bolster your chances of breaking into the industry and offer you a certain level of trust from your clients and vendors. 
When it comes to event managers, as the name suggests, managerial work is what the core aspect is. So a degree in management studies can go a long for aspiring planners. It also wouldn't hurt to learn a bit about the business itself, and maybe even some of the technologies involved in industries where software is prevalent. As technology rises, so does digitalization, so it can be beneficial to planners if they know about the fundamentals.
If you want to work in an event planning firm, then a bachelor's degree in any management program is necessary.
2
Volunteer For Entry-level Work
Getting a degree certification is incredible. But the next aspect is more important: Getting experience. This is universally given more attention to in any company of any industry. Volunteering for managing events, ceremonies, and meetings helps highlight your resume to be prominent among many other candidates who may lack that experience.
It's also a brilliant opportunity to shadow experts who are in charge of relevant responsibilities such as administrative assistance, catering, estate management, hotel management, convention and event management, and so on.
For each event or meeting, you have experience managing, you must add to your portfolio and help it to grow. Your portfolio can include event photographs, publishing clippings, brochures, and testimonials. It is also important to talk about your responsibilities and roles in the event, and go into detail on the challenges you faced, how you overcame them, what directions were taken to balance between budget and quality of service and the effects of working under pressure.
---
---
Types of event planner degrees
Candidates interested in a career in event planning should pursue a Bachelor's degree in an applicable field from an accredited university.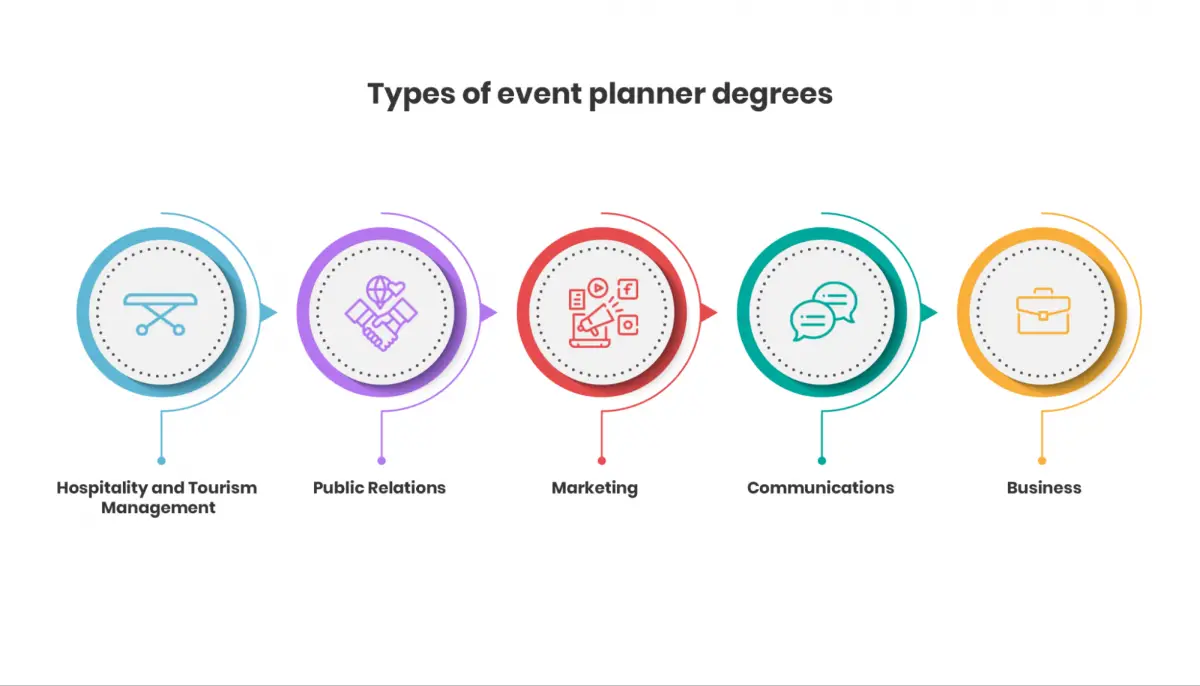 Some relevant degrees include the following. 
Hospitality and Tourism Management
Simply put, hospitality and tourism management are all about applying leadership skills in areas where accommodation, dining, and other services are delivered to customers. 
Courses in a degree program related to hospitality or tourism teach a broad range of skills that event planning candidates will need to excel in careers in the travel and tourism, hotel, and special events industries.
Some common topics taught in these programs include:
Communication and conflict management
Tourism research
Tourism personnel management
Marketing or Public Relations
Public Relations
Being a great event planner means you also have to be a good marketer. A degree in public relations (PR) or marketing will play a crucial role in helping event planners generate good publicity around events and market on digital platforms like social media. 
If you choose to pursue a degree in PR, you'll learn about the following topics:
PR writing and management
Strategic planning and communications
Corporate planning and communications
Marketing
A degree in marketing will help candidates understand the fundamentals of marketing in their careers as event managers or planners. A marketing degree will help you understand the process of identifying and satisfying the needs of a client and marketing events to the public. 
Even though PR and Marketing degrees share a few similar traits, they focus on different things. Public Relations focuses on teaching event planners to build an image and promote client relationships. Marketing, on the other hand, deals with approaches to promoting and selling services.
A good event manager should know the fundamentals of both marketing and PR, and take marketing courses that teach:
Enterprise marketing management
Social media management
Communications
Communications and media management are all about the processes and methods used to communicate an idea or a piece of information. 
Generally, event managers are marketing strategists who use their communication and networking skills to announce events on multiple platforms that help them gain attention from interested parties.
If you choose to obtain a communications degree, you'll study topics like:
Media ethics and technology
Web design
Public speaking
Business
Event planners often run a business and must learn about considerations involved with planning and executing strategies for operations. 
Getting an education in business management can open a lot of doors for an event planner. You will learn about things like advertising, financial management, budgeting, business plan building, and more. 
Some other common business courses include:
Advertising
Organizational behavior
Educational concentrations related to event planning
Here are some courses and concentration options you can focus on if you want to get into event planning: 
Accounting
Event Managers will need some basic accounting skills. The job requires event planners to at least understand balance sheets, cash flows, and other financial aspects of an event. Allocating the budget and managing the financial aspects of an event is one of the biggest priorities a planner should keep in mind.
Hospitality and Meeting Management
A career in event planning requires working with clients to bring a vision to life. This means the planner must be accommodating, friendly, and experienced in hospitality. They will regulate social events and meetings, maintain decorum and ambiance, and keep the guests' moods light and fun. 
Event Promotions
Event planners use various platforms, tactics, and channels to publicize an event and drive registration. The tactics used to make this happen are called "promotion." An event planner must have comprehensive knowledge and creativity to excel at promotions, which is why it's commonly taught in event planner certification courses. 
Event Design
Event planners are responsible for designing every aspect of an event, from the brochures and invitations to the decor and activities. Taking an event design course will provide you with the skills, background, and technical know-how needed to excel. 
Computer Skills
Today, almost every career requires some knowledge of technology and certain software, especially industry-specific technology. 
Event planners will need to know how to operate spreadsheets, database software, collaboration tools, data visualization and design tools, and social media–to name a few. If you're not already comfortable with computers and software, a computer skills program will help you learn. 
How much do event planners make?
Most event planners work full-time. Overtime may be necessary during major events, which could include weekends and holidays. 
According to the U.S. Bureau of Labor Statistics, the median annual wage for event planners in May of 2020 was $51,560 per year or $24.79 per hour. 
The following are the median annual wages for other related industries:
Business Operations Specialists: $67,120
Administrative & Support Services: $52,370
Religious Events, Grantmaking, and Professional Organizations: $50,990
Accommodation and Food Catering Services: $45,140
Arts, Entertainment and Recreation: $42,500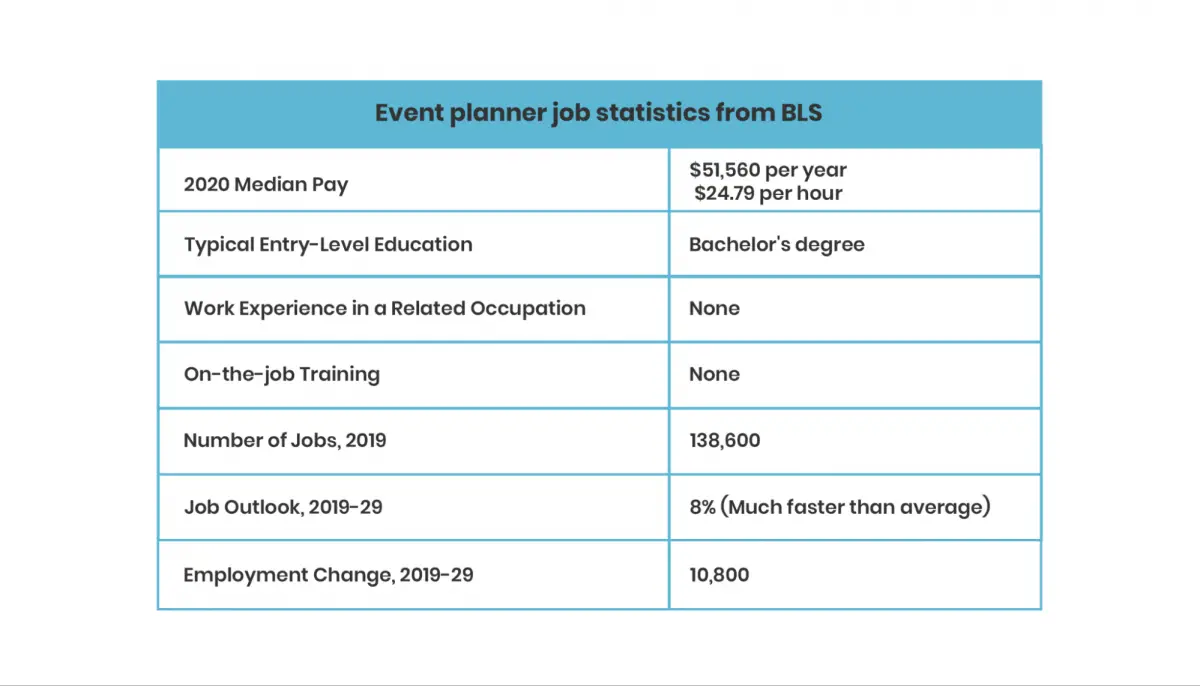 Projected job growth
According to the U.S. Bureau of Labor Statistics, employment rates for event planners will grow by 7% between 2018 and 2028, which is faster than average. 
Candidates with a bachelor's degree in meeting and event management, hospitality, or tourism management will have the best opportunities.
Idaho, Connecticut, and California have some of the highest-paid event managers and high demand for these professionals. 
Career concentrations
If you want to work in the events space, you can specialize in the following areas:
Event planner
Event planners are responsible for making critical decisions about an event (who, what, where, and how). They communicate these plans to other event planners and managers who use them to execute plans. 
They will also meet with clients to understand the goal of an event, request budgets and bids for it, and oversee all activities to ensure satisfaction.
Event coordinator
An event coordinator takes the plans created by an event planner and focuses on executing them under the supervision of higher management, ensuring satisfaction for both guests and the client. 
They also control the events, from the event planner's initial concept to clean-up efforts after the event has ended. 
They will also participate in managerial tasks like catering organization, client entertainment, and staff management. Finally, event coordinators handle financial considerations like payments to vendors and caterers.
How to prepare for a career as an event planner
Attend networking events
Event planners are in luck– there are many different organizations and meetup groups designed to cater to event planners. 
These include:
National Association of Event Planners
International Association of Exhibitions and Events
Wedding International Professionals Association
PCMA (Professional Convention Management Association)
Academic Event Professional
Meeting Professionals International
International Live Events Society
With the help of these groups, aspiring event managers can network and meet connections and mentors to learn from. These groups will also provide the opportunity to grow via seminars, webinars, and dedicated programs.
Earn an event planner certification
Earning a certification isn't necessary. But it does help in increasing an event planner's legitimacy. Consider the certifications below.
Certified Meeting Professional (CMP)
This certification is awarded to those who want to excel in convention, meeting, and exhibition event management. 
As a requirement, candidates must have at least six months of experience and details on the most recent and relevant employment on their portfolio. Satisfying the requirements below will qualify candidates to obtain a CMP certificate. 
Certified Government Meeting Professional (CGMP)
This certification is for event planners who want to specialize in federal, state, or local government events. Candidates take a three-day course and sit for an examination to test their knowledge and skills. Candidates who pass the test will be awarded the CGMP certificate.
Certified Special Events Professional (CSEP)
Candidates take this certification if they want to focus on professional development. They will need at least a year's worth of experience in the field of event management and will sit for a three-day course and follow-up exam.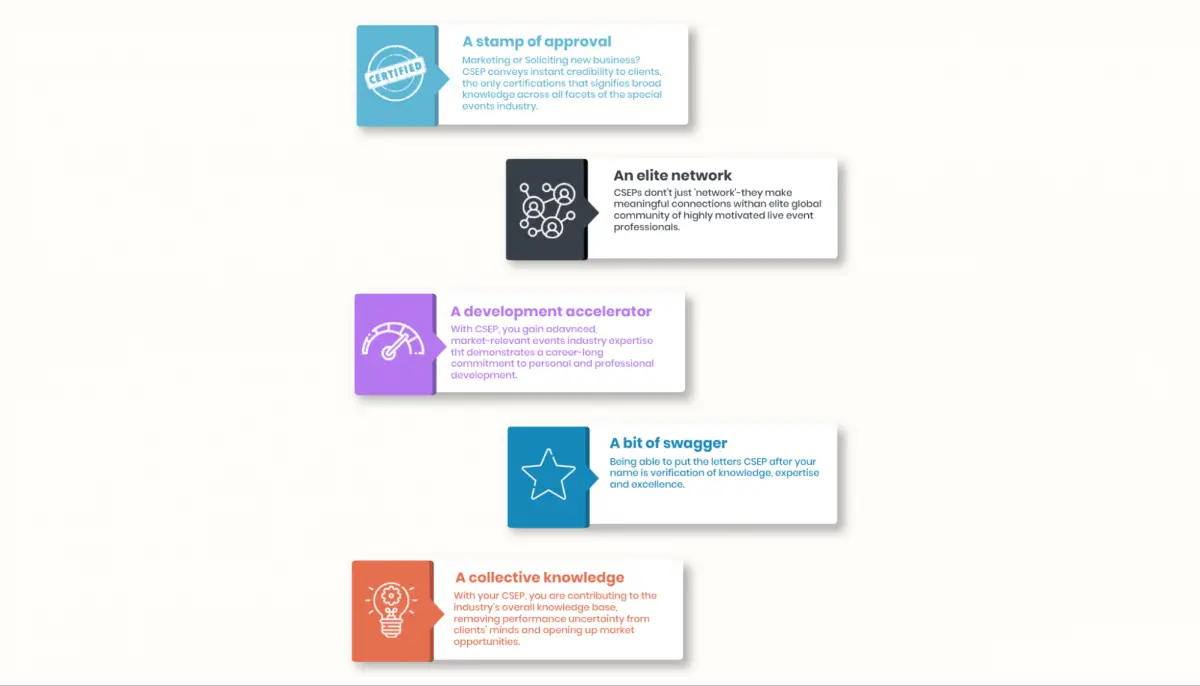 Interested candidates must provide proof of a six-month membership with the Society of Government Meeting Professionals (SGMP).
Certified Professional in Catering and Events (CPCE)
Candidates who want to get into hospitality services can pursue this certification, which focuses on catering, hospitality, and event organization. Candidates will sit for a single examination, which, if they pass, will earn the certification. 
Obtain a license
It can be tempting to go solo as a party planner. With the right mindset, solid connections, and a good budget, this is possible. However, it's mandatory to obtain a license in the state where you'll work.  
Obtaining a license in one state will likely not allow you to operate legally in another. Licenses are not necessary if you are joining an event management firm or organization, only if you are building your own event planning business.
Must-have skills for event planners
The best event planners possess the following skills.
Organization. Event planners need a sharp eye for detail and must remember the smallest facts about events. They also must take full responsibility for possible errors or failures that take place during an event. It's important to keep timelines and budgets in check and make sure every detail on a checklist is completed. Organization is key. Event planners must also be high-energy individuals with strong multi-tasking skills. 
Good networking. A large network of contacts is critical for a successful career as an event planner. Good networking skills require other skills, like communication, leadership, and more. 
Adaptability. Not everything will go according to plan all the time, so event planners need to be adaptable. A good event planner must remain vigilant for any possible disruptions or issues that may occur in areas such as management, client satisfaction, atmosphere, and more. When issues arise, event planners must think on their feet to solve problems and run a smooth event planning business.  
Creativity. Event planners are the designers of an event. They will decide what each component will do and how they will play out during the event. This demands a lot of creativity, as a dull event can bore guests.
Professionalism. Event planners must maintain professionalism when organizing events, even if it seems a bit overwhelming. You have to maintain composure if the client is unhappy, the team is not cooperating, or the plan is changing. 
Your event planner career is waiting
Becoming an event planner is an exciting choice that promises a life of creativity, relationship-building, and exploration. 
If you're ready to begin your event planner studies, check out the best online colleges, scholarships, and more from The College Monk.