How to become a Principal
This article provides in-depth information into What is a Principal? What Principals do? Degrees for Principals, Steps to become Principal and much more.
How To Become a Principal — Everything You Need to Know
Whether you're just starting your career in education or have been teaching for a while, you might be wondering how to become a principal.
A successful school principal is driven by a passion for education and a desire to take on a leadership role within their school. 
Principals truly believe they can make a difference in the lives of the children they serve. They are people who live by their, well, principles.
Aspiring principals will need to gain a series of certifications and a certain amount of teaching experience to achieve their goals. 
This article will provide prospective principals with all the information they need on what principals do and the steps and qualifications necessary to become a principal.
What does a Principal do ?
Principals are responsible for overseeing the day-to-day operations of schools. 
They usually work in elementary schools, middle schools, or high schools. School principals might also work in a public, private, or charter school. 
They are responsible for making sure their school runs smoothly and provides a safe and excellent learning environment for its students. 
Becoming a principal is a way to set standards of performance and establish goals and objectives for students, teachers, and staff. Principals also represent the school to external stakeholders and might attend community events or support social organizations. 
Principals juggle many roles — from being the instructional leader to developing and upholding the school's mission statement and school board policy.
Some of the tasks of a principal include:
Upholding educational policies and integrating the common core government guidelines into each class curriculum.
Creating benchmarks for students and teachers and tracking progress toward those goals.
Developing programs that improve teacher performance and assisting students in understanding class material better.
Providing guidance to the school's network of student leaders and challenging those leaders to make the school a better place.
Responding immediately to concerns from parents and school board administrators.
Managing the school's finances and budget.
Making sure facilities are safe and secure.
Meeting with teachers and parents as part of measuring progress and monitoring behavior.
Supporting teachers in their disciplinary decisions.
Supervising and monitoring all categories of school staff, including teachers, counselors, and media specialists.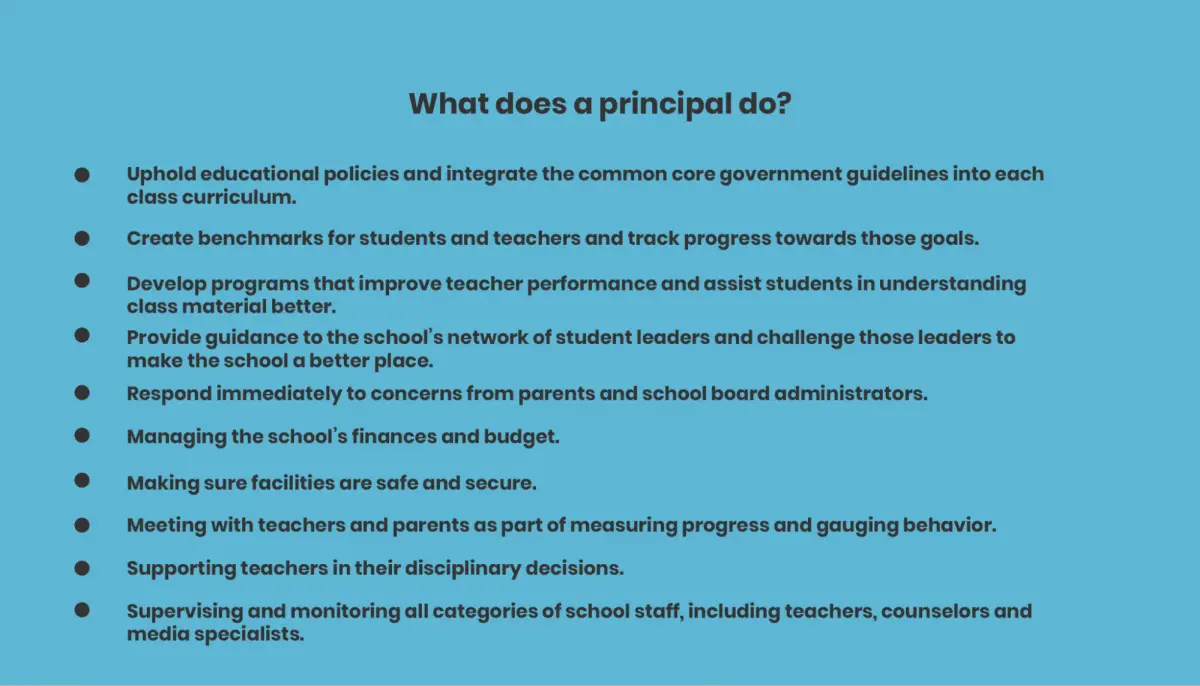 ---
Steps for becoming a Principal
1
Earn A Bachelor's Degree And Become A Teacher
Most school principals begin a career in education by teaching. Bachelor's degrees are generally the minimum educational requirement for teachers. States require public school teachers to be licensed, which involves completing a bachelor's degree and passing a licensing exam.
2
Gain Teaching Experience
Teaching is an ideal training ground for principals. 
Before advancing into administration positions, most principals begin their careers in education as teachers. During this time, they learn skills such as communication, leadership, and motivation. 
Teachers also learn to develop curriculum according to students' needs, as well as valuable evaluation skills.
3
Teach In As Many Levels As Possible In A Short Time
Working with a variety of students, parents, and colleagues will expose you to opportunities to further develop leadership and communication skills. 
Try working in elementary school, middle school, and high school to see which is the best fit for you.
These experiences will serve you well as the principal. Try to move quickly through the ranks when possible while seeking opportunities to advance your skills.
4
Find Ways To Demonstrate Strong Leadership Skills
Get involved in your school and your community. Volunteering for activities, committees, or planning groups can help you shine. 
When people see your ability to motivate others, complete a group activity, or spearhead a planning committee, they will be more likely to make a positive recommendation when you're pursuing a principal position.
5
Research Your District's Principal Qualifications
Once you know the requirements for becoming a principal in various districts, you can work to meet them. 
For example, you may need to become a licensed school administrator prior to applying for a principal position. 
Perhaps you'll need a Master of Science degree in educational administration to take the exam. 
If that's the case, start researching your options for master's degree programs while you're teaching and developing essential leadership skills.
In most cases, a master's degree in educational leadership or educational administration is required for employment as a principal. The graduate degree programs are designed to provide the necessary training for prospective principals to lead faculty and staff, work with budgets, communicate effectively with parents and the community, and set and accomplish goals for the school.
Getting your master's degree from an accredited university will improve your chances of becoming a successful principal.
7
Start Working As A Principal
Depending on your level of experience, you might want to start as an assistant principal or vice principal and work your way up. 
If you feel ready to take on the challenge of being a principal, you can try and jump straight into a school leadership role.
---
Principal Degree Levels
Associate
An associate's degree in education provides the skills and knowledge needed to enter the education field and is a good first step towards a career in teaching. Those who earn an associate degree in education from an accredited school may qualify for paraeducator positions such as teaching assistant, teacher's aide, or in some states, preschool teacher or substitute teacher.
Early Childhood Education
Early Childhood Education Today

Foundations for Teaching and Learning

Implementing Early Childhood Programs
Objectives
Establish an educational philosophy

Demonstrate an awareness of cultural diversity

Discuss techniques to guide children
Child Psychology
Biological Factors in Child Psychology

Schools of Child Psychology

Vygotsky's Theory In-Depth
Objectives
The concept of Childhood

Early history and childhood

The class difference in perceptions of childhood
Basics of Curriculum
Backward Design of Lessons

Curriculum and Teaching

Lesson Plan Creation
Objectives
Demonstrate knowledge of the relationship between educational theory and practice

Examine current curriculum theories

Examine curriculum mapping
Bachelors
A principal's bachelor's degree does not need to be in education as long as the candidate is certified as a teacher in a state. 
However, a bachelor's degree in education can help you work your way up to a career as a principal.
Foundations in Education
The Purpose of Schooling

The Official Construction of Schools

The Social Construction of Race and Racism
Objectives
Explain historical moments of schooling

Schooling conditions

Current content and pedagogical practices
Effective Teaching Skills & Classroom Management
Classroom Management

Classroom Organization

Behavior Management
Objectives
Plan the organization of a classroom

Manage student progress data electronically

Establish classroom procedures and expectation
Instructional Technology in Education
Media Knowledge and Skills

History and Purposes of Technology in Schools

Future Trends and Ethical Concerns
Objectives
How to select and evaluate technology in the classroom

How to prepare technology-enhanced lessons in the classroom

How to keep up-to-date on new and emerging technologies
Masters
You'll likely need teaching experience before you are eligible for a master's degree program in this field. Many aspiring principals complete a master's degree in education or educational leadership. 
Most states and schools require principals to have a related master's degree. However, some schools are willing to hire principals with any master's degree. The important thing is that they are certified teachers and school administrators.
Classroom Management
Foundations of Classroom Management

Behavioral and Assertive Approaches

Positive and Cooperative Approaches
Objectives
Identify and evaluate different classroom-management approaches

Discuss routine and disruptive events in the classroom

Implement effective classroom and behavior management techniques
Advanced Educational Psychology
Analysis of current Personal Educational Philosophy

Expert Teachers & Learners

Cognitive, Learning & Language Skills
Objectives
Extend the knowledge of educational psychology principles

Cognitive development

Social development
Foundations of Reading and Writing
Oral Language

Phonological and Phonemic Awareness

Alphabetic Principle
Objectives
Explain the developmental processes associated with communication systems

Procedures to plan and implement instruction

Explain the alphabetic principle
Doctorate
A doctorate in education (Ed.D. or Ph.D.) gives you academic knowledge relating to the practice of education. 
There are several different types of doctoral programs in education, and at various schools, the lines between these programs may be blurred. 
Ed.D. programs focus on projects and practical work. Ph.D. programs tend to be more research-based. 
A doctorate in education may focus on a specific area of education. For example, it could be a special education doctorate degree or an educational leadership doctorate degree.
Learning Theory and the Educational Process
Brain-Based Learning

Behaviorist Learning Theory

Cognitive Learning Theory
Objectives
Create, revise, and use your own personal theory of learning

Reflect on how learning theories impact on every aspect of your life

Explain the interactions of students, teachers, and materials in classrooms
Educational Philosophy
Eastern Philosophy and Education

Pragmatism

Reconstructionism
Objectives
The relationship between theory, philosophy and educational practice

Describe the historical context of the various philosophies

Discuss the strengths and limitations of the various philosophies
Principles of Educational Administration
Introduction to the American legal system

Role of the federal government in education

Governance of public schools
Objectives
Outline and explain the organizational structure of public schools

Explain the general structure of the federal and state court systems

Issues in educational law to develop and administer a safe school environment
---
Principal Admissions Requirements
Transitioning into education from another field
If you want to switch careers and become a principal, you may already have a bachelor's or master's degree in a different field. So what should you do?
If you have a bachelor's degree in a different field
The good news is you don't have to go back to square one and get a bachelor's degree in education. But you should get a master's degree in either education or education administration.
One of the best ways to do this is to get an online master's degree in education. This allows you to gain experience while you study. 
If you have a master's degree in a different field
If you have qualifications and experience in a different field, you don't necessarily have to earn a master's in education or administration. Many schools are happy to hire people with expertise in different areas. 
However, you will need to gain hands-on teaching experience to become an educational leader. 
You'll also need relevant teaching qualifications. Once you have some experience working in schools, you'll be able to get certified and start applying for principal jobs.
To become a licensed principal, you'll have to attend a principal training program. Once you have the relevant education and training, you can get your principal licensure and certifications. 
These vary from state to state, so you'll need to do some research to find out what qualifications are required in your local area.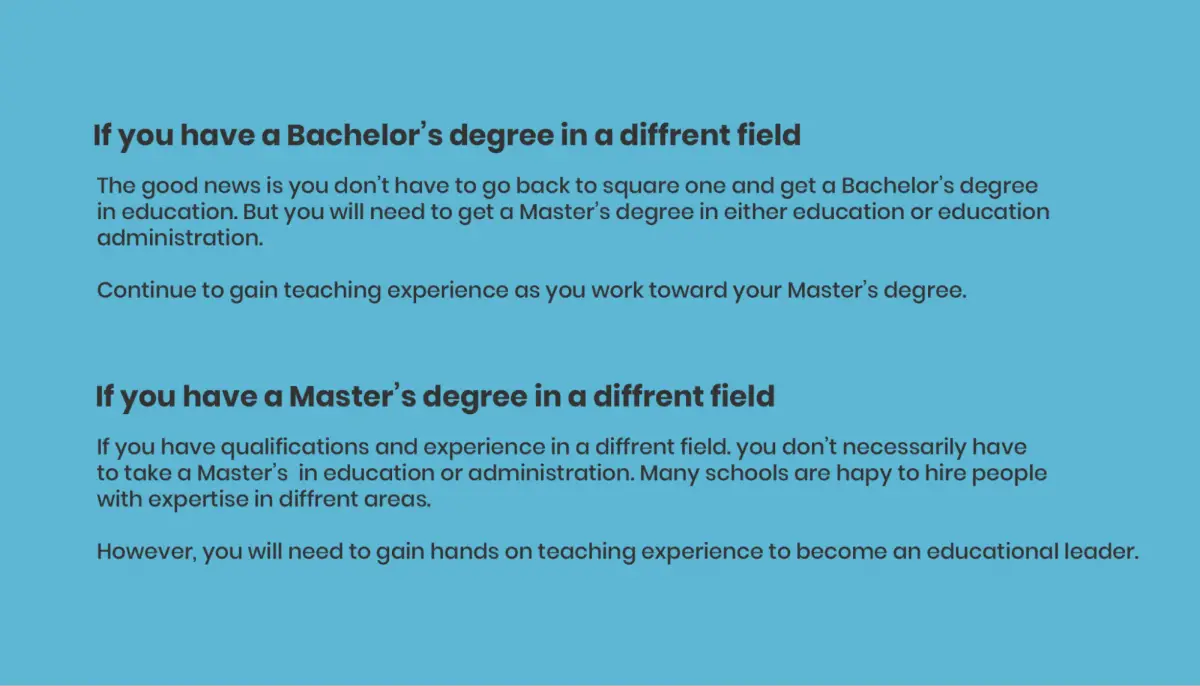 How long does it take to become a principal?
The answer is: it depends. 
For an undergraduate student setting out on a career in education, it may take up to six years to gain the necessary qualifications and three to five years of teaching experience after that. In total, it can take ten years or more.
If you're already a qualified teacher with a few years of experience under your belt, the process will be much shorter. 
If you're someone transitioning into a career in education leadership from another field, the timeframe may be longer or shorter depending on the qualifications, skills, and experience you have.
School leadership is similar to other types of business leadership. Someone transitioning from a leadership role in another industry might not need as many years of experience in schools to become a principal.
For more on this, check out our guide on how long it takes to become a principal.
Conclusion 
So, now you know how to become a principal. It might take a few years, but your dream of a career in education administration and instructional leadership is within your reach.
How long it will take you to become a principal will depend on where you are on your journey. But gaining the necessary certifications, experience, and leadership skills is the best way to fulfill your dream of becoming a school principal in the shortest possible time.
Check out TheCollegeMonk's Careers section for more resources that will help you set up a successful career as a school principal.