How to become a Professor
This article provides in-depth information into What is a Professor? What Professors do? Degrees for Professors, Steps to become Professor and much more.
What is a professor? What does a college professor do? What kind of higher education do you need to become a professor? This article provides in-depth information about what professors do, how to begin the career, and what degrees you'll need in the process.
A professor teaches academic subjects to students in a higher education setting beyond the high school level. 
Professors also conduct research and publish scholarly papers and books. They work in public and private colleges and universities, professional schools, junior or community colleges, and career and vocational schools. 
To become a college professor, you'll need to follow a rigorous academic track. 
This article will provide details on which degrees you need, how to identify the right specialization, and more.
What does a Professor do ?
Professors teach courses in a wide variety of subjects and fields. Some teach academic subjects like literature or philosophy. Others focus on subjects like law, nursing, or culinary arts. 
Regardless of the subject matter, a professor's job usually includes the following responsibilities:
Writing and teaching courses 
Working with students who are studying for a degree or certification or are taking classes to improve their knowledge or career skills
Developing instructional plans (known as a course outline or syllabus) for the course(s) they teach and ensuring that those plans meet college and department standards.
Planning lessons and assignments
Working with colleagues to develop or modify the curriculum for a degree or certificate program involving a series of courses
Assessing student progress by grading papers, tests, and other work
Advising students about which classes to take and how to achieve their goals
Staying informed about changes and innovations in their field
Conducting research and experiments to advance knowledge in their field
Supervising graduate students who are working toward doctoral degrees
Publishing original research and analysis in books and academic journals
Serving on academic and administrative committees that review and recommend policies, make budget decisions, or advise on hiring and promotions within their department
How much do professors make? 
You can earn a respectable living by becoming a professor and teaching at the college level.
According to recent research, the salary for full-time professors grew by 1% between 2020 and 2021. As is true in virtually any field, your earnings as a professor go up in conjunction with your education. 
Today, a full professor at a private doctoral university earns an average of nearly $203,000 annually. 
Meanwhile, a full professor at a public baccalaureate college earns an annual average of $99,000. There are some differences in the average pay for male and female professors, as seen in the graph below: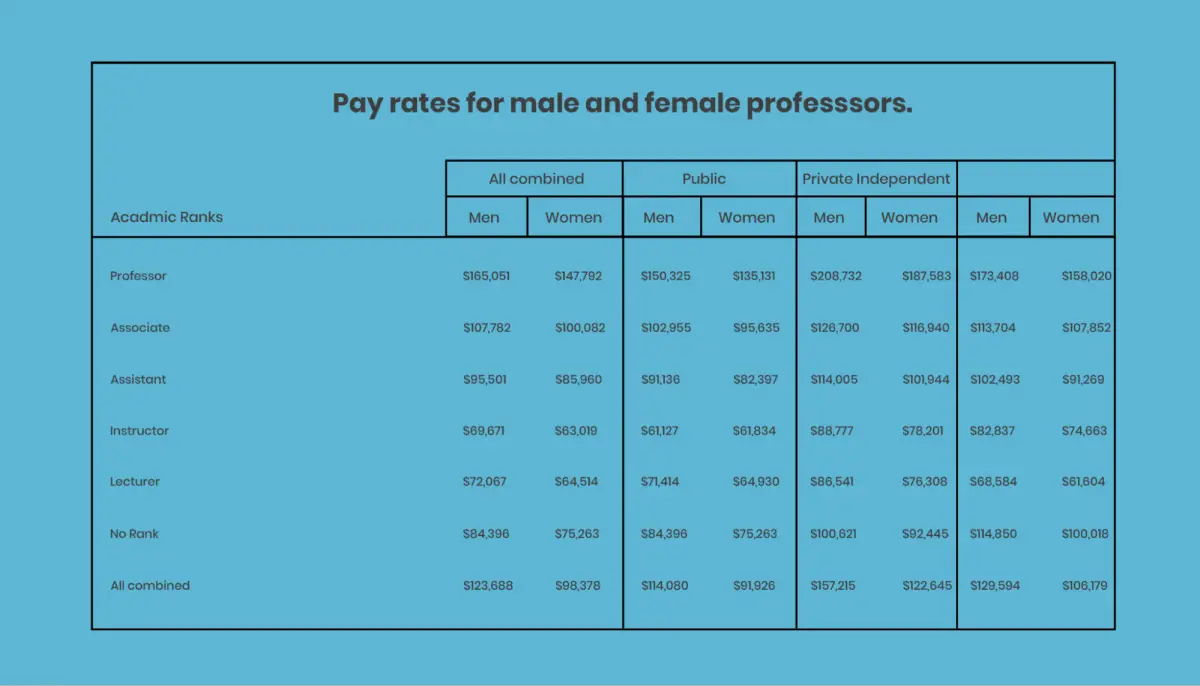 What's the difference between a professor and a teacher? 
While all professors are teachers, not all teachers are professors. 
Professors are postsecondary academic instructors who teach students at the college or university level, usually in a classroom setting. 
They represent the top tier of educators and typically specialize in a highly specific field or academic subject. 
Teachers, while no less critical to the educational system, serve a different purpose. 
Teachers generally work with younger students, specifically those in kindergarten through high school. 
They focus on teaching important skills and subjects but provide a more foundational level of education designed to prepare students for more rigorous specialized education at the college or university level.
While some teachers specialize in specific fields, others cover a broad range of academic subjects.
---
Steps for becoming a Professor
College professors can choose from a huge variety of academic fields in which to specialize and teach. 
Mathematics, chemistry, English, medicine, and history are just a few of the subjects a student can specialize in. Aspiring professors should base their field of choice on several factors, including individual preference or the likelihood of obtaining a position in said field.
2
Earn A Bachelor's Degree
A bachelor's degree is the first step on the long educational road to becoming a college professor. 
Most schools require excellent SAT or ACT scores, so begin studying in advance.
 Since a bachelor's degree is a prerequisite for entering graduate school, students should keep in mind what's required to graduate from a bachelor's degree program and what's required to qualify for a graduate degree program. 
For example, a GPA that is acceptable to obtain an undergraduate degree may not be high enough to enter graduate school.
3
Enroll In Graduate School
According to the U.S. Bureau of Labor Statistics, college professors need at least a master's degree. 
If an aspiring professor wants to teach at the college level and obtain a higher position than "adjunct professor," a doctoral degree will likely be required. 
Popular or prestigious graduate schools may have stringent entrance requirements and many applicants for relatively few openings. Research and publication are important for individuals who want to become professors. Establishing a publication record during graduate school will make a candidate more competitive when applying for tenure-track teaching positions.
4
Participate In Internships, Research, And Student Teaching
Aspiring professors need to participate in available internships to build teaching and research experience. 
Typically, this means obtaining a graduate assistant teaching position. This step usually takes place during a master's degree program.
---
Professor Degree Levels
Associate
Students who enter an associate degree program have one of two goals: they want to earn a degree that will allow them to begin working immediately upon graduation, or they aim to transfer to a bachelor's degree program. 
Aspiring professors often choose this degree if they want to gain the basic knowledge necessary to begin work in the teaching field with the intention of obtaining a bachelor's degree in the future.
Some of the courses an aspiring professor may take during an associate degree program include the following:
Introduction to Curriculum Development
Multicultural Education

Differentiated Instruction

Behavior Objective
Objectives
The relationship between educational theory and practice

Major historical developments in educational thought and practice

Examine current curriculum theories
Principles and Practices of Teaching
Introduction to Course

Development of Critical Thinking

Learning Theories as Frameworks for Teaching
Objectives
Discuss the role of the teacher in the American educational system

Explain the value of differentiated and individualized instruction

Explain the value of teaching critical thinking in a democratic society
Teaching in a Diverse Society
Multicultural Education

Cultural artifacts

Acculturation and enculturation 
Objectives
Explain how changing demographics influence public schools

Define the concept of multicultural education

Identify cultural influences on modes of communication, perception, and world view
Bachelors
For aspiring professors, the bachelor's degree is the initial step to become a professor. This four-year degree not only offers students the opportunity to specialize their education in order to pursue a particular career path. Graduates of a bachelor's degree program are prepared to enter the classroom and teach students from kindergarten to high school level. In some cases, a bachelor's degree is also required to teach at the preschool level.
While a bachelor's degree is always required for professors, it is usually also required for teachers at the K–12 level and those who want to specialize in early childhood education. 
Some of the courses an aspiring professor may take during a bachelor's degree program include the following:
Methods of Teaching
Effective teaching

Teaching model

Inductive and deductive teaching
Objectives
Theories and principles of classroom management

Theories and principles of instructional methodologies

Realities and structures of the teaching profession
Education Technologies
Communications theory

History and impact of technology

Future trends in technology
Objectives
Role of technology in the teaching process

Gain skills in digital tools used in teaching

Basic theories of communication, selection, evaluation, and research
Education of Children With Special Learning Needs
Curriculum adjustments

Instruction access

Accommodation
Objectives
Curriculum changes and appropriate materials for students with learning challenges

Ways to increase instructional access and work with parents to devise curriculum plans
Masters
A master's degree is the minimum educational requirement for a professor position. 
A master's degree allows those who have already earned their bachelor's degree to further their education to enter a specific area of teaching or administration. It also allows them to teach as an adjunct professor at the college level.
Some of the courses an aspiring professor may take during a master's degree program include the following:
Legal and Ethical Issues
Bullying and harassment

Regulations

Due process hearings and truancy
Objectives
Legal issues and how the proper way to handle them

Ethical concerns and how they should be addressed

Following the law, in terms of regulations, standards, state, and government concerns
Curriculum Development
Development and planning

Current research, social factors, and accountability

Use of student data and student assessment
Objectives
How to read research and surveys concerning curriculum, student assessments and data gleaned from tests

Accountability requirements on the national and state level

How to create effective curriculum plans
College finance
Income Tax

Budget

Financial Statements
Objectives
College finances on a national, state, and local level

How to access proper funding and grants

How to seek out resources that provide for further educational needs
Doctorate
Applicants to a doctoral program must have at least a bachelor's degree to be considered for admission. 
Most programs, however, require students to hold a master's degree. Standardized test scores are also almost always required for admission to a Ph.D. program. 
While some programs only require the Graduate Record Examination (GRE) general test, others require a specific GRE subject test as well, like the GRE Literature test.
 Letters of recommendation and a personal statement are among the other common admission requirements.
A doctoral degree is an advanced degree that allows an aspiring professor to gain the title "professor," seek a tenure-track job, and teach at the college level as a full (rather than an adjunct) professor. 
Ph.D. candidates will partake in a rigorous course of study, continued student teaching positions, and original research as part of the degree requirement. 
Since Ph.D. programs are so highly specialized, there is no one-size-fits-all rule for the classes within them. That said, here is an example of some courses an aspiring physics professor may take during a Ph.D. program:
Applied physics
Mechanical Systems

Electrical Systems

Fluid Systems
Objectives
Integrate technology

Apply safety in the workplace

Think critically and creatively
Thermodynamics
Work, heat, first law

Internal energy, expansion work

Fundamental equation, absolute S, third law
Objectives
To present a comprehensive treatment of classical thermodynamics

To lay  the  groundwork  for studies  in fluid mechanics and heat  transfer

To develop an intuitive understanding of thermodynamics
Materials science
Mechanical Behavior of Materials

Organic and Biomaterials Chemistry

Materials Processing
Objectives
Provide science and engineering leadership in academic settings

Innovate in a wide variety of technical fields

Excel in careers related to the entire lifecycle of materials
---
Professor Admissions Requirements
What is a tenured professor? 
Tenure is a distinction given to certain professors at the college level. Specifically, academic tenure refers to a professor's employment status at the college or university where they work.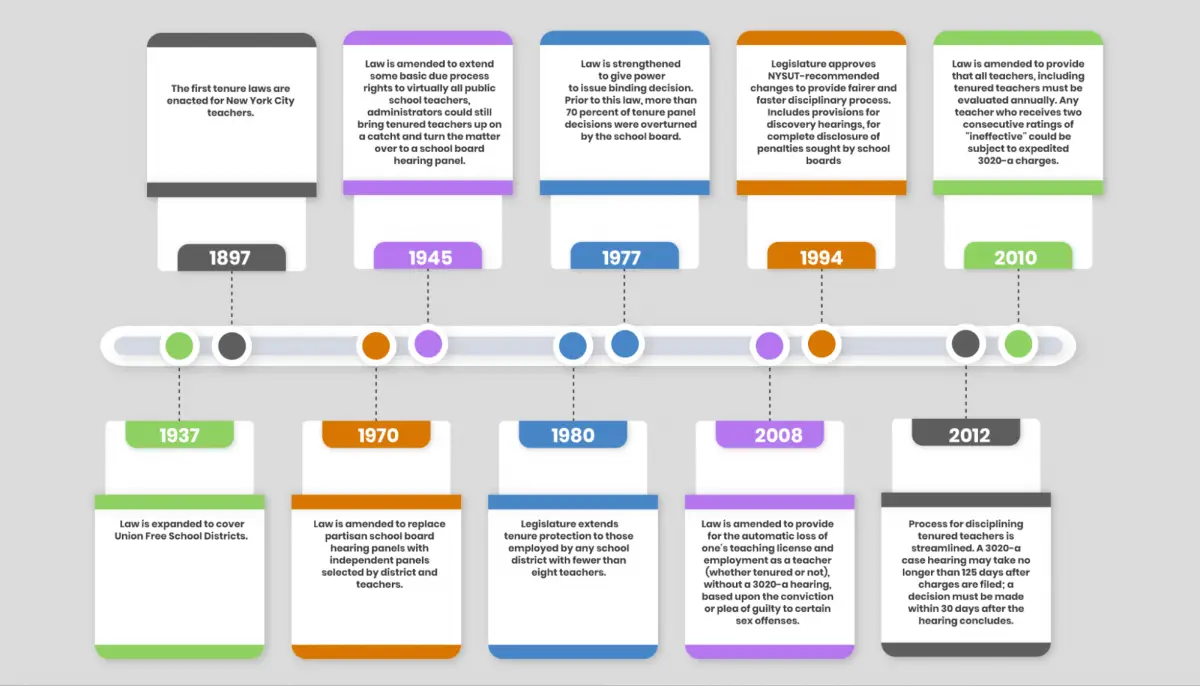 When an educator has become a tenured professor, they have more freedom regarding what and how they teach. Additionally, tenured faculty can only be terminated under extreme circumstances such as discontinuation of a program or professor misconduct.
Earning tenure is a rigorous process, and becoming a tenured professor is a great honor that many professors work toward for most of their professional lives.
The benefits of tenure include: 
Academic freedom
Higher pay
Increased job security
Prestige and increased opportunity
To obtain tenure, a professor must find a tenure-track position, which typically means starting as an adjunct or assistant professor. Tenure-track professors must also produce prolific research, get good feedback from students, and make significant contributions to their field. 
After what is typically about 6–10 years of teaching, the professor will go through the tenure review process. 
Tenured vs. non-tenured professors
A person can still be a professor even without the distinction and job security of tenure. Tenure is a relatively new distinction.
As few as 100 years ago, professors working at colleges served under a board of trustees. This meant they could be fired at any time and for virtually any reason. 
If an administrator or donor took a dislike to a professor, the professor could be fired regardless of how long they'd worked for the university. Tenure was developed to provide job security for professors and to ensure freedom of thought. 
Still, it's not the element that makes a professor. 
Professors may be employed by universities in non-tenure-track positions. This simply means they teach at the college or university and possess more education and specialization than an adjunct faculty member, but they are also not vying for tenure. 
Professors who are on the tenure track but have not yet become tenured simply have a few additional components to their positions. 
Most tenure-track positions include three pillars — teaching, service, and research — while non-tenure-track positions focus almost solely on teaching.
Do you want to become a professor?
The decision to become a professor is an important one. 
Today's professors shape the minds and trajectories of motivated students and continue the tradition of academia and deep learning. 
As you begin your journey to become a professor, The College Monk can help. Browse information about scholarships, online colleges, student loans, and more now to start your journey on the right foot.