How to Become a Social Worker
This article provides in-depth information into What is a Social Worker? What Social Worker do? Degrees for Social Worker, Steps to become Social Worker and much more.
Social work is a broadly defined profession encompassing many different kinds of professionals who all serve people in need. The International Federation of Social Workers External link calls social work "an interrelated system of values, theory and practice." Social workers are unique in the way that they look at many different aspects of a problem, from the individual to the societal, from the psychological to the political. Common ways of serving clients include providing counseling, therapy, and education, as well as connecting clients to appropriate public or private resources.
What does a Social Worker do ?
Social workers are responsible for helping individuals, families, and groups of people to cope with problems they're facing to improve their patients' lives. One aspect of this is teaching skills and developing mechanisms for patients to rely on to better their lives and experiences.
Identify people who need help

Assess clients' needs, situations, strengths, and support networks to determine their goals

Develop plans to improve their clients' well-being

Help clients adjust to changes and challenges in their lives, such as illness, divorce, or unemployment

Research and refer clients to community resources, such as food stamps, childcare, and healthcare

Help clients work with government agencies to apply for and receive benefits such as Medicare

Respond to crisis situations such as child abuse

Advocate for and help clients get resources that would improve their well-being

Follow up with clients to ensure that their situations have improved

Evaluate services provided to ensure that they are effective

Organize support groups or counsel family members to assist them in understanding, dealing with, and supporting the client or patient.
---
Steps for becoming a Social Worker
1
Choose A Social Work Specialty
There are numerous career paths in social work. For instance, some social workers interact with all types of people, while others focus on a specific demographic. Child and family social workers cater to families in need of assistance. Geriatric social workers take care of elderly clients and their families, while hospice social workers are there for the transitions that the end of life brings. Social workers might take positions in schools, where they work closely with parents and teachers to ensure students are matched with the right programs. Social workers in healthcare settings might be patient advocates who keep families informed and work to preserve patient rights. Knowing where you want to go in social work should greatly influence your post-secondary education.
2
Get A Bachelor's Degree
A four-year bachelor degree in social work or a related field is required for most entry-level positions. If you already hold an associate degree, you may be able to transfer credits and cut the time to graduation to two years. A bachelor's degree typically prepares you for direct service positions such as caseworkers or mental health assistants.
Nothing is more important in a social work education than actual fieldwork and taking on opportunities to serve others as soon as possible. Even if you can't find an internship that is exactly in line with your interests, any interaction with clients and the community builds skills necessary to careers in social work. An internship could include working for a local nonprofit health organization, clinic or hospital.
4
Earn A Master Of Social Work (msw)
Students who want to become licensed clinical social workers need at least a master's degree in this discipline. According to the Bureau of Labor Statistics, virtually any undergraduate major is acceptable for entry into an MSW program. Master's degree programs incorporate clinical practice with coursework to ensure students are properly prepared for positions in the field. Depending on the degrees offered, schools might be accredited by a regional accrediting board or other body approved by the U.S. Department of Education. Social work programs can obtain accreditation from specialized organizations like the Council on Social Work Education.
5
Earn The Necessary Certifications
The purpose of social work licensing is to ensure safe professional practice. Each state board defines what is required for each level of social work license. The specific license names and requirements vary significantly by state. There are four levels of education and training that are commonly distinguished by different levels of licensure.
Bachelor's level: Baccalaureate social work degree (BSW)

Master's level: Master's degree in social work (MSW)

Advanced Generalist: MSW plus two years non-clinical supervised social work experience

Clinical: MSW plus two years direct clinical supervised social work experience
Some states require you to obtain a license before beginning your career in social work. In some states, it may be important to work toward progressive licenses as you advance in your career.
6
Find An Entry Level Job
Finally, once you are fully prepared to enter the field of social work, it is time to look for a job. While finding a job in social work can be similar to finding any job, your first job in the field may not be the exact position or concentration you intend to pursue. In the beginning, it is important to gain as much relevant experience as possible. Classroom instruction is important, but time spent in the community can be even more transformative. As you grow comfortable with your skills and your role, you can continue seeking your ideal career.
Returning to college to add a post-graduate degree is one way to advance in the social work field. Many public service organizations require employees to take part in continuing education. Advancement and rank promotions can be pegged to years of service, work performance, and formal advanced training. In some cases, you may want to change fields. For example, with additional post-graduate work, you might move from performing family assistance casework to a position as a counselor, staff director, facility manager or administrator.
---
Social Worker Salaries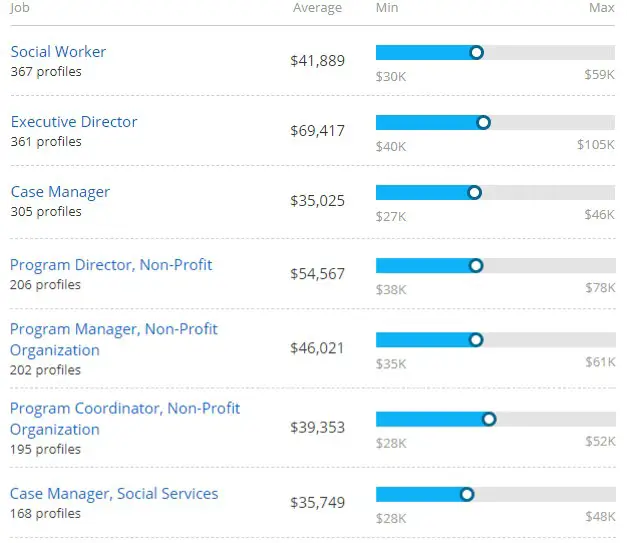 ---
Social Worker Degree Levels
Associate
An associate degree in social work provides the fundamentals for careers in the field. Students learn about the history and development of social work over the centuries as well as the code of ethics required. Courses introduce the basics of psychology, human development, anthropology, sociology, and mental health and also explore critical issues in contemporary society, such as poverty, discrimination, obesity, and other poor health conditions. Having an associate degree in social work can lead to entry-level careers such as a social services assistant or case manager assistant.
Introduction to Social Work
The Emergence of Social Work as a Profession

Social Justice, Diversity, & Vulnerable Populations

Generalist Social Work
Objectives
Understanding of the role and functions of social workers

Awareness of National Association of Social Workers (NASW) Code of Ethics

Familiarity with professional practice and education
Introduction to Human Development
Science of lifespan development

Cognitive development in infancy

Socioemotional development in infancy
Objectives
Foundation in normal human physical, cognitive, and social development

Ability to compare and analyze individual cases
Introduction to General Psychology
The evolution of psychology

The research enterprise in psychology

Biological bases of behavior
Objectives
Background in research methodology

Understanding of behavioral patterns and their biological and social causes

Knowledge of learning and memory and the psychology of personality
Bachelors
Bachelor of Social Work (BSW) programs prepares students for entry-level, professional, generalist social work practice and for graduate social work education. Students learn to practice as professional social workers with individuals, families, groups, and communities. Students learn a great deal about the profession while earning their BSWs since bachelors of social work programs combine classroom learning with field education. Students gain work experience while applying their classroom training to real-world work settings.
Statistics and Research for Social Workers
Scientific Inquiry and Evidence-Based Practice

Ethical and Cultural Issues in Social Work Research

The Research Process: Quantitative, Qualitative, and Mixed Methods
Objectives
Keen understanding of research methods and data analysis

Design of research projects

Knowledge of how to use appropriate methods, including descriptive and inferential statistics
The Child and the law
The Status, Rights, and Obligations of Children

The Child-Parent Relationship

Representing Children
Objectives
Knowledge of family law, divorce law, and juvenile criminal law

Be aware of lawyer's roles and ethical problems in representing children

Understand basic concepts of the law related to children
Health services and systems
S. healthcare system

Healthcare providers

Cultural Sensitivity and Awareness
Objectives
Coordinating healthcare appointments for others

Encouraging others to take charge of their own health

Finding services not easily accessible to all populations
Masters
If you receive a BSW prior to applying to graduate school, you may be eligible for advanced standing allowing you to receive an MSW in one year rather than the traditional two-year program. While all accredited social work graduate programs follow similar curricula combining classroom learning with field education, some schools of social work have strong clinical programs while others focus on systemic issues such as poverty reduction and social justice. Choosing a clinical focus or a macro concentration may determine electives and field education placements but all graduates receive the same degree.
Chemical dependency and social work practice
Definition of Addiction

Social work providers of substance abuse with different cultural groups

Screening, Assessment, and Diagnosis of substance use disorders
Objectives
Talking to others about their addictions

Arranging intervention or prevention opportunities

Understanding of addiction as a mental illness
Social welfare policy and services
The philosophic and practical basis for social welfare provisions

The history of the social work profession

Policies and Services
Objectives
Understanding of the types of social welfare services and agencies to contact

History and philosophy of social welfare plus past and current policies

Confidence in encouraging individuals and communities to work with the welfare system and better their own lives
Health and mental health policy
The social construction of mental illness

Labeling and Treating Mental Illness

Institutionalization and The Reaction
Objectives
Understanding of physical and mental healthcare policies

Ability to provide or coordinate care and services for individuals and communities

Healthcare factors such as cost, access, and allocation of resources
Doctorate
A doctoral degree in social work does not lead to a higher level of licensing, but it can open other doors for advancement. This is particularly true for careers in research, social work education, or higher-level administrative positions. There is a choice between two types of doctorates in social work: The Doctor of Social Work (DSW) and the Ph.D. The DSW is generally seen as emphasizing practice, while the Ph.D. is commonly thought of as research-focused.
Theoretical bases of social behavior
The function of infant-mother attachment

Child characteristics and parenting styles

Social roles in childhood and early adolescence
Objectives
Critical analysis of human behavior and lifespan development

Systems theory

Knowledge of behavioral theories for health, illness, and disorders and for groups and organizations
Social work and diverse populations
Generation in US

Religion/spirituality/agnosticism/atheism

Socio-economic status
Objectives
Advanced cultural and social diversity theory

Interacting with individuals and communities of diverse cultures and backgrounds

Empowering populations in personal and social ways, promoting the cause of human dignity and social justice