How to Become a Writer
Have you always dreamed of becoming a writer? Learn about education requirements, salaries, and tangible steps on how to become a writer!
Writers communicate for every industry, be it engineering, healthcare, entrepreneurship, education — you name it. A writer may choose to create their own fiction — authors like JK Rowling come to mind — or write technical content for an IT firm. The steps to become a writer usually entail variations of the following: earn a high school degree and college education, gain experience, read, and eventually find a full-time role. 
In most cases, technology is the way to a more lucrative salary, making technical writer positions have better job outlooks and salaries than lifestyle blog writers, for example. 
No matter the industry you choose, writing is a rewarding career for the reader, the wordsmith, or anyone else that takes pleasure in communicating. Of course, while writing essays during an English degree may be enjoyable for the short term, the ideal goal is to find a stable career as a writer beyond college. But you're probably thinking: I want to become a writer, where do I start?
Here we'll cover everything you need to know about how to become a writer, including the steps on how to get started as a writer, college education, job tips, and more!
Steps to Become a Writer
Read and Write Regularly
Earn a High School Degree
Consider Your Interests and Types of Writing
Take a College or University Writing Program
Gain Experience and Build a Portfolio
Land a Writing Job!
| | |
| --- | --- |
| Career Title | Writer |
| Degree Requirements | Bachelor's Degree |
| Job Growth | 9% |
| Experience required | None - experience built long-term, on the job |
| Salary (2020) | $67,120 |
| How long to become a Writer | 4 years |
| Required Skills | Communication skills, creativity, researching skills |
How to Become a Writer for Beginners: Step-by-Step Guide
1. Read and Write Regularly
Writers must communicate various messages and tones to different audiences. To do that, you need to have a strong vocabulary, command of the English language, and empathy. What better way to learn how to encompass all that as a writer than to see other proven examples?
The best writers are readers, not specifically about writing theory, but of all fields. You can't learn how to be a writer without reading from those before you. Read the classics, international fiction, history, psychology — anything you like! You might even start to learn more about your writing goals based on the books that you read. The benefits of reading are abundant both for writers' success and for everyday mental health. 
Writers also need to practice regularly, which is why you should keep a journal. Becoming a writer is a long-term process. You can write down personal feelings, about social issues, whatever you're feeling on a given day —  the idea is to get your hand and mind comfortable with translating thought to paper!
2. Earn a High School Degree
A high school degree is your first step to success in any field, including writing. While you certainly should practice reading and writing regardless, a diploma or GED is your ticket to university, where you can gain more experience, make network connections, and propel yourself towards a career in writing.
3. Consider Your Interests and Types of Writing 
Once you finish high school, you might not know exactly what kind of writing you want to get into. When learning how to be a writer, the path isn't always straightforward. You might enjoy fiction writing in your creative writing course during your freshman year, then later on, prefer the non-fiction analytical writing about today's political climate in your senior year. 
Here are some common types of writing that people get into:
Copywriting
Copywriting is usually sales-based writing, where writers create ad copy, product descriptions, web content, and more to persuade the reader to take action. There are many different types of copywriting, like email copywriting and brand copywriting. The Gillette poster ads at the local drug store were written by a copywriter, for example. 
The average copywriter salary is about $51,000. 
Content Writing
Content writers write for company or business blogs, creating informative, researched, engaging content. Most content writing takes the format of a blog article, but content writers may write video scripts and brochures, and other types of writing as well. 
Content writers can write in many different fields, like healthcare, wellness, real estate, finance, education (like the College Monk!), and more!
The average content writer salary is about $49,000. 
Strategic Communication Writing
Strategic communication writing entails public relations-type writing for a government agency or private organization. These writers fit their tone and writing for their employer's brand, keeping the organization's reputation a top priority. Strategic communications writers might write any of the following content:
Press releases
Media questions and answers
Backgrounders
Branded social media content
Op-eds and letters
Aspiring writers interested in this field may benefit from taking formal training in public relations, strategic communications or communications, or marketing. Strategic communication writers often make higher salaries, averaging about $87,000. 
Technical Writer
Technical writers help explain technical concepts, instructions, and more in a digestible manner. Because this field of writing is a bit difficult, the pay tends to be higher. Think long instruction manuals for gadgets, machinery, kitchen appliances, cellphones, and more. 
Many technical writers have a bachelor's degree in a STEM field, but a humanities graduate may take a short technical writing certificate program to be prepared for the role. Other technical writers gain their knowledge through experience rather than education. 
Technical writers have an average salary of $74,650. 
Grant Writer
Thousands of non-profit organizations in the world have dedicated teams of writers to help them obtain funding for various initiatives. Grant writing entails writing detailed, persuasive proposals for certain grants on behalf of a company. A writer that is passionate about social justice or has an interest in certain nonprofit organizations might find this career path fulfilling. 
The average grant writer salary is about $52,000. 
Journalists and Columnists
Everything you read in your local newspaper is written by a journalist or columnist. Journalists usually take on more news-worthy content from an objective perspective, such as political updates, crime news, social issues, and more. Columnist content is more opinion-based, and the fields covered can range from finances to fashion. 
The average journalist salary is $66,000.
If you're interested in a career in journalism, your best bet is to take a university program in journalism.
4. Take a College or University Writing Program
What degree do you need to be a writer? It depends. Some of the world's best writers didn't have any college education. Maya Angelou, Mark Twain, William Faulkner are all successful writers that never graduated. However, that doesn't mean a college education won't help you succeed as a writer. In fact, to score many full-time writing gigs, a college education is often vital. 
Many writing programs are available through certificate and undergraduate programs, but you'll benefit from any college education that entails a lot of writing, even in other humanities like psychology, history, and more. College is actually the best place to learn more about the type of writing you want to do. You can take various electives to learn subjects you're interested in, and assess what types of assignments and writing you enjoy the most. 
College programs also help you network with potential employers and clients, a must in the writing field to gain work. 
If you want the structure of an undergraduate or certificate program specifically dedicated to writing or communications, here are some of the country's top schools for writing programs, according to US News:
Here are some great colleges for journalism programs:
Interested in studying remotely? Check out these great online writing bachelor's programs in writing.
5. Gain Experience and Build a Portfolio
This step applies throughout your entire process. If you wrote a great college paper, include that in your portfolio. Add volunteer blog posts, university newspaper articles, and everything you can find into your portfolio to start. This helps you demonstrate your work to future employers. 
After you graduate, you may pick up some short-term writing gigs for various blogs, or perhaps you'll complete an internship. Try to translate your experience into tangible portfolio items for you to show off to future employers.
6. Land a Writing Job!
After you completed a bachelor's program, perhaps added a certificate to your roster, and scored some solid writing pieces for your portfolio — it's time to apply for some regular work! This might look like an in-house writing job for a company, or gaining multiple clients to freelance as a writing entrepreneur!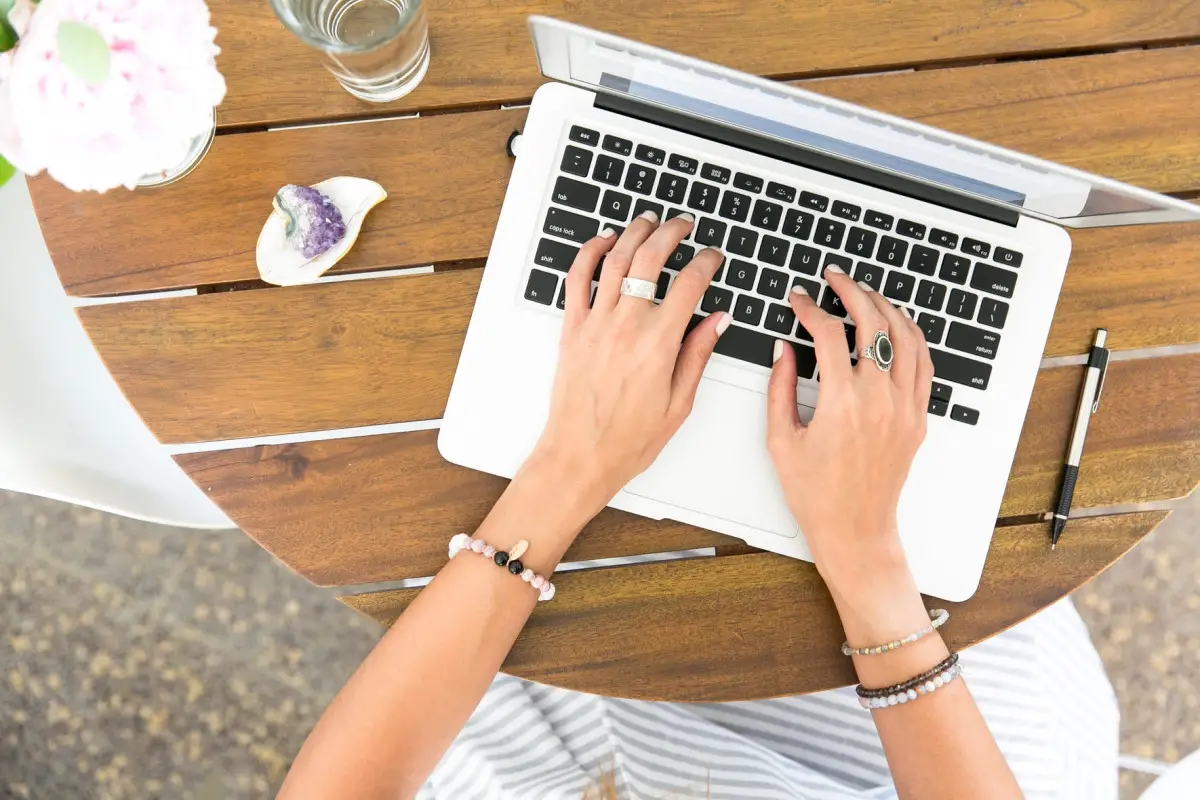 Important Skills for Becoming a Writer
Before you become a writer, you should take a hard look at yourself and see if you have any of the following necessary skills. Of course, these skills can be learned if they don't come naturally to you! But you should keep that in mind before you embark on a pursuit for a writing career.
Interpersonal and Communication Skills: Many writers have to network regularly to find work, as referrals make up much of their client base. Interpersonal skills are vital to meet new contacts and manage relationships within your in-house role or for your clients. 
Research Skills: Research skills are vital for the average writer, as they're often writing about content they aren't experts in. Strong research skills are honed throughout university. 
Language and Vocabulary Skills: Writers must have a good vocabulary and decent command of the English language. This will help them produce unique, credible content. 
Digital Skills: These days, most writing is done online on various platforms, like Google Docs or Microsoft Word. Many writing roles also include SEO work, which is it's own technical skill. To be relevant as a writer, it's important to have some digital skills. 
Creativity: There are a million or more writers out there, and you want to stand out from the rest. While skills and work ethic will do that to a certain extent, creativity and imagination are priceless and the true ways to make your work stand out. Find ways to embrace creativity in your work without sacrificing accuracy or quality. 
Writer Job Growth and Salary
As you noted above, different types of writers have different job outlooks and salaries. On average, you can expect to make anywhere between $40,000 to $100,000 as a writer, depending on your discipline, ambition, skills, and education. 
As of 2020, the average writer and author made a median salary of $67,120. This number varies depending on your level of education, experience, and the type of writing work you do,
For example, technical writers tend to make a bit more than average, with an average salary of $74,650. 
Most writers can expect a job growth of between 8-10% from 2020 to 2030, a job outlook that's in line with the national average. 
Helpful Tools to Use as a Writer
Today's working writer doesn't produce stellar articles and content without any support whatsoever. There are countless tools for organization and project management, research, automation, and more that can help you be more productive and successful as a writer. 
Grammarly: Grammarly is a free tool (with a paid version) that catches grammar errors in your writing. 
Google Docs: Google Docs is a medium to write content that allows for live editing, a great tool for content that needs multiple edits from different departments. 
CitationMachine: CitationMachine lets you input pieces of data from a research article or other type of content to generate a clean citation — a great time-saving tool for writers producing heavily researched or academic writing. 
Asana: Asana is a project management tool that helps writers and other professionals track their projects, clients, and workload. 
Yoast: This SEO tool helps content writers find keywords and test out content to enhance search rankings for SEO. 
Tips on Finding Work as a Writer
You may often hear the common woe for writers: where do I find paid work? Many available gigs are indeed volunteer-based, in the hopes of scoring free work from writers building their portfolio. While this might be a good way to build your portfolio as a beginning, eventually you'll need to find paid work, either through freelance mediums or full-time job boards. Here are some tips to find work as a writer.
Network: Attend writing group functions, regularly reach out to your college contacts, and try to make connections through every writing experience you have. Many writers find work through referrals. 
Check Freelance Sites: Upwork and Fiverr are two examples of freelance repositories that share gig-type writing for prospective writers. 
Join a Writing or Editing Association: A sub-type of networking, specific writing groups, and associations connect you to other writers and potential employers. 
Regularly Update Your Portfolio and Resume: An employer won't want a writer that hasn't produced a piece in five years. Set aside time every quarter to update your portfolio with your most recent work, and your resume with the most recent experience. 
Obtain Testimonials: If your most recent writing work is ghostwritten, you may not be able to share it in your portfolio. Try to obtain testimonials from happy clients that can speak to your experience in a certain area. 
Frequently Asked Questions (FAQs)
1. What Qualifications Do You Need to Be a Writer?
Technically, you don't need any qualifications to be a writer. A good portfolio will help you earn writing gigs, and a creative mind will be enough to produce strong work if you're skilled. But, many in-house employers want to see a university education — at least a bachelor's degree. The more specialized your writing, the more likely you'll need formal education. 
2. How Do I Start a Career as a Writer?
The best way to start a career as a writer is by reading and writing. You won't improve your skills without seeing examples of great work and practicing every day.
3. Is it Hard to Become a Writer?
Some people might find it difficult to gain experience as a writer. Many employers want to see a portfolio, but it's hard to create one without solid experience. In these cases, some dedication, resourcefulness, and planning will assist. Success is never easy, but passion motivates us. If you're passionate about writing, you'll find the motivation and discipline to pursue a successful writing career!
Conclusion
The steps for how to become a writer may take you a while, but the work is worth the reward. Many writers find fulfillment in their careers and enjoy being able to pursue their passions with every piece of writing or client. 
If you're interested in attending a writing program in college, you might need some support with funding. Check out College Monk's scholarship page today!