How to Become a Writer
This article provides in-depth information into What is a Writer? What Writer do? Degrees for Writer, Steps to become Writer and much more.
A Writer is a person who utilizes written words in different styles and systems to convey their thoughts. Using their command of the common language of their audience, writers conceptualize, research, write and edit polished manuscripts, poems, articles, and other types of written content. In a business environment, writers may work as copywriters, technical writers, blog and feature writers, and as editors.
What does a Writer do ?
Writer delivers different types of artistic writing and experimental writing, for example, books, short stories, verse, plays, screenplays, and papers and additionally different reports and news articles that might hold any importance with the general population.
Writing, editing and proofreading text

Liaison with other professionals such as printers, photographers, and artists

Marketing and distributing work

Researching and developing contacts

Seeking publishing contracts

Negotiating terms and conditions of contracts

General administration
---
Steps for becoming a Writer
1
Choose A Professional Path
Before embarking on an academic or career choice, prospective writers should decide on a specialty. Do they want to write fiction as an author? Are they poetically inclined and desire a career as a poet? Do they want to see their words make it to the big screen as a screenwriter? Are they interested in marketing and want to work as a web writer?
2
Get A Writing Education
There are two types of writing training: formal and informal. Formal training includes completing a degree program at the undergraduate or graduate level. Some writers choose either an associate degree in English or a bachelor's degree in English with an emphasis in writing or creative writing, while others may choose a journalism degree. Beyond attending a traditional degree program, writers need to write.
Professional writers in fields such as business, marketing and healthcare can benefit from completing an internship. Internships provide students with experience, applying their classroom-based knowledge in real-world projects. Whether it is copywriting or journalism, future writers can hone their craft and develop new skills by completing an internship while in college.
4
Land A Job And Build A Portfolio
After completing a degree program, writers can seek out full-time writing positions in their respective industries. For individuals who want to become authors, poets, and screenwriters, the road is slightly more challenging. Typically, their path includes writing a novel, collection of poems or screenplays, attempting to secure an agent, and selling their work to a publishing firm. It can be a long road that takes dedication and persistence.
Armed with professional experience, writers may also want to pursue a graduate degree in writing – either a Master of Arts or Master of Fine Arts. These programs provide students with an advanced understanding of literary theory and writing techniques. They also serve as an opportunity for writers to further enhance their own writing abilities. The MA/MFA can be a jumping point to further graduate studies at the Ph.D. level for individuals that want to work in academia or be a bridge to new professional avenues.
---
Writer Salaries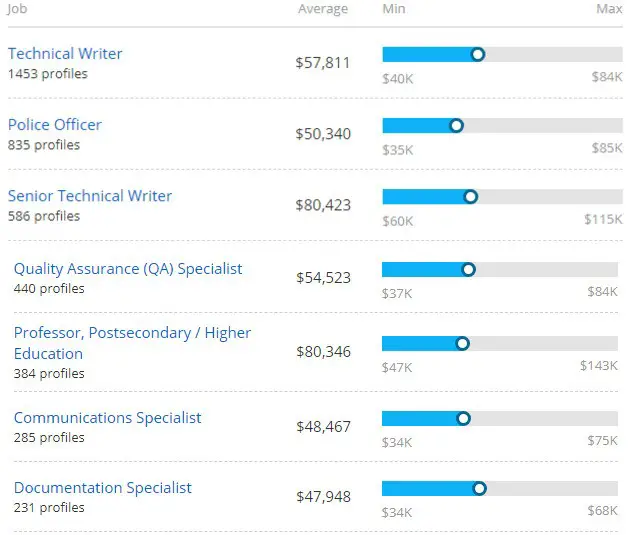 ---
Writer Degree Levels
Certificate
Writing certificates are short-term instructional programs that teach students applied writing skills, knowledge about mechanics and style, and insight into how to write for different audiences. As professional development programs, certificates include curriculum in multiple niche areas. These areas range from fiction to feature film writing, television writing to grant writing. The length of certificate programs varies but typically requires five to eight classes to complete.
Fiction Writing
Control narrative and psychic distance

The transition between Scene and sequel

Controlling narrative pace
Objectives
To learn seamless transition

Managing the pace

Use of strong scenes
Memoir Writing
Dramatic arc

Chapter development

Unifying threads
Objectives
Utilize narrative modes

Scene, summary, and musing

Creating a fully realized scene
Screenwriting
Three-act structure

Instructor's innovative approach to Story finding

Nugget and Conflict Grid system
Objectives
New rules for screen storytelling

Advanced formulas for the three-act structure

Ways to create character-driven conflict
Associate
The associate degree is an industry-focused academic program. It provides students with the practical knowledge they can use to transition into an entry-level career or continue into a four-year bachelor's degree program. They typically require between 60 and 66 credit hours to complete, which usually requires at least two years of full-time study. The curriculum is designed to nurture student's creativity while helping them build writing proficiencies they can use to become a professional writer or editor.
English literature
Introduction to different elements of writing

Contemporary American and English literature

Public Speaking as a Liberal Art
Objectives
Critically analyze written texts

How to improve writing

study of writing and literature
English composition
Fundamentals of professional writing

Language theory

Overview of composition, business writing, grammar and rhetoric
Objectives
Critical writing

Research and analysis

Demonstrate various invention practices
Creative writing
Literary theory

Experiential practice in composition and revision

Using Structure to Reflect Theme
Objectives
Professional opportunities as writers

To become published authors

Characteristics of Good Writing
Bachelors
Bachelor's degree programs generally require four-years of full-time study and expose students to general education coursework and classwork in their chosen writing specialty. At this level, the most common majors include English literature, creative writing, and English with a writing emphasis (composition). These writing degrees offer students multiple academic pathways that can lead to either work as a writer or into further graduate studies.
Professional and Technical Writing
Graphics and document design

Production of publications

Technical writing and editing
Objectives
To be able to research topics

Analyze the information

Understand the audience and write a clear explanation
Journalistic Writing
News reporting, writing, and editing

Techniques of media research

Writing editorials and features
Objectives
Develop skills in interviewing and research

Improve analytical and critical thinking

Writing news articles for magazines and newspapers
Creative Writing
Biographies and autobiographies

Creative Nonfiction

Scripts
Objectives
Encouraging writer's imagination, ideas, and feelings

Convey ideas clearly

Good grammar and composition
Masters
The master's in writing can take several forms, including a Master of Arts in rhetoric and composition, Master of Arts in literature with a writing emphasis, Master of Arts in creative writing, Master of Arts in professional writing, and a Master of Fine Arts. These programs require between one and two years of full-time study to complete and may require a thesis or final project to graduate.
Rhetoric and composition
Professional writing

Research methodologies

Rhetorical Analysis
Objectives
Literacy studies

Composition

Written communication
Literacy studies
History & theory

Individuals

Literacy & life
Objectives
Introduction to the study of writing and literature

Professional writing or editing

learning to analyze and critically evaluate ideas
Professional writing
Planning, communication process and writing process

Correspondence analysis

Correspondence draft discussion
Objectives
Expose writers to professional and business writing genres and contexts

Proper practices for writing

Encourage thoughtful document design
Doctorate
Doctoral programs in writing are for students who want to work in academia as scholars and educators at the university level. The most advanced studies of writing, Ph.D. programs can require between four and six years to complete. Ph.D. programs are competitive as they offer students the opportunity to conduct original scholarship and position themselves for tenure-track positions at the university level after graduation.