Graduated Repayment Plan
Learn all about Graduated Repayment Plans, its eligibility, pros and cons, eligible loans and other repayment plans available.
Updated by Heibha Passah on 29th October 2021
What is Graduated Repayment Plan?
The Graduated Repayment Plan is a plan where you can repay an amount every month for the loan that you have taken, at a lower rate initially, but it increases over a period of time.
Just like the Standard Repayment Plan where you have to pay a fixed amount every month, say an amount of $200, the Graduated Repayment Plan will initially allow you to pay $100 per month and then the amount increases after every two years. The repayment period of the loan under this plan is 10 years (10-30 years for consolidated loans).
It is mostly preferred by the fresh graduates who would not be earning so much money at the beginning but later on with acquired skills and experiences, their salary increases.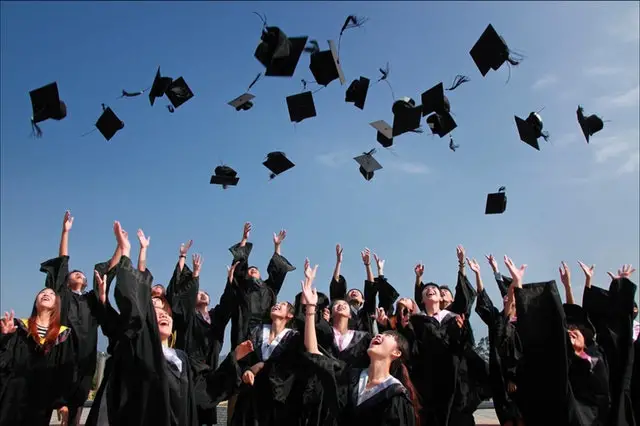 source - pexels.com
---
Table of Contents
---
Are graduated repayment plans good?
One of the greatest achievements a student can have is to graduate from college with a good grade and a new career lined up. But most of them would have other responsibilities like the repayment of their student loans.
According to the Federal Reserve Report, 71% of the students have student loan debt after their graduation owing an amount of $1.569 trillion. There are various repayment plans available for the students to lower the heavy burden of student loan debt on their shoulders. One among them is the Graduated Repayment Plan.
---
Eligible loans for the Graduated Repayment Plan
Subsidized and Unsubsidized Direct Loans

Direct PLUS Loans

Direct Consolidation Loans

FFEL PLUS Loans

FFEL Consolidation Loans

Subsidized and Unsubsidized Federal Stafford Loans
---
Advantages of Graduated Repayment Plans
The initial amount of repayment of the loan is lower as compared to other repayment plans.

It is beneficial to fresh graduates.

Any borrower is eligible to apply for this repayment plan.

It takes two years for the amount to increase, which gives plenty of time for the borrowers to work hard and increase their salary.

Fast repayment of loans (within 10 years) for unconsolidated loans.
---
Disadvantages of Graduated Repayment Plans
1 - A larger amount will have to be paid towards the end of the repayment period. This is because you pay a very low amount in the initial years, which is usually just the interest and the amount owed along with interest on these amounts will be accumulated in the later years, hence increasing the amount to be paid later on.
Example- Suppose you have a debt of $35,000 with an interest rate of 4%, then your first payment would be $198 and then will increase up to $595 in the last few years. So the total amount you'd have to pay would be $44,390.
2 - More interest has to be paid, which leads to more amount to be repaid as compared to other repayment methods. This is because the interest accumulates on the amount owed which was not paid in the initial years, meaning, a double interest is charged.
For instance, suppose in the first few years, you pay $198, which is just a part of the actual amount to be paid, and the balance amount would be subjected to interest charges. This amount along with the other amounts owed will also be chargeable to interest.
3 - The borrowers' salary might not increase as anticipated. As the amount of debt to be repaid increases every 2 years, it is hard to predict if your salary would be able to match with this.
4 - The repayment period of 10 years applies only to unconsolidated loans. Consolidated loans are repayable for a period ranging from 10-30 years, depending upon the total amount owed. This is also not a good idea as it is extended to such long years making it hard to increase your wealth. So, if you decide to stay on this plan, make sure to not consolidate your loans to ensure faster repayments.
For consolidated loans, the repayment process is as follows.
| | |
| --- | --- |
| Total Debt ($) | Period (Years) |
| < 7500 | 10 |
| 7,501-10,000 | 12 |
| 10,001-20000 | 15 |
| 20,001-40,000 | 20 |
| 40,001-60,000 | 25 |
| >60,000 | 30 |
As we can observe the advantages and disadvantages of using the Graduated Repayment Plan, there is a risk that you may not be earning more income later on as anticipated, which might be difficult for you to repay the loan. Also, the amount to be repaid is higher as compared to other repayment plans.
---
Choosing graduated repayment plans
You 'll need to consider an income-driven repayment plan while choosing graduated repayment plans. And you 'll be qualified for graduated repayment loan only if you have federal student loans. Do remember that the payment increases every 2 years. So be confident with earning sufficient to opt for this plan. You will not be able to apply for loan forgiveness Since the repayment length is 10 years. To switch to the graduated repayment plan, contact your loan provider. You can change your repayment plans anytime but always remember that changed interest rates will be added to your loan balance and this may increase your repayment. 
Extended repayment plans
Extended repayment plans function very similarly to the graduated plan. But the repayment term is extended from 10 to 25 years that result in paying lower monthly payments. Although the repayment years increase so will the interest rates with time. You will not be able to apply for the consolidation of loans. Many student have opted for Extended repayment plans. 
---
Other repayment options
Standard Repayment Plan - Repaying a fixed amount every month for a period of 10 years, except for consolidated loans which might take up to 10-30 years. The same process of repayment is used as the Graduated Repayment Method for consolidated loans.

Extended Repayment Plan - The repayment period is extended from 10 to 25 years which reduces the amount to be paid each month but increases the interest rate.

Income-Based Repayment Plan - Repaying the amount based on what the borrower earns where the monthly amount to be repaid will not exceed either 10% or 15% of the discretionary income.

Income-Contingent Repayment Plan - The amount to be repaid is adjusted as per the income earned and is repaid at 20% of the discretionary income extended to 25 years.

PAYE (Pay As You Earn) and REPAYE (Revised Pay as You Earn) - Amount to be repaid depends upon the income level and family size and the amount payable monthly will not exceed 10% of the discretionary income.
For PAYE the amount repayable is fixed, while in REPAYE, the amount can vary depending upon the capacity.
In addition to using other repayment plans, you can also try to increase your monthly payments when you have enough funds. Keep a check on your finances and if you can, save more money, manage your expenses and put in more for the repayment of your loans. 
It'll be beneficial in the long run and will help you reduce the amount to be paid later and finish off payments faster.
---
Should you refinance your student loans?
When you have a good job with enough monthly cash flows, a better option would be to refinance your student loans rather than opting for the Graduated Repayment Plan. Refinancing means opting for a new loan to pay off the other loans which have a new rate of interest and rules. This will reduce the interest rate and save you lots of money. When all the other loans are paid off, you'll be left with only one loan which makes it easier to make payments.
But it means giving up on various benefits available otherwise, like the option of deferment and forbearance, income-driven repayment plans and loan forgiveness. So, if you feel that you can do away without these benefits and have enough inflow coming in, then it is better to refinance your loans as it will ensure quick repayment of loans and also saves money. 
So, when choosing a repayment plan, it is always wise to search and compare it with other options available which will give the maximum advantage to the borrower and also ask for help from the loan servicers about finding out the best plan.