Pros and Cons of Student Loans
Considering a student loan? Learn the pros and cons of student loans, including the pros and cons of private and federal student loans.
Updated by B Harshitha on 21st October 2021
University and college education in the US costs X on average per year. Anyone considering post-secondary education will likely think about applying for a student loan. 
You might wonder if student loans are worth it in the long run. Before making any decisions, learn how student loans work, the pros and cons of student loans, and whether or not the benefits of student loans outweigh the cons. 
Different features of student loans may appeal to different borrowers depending on their needs. So, let's break down the advantages and disadvantages of student loans.
Table of Contents
Pros and Cons of Federal Student Loans
Pros of Federal Student Loans
Cons of Federal Student Loans
Pros and Cons of Private Student Loans
Pros of Private Student Loans
Cons of Private Student Loans
Pros and Cons of Federal Student Loans
About 42.9 million Americans have federal student loan debt, with a combined balance of $1.59 trillion. But, there are a few reasons why so many people have federal student loan debt. Consider these pros and cons of education loan for federal loans.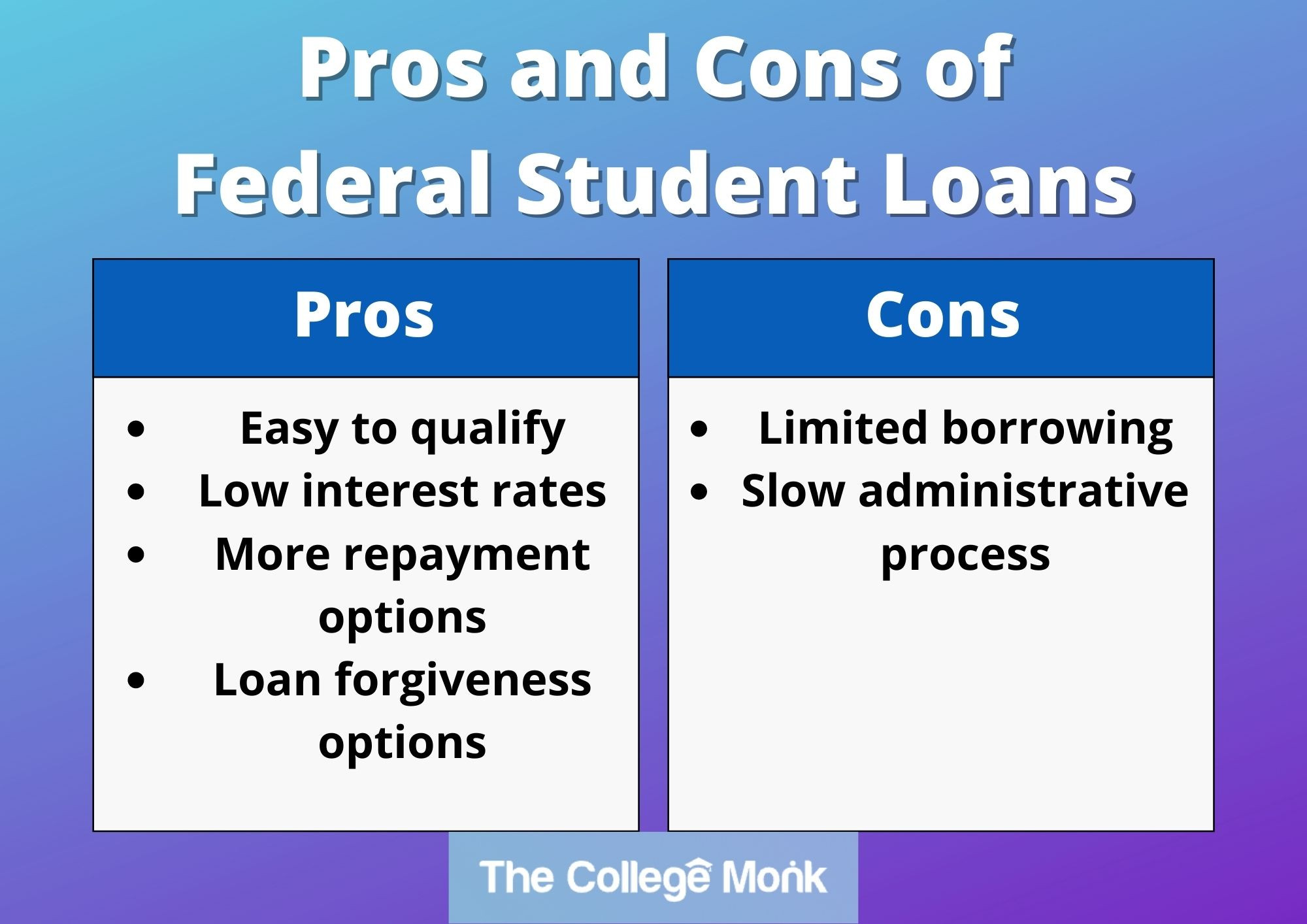 Pros of Federal Student Loans
1. Easy to Qualify
The average prospective student doesn't have an impressive credit history to qualify for average loans. Federal student loan providers are more forgiving in their eligibility requirements, making federal student loans accessible to a wide range of people.
2. Low Interest Rates
The average federal student loan interest rate between July 2020 and July 2021 was 2.75%. This is a lower interest rate than the average private lender's rate, making payments more affordable for students.
3. More Repayment Options
Federal student loans have more repayment options than private student loans. Income-driven repayment plans let students and graduates pay monthly amounts based on their income. 
4. Loan Forgiveness Options
The federal government offers loan forgiveness to borrowers that have been income-driven repayment plans for 20-25 years. Additionally, they offer a Public Service Loan Forgiveness plan to public servants after 120 payments and 10 years of public service.
Cons of Federal Student Loans
Federal student loans have their downsides, too.
1. Limited Borrowing 
Federal student loans have borrowing limits(https://www.thecollegemonk.com/student-loans/borrowing-limits-federal-private-loans) based on a student's year of study, cost of attendance, and other factors.
2. Slower Administrative Processes
Students with federal student loan debt often must wait weeks or months before getting their loan money after approval. Moreover, the bureaucracy makes most processes and inquiries take longer than if it were done with a private lender.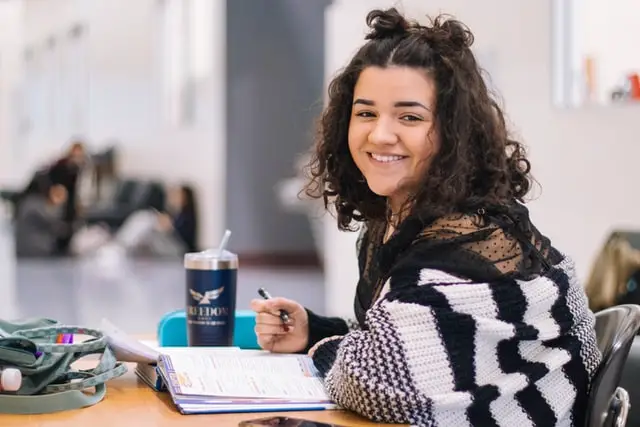 Pros and Cons of Private Student Loans
Financial experts recommend students start with federal loans before considering private student loans. Why? Because federal student loans usually offer more savings and flexibility in repayment. But, private student loans have some pros that might appeal to you: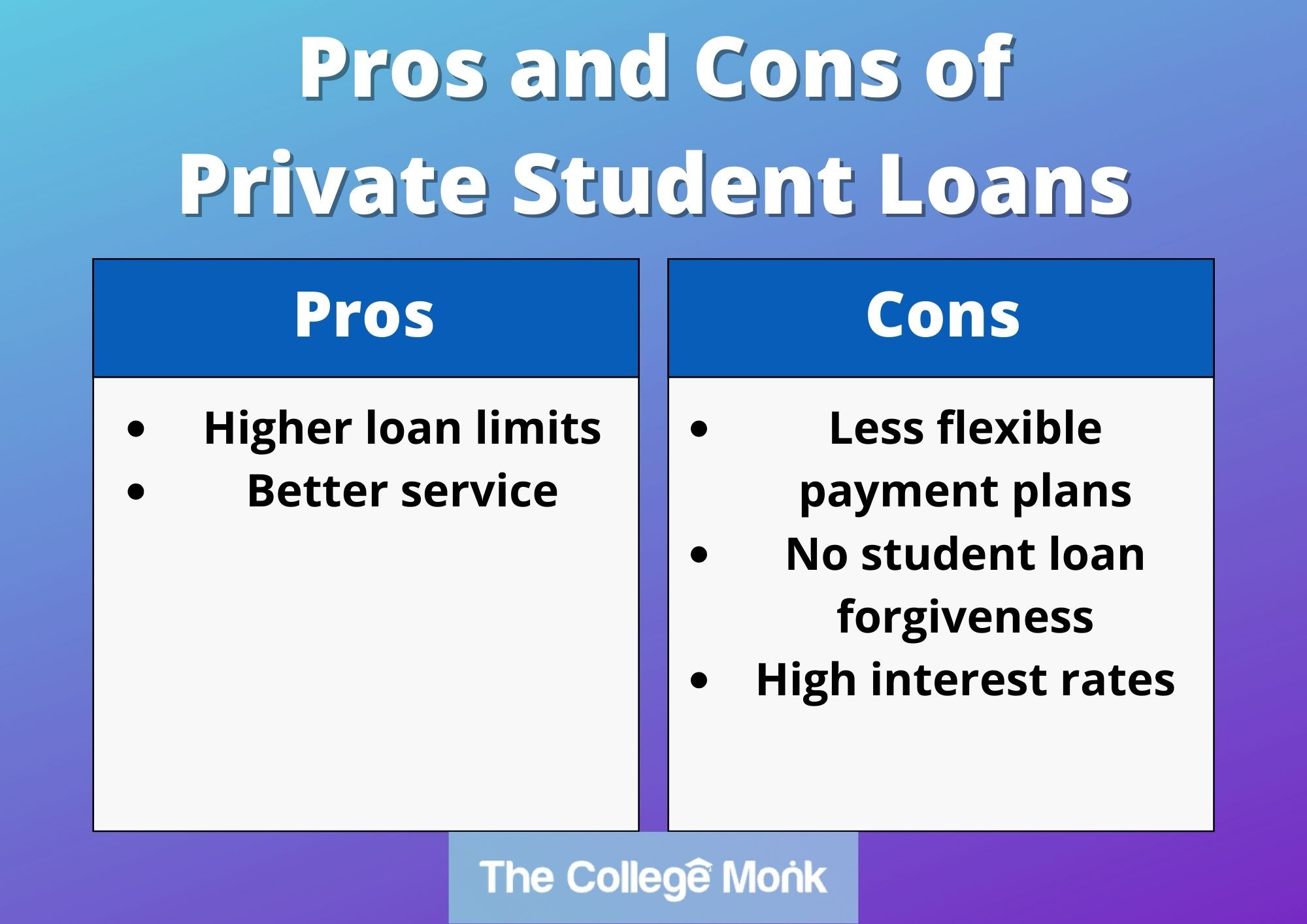 Pros of Private Student Loans
Here are some of the advantages of private student loans:
1. Higher Loan Amount Limits
Private lenders are profit-based, more so than the federal government. So, they are likely to conduct business in a way that makes them more money. Where do you fit in? The more money.
2. Better Service
The bureaucratic snail race of the federal student loan system stops when you borrow from a private lender. Private lenders often have faster turnaround times for deposits, inquiries, and conflict resolution
Cons of Private Student Loans
1. Less Flexible Repayment Plans 
If you take out a private student loan, you won't be eligible for federal perks like income-driven repayment or pay-as-you-earn.
2. No Option for Student Loan Forgiveness
Although there might be some forbearance options with private lenders, you don't have the secure option of loan forgiveness if your circumstances change.
3. Higher Interest Rates
The average private student loan interest rate https://www.credible.com/blog/refinance-student-loans/what-are-average-student-loan-interest-rates/ is about 6%. Compared to the average federal rate (2.75%), that's a high rate! This means your monthly interest payments will likely be higher on a private loan. 
Other Considerations For Student Loans
No matter what loan you take out, federal or private, one pro and one con are certain:
PRO: You'll get a college education
CON: You'll be in big debt
If you're wondering why student loans are bad for some people, consider their priorities and scenarios. If you study at a high-ticket Ivy League and graduate in a field with little income opportunity, you could be strapped with debt for a long time, and miss out on some life experiences. Similarly though, you might think your education is worth it. Think about your priorities when deciding on student loans.
Conclusion
If an education is important to you, you will likely have to take on student debt. But, there are ways to minimize your borrowing amount. Consider looking at schools with cheaper tuition costs, or with better scholarship opportunities. Make sure you weigh out the student loans pros and cons before making a decision.