How to Apply for College?
Applying to college has been a real problem.In this article well help you figure out a simple and clean way of deciding which college to attend.
Most of the student have an assumption that applying to college is a complex task. But it is not really that complicated if you follow certain steps and make the right decisions for your education.
This process might be confusing at the beginning especially when you have no one to assist you and give you the gist of the complete process. That's exactly why we are here for. Understand the process of admission, choosing the college, and applying to it with zero confusion.
Making a checklist or a comparison sheet will also help you find a better option and here are a few points you have to consider
---
What Next?
As discussed choosing the college is a real hectic task. You have to be careful and choose the institution that meets all your requirements. Below are a few things that are worth noting down if you're about to choose a college.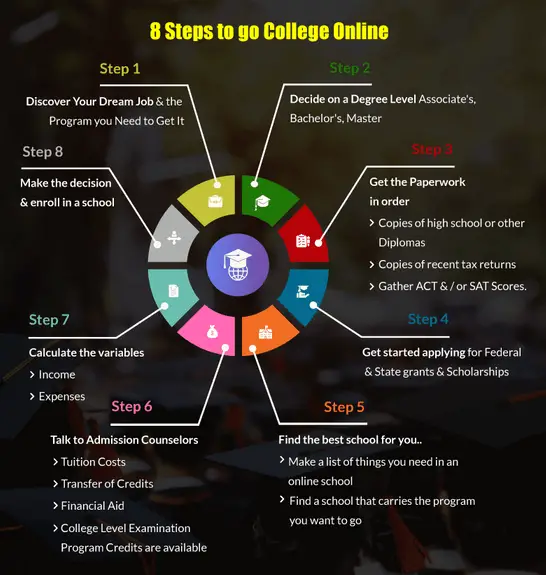 Self Realization
It is an important and first step to analyze and understand what type of courses you are looking for. Realizing the type of college you want to get into and specification plays a vital role in college application.
Visit Colleges
When you have shortlisted a few colleges, it is better to visit those institutions and experience the college and know the infrastructure of the organization better as you are a part of the application process. It helps you cut off a few colleges which are on that shortlisted list.
Research
It is essential to know the university/college better. Here knowing means, not only the atmosphere and infrastructure. It is about the courses offered, fee structure, education and more. One should be aware of the advantages and disadvantages of the institution he/she is getting into.
Fill in details on "Common App"
It is a platform that helps you find n number of colleges based on your searched interest. Around 900 to 1000 institutions have accepted this Common Application. One can apply to multiple colleges at a time through this app. The idea or concept behind this application is to minimize the stress faced by the students while applying for college. The new edition of "commonapp.org" opens on August 1 of every year. But students can create an account and add preferences at any time.
Have Knowledge about the Timelines
There are various timelines for college applications. A few students make up their mind to apply early decision to top colleges. Some chose for an early action process, while others opt for a regular decision.
Once you have taken a decision regarding the basic timeline, it is important to make notes regarding the deadline to apply for the colleges chosen by you so that you will not miss registering and applying.
---
College Application Requirements
A college application form will represent a clear picture of you which includes your academic grades and interests. You need to be aware of your entries in the form. Basically, to enter into a specific college, along with performing well at your academics, you will also have to inculcate certain special interests that make your application unique and interesting which makes a huge impact in your selection. Key components of a college application are given below.
Personal Information
In any kind of application form, the first category will be one's personal details such as name, age, sex, parents' names & occupation, address and more.
High School Grades
The institution will ask for the grades earned and certificates rewarded for your work in high school. Most of the time, the details are to be given that are officially issued by the school authority.
ACT or SAT Scores
Many colleges will ask for one's standardized test scores while some of them will get it directly from the testing associations. These scores make a huge difference to your application and also let you get certain scholarships.
Recommendation Letters
It is one of the important documents to be submitted along with form to college while applying. Usually, submitting two or 3 such letters will be an advantage to your application. It is preferred to have recommendation letters from your teachers or counselors in that case. It is a requirement to claim that you are from a good background and did well in your academics.
Resume
It is not really necessary for all the institutions but there are a few colleges that prefer to have a resume along with the form. In some applications, it might be an option to update your resume. 
Pen Down an Interesting Essay
As a part of an application process, writing an essay is important and is considered to be a tricky one. Most of the college forms involve writing a sample essay. Usually, there will be a certain word limit. Scholars say it is better to write a sample about themselves which helps the institutions for better understanding of your intentions and ambitions. It is not necessary for it to be huge but it should reflect your persona and capability.
Financial Aid
It is a monetary fund that is offered to an underprivileged student and it is a necessity for many. If you are one of those, it is essential for you to fill out FAFSA (Free Application for Federal Student Aid) and get a student aid report to know & analyze all the financial aid which is available for you. It is better to start searching for scholarships early. Many students use scholarships to manage their off-campus expenses. Take the initiative to make some research about it.
Recheck
Before submitting your application, it is better to recheck it multiple times so that there is no mistake in it from your end. It is like proofreading your own application. Make sure there is no error or unfilled question in it.