How to Become a Commercial Pilot
Wondering how to become a commercial pilot? We'll cover pilot requirements and pilots education in this article!
Have you always dreamt of flying an airplane, since you were a child? You're certainly not the only one. In 2020, there were 691,700 pilots in the United States, all of whom had the same dream as yourself. They managed to obtain a pilot's education and fulfill all the necessary pilot requirements — and so can you! Sometimes a career guide can help you find your dream job; but oftentimes, pilots know their calling from a young age!
If you're wondering how to become a commercial pilot or how to become an airline pilot, you've come to the right place! With the right education and drive, you can turn your airplane-flying dream into a reality. 
What do you need to be a pilot? Quite a few things, actually. Keep reading to find out! We'll touch upon airline pilot qualifications, pilot education requirements, requirements to be a pilot, and all the steps to become a pilot. 
What Does a Pilot Do?
Before we get into how to become a commercial pilot, we feel it's important that you understand exactly what's required of you if you do become a pilot. 
Here are some key pilot responsibilities for the average pilot:
Operate the aircraft
Perform maintenance checks
File flight plans
Inspect the engine and other flight systems
Report mechanical concerns
Check fuel 
Liaise and communicate with air traffic control 
Inform passengers of important updates
Fly safely
Sounds easy, right? Perhaps not. Pilot training is extremely technical and requires a lot of skill and hard work. It's also worth noting that pilot school dropout rates are quite high, at 70-80%, which is something to consider, especially when you think about dropouts and scholarships. 
Requirements To Be a Pilot
Like any profession, aviation authorities have a few requirements before awarding someone the title of a pilot. Here are the requirements to be a pilot: 
A four-year bachelor's degree (specific to airline pilot qualifications)
At least 23 years of age
Complete pilot training and earn a certification
Hold an Airline Transport Pilot (ATP) certificate
Complete 1,500 hours of flying or training
Completed 50 hours in a multi-engine airplane
Unfortunately, you can't obtain all the above qualifications by simply attending one college program. Once you complete your education, you must gain sufficient experience under a flight instructor. 
Pilots Education and Costs
Your pilot training must be completed at a school that's approved by the US Federal Aviation Administration. You can find an updated list of FAA-approved schools here. 
Pilot training programs usually comprise both ground school and flight training. 
Ground school gives students theoretical knowledge and skills that they'll need to pass tests and exams. Topics include aviation technology, flight dynamics, aerodynamics, aerospace computing, and more. 
Flight training gives students an immersive experience, either on a school airplane or on a flight simulator. 
Pilot school is notoriously expensive. Students are looking at a tuition price tag of about $80,000. You'll need to make use of as many student loans or scholarships that you can snag, assuming you don't have financial support from your family. 
Fast-Track Airline Programs
Some institutions offer fast-track education options for students that want to quicken their pace in becoming a pilot. 
California's Advanced Aviation Academy, Florida's ATP Flight School, and the Flying Academy with locations in Los Angeles, Corona, and Miami, all offer fast-track pilot programs. Watch out for high tuition costs though, as these programs tend to be quite expensive. 
Getting Your Pilot's License
There are different licenses for pilots, depending on the type of flying they do. For example, there's a student pilot license, as well as a highly regarded airline transport pilot license. Here are the eligibility requirements, experience, and testing pilot requirements for the following licenses:
Student Pilot License:
16 years of age
Completed Integrated Airman Certification and Rating Application
Recreational and Private Pilot License:
16 years of age
Practical (flight) test
Knowledge test
Commercial Pilot License:
250 hours of flight time, in which:

100 hours are in powered aircrafts, and 50 of those are in airplanes
100 hours as the pilot in command, with 50 of those in airplanes
50 hours of cross-country flying with 10 of those in an airplane
20 hours of training, including 10 hours in instrument training, 10 in complex training
10 hours of training on your own
Note: If you're being compensated for flying, you must hold a commercial pilot license. 
Airline Transport Pilot (ATP) License:
Written ATP knowledge test
Practical ATIP (flight) test
23 years of age
Hold a commercial pilot certificate and instrument rating
Strong moral character
A 4-year bachelor degree program in a relevant discipline
1,500 hours of flying, including

500 hours of cross-country time
100 hours of night flying 
50 hours in the class of airplane for the rating
75 hours of instrument time
250 hours as the pilot in command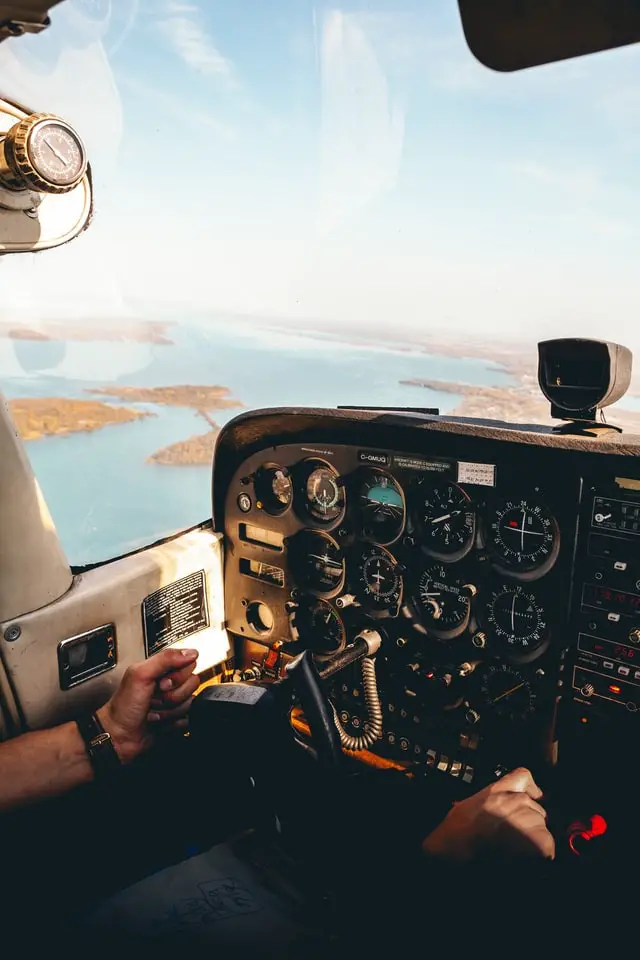 Medical Requirements for Pilots
PIlots, especially commercial pilots, must meet a higher health standard than other professionals, even within the aviation industry, like student pilots. 
Standards vary depending on the type of pilot, specifically for first-class airline transport pilots, second-class commercial pilots, and third-class private pilots. Overall though, pilots must meet minimum standards for:
Vision
Hearing
Pulse
Electrocardiogram results
Some health conditions can act as non-negotiable conditions for disqualification for pilot applicants, including:
Bipolar disorder
Psychosis
Permanent cardiac pacemaker
Myocardial infarction
Cardiac valve replacement
Angina pectoris
Coronary heart disease
Heart replacement
Diabetes mellitus requiring hypoglycemic medication
Severe personality disorder
Substance dependence or abuse
Epilepsy 
Loss of nervous system functions
Pilot Salaries and Job Growth
The median pilot salary for US airline pilots, co-pilots, and flight engineers hovered at $147,220 in 2019. But, pilots that fly for major airlines like Delta Airlines or Air Canada are the highest-paid. Regional airline pilots are usually paid significantly less. Additionally, a pilot's salary is largely dependent on their seniority, which they cannot transfer from airline to airline. This makes it common for pilots to stay in one job for a long time. 
Commercial pilots that aren't airline pilots won't make as much. For the average commercial pilot, the average salary sits around $86,000. 
Conclusion
Pilot requirements and pilots' education requirements vary depending on the type of pilot you would like to become. The requirements to be a pilot for a commercial airline are usually more extensive than the average commercial pilot license. With the above steps to become a pilot, you can fulfill your dreams and fly an airplane. Make sure you conduct research on different schools and look into financial aid for pricy programs.