How to Write a Scholarship Thank You Letter
Learn How to write most impressive Scholarship Thank You Letter with Samples.
Updated by Utkarsh on 20th December 2019
Here you will find the world's most used format for Thank You Letter for Scholarship.
It would be a generosity of the person who can present a scholarship in support of your educational career. A Thank You letter has never been a compulsory action but it can make the donor of scholarship feel special and worth the decision of providing you a scholarship. Your action to send a Thank You letter to the donor can give a great appreciation for their decision.
Thank You Letter Writing Tips:
Check for punctuation, spelling errors and grammatical errors. Correct them.
Keep your letter kind and warmly courteous.
Don't show overconfidence in receiving the Scholarship.
Show them the enthusiasm of receiving the Scholarship.
Try to use quality paper.
Never write extra. Keep your text under the fixed domain.
Mention about your future plans, career plans.
Never forget to write the purpose of the letter.
Remember that you received the scholarship because of the qualities you presented over the other applicants. A typed thank you letter will essentially ensure the importance of scholarship for you so spend enough time and carry it out in a professional way.
Here is a sample for the length, format, details of Scholarship Thank You Letter.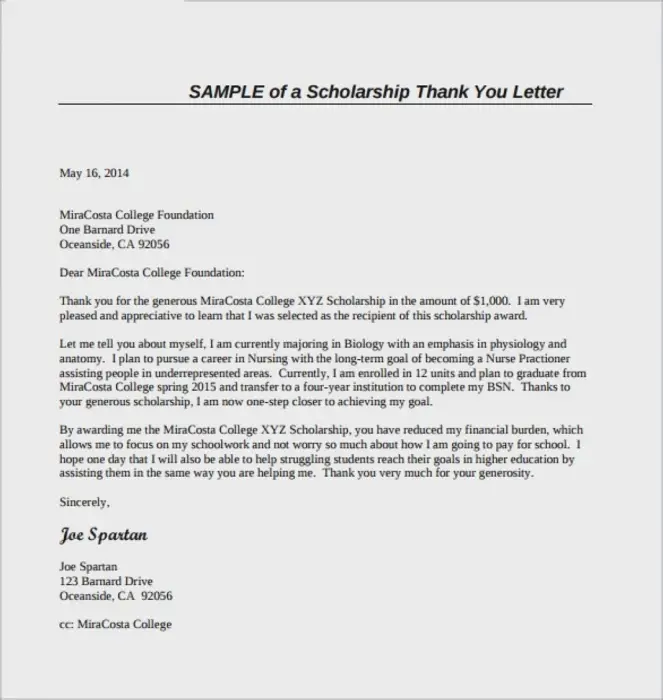 Source: https://www.cityshuz.com/wp-content/uploads/2019/05/Format-For-A-Thank-You-Letter-Sample-Scholarship