What can you do with a Marketing Degree?
A marketing degree is an academic award offered to an individual by any university or college for successful completion in the specialised field of marketing in areas like marketing research, social media marketing, marketing analyst, marketing management. A clear report on the outcomes and pre-requisites of a marketing degree is presented in the article.
The career opportunities are very broad with certain awesome fresher work like account executive, brand manager, marketing manager, media planner and many more which is discussed in the article further which can take you and your talents and experiences to a different level of improvement. The best thing about the marketing field is, it not only enhances your business skills but also your creative talents and lets you follow your instincts. But what are the career opportunities you have with a marketing degree? Let us understand more about the marketing degree in this article.
---
What is marketing?
It is a type of academic degree which is rewarded to the students who complete college or university in any marketing related field such as marketing research, marketing management, marketing strategy. It is everywhere in every size, every type, every industry or company, it relies on marketing. Marketing is a very popular business major and is a very interesting topic for business students. Students who major in marketing will learn how to analyze and research business markets. Marketing can also be defined as the methodology to convince customers why they should purchase your product. It is a technique to educate them on the necessity to purchase your product. Marketing is the collective process of research, promotion, sales, and, distribution of your products and services.
Satisfied customers are the outcomes of best production and marketing. The creation and implementation of a marketing plan to keep the marketing tactics focused are really important in this field.
The four Ps of marketing are as given below.
Product

Price

Promotion

Place
There are different types of marketing including email marketing, internet marketing and many more. Marketing helps organizations in different ways.
Increase the bottom line

Promote good service

Build awareness about the brand

Improve customer engagement

Enhance loyalty of the customer
---
Importance of marketing
For any business, marketing is an unavoidable strategy. Marketing aims not just at the growth of the business but also the maintenance of the impact created by the business. The various benefits of marketing include an increase in awareness, increase in sales, and, creation of a trust.
Transfer and sales are facilitated by marketing

The standard of living of the community is improved with the help of marketing

Employment is an outcome of marketing

Marketing helps in making decisions

Marketing acts as an idea generator

'No sale = No gain'. Marketing helps in developing an economy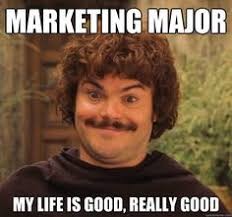 Source: Pinterest
---
Types of Marketing Degrees and the Program Length
Associate degree- two years

Bachelor's degree- three to four years

Master's degree- two years after completing a bachelor's degree

Doctorate degree- four to six years, and require at least a bachelor's degree, though a master's degree is a common requirement.
---
What to learn in a Marketing program?
Most marketing programs be it Bachelors's or Master's program have the below-mentioned subjects in the syllabus.
Managerial Communications - Modern day business involves a lot of communication at all levels of transactions. Honed skills for Technical communication, written communication, and oral communication keep marketers on top.

Macroeconomics - The study on the problems of employment, inflation, interest rates, and sales cycles are important in macroeconomics

Principles of Marketing - The basic marketing principles such as product development, distribution, promotion, and pricing are important in deriving the best concepts

Principles of Management - Division of work, authority, discipline, subordination, remuneration, Centralization, Scalar chain, equity, team-spirit and more are identified as principles of management and act as the foundation of marketing

Principles of Finance - Arbitrage, market efficiency, asset pricing model, portfolio theory and more are studied under the principles of finance

Principles of International Business - cultural, political and legal environments in international business, analysis of trade theories, description of foreign exchange markets and exchange rates, analysis of tactical alternatives, evaluation of international business functions and more are identified as principles of international business

Business to Business Marketing - Marketing of an organization's product to another organization is known as Business to Business marketing.

Marketing Research - Observation, focus groups, interviews, survey or questionnaires are the different types of market research.

Consumer Behavior - The factors influencing customer behavior at different locations.
---
Skills that can be developed in certain areas by having a marketing degree
Content marketing

E-commerce

Marketing strategies and plans

Search engine management (SEM)

Search engine optimization (SEO)

Behavior od customer

Promotions

Social media
---
Career choices after a marketing degree
If you are planning to major in marketing, your studies will help you add a variety of skills to your resume. And also, you will be prepared for career job positions where earnings potential will be very good. 
Here are a few job titles you will be entitled to when you earn a degree in marketing.
Brand Manager

Copywriter

Account executive

Advertising manager

Admissions representative

Marketing manager

Production manager

Promotion coordinator

Market research analyst
If you are looking for careers in digital marketing, you can consider these.
Digital marketing analyst

Digital marketing specialist

Social media coordinator

SEO Manager

Director of Web Analytics

New Media Manager
Alternate plans
You can be a freelancer

You can start your own business in the field of your interests with the skills you have inherited.
---
Salary paid to Graduates having a Marketing Degree
Different fields will have vast salary differences that one marketing career may pay almost double the other. Specialization uplifts marketing degree salary ranges at the mid-level of a marketing career. A general brand manager will be paid about $5,000 less than a package of design manager, even though package design is a small part of a brand manager's responsibilities.
Here are a few statistics on salaries of popular roles for marketing professionals.
| | |
| --- | --- |
| Job Roles | Average salary paid per year |
| Marketing Manager | $134300 |
| Advertising Manager | $117300 |
| Marketing Specialist | $631200 |
| Market Research Analyst | $63000 |
| Marketing Director | $152800 |
---
Job growth 
The employment of marketing managers is expected to grow 13 percent through 2022 according to the prediction of "The U.S. Bureau of Labor Statistics". The field of digital media marketing should take off as consumers get more comfortable with online purchases, and uses web pages to make buying decisions. Jobs for those specializing in traditional advertising may be limited as consumer behavior changes with the explosion of the web-based economy. Advertising and promotions managers will have to adapt to the strategies that use digital media as consumers spend more time online. Those who can understand the digital world will have the best job opportunities in the upcoming years.
---
Conclusion
No business would exist without marketing. In a way, marketing marks the growth of your firm. The more efficient and strategic is the marketing plan, the better would be the abilities of the organization to get on top. Since the impact of marketing is critical in business, so is the importance of marketing specialists. If you depict the knack to communicate, plan and sell then you are not just improving the business of the organization but the best marketer in you.
Frequently Asked Questions
1.Which are career opportunities that are available after the completion of a Marketing major?

Opportunities including positions such as marketing executive, accounts director, product marketing manager, senior marketing manager, SEO director and more are open for marketing graduates. 

2.Do government agencies offer job roles in marketing?

Most organizations need a marketing platform and so is the case with government agencies. Public relations positions, purchasing agent positions, trade positions, and sports marketing positions are available for marketing graduates to take-up.

3.Which are the out-of-the-box job roles for marketing professionals?

Job roles such as restaurant manager, public relations manager, event planner, fundraising coordinator, media planner and more are a few varieties of job roles after the completion of a Marketing degree.

4.Name a few organizations that ensure the standards of marketing.

Organizations such as Association of National Advertisers, Data and Marketing Association, Search Engine Marketing Professional Organisation, Internet Marketing Association,  American Marketing Association, Hubspot Academy, Content Marketing Association, Lynda, Story brand and, Insights Association are a few professional bodies that maintain the standards of marketing.

5.How long does it take to become a marketing professional?

An Associates of Marketing can be completed within 2 years whereas a Bachelors program takes 4 years for completion.

6.Which are the specializations available within the marketing domain?

Specializations such as marketing research, innovation, and product management, marketing promotion and communication, sales leadership, supply chain sales, consumer marketing management and more are available as specializations within the marketing domain.