What to Write About in a College Essay
Wondering, "what should I write my college essay about?" Read on for college essay topics that stand out and what to write your college essay about.
This year, college acceptance rates decreased, meaning less applicants achieved admission into their dream schools. Ivy league school acceptance rates in particular dropped, ranging between 3.4% to 6.2% for schools like Harvard, Columbia, Yale, and Dartmouth. There could be many reasons for dropped acceptance rates. It's possible that many more out-of-state students applied to different schools this year because of the flexible online learning model. Many schools also postponed the requirement for the SAT and ACT due to the pandemic, which encouraged more students to apply than usual. 
With lower acceptance rates and less SAT scores, colleges might place more emphasis on other aspects of your application, including your personal college essay. This is great news, because your college essay is your chance to show your dream school who you really are. Every student has something unique to offer a college. You might have stories about your volunteer work, extracurriculars, or academic achievement. But, what if you just don't think you have anything exciting to include in your essay?
Don't worry — there are many college essay topics to guide you in figuring out what to write about in a college essay. If you're thinking, "I don't know what to write for my college essay," then read on! We'll dive into college essay topics that stand out and you'll learn many ideas for what to write your college essay about.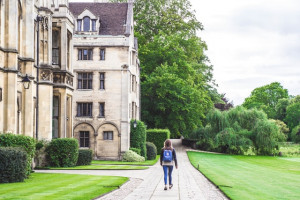 How To Decide What To Write Essay About 
Most of the time, students struggle to find the perfect topic and experiences for their college application essays. 
The most important thing to think about in what to write about in your college essay is originality and storytelling. Your essay must showcase your personality, so it shouldn't be comparable to everyone else's essay. Your essay reader is a human at the end of the day. And, humans enjoy stories. Use valuable life experiences to connect with your reader and to tell them a genuine story. You can even use your day-to-day experiences, provided that you present them in a way that demonstrates your individuality. 
How Long Should Your College Essay Be?
The Common App recommends a cap of 650 words for college essays. However, most schools don't have any strict word limits. And, for institution- or field-specific supplemental essays, the cap is shorter at around 250 words. MAke sure you look at the individual college websites for more information about word caps on the college essay. 
Sometimes you need more words to express yourself properly. However, make sure that the extra words are meaningful and not just filler words. 
7 Tips For Writing College Essays
Writing essays for college applications can get stressful. Consider these 5 tips when writing yours college essay: 
    1. Be Original
You own your essay, so it should showcase your individual experiences and personality. Feel free to read past successful college essays for inspiration, but make sure you channel your own voice and experience in your personal essay. Don't just think about what the admissions office wants to hear — you might come off as unoriginal. Instead, think about what you want the admissions office to know about you and try to build a connection with them. 
    2. Focus on the Objective
Some colleges have specific writing prompts for their college essays. Make sure you follow those prompts. It's OK to tell your story but if you deviate too far from the writing prompt, your admissions reader won't be impressed. Find a balance between your story and the writing prompt. 
    3. Start Early 
Plan a timeline for writing your college essay. You might want to create multiple drafts and plan for the time it might take for your mentor, peers, or advisors to review your work. Experts recommend setting aside at least one month to write your essay. 
    4. Review with a Counselor or Mentor
A second pair of eyes is always beneficial for any piece of writing. You might consider having a close friend or academic counselor review your essay before you submit it. They might help you catch some grammatical errors, or show you flaws in your overall flow and structure. Make sure you share your essay with a reviewer early on so that you have enough time to make edits. 
    5. Respect the Word Limit
Keep your essay length within the word cap identified by the college, or Common App. Not only will this make your writing more concise, but it will also demonstrate your ability to follow instructions. 
    6. Use Active Voice
Active voice keeps your tone crisp and strong, while passive voice might seem weaker. 
    7. Avoid Pretentiousness
Your personal essay should celebrate your experiences and demonstrate why you're a good fit for the college. However, you shouldn't be overzealous and repeat how good a fit you are without backing up your claim with solid experiences. Additionally, don't use a thesaurus to come up with fancier words. Too much jargon might make your essay look ingenuine. 
Things to Watch Out For in Your College Essay
Like all writing, you should avoid grammatical errors and improper language. For college essays, it's especially important to be mindful about your word choice and tone as well. See the infographic below from GrammarCheck for things to watch out for in your essay:
College Essay Topics that Stand Out 
Wondering, "what should my college essay be about?" Some colleges will have specific writing prompts for your personal essay. However, some don't. And, you should still consider strong topics for your essay even within a writing prompt. Here are some college essay topics that stand out:
Personal Experience
Personal experience is the most original content you could include in your essay. Here are some examples:
Travel experiences
Classroom experiences
First home-alone experience
Tragic or funny moment experience
Responsible experience
It's important to tie in whichever experience you use into your suitability for the college. Don't just talk about how much fun you had travelling to Mexico last summer. Mention how that trip taught you independence and responsibility, or inspired you to learn about other cultures. 
Extracurricular Achievements Or Hobbies
Colleges love to hear about how well you balance your studies with other pursuits, like extracurricular activities. For example, if you spend your high school career getting straight As while also maintaining good standing in your school football team, you should write about it. Sports and other extracurriculars also teach you about teamwork and collaboration, as well as communication skills. Talk about what you learned from your extracurriculars or hobbies and how those lessons will help you in college. 
Hardships and Failures
Some of us learn our most valuable lessons from our hardships. Some examples of hardship include immigration struggles, loss of a loved one, changing high schools, and more. Similarly, we also learn a lot from our failures. Did you flunk out of grade 9 or have to take summer school? Colleges won't be put off by a failure, but they'll want to learn how you overcame it. 
Use hardships and failures in your essay to demonstrate your perseverance, and try to talk about them with a neutral, positive-leaning attitude if possible. 
Goals and Commitments
What are you committed to? Whatever it is, your admissions team will want to know! Share your life goals in your personal essay. What are your objectives in life and school, and how do you plan to make a difference in society? Offer the admissions team a bigger picture into your goals and commitments.  
You might also be interested in reading, How to showcase your strength in college application essays? 
3 College Essay Topics to Avoid 
Not all essay topics are appropriate for a college personal essay. Try to avoid these topics:
Politics
Avoid writing your essay about political issues. Your goals and candidacy for college should be separate from the latest election or politician. Writing about politics is also a sure way to steer away from the original writing prompt. If you feel that you must mention some political aspects to properly communicate your personality and experiences, try to keep it brief.  
List of Academic Achievements
Your transcript and GPA demonstrate your academic prowess. You don't need to list your straight A's and other accomplishments in your college essay. Show your personality and make your essay stand out with genuine, personal experiences. 
Cliches
Some topics are overdone in personal college essays, and considered cliches. For example, overcoming a sports injury, travelling to an exotic place, and placing quotes at the top of your essay are all common components of other essays. Make your essay stand out, and if you must use a cliche topic, do your best to make it your own. 
Conclusion
So, if you're wondering what to write my college essay about, hopefully we've offered some ideas. At the very least, we hope you're not thinking "I have nothing to write about for my college essay," because we know that you have unique experiences to share with any college admissions team. Think about the above college essay topics and try to be authentic in showcasing your personality through your essay. 
Good luck!