What is GPA and Why it is Important?
GPA is a measurement of your academic success in high school that colleges will consider very strongly in the admissions process. In this Blog, find out what is GPA and why it is important?
Updated by Avinash H on 12th February 2020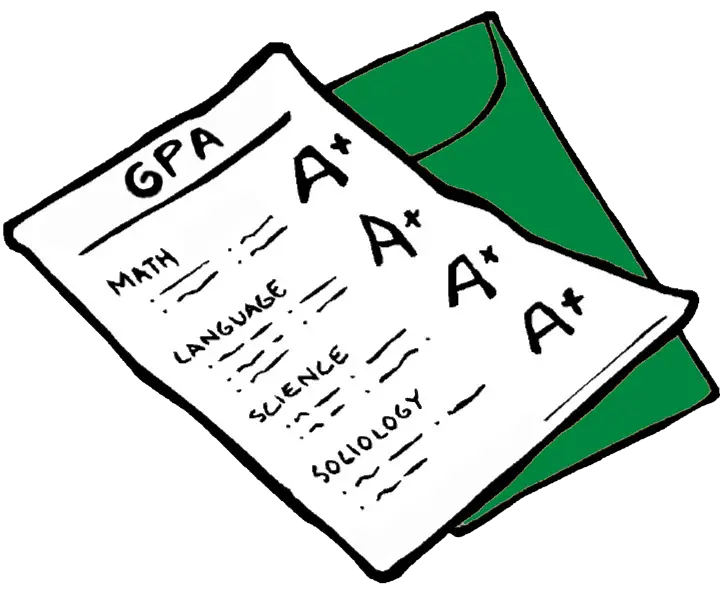 "GPA; the real fruit of your hard work"
GPA (Grade Point Average) is the standard way of measuring your academic excellence. Every course is given a particular range of "units" or "credits", depending on the content of the course.
GPA is calculated using the number of grade points a student has earned. GPA is the main factor that you need to keep in mind if you are applying for a Bachelor's or Master's degree in any state of the USA.
You know what. Most colleges and universities in the USA have GPA Scale from A - F. A student with an A grade receives 4 and above points, B - 3, C - 2, D - 1, and F - 0. This number is then used to assess whether you meet the standards and expectations set by the degree program or university.
| | |
| --- | --- |
| Grade | GPA |
| A | 4.0 + |
| B | 3.0 |
| C | 2.0 |
| D | 1.0 |
| F | 0 |
---
How Do You Maintain a High GPA?
Guys, it's very important to have a good GPA to get into prime colleges or universities. Here are a few tips for you to constantly maintain a high GPA throughout your academic period. Maintaining a constant high GPA isn't that easy. You have to work from a very initial stage. It is very difficult to improve if you start with low marks.
Work hard in your freshman and sophomore years to increase your likelihood of admission into AP, IB, honors and accelerated course—they're your ticket to a better GPA since they're typically given a lot of weight on the GPA scale.

Don't slack off once you receive your acceptance letter. Your future college or the company will still monitor your grades through the end of your senior year and expect a final transcript.

Having your own GPA goals will help you keep things organized and build a rage in you to achieve it. Always set your goals high and appreciate yourself for trying to reach it.

Make college your priority and stay organized. Make sure that you're totally aware of when tests are and exactly what you have to study.

Having a proper study strategy will help you to analyze how many hours to study and what exactly to study. Without a proper study plan, you study day and night and still don't understand anything.
---
Read More - How to Improve GPA
---
GPA Requirement for Colleges/Universities
Each and every college and university will have their own eligibility criteria and a student has to meet their minimum criteria to get into the university.
Nationally, the common unweighted high school GPA is about a 3.0, which could be a B average. If your GPA is higher than a 3.0, you're presumably doing pretty well, however, it all depends on how your college calculates GPA and what your final goals are.

Keep in mind that this is often the average for all students within the country, which includes the thirty-fourth of high school students who do not continue to college.

Typically a 3.5-4.0 GPA, which implies an A- or A average, is expected for admission to prime colleges. GPA is totally different from the percentage. It is easy for one to convert their grades from GPA to Percentage.

You will be able to gain acceptance to a less selective college with a GPA that's as low as a 2.0 or C- average. The concrete numbers are less important than your individual expertise.

For admission, prospective faculties think about both your GPA and your class rank (What is class rank?), which is set by your GPA. so the higher your GPA, the higher your likelihood is of entering into the college of your selection.
---
GPA and CGPA
GPA (Grade Point Average) is the system that helps to identify the average of the grades obtained by you in a semester or in the courses that you've taken. CGPA (Cumulative Grade Point Average) stands for Cumulative Grade Point Average. CGPA is the grade points obtained by a student in all the semesters are added and divided by the sum of their total credit hours.
Difference between GPA and CGPA
Both GPA and CGPA are grade systems that are the reflection of your performance in a semester or an entire course.

GPA is calculated for a single term or a year. Whereas, CGPA is calculated for the entire duration of the course.

Most colleges and universities will have a cut off GPA to get into the university. This means that you must have a high GPA constantly.

They both are interlinked with each other. The more the GPA, the more the CGPA. It requires a student to have a good GPA in order to have a good CGPA.
---
Universities for 3.0 - 4.0 GPA
Here's the list of few universities and colleges across the USA that accept the students with a GPA average of 3 and 4
| | |
| --- | --- |
| Colleges | Average GPA |
| Stanford University | 4.0 and above (74% admission) |
| University of Dallas | 3.85 |
| University of San Diego | 3.91 |
| Arkansas Tech University | Minimum 2.0/4.0 CGPA |
| San Francisco State University | 2.0 - 3.0 (students with 3 can have any SAT or ACT score) |
| University of California Los Angeles | 4.3 |
---
What's a decent GPA? What's a bad GPA?
The real answer, as frustrating as this could be, is that it depends! though the national average high school GPA is around a 3.0, that may really be a very good GPA or not a good GPA for you depending on your circumstances and goals.
It's necessary to think about however your school calculates GPA, the amount of your work, and also the selectivity of the schools you hope to attend in deciding whether or not your grade point average is good. So don't obsess about GPA's. Focus on building skills that are relevant in your field. Focus on building soft skills that you can use to be an effective member of your work/business community.
---
Conclusion
Your GPA is a significant indicator of your life-long outlook. Be that as it may, GPA isn't fate. You can take a fair four-year GPA as a pointer that you have to change yourself, in some exceptionally principal ways. If you recognize that need, and if you succeed in improving those deficient qualities, then your "real-world GPA" will become higher, and future prospective employers will recognize that, and you will be given greater opportunities. What's more, you will satisfy those by more noteworthy individual achievement.
Remember that the actual range value of your GPA doesn't matter nearly as much because the effort you place in to get there is much more than that. So, just keep working hard, and don't get discouraged.
---
Blogs you might be interested in