What is Retention Rate?
Retention rates are the percentage of first-year students who choose to return for sophomore year and this static matters because it tells you several things. Learn about how retention rate is a key factor to determine a school's credibility.
Updated by Avinash H on 8th November 2019
A college's retention rate reflects on a student's overall interest. This parameter can clarify numerous variables that make the appeal out of a school, including the nature of its faculty, the significance of its curriculum, and the apparent estimation of what is being instructed.
This percentage is often associated with the overall level of student satisfaction, although there are numerous additional factors at work below the surface. Studies indicate that if a college is going to lose students, this most likely occurs between freshman and sophomore year.
If it happens that a freshman opts out or transfer to another College it negatively impacts the former college's retention rate.

Most of the students and their parents take a keen look at the retention rate and the graduation rate before considering any college.

Both of this shows how good the student life is in the college and how much the college supports their academic and personal lives, and how well the tuition money has been spent.
---
Factors affecting Retention Rate
There are a handful of factors which affect the fall of the retention rate of a particular College/University. Although, as per the experts the factors are usually inter-related to each other, however, some of the key factors which contribute to the same are enlisted below:
Personal
One of the most common explanations for attrition can be relating to health, finances, family, work and difficulty fitting in or making friends.
Reputation Of College
Students enrolled at prestigious universities tend to stay more in comparison to lesser ones. If we go by stats 50% is the retention rate of this lower end universities and 99% is the retention rate of the prestigious universities.
Budget
One more factor that adds to low retention rate is the budget. Many students enroll without thinking about the budget part as a reason they have to leave due to this.
Race
Low retention rate attributes to race too. Students who enroll themselves in prestigious universities tend to retain more than those at lesser schools, and Whites and Asians are disproportionately distributed at the top-tier universities. Blacks, Native Americans, and Hispanics are more likely to enroll at lower-tier schools.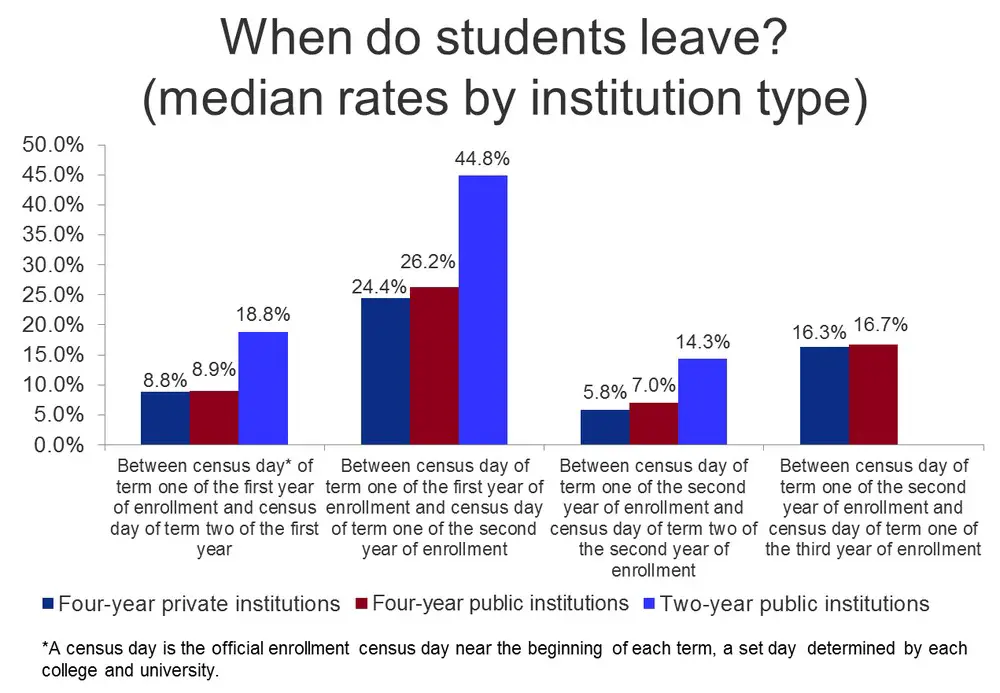 Source:- 2011 Noel-Levitz, Inc.
---
Top 10 colleges with the best retention rates
Some colleges do a great job of taking care of their freshmen, some don't. The retention rates are shown below
| | |
| --- | --- |
| Institution | Retention Rate |
| Yale University | 99% |
| University of Chicago | 99% |
| Columbia University | 99% |
| Massachusetts Institute of Technology | 99% |
| Brown University | 98% |
| California Institute of Technology | 98% |
| Dartmouth University | 98% |
| Northwestern University | 98% |
| Princeton University | 98% |
| Stanford University | 98% |
---
Where do you find the college's retention rate?
The most straightforward approach to discover a school's retention rate is at the NCES database. All universities must report figures for audit and they are punished if the data isn't submitted. Make certain to check the database and search for the majority of the measurements you can utilize. You may likewise have the option to approach the school's confirmations office for this rate legitimately.
It is important that you set aside the effort to pick the correct school while you get your education with the goal that you can procure a degree. When you do this, you can truly like the choice that you make to look at changed schools. On the off chance that you discover a school with an extraordinary culture, great degrees of consistency and other great measurements, similar to great graduation rates, it might be a great opportunity to submit.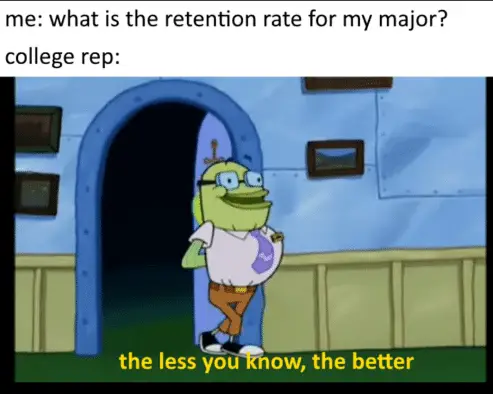 Source:https://me.me
---
Which Student Is Likely to Stay in School?
Now let's look into one of the important topics which will probably give us a fair idea about a student and his/her likelihood to continue in the same institution in the following year.
Following are some of the factors enlisted below:
Providing the facilities of the dorm room for the freshmen allows full integration and involvement of the student to the college life.

The cost of the education provided in the college and also whether it fits into the student's budget.

The engagement of the student to actively take part in extra-curricular activities and volunteer for the various activities held in the campus.

Willing to leave home and ready to have the "college experience."

To accept the fact that a college is a way beyond than getting placed in some company, it is a place where one grows and develop themselves to become a good human being and strive to better the society and community.
---
Conclusion
There are many factors to consider when you are choosing a school. Sometimes the location of the university or college is important.
You might feel more at home on an urban campus or enjoy the outdoor recreation at a rural school. The Retention Rate is just one indicator of whether a school would be a good fit for you.
Although there are a lot of things that affect whether students return to a college for a successive year, the retention percentages are indicators of whether schools can support their students. That is why students should consider the Retention Rate when deciding upon which university or college to attend.
---
Blogs you maybe interested in
---
FAQ's
What are freshman retention rates and why do they matter?
---
Retention and graduation rates are important but should be taken in context. Public colleges are always observed to have a retention lower rates due to their mission. They have more students who drop out for economic reasons. But among comparable schools, a higher retention and graduation rate is a good sign.
What other ratings apart from retention rate should I consider?
---
The student-to-faculty ratio is an indicator of how many students there are in relation to the number of faculty. A low ratio like 9:1 could mean smaller class sizes. You might also look at the percentage of classes that have a greater number of students.
What is a Good Retention Rate?
---
According to these statistics, the median rate is 65.7, although more recent sources list it as high as 77 percent. Harvard's rate is 95 percent.
Does a low RetentionRate Translate to a Poor School?
---
No. It isn't always the case that a low rate means a substandard institution.
Which are the top 5 Universities/Colleges with highest retention rate?
---
The list goes as follows:
Duke University

University Of Michigan

Williams College

Harvard University

Harvey Mudd College