What To Bring To ACT Exams: Your Personal Checklist
If you're wondering what to bring to ACT exams, this list will tell you exactly what you need and what you should never bring in a handy checklist!
When taking the ACT, it's important to follow the rules and regulations. This article will tell you what to bring and what to avoid on ACT test day — plus a bonus checklist!
The ACT is a standardized test used for college admissions as it helps to measure a high school student's readiness for college or university. All U.S. colleges and universities accept either the SAT or ACT when an admissions test is required, although more and more educational institutions have temporarily suspended this requirement due to the COVID-19 pandemic. Some colleges and universities have even done away with the standardized test requirement altogether.
The ACT includes five sections: English, Math, Reading, Science, and Writing (optional). It takes 2 hours and 55 minutes to complete without the essay & 3 hours and 35 minutes with the essay. A good ACT score can be beneficial for your college application as you apply to your choice universities.
You might be wondering what to bring to ACT exams when you sit for yours. This guide will show you everything you need, so read on to find out!
What should a student bring to the test: ACT Edition
We've put together this printable infographic that you can use as your personal ACT checklist.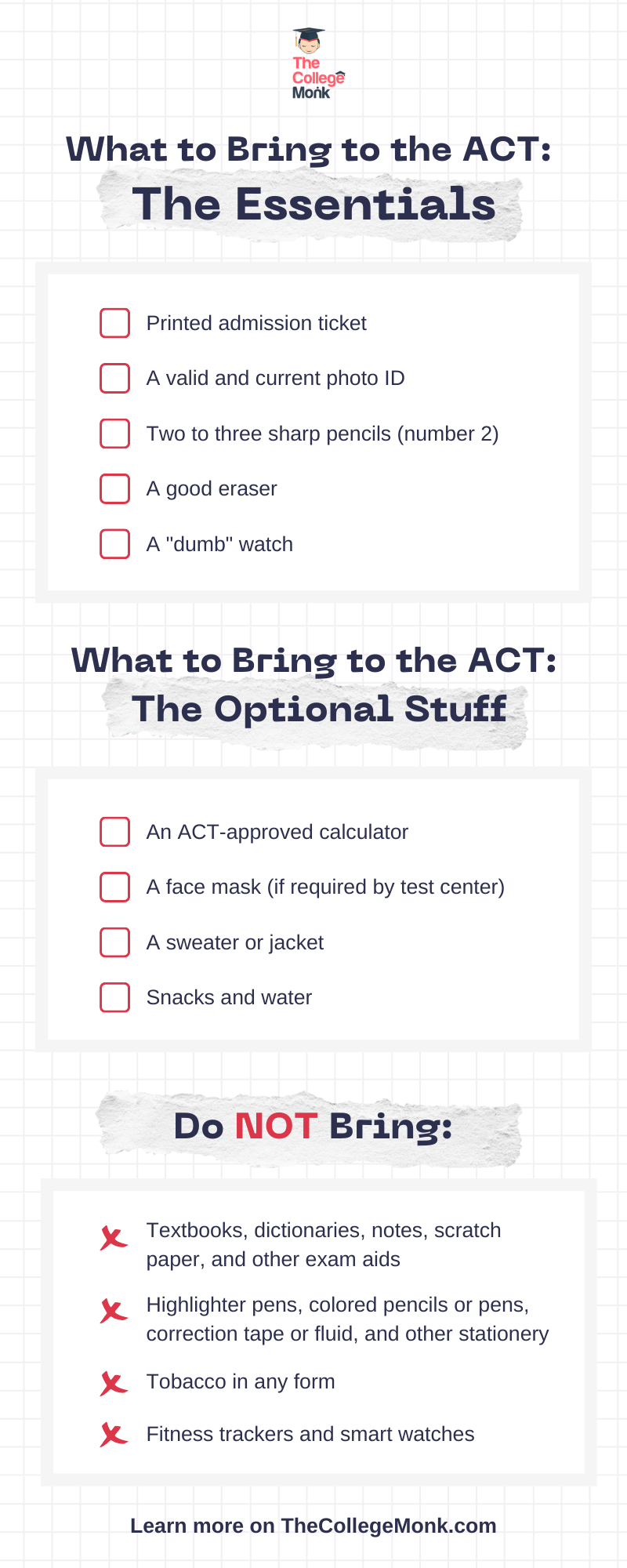 What to Bring for ACT Exams: The Essentials
Printed admission ticket
A valid and current photo ID
Two to three sharp pencils (number 2)
A good eraser
A "dumb" watch
Extra Things to Consider Bringing
An optional ACT-approved calculator
A face mask
A sweater or jacket
Snacks and water
What NOT to Bring to ACTs
Textbooks
Dictionaries
Notes
Other exam aids
Scratch paper
Highlighter pens
Correction tape or fluid
Colored pencils or pens
Tobacco (cigarettes, chew, or any other form)
Smartwatches and fitness bands
What to Bring to the ACT Exam 
Let's discuss each essential item in detail:
1. A Printed Copy of Your Admission Ticket
Topping the list of what to bring to the ACT test is a printed copy of your admission ticket. Pictures or images of this ticket on your mobile phone or other electronic devices will not be accepted. You must print out a copy, as only the paper copy of this document will be allowed on exam day. You can log in to your account on the ACT website where you registered and print out your admission ticket from there.
2. A Valid Photo ID
Your ID must be a current photo ID issued by your school or by a government agency (at the city, state, or federal level). Therefore, you can use your passport, driver's license, school ID, or any other valid and current government ID. The full name and the photo on your ID should match what is on your ACT registration.
The Following are NOT Considered Valid Photo IDs
ACT explicitly states that the items listed below will not be accepted as your photo ID:
Your birth certificate
Your printed ACT ticket on its own
Any diploma
Company ID or any other ID issued by your employer
Hunting or fishing license
Graduation picture or family portrait of any kind
Learner's driving permit (your learner's permit will be considered as an ID only if it has a photo of you)
Credit cards, charge cards, check cashing cards, bank cards with or without your photo
Temporary or replacement driver's licenses (they will be considered only if they have your photo)
Membership cards to any organizations
Social security card
Police reports or affidavits of stolen purses or wallets
Photo IDs of your parents
Published photos such as in yearbooks, magazines, or newspapers, even when accompanied with your name
For a full list of unacceptable forms of identification, please see this link.
What to Do If You Don't Have a Valid Photo ID
If for some reason you do not have any current photo ID that is acceptable to ACT, you can instead present your ACT Student Identification Form. According to the rules, the form must be completed by a notary public or school official. This notary public or school official must not be related to you in any way.
3. Two to Three Sharp Number 2 Pencils
When you think about ACT and what to bring, always remember your permitted writing tools! The last thing you want is to suddenly find yourself with a broken pencil with no way to sharpen it. Always carry a spare or two to ensure you can get through your ACT test without any issues.
Pens, mechanical pencils, liquid paper, highlighters, and other various writing accessories are not acceptable, even for the ACT essay test. You will not be allowed to use anything other than a number 2 pencil, so it's not even worth it to try.
4. A Good Eraser
When you think about what to take to the ACT exam, an eraser might not always come to mind. Many can get by with just the eraser on their pencil(s), after all. However, in some cases, you may find it's better to have a dedicated eraser of good quality that can save you time, prevent issues with the ACT exam papers, and get clean results.
5. A Watch
Always add a watch to your ACT test checklist. It comes in handy because you will need to keep track of the time when taking the different sections of the test. 
However, just any watch will not do. It's best to stick to "dumb" watches or your traditional analog and digital watches. The reason for this is there is a prohibited device policy that goes into effect the moment you are admitted to your exam room and ends when you are dismissed. This policy includes break times.
The policy states:
You are not allowed to access or handle any electronic device at any time during your exam, including break times. This includes your cell phone, any unapproved calculators, smart watches or fitness bands, and any other device that has communication capabilities, internet connectivity, or recording capabilities.
Your phone and wearables (smart watches, fitness bands) must be off and out of sight.
Accessing any prohibited devices during your exam (including breaks) will result in your dismissal. You won't get your test scored, and your device might be confiscated.
What Should I Bring to the ACT?: Optional Items
6. An Approved Calculator
Using a calculator is completely optional, but if you'd like to have one handy you need to make sure that yours fits the ACT Calculator Policy. The ACT allows 4-function, graphing, and scientific calculators for the test. Be aware of the restrictions and uses of the calculator in the ACT.
7. A Face Mask
Although face masks are generally optional these days, always ensure that you check with your specific ACT exam site and find out whether one is required. Some testing sites may still require you to wear one during your ACT.
8. A Sweater or Jacket
If you get cold pretty easily, you may want to bring a sweater or a jacket with you to your ACT exam. You don't need to wear it, but it's best to have one than to be freezing on top of being nervous during your test.
9. Snacks and Water
You can bring snacks and a water bottle with you to your ACT exam. However, you can only consume snacks or water during break time outside of the exam hall. 
Things You Must Not Bring Inside the ACT Test Room
There are certain things that are prohibited inside any ACT test center. Avoid bringing the items below:
Textbooks
Dictionaries
Notes
Other exam aids
Scratch paper
Highlighter pens
Correction tape or fluid
Colored pencils or pens
Tobacco (cigarettes, chew, or any other form)
Smartwatches and fitness bands
The main reason you are not allowed to bring any of these items is that the ACT wants to avoid giving you any potential advantage over other exam takers. They also want to prevent any instances of cheating during the exam. Another reason you may not be allowed to bring certain items is that they can cause distractions for others who are taking the test alongside you.
It's not even worth bringing any of these items as you will not be able to access them during your exam — the ACT guide even says it clearly.
Preparing for Your ACT
The night before your ACT exam (and if you're extra diligent, the day of), ask yourself: "what do I need for the ACT?" Look at your checklist and ensure that all of your items are packed into your bag before you leave for your exam.
Beyond knowing what to bring on ACT test day, here's another tip:
If you're feeling anxious or nervous, try to take a few slow, deep breaths and go through some grounding techniques to help ease the nerves.
Frequently Asked Questions
Can I bring a backpack to the ACT?
Generally yes, but some testing centers have a strict policy stating exam takers with backpacks will not be allowed inside. It's best to double-check with your exam center prior to your test date.
Can you bring a water bottle to the ACT?
 Yes, but you cannot drink during the exam. You will only be allowed to drink during breaks.
Should I bring my phone to the ACT?
If you need to bring your phone, you can. However, be aware that there is a strict policy to keep your phone off and hidden away from the moment you enter the testing center until you are dismissed(including breaks). Accessing or checking your phone at any point will result in possible confiscation on top of your dismissal. Your test will also not count.
Can you chew gum during the ACT?
The policy is that you cannot eat or drink anything during the ACT exam proper. However, some exam takers report that they were able to chew gum as long as they did it quietly and as discreetly as possible. It's up to you if you'd like to take this risk.
Do they provide pencils at the ACT?
Some, but not all, testing centers will have pencils available for students who forget theirs. However, it's best to bring your own pencils so you won't have any cause for concern. Also, check if your pencils' erasers are sufficient.
Do you get paper on the ACT?
The ACT does not allow you to bring scratch paper, and they will not provide any for you during the exam proper. However, you can use any free space in the ACT exam booklet for making notes or solving math problems.
Can you bring a snack to the ACT?
Yes, snacks are permitted when you take your ACT exams. However, you cannot eat anything during the exam proper. You can only eat your snack during break time when you are outside of the exam hall.
Conclusion
Taking your ACT exam can feel quite intimidating and nerve-wracking. One of the best ways to make sure you ace yours is to be as prepared as possible, including knowing what to bring to ACT exams. We hope that this comprehensive guide has helped you create your checklist so you can be good to go on test day!
Good luck!
You might also be interested in reading: