Yellow Ribbon Program
It is a provision of the Post-9/11 GI Bill that would help prospective candidates to attend expensive colleges without worrying about the cost. To know more about this program continue reading.
Yellow Ribbon Program is a new inclusion in the GI bill which will cover all resident and tuition fees for a public school. YRP is not automatic, in order to have this program the school needs to enter into an agreement with VA to share the expenses.
Normally, Post-9/11 GI Bill payments at private schools are limited to a national maximum amount by law, although that amount changes every year, it seldom covers the full tuition and fees that private schools charge for enrollment.
---
Eligibility
Should have served an aggregate of 36 months active duty after September 10, 2001

Honorable discharge from active duty due to a service-connected disability, and served for 30 continuous day after September 10, 2001

You are eligible for Transfer of Entitlement under Post-9/11 GI Bill on a Veteran's service by the Department of veterans affairs.
---
Available Yellow Ribbon Benefits
Only veterans are eligible for maximum benefits

One time relocation allowance by a benefit payment of $500

One time reimbursement of $2,000 for certification or licensing exam, work-study programs for the academic year

$100 for a monthly tutorial assistance

Full fee, book, and monthly living payment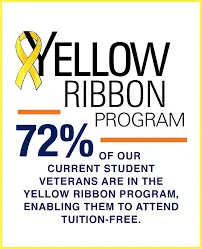 Source:seaver.pepperdine.edu
---
List of Schools offering Yellow Ribbon Program
1 - Stanford University
2 - Yale University
3 - University of California - Berkeley
4 - Auburn University
5 - Florida State University
6 - University of Kansas
7 - Amherst College
8 - Michigan State University
9 - New York University
10 - Duke University
---
Benefits Transferability
As per the Department of Defense (DoD), they are authorized to allow individuals, who on or after August 1, 2009, have served at least 6 years in the Armed Force.

Apart from that, they have to agree to serve another 4 years in order to transfer unused amenities to their spouse.

After they both have reached 10-year anniversary; they can transfer the credit to dependent(s), spouse or children.
---
How to get these benefits
Step 1 - Apply for the benefits. After that, if you are eligible you will get a Certificate of Eligibility (COE).
Step 2 - Take your COE to the school's certifying official, or any other office as determined by your school, there with that COE, they will apply you to the school's Yellow Ribbon Program.
Step 3 - Now the school will decide, the selection would be on the basis of:
Maximum number of students already enrolled in the program

The school will decide the amount by adding various benefits, the school applies the Yellow Ribbon Program benefits to its final amount
Step 4 - The school will inform you about whether you are accepted to the program or not and what is the final money you will get for tuition
---
Conclusion
This Post-9/11 GI Bill's Yellow Ribbon Program is helping veterans to get a degree from a college that they always dreamt of. This program has brought together many colleges that have shown their support for this program and the extension to this that if they want they can transfer this to their spouse or children. This has also made a world of difference to the people who are taking the benefits of this program.
---
Blogs you may be interested in
Frequently Asked Questions
1.1) How to know whether my school participates in the Yellow Ribbon Program?

Mostly all colleges usually say beforehand only whether they participate in this program or not. But if you want you can check them in the official website of GI Bill.

2.2) If I participate in the Yellow Ribbon Program this year, will I be considered next year automatically?

Not necessarily as sometimes you have to reapply for it every year.

3.3) Do I need to attend full time to be in the Yellow Ribbon Program?

No, to be eligible for the Yellow Ribbon Program you don't need to be a full-time student.

4.4) Can I receive YRP fund for the summer term?

Yes, but it depends upon your school whether they provide a fund for the summer term or not.