$10,010
Avg.Financial Aid
About Bryant and Stratton College
Type Control of Institution - Public/Private
Private
For-Profit
4 Years
Student Population Number of Students attending College
499
Website
https://www.bryantstratton.edu
Accreditation Accreditation is the process by which the quality of learning at various educational institutions are evaluated. Read More.
MSCHE
Religious Affiliation Indicates religious affiliation (denomination) for private not-for-profit institutions that are religiously affiliated.
Not applicable
On Campus Housing Does the institution provide on-campus housing?
No
Bryant and Stratton College is a private for-profit college. It was established back in the year 1854 and is headquartered in Buffalo, New York, United States. The college also has campuses in various other places such as Ohio, Virginia, and Wisconsin.
The campus of the college has around 477 students enrolled in several degrees and certification programs.
The student-faculty ratio of the college is 13:1.

The college is regionally accredited and the Bryant and Stratton College accreditation is carried out by the Middle States Commission on Higher Education (MSCHE).
It offers diverse facilities and services to cater to the student's needs and help build their careers. The services and facilities offered by the college are career services, interview preparation, resume development, athletics and many such activities, which help the students shape their career.
---
Online Education at Bryant and Stratton College
The college offers the students a chance to pursue their studies from anywhere in the world. It offers flexibility in the coursework, and a gives an access to the lectures, assignments, and discussions 24/7. It provides a wide variety of courses and degree programs online.
The online education allows the students to follow the schedule that is most suitable to them.

The university offers around 8 different fields of study for online students, Some of them include Accounting, Business Management, Health Science, Criminal Justice, and Law.

The college allows its students to transfer the credits without any difficulty.

The college offers Associate's, Bachelor's, and Certification programs, in various fields and areas of study.
---
Reviews
Based on the reviews received from various students, it can be concluded that the college is quite good and supportive. Few reviews by the students of the college are listed below.
It is a great college to get an undergraduate degree as the curriculum is industry oriented.

The college offers a very good nursing program and nursing education.

The online programs are flexible and easy to access from anywhere.

The faculties and instructors are quite friendly and approachable.
Rankings
Forbes and US News provide rankings to the universities, which are trusted everywhere. But this is applicable only if the universities are located in the US. It is generally considered that the ranking of any college helps a prospective student in a lot of ways. While taking admission to a particular college/university, its ranking helps the student determine various factors that include its research excellence, the performance of its students after completion of the degree, student experience, and academic success. The rankings by US News and Forbes are considered trustworthy by applicants as well as experts. Bryant & Stratton College-Buffalo, however, doesn't feature in the list of top colleges, according to the latest rankings of US News and Forbes.
Admissions
Application Deadline Deadline for application submissions. Please contact the school for more details.
FALSE
Acceptance Rate Percentage of applicants who are accepted in an Institution.
98%
SAT/ACT
Neither required nor recommended
High School GPA
Recommended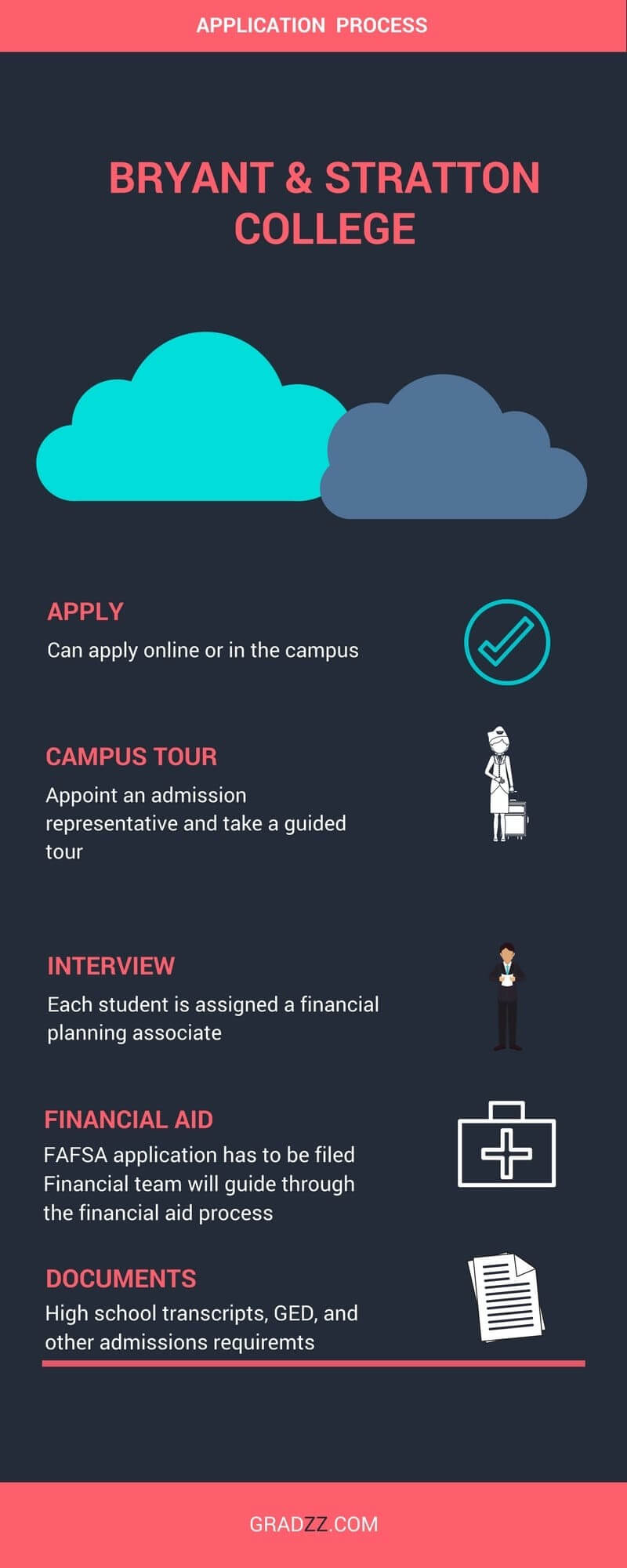 Admissions to Bryant and Stratton College
Admission Process 
Campus Tour with Personal Admissions Representative 

Students have to first set up an appointment with personal admissions representative on the phone and have to discuss regarding the online classes and any other queries.

Interview 

 Financial Aid 

Bryant and Stratton's college believes that the payment of education fees is a big decision that any student has made, Hence College also helps the students by providing financial aid to the students. In order to apply for the aid, the student have to first apply for FAFSA application and the financial aid team of the college will help the students in all the steps and will tell the students whether the students are eligible for financial aid or not. 

 High School Transcripts 

Students have to submit high school diploma transcripts or equivalent diploma (GED) transcripts and also candidates have to submit a photo ID in order to apply for Bryant and Stratton College. 
---
Technology Requirements
Hardware Requirements
The processor should be 1GHz or higher (Intel Core 2 Duo or higher for MAC) .

Minimum size of RAM should be 4GB.

System should support DVD.

Minimum size of Hard disk drive should be 40GB.

The Operating System should be Windows 7 or Higher.

Candidates should have access to webcam, microphone, speakers, and Printer.
Software Requirements
The college will provide Microsoft Office 365 to the students  .

Student's Computer system must be protected with anti-virus software.

Candidates should have Bootcamp running Windows7 or VMware Virtual PC for MAC as these are highly important for few degree program.s 

Software's like Adobe Creative Suite, Adobe Flash 9 or higher, Acrobat 7 or higher, iTunes 7 or higher, QuickTime 7 or higher and the software's should be updated. 
Note - Students with devices like Notebooks, Chrome Books, iPad, and other tablets will not be able to complete the courses as these devices are not advised by the college.
Annual Cost to Attend
Net Price Cost of attendance minus any grants and scholarships received.
$12,908
Average Annual Cost
$17,051
Room And Board The charges for an academic year for rooming accommodations and meals for a typical student.
$3,500
Budget For Other Expenses
$1,480
Total One Year Cost
$17,216
Full-time students at Bryant & Stratton College - Online were charged $14,384 in fees and tuition in the 2018 - 2019 school year, prior to corrections for financial aid. $14,256 was the price of tuition. $128 was fees. 
There continues to be a rise of 1.8% in Bryant & Stratton College - Online fees and tuition for out-of-state students in the past five years. Tuition expanded by 1.5% and fees expanded by 0.0%. This school year, undergraduates can anticipate paying $14,650 if the growth keeps up.
Because of price growth, the total expense of a four-year Bryant & Stratton College - Online degree would be $60,247, and the total price of a two-year degree would be $29,571, which doesn't include added expenses for books, transportation, and room and board. 
Tuition for Bryant and Stratton College Buffalo is $17,051. This is 18% more expensive than the national average private for-profit four-year college tuition of $14,406. The cost is 25% cheaper than the average New York tuition of $22,793 for 4-year colleges. Tuition ranks 93rd in New York amongst 4-year colleges for affordability and is the 93rd most expensive 4-year college in the state. Price does not vary by residence. The school charges an additional fee of $165 in addition to tuition bringing the total effective in-state tuition to $17,216.
Academics
Highest Degree Offered The highest degree offered by the Institution.
Bachelor's degree
Student:Faculty Ratio
13:1
Full-Time Retention Rate Percent of the that re-enrolled at the institution as either full- or part-time in the current year.
N/A
Part-Time Retention Rate Percent of the that re-enrolled at the institution as either full- or part-time in the current year.
N/A
Academic Calendar
Semester
Research Funding per Student
N/A
Majors
Allied Health and Medical Assisting...
49 Graduates
Criminal Justice and Corrections
28 Graduates
Business/Commerce, General
19 Graduates
Health and Medical Administrative S...
18 Graduates
Business Administration, Management...
15 Graduates
Accounting and Related Services
6 Graduates
Computer/Information Technology Adm...
2 Graduates
Business Operations Support and Ass...
1 Graduates
Student Body
Undergraduate Students
499
Socio-Economic Diversity Percent of full-time, first-time students receiving an income-based Federal Pell Grant intended for low-income students.
89%
Race/Ethnicity
0% American Indian/Alaska native
0% Native Hawaiians/Pacific islander
Economic Diversity
36% percentage of students who recieved an income-based Federal Pell Grant intended for low-income students.
Median Household Income
$48,774 per year
Campus Life
Housing
The institution does not provide on-campus housing facilities for students.
On Campus Housing Available
No
Freshmen Required to Live on Campus
No
Freshmen Live on Campus
N/A
Undergrads in College Housing
N/A
Campus Food
The institution does not provide any meal plan options.
Average Meal Plan Available
N/A
Athletes
Division Sports Nickname
N/A
Varsity Athletics Association
N/A
Varsity Athletics Conference Primary
N/A
Total Male Athletes
N/A
Total Female Athletes
N/A
Intramural Sports
N/A
Sports Club
N/A
Campus Safety
24-Hour Security Patrol
NA
24-Hour Escort Safety rides
NA
The college believes in offering quality training to all the students and doesn't appreciate instructive disparities. Students originating from various ethnic foundations like Latin, Caucasian, Black, American Indian, and a lot more are invited to the school. There are around 25% male and 75% female students enrolled at the university.
After Graduation
Median Earnings 6 Years After Graduation
$21,200/year
Median Earnings 10 Years After Graduation
$24,100/year
Median Total Debt After Graduation The median cumulative federal debt of undergraduate borrowers who graduated.
Typical Monthly Loan Payment The median monthly loan payment for student borrowers who completed, if it were repaid over 10 years at a 4.53% interest rate.
$127 - 534
Financial Aid
Students Receiving Gift Aid Percent of undergraduate students awarded federal gift aid.
Average Aid Per Year
$10,010
Students Receiving Federal Grants
Average Aid Per Year
$4,143
Students Receiving State Aid
Average Aid Per Year
$3,615
Students Receiving Institutional Grants
Average Aid Per Year
$5,436
Average Grant & Scholarship by Family Income
Aid awarded based on the family income.
The financial aid programs are provided by the institutions in the hopes of encouraging individuals to pursue education and help those that require financial assistance. The financial assistance is provided in various forms, such as scholarships, grants, federal work-study, and loans. 
The students need to fill the FAFSA form in order to avail the financial aid.  Bryant and Stratton College federal school code is 002678.
The various Institutional Aids and Scholarships available are Academic Excellence Scholarships, Early Acceptance Scholarships, Adult Learner Scholarships, Alumni Referral Scholarship, Matching Scholarships, and many more.

The Federal Aids include Pell Grant, Federal Supplemental Educational Opportunity Grant, Federal Work-Study, and many more.

The State Aids include New York State TAP Grant, and Ohio College Opportunity Grant (OCOG).

The Military Aids include Yellow Ribbon Program, Post-9/11 GI Bill, and many more.
Other Colleges In New York
Other Private for-profit Colleges