About University of Management and Technology (UMT)
Type Control of Institution - Public/Private
Private
For-Profit
4 Years
Student Population Number of Students attending College
507
Accreditation Accreditation is the process by which the quality of learning at various educational institutions are evaluated. Read More.
DEAC
Religious Affiliation Indicates religious affiliation (denomination) for private not-for-profit institutions that are religiously affiliated.
Not applicable
On Campus Housing Does the institution provide on-campus housing?
No
University of Management and Technology is an online private for-profit institution located at Arlington, Virginia which was established in 1998. The university is adept at giving up to date and professional education on undergraduate and graduate level management studies. The faculty consists of trained professionals with industrial and academic experiences. The university is committed to staying on the cutting edge of technological and industrial change, thus providing the students with maximum insight into the developments in the area and how to cope with it.
University of Management and Technology is accredited by the Distance Education Accreditation Commission.  

There is a total student population of 1,293 in the university. This includes 680 full-time students and 613 part-time students.

There are 39 world-class instructors at the university working around the clock to be prompt in answering and heeding to the students' needs.

The student-faculty ratio is 24:1.

There is a total graduation rate of 67% in the university.
---
Online Education at University of Management and Technology
The university offers 49 online programs pertaining to 10 disciplines. These include Criminal Justice, Information Technology, Business Management, Public Administration, Computer Science, Homeland Security, Education, and Engineering along with Health Science and Human Services courses.
Students in America and 87 other countries around the world have benefitted through the online program available at the university.

Online students do not have the constraints of the semester schedule. The program is flexible and self-paced. The syllabus is designed to be exhaustive and informative while being immersive.

The instructors use texts, lecture notes, online discussions, video streaming, and other multimedia elements to reach the students and measure progress while focusing on areas where the student might need assistance.
---
Reviews
The course is exhaustive but flexible. This enables students to incorporate their degree education into their busy schedule. The institute is military friendly. The staff is helpful and questions are immediately answered and queries are promptly resolved.

The university is good for students who are working full-time. The self-paced study period and prompt responses from the instructors make the overall educational scenario productive.

Topics are fresh and up to date. The instructors have a strong command over their subjects and are very helpful and insightful into each student's needs. The enrollment counselors are amazing. The workload is challenging but not overwhelming.
Rankings
It becomes easier for the aspirants to apply to a university and have their doubts regarding the same cleared if the university has a ranking. It is said that the more information that a prospective student has about a university, the better it is. The ranking of a university helps a student overcome the confusion of which university/college is right for them and also other prospects. Before taking admission, a student can assess the university chosen by them on various grounds like research excellence, the performance of its students after graduation, and their experience, among others. Notably, for the rankings, the two publications, US News and Forbes, are trusted everywhere. However, it should be noted that University of Management and Technology does not feature in the list of top colleges, according to the latest ranking of these two publications.
Admissions
Application Deadline Deadline for application submissions. Please contact the school for more details.
FALSE
Acceptance Rate Percentage of applicants who are accepted in an Institution.
N/A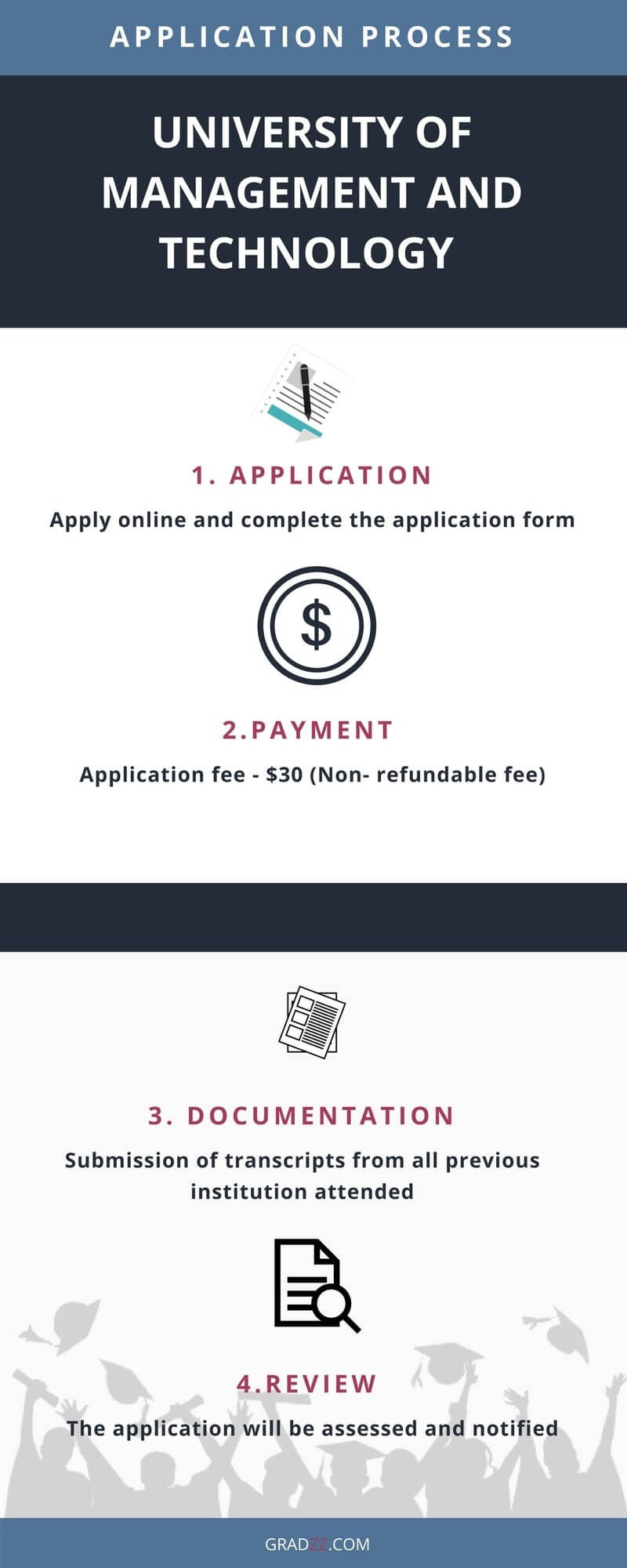 Students can learn from the comfort of their home, office or anywhere else in the world where they can access the internet, which is enabled by the advanced communication technologies used by the University of Management and Technology. The online programs are not constrained by semester schedules unless it is term-based programs. Hence, students can enroll whenever they want on a year-round basis.
Multimedia elements such as video streaming, online discussions, lecture notes and various other elements are used to deliver the courses over the internet by the University of Management and Technology. Books, readings and other materials are supplemented with the online courses to mirror traditional classroom courses.The students can complete course sections quickly as the online course materials are divided into manageable units. Students can focus on areas where they need assistance and can measure their progress. Email, discussion boards, internet conferencing and other media can be used by the students to communicate with instructors and fellow students. Instructors provide individualized instructions and closely monitor the student's work.
General Admission Requirements 
Only students who are computer literates can enroll in the online education program of University of Management and Technology and get admissions.

Students should be having basic skills required in using the world wide web, sending and receiving emails and word processing.

Students should be able to troubleshoot basic computer problems, install software, computer skills such as using spreadsheets for specific courses and another general familiarity with a computer.
---
Computer requirements
Student needs are supported by various web-based systems which have been utilized by University of Management and Technology. These web-based systems utilize secure interfaces such as https. The current security protocols and software requirements are supported by any device and can be used by students.

Broadband internet connection is required for all the courses.
---
Courses offered by University of Management and Technology require the following
Adobe flash player

Microsoft Word

Microsoft Excel

Microsoft powerpoint

HTML 5

Adobe Acrobat reader
Annual Cost to Attend
Net Price Cost of attendance minus any grants and scholarships received.
Average Annual Cost
$9,360
The University of Management and Technology is the best college for affordability. Not only it offers extremely low annual cost of attendance, but it also provides facilities like part payment and loans and work-study option. The institution has over 30,000 students enrolled in some online courses. The College aims at upgrading the skills of students using flexible time plan and affordable cost. The cost of attendance depends upon the course one is enrolled in.
The University hasn't incremented there fee since 1998. The annual cost of attendance is not affected by the residency. However, it is affected by the program one is currently enrolled in. The total tuition cost for the various degrees offered is as follows
The Undergraduate Certificate costs $9,450.

The Graduate Certificate costs up to $7,020.

The average tuition per credit cost is $390.
The university offers 49 online programs pertaining to 10 disciplines including Criminal Justice, Information Technology, Business Management, and many more.
Academics
Highest Degree Offered The highest degree offered by the Institution.
NA
Student:Faculty Ratio
7:1
Full-Time Retention Rate Percent of the that re-enrolled at the institution as either full- or part-time in the current year.
N/A
Part-Time Retention Rate Percent of the that re-enrolled at the institution as either full- or part-time in the current year.
N/A
Academic Calendar
Semester
Research Funding per Student
$535
Majors
Business Administration, Management...
533 Graduates
Criminal Justice and Corrections
68 Graduates
Liberal Arts and Sciences, General...
59 Graduates
Homeland Security
50 Graduates
Computer and Information Sciences,...
43 Graduates
Engineering-Related Fields
19 Graduates
Computer Science
12 Graduates
Health and Medical Administrative S...
12 Graduates
Human Resources Management and Serv...
2 Graduates
Student Body
Undergraduate Students
321
Socio-Economic Diversity Percent of full-time, first-time students receiving an income-based Federal Pell Grant intended for low-income students.
3%
Race/Ethnicity
0% American Indian/Alaska native
0% Native Hawaiians/Pacific islander
Economic Diversity
36% percentage of students who recieved an income-based Federal Pell Grant intended for low-income students.
Median Household Income
N/A
Campus Life
Housing
The institution does not provide on-campus housing facilities for students.
On Campus Housing Available
No
Freshmen Required to Live on Campus
No
Freshmen Live on Campus
N/A
Undergrads in College Housing
N/A
Campus Food
The institution does not provide any meal plan options.
Average Meal Plan Available
N/A
Athletes
Division Sports Nickname
N/A
Varsity Athletics Association
N/A
Varsity Athletics Conference Primary
N/A
Total Male Athletes
N/A
Total Female Athletes
N/A
Intramural Sports
N/A
Sports Club
N/A
Campus Safety
24-Hour Security Patrol
NA
24-Hour Escort Safety rides
NA
The students at UMT have an incredible breadth to learn and turn into change-makers. Since the campus life of students assumes a fundamental part in their development and improvement, students at UMT are encouraged to invest their energy in learning and developing themselves. The university has enrolled around 65% male and 35% female students.
After Graduation
Median Earnings 6 Years After Graduation
N/A
Median Earnings 10 Years After Graduation
N/A
Median Total Debt After Graduation The median cumulative federal debt of undergraduate borrowers who graduated.
Typical Monthly Loan Payment The median monthly loan payment for student borrowers who completed, if it were repaid over 10 years at a 4.53% interest rate.
$180 - 180
Financial Aid
The university provides financial assistance to the students who are in need of them. Financial support is provided in the forms of grants, scholarships, loans, and work-study options. The eligibility of financial aid varies and ranges from academic performance and assignment submission to nationality and citizenship. Eligible students who wish to avail of these options are required to fill in the FAFSA form and University of Management and Technology federal school code is 041103. The various financial aid options at the University of Management and Technology are given below.
Military Aids are provided to students with army background or with family members who have served the country. UMT Military Scholarship, Post 9/11 GI Bill, PMIEF Scholarship, PMIEF-UMT Scholarship, and Tuition Assistance Program come under this criteria.

Federal Aids include Pell Grant as Federal Grant, Direct Subsidized Loan, Direct Unsubsidized Loan, and Direct PLUS Loan as Federal Loans.
Other Colleges In Virginia
Other Private for-profit Colleges