Information Technology vs Information System
Information System is a system that consists of process, people and systems while Information Technology is a part of IT which consists of hardware, storage devices, processors.
Updated by Shubharthi Dey on 22nd January 2019
Information Systems vs Information Technology
Are They Same Or Different?
Information System is a large umbrella referring to systems designed to create, store, manipulate, or disseminate information. However, Information Technology deals with Information processing, storage, and transmission. IT, in particular, is computer technology.
Let's look into some of the important pointers which might highlight the key difference
Information Systems (IS) and Information Technology (IT) are often used interchangeably.

They are actually thought to be the same but in reality, Information technology is a part of Information systems i.e. IT is a small part of the IS.

Both of them are concerned with computers, hardware, software, information, etc. but still they are different in their structures.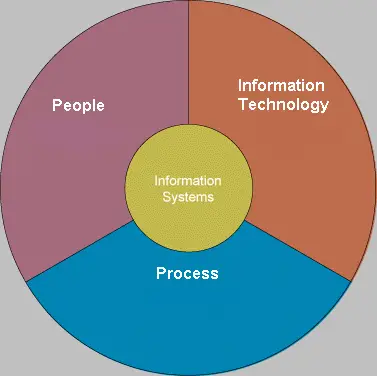 Source: geniusdhiraj.blogspot.com
---
Information Systems
What is Information System?
Organizations usually deal with a huge amount of data. Data is nothing but basic values or facts which are systematically organized in a database. Many people think of data as synonymous with information; however, information actually consists of data that has been organized to help answers questions and to solve problems. An information system is defined as the software that helps us to organize and analyze the data. So, the purpose of an information system is to turn raw data into useful information that can turn out to be highly useful from organization and customer point of view.
A few points to ponder upon while understanding the entire mechanism of Information System.
Information System(IS) is basically a huge pie which consists of processes, people, systems which is the main component to process the information.

It may not necessarily be in computer mode, it can also be in paper pencil mode.

The hardware and software used to create, maintain and access the payment details of students in a college are referred to as an information system.
Degrees in Information System often include courses in:
Information Theory

Social Science

Foundations of Management

Information Technology
Now let's look into the different types of processes in an Information Systems architecture
Types of Information Systems
Transaction Processing System

Office Automation System – Word Processing, Email, Voice Mail.

Knowledge Work Systems

Management Information System

Decision Support Systems
However, after gathering all the information, one must be inquisitive to know the salary of an average Information Systems Manager. As per the survey, the average salary of an Information Systems Manager is $82,450.
---
Information Technology
What is Information Technology?
Information Technology(IT) is a subsystem of IS. It is the technology used to store and retrieve data from the computer systems. It is thriving through apps, the internet, mobile phones, etc. It basically consists of computer hardware, software, databases, networks, etc.
For instance, the hard disks, pen drives or any other storage devices used to store payment details of students of a college is basically IT.
Popular Information Technology Jobs
The different types of Job Roles Information Technology domains are illustrated by the following hierarchical tree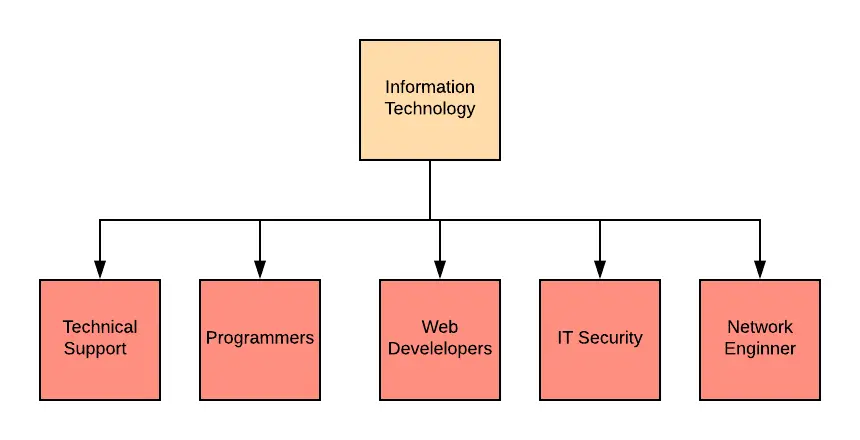 However, after knowing the various job roles offered after pursuing a degree in Information Technology, it is going to raise an inquisitiveness about the remuneration or the salary offered to an Information Technology Specialist. As per a survey, it was found that the average salary of an IT Specialist is $55,000 a year.
---
List Of Colleges Best Known For Information Technology Degree
Let's look into some of the top universities of the United States best known for imparting quality education in the domain of Information Technology
Top Colleges Offering Information Technology Degree
The Pennsylvania State University
Coleman University
Armstrong State University
Baker College
Metropolitan Community College
Liberty University
Saint Leo University
Strayer University
Ottawa University
University of Phoenix
---
Conclusion
When deciding which of these computer-related paths to pursue, it's critical to be clear and detailed about exactly what it is you're looking for in a career. By understanding the technicalities of information systems and information technology, students can better select an educational path. Gathering data about the domain of your choice and evaluating it carefully will allow you to make an informed decision about the best career path for you.
We found that numerically the average salary of an Information System Manager is more than an Information Technology Specialist, however, the roles and responsibilities of both actually complement each other in an IT infrastructure, or in other words both are dependent upon one another. From this, we clearly understood that Information system is a whole system that supports the whole organization while Information system is a part of it in the form of hardware, processors, storage devices.
---
FAQ'S
How does IS differ from Computer Science?
---
Information Systems (IS) and Computer Science both involve computer technology. Unlike IS, CMSC frequently takes an inner-workings perspective of technology and involves the principles of hardware and software design. Information Systems, on the other hand, focuses on the entire system of information, knowledge, delivery and use, taking an external, human-based perspective on technology.
What Do Information Systems Majors Study?
---
Information Systems offers two baccalaureate degrees: a Bachelor of Science (B.S.) in Information Systems, and a Bachelor of Arts (B.A.) in Business Technology Administration.
Who can pursue a masters in Information Systems Program?
---
The Master of Information Systems degree program is ideal if you're looking to expand your opportunities in the information technology management career field. If you have a bachelor's degree, but want to manage an IT department or are being asked to coordinate the IT resources of a company, this would also be a great program for you. Great MIS candidates also include enterprise managers or business students with some background in IT who want to fully understand the strategic importance of information technology.
How long is the Information Technology masters program?
---
The Information Technology masters is a 1 to 3 years long program.
What courses are offered in the Master of Information Technology?
---
The Masters of Information Technology include Computer networking, Website design, Multi-media Systems, Interface design, Software, Database administration Security, Business, Operating systems and Project management.
Is it possible to pursue the information technology masters online?
---
Yes, it is possible. Distance learning programs in Information Technology are offered by numerous accredited schools, colleges and universities. Through these programs, students and working professionals can complete their education from home, work or any location of their choice. 
What are the requirements for an information technology masters degree online?
---
If you're planning to enroll in a master's degree in information technology, make sure you fulfill the basic admission requirements for the program. These may vary from school to school, but can be generalized as: completion of high school, completion of a bachelor program in a related academic field, minimum CGPA 2.5, and a few letters of recommendation.