Edfinancial Services Student Loan Reviews
If you have received Edfinancial services as your student loan servicer then you should read this review as it gives an overview of payment & repayment plans. Also read the Pros and Cons of Edfinancial servicers for student loans.
Updated by Sagar.C on 29th September 2020
EdFinancial is a student loan servicer that was started in Knoxville, Tennessee in the year 1987 to assist people with student loans. It was formed to serve as a student loan servicer for the southeastern region. In 2012, they were granted to provide student loan contracts and since then they made Federal Loans Servicing their prime goal.
They also include servicing of some of the private loans. It is not authorized by the federal government, but they are one of the loan servicers of federal loans.
If you have federal student loans and you land up with Edfinancial as your assigned loan servicer, at that point you may find that their website offers many instruments and resources to enable you to perceive the knowledge to manage your student loans.
What is special about Edfinancial Services?
Edfinancial is a legitimate organization. The tools and resources aren't one of a kind to Edfinancial, however, their website is easy to scroll and you will quickly find out resources that you need to understand and manage your loans.
Their student loan calculator tool is quite handy for borrowers. Through that tool, you can find many repayment options. You can also analyze how much interest you will have to pay and what would be your repayment term for your loans.
If you have a military-based background and you have served the country then you have a whole separate page dedicated to you. They offer different benefits and repayment options for borrowers from a military background. You will be assigned a unique email address and customer service line.
EdFinancial phone number
The organization can be reached out at two different numbers for different queries. If you have concerns relating to direct loans, contact on 1-855-337-6884, and for issues about Private loans, reach out on 1-800-337-6884.
Table of contents
Loans under Edfinacial Servicer
9 players in the U.S. serve as student loan servicers, and one of them is Edfinancial student loan services. Just like other services, it handles Direct Student Loan programs which are the following.
Direct Unsubsidized Loans

Direct Subsidized Loans

Direct PLUS Loans

Direct Consolidation Loans
The unique thing about this servicer is that they handle loans within the Federal Family Education Loan Program. They have also engaged their services for private student loans.
---
Edfinancial Payment Methods
Once your application gets approved, the next step is to understand the different payment methods. You can make payments for Edfinancial services by the following methods.
By Phone
To make the payments for private loans, contact on 1-866-709-0202. For Direct loan payments, contact on the number given above for federal loans.
Online
When you register for your account you can make your one-time online payment at that point.
By mail
You can any day mail your payments by sending a check to the given address below.
U.S. Department of Education

P.O. Box 105193,

Atlanta, GA 30348-5193.
Automatic payments
You can sign up for automatic payments. For this, you will get the benefit of 0.25% on your interest rate. The payment will be deducted automatically from your account every month.
For other queries, you can contact them on -
Edfinancial address - 120 N Seven Oaks Dr, Knoxville, TN 37922

---
Edfinancial Services Repayment Plans
Below are the repayment plans a borrower can enroll in. Various other ways of repayment of student loans are also given.
1 - Income-driven repayment plans
The income-driven repayment plan is carved to decrease your monthly payments on student loan debt. It reflects loan repayment amounts on the bases of your income, federal student loan debt, and family size.
If you apply for repayment plans, you may go with the process of forbearance which gives you time to get all the relevant documentation to determine your eligibility. Once you get an approval for income-driven repayment plan then your amount will be reduced and it will be valid for 12 months. This plan needs to be approved every 12 months.
a) Revised Pay As You Earn (REPAYE)
In this repayment program, your interest gets subsidized which will help you to control your loan balance.
They are flexible with the disbursement date there no restrictions on it with REPAYE. For undergraduate loans, your repayment should be made in 20 years, and for graduate loans, in 25 years.
By looking at your family size, income, and current federal debt, this program will lower down your monthly payments.
b) Income-Contingent Repayment
ICR generally permits borrowers to make their payments based on their income, family size, and current federal debt. 20% of their discretionary income will go towards the payment and they will have 12 years to repay the total amount if they use standard amortization based on their yearly gross income.
Once you have made monthly qualifying payments for 25 years, your remaining debt is eligible for forgiveness.
2 - Public Service Loan Forgiveness (PSLF)
After making 10 years of qualified payments, or 120 payments, the government tends to forgive the remaining loan amount if you're working in a non-profit or public sector. It is only available for federal student loans. Some of the professionals who can opt for this are nurses, teachers, and more.
3 - Discharge
In case of permanent disability, you might be granted a discharge under permanent disability discharge. There are several other kinds of loan discharge available for you such as closed school discharge if your school closes while you're studying there, are bankrupt, got involved in theft, and more.
4 - Forbearance or Deferment
If you can't pay your loans then there are other options to opt for such as Deferment or Forbearance. It allows you to take more time on your repayments by placing a temporary suspension on it.
Generally, Deferment is a good option than Forbearance. You may ask why? It is because if you apply for Deferment and you receive it then your Subsidized Loan, the interest on your loan will be taken care of by the federal government. The eligibility aspect for Deferment is based on in-school deferment, unemployment deferment, or income.
If you don't qualify for a deferment, you can go for forbearance. Under forbearance, any loan type will accrue interest daily. You may qualify for forbearance on hardship forbearance or your income or loan debt burden forbearance.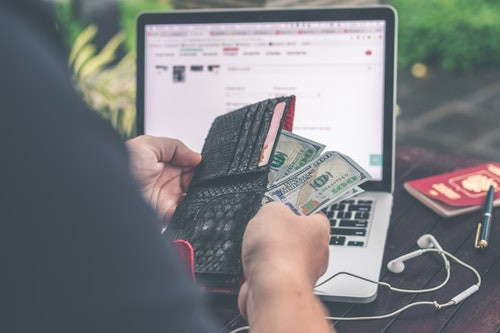 Source: pexels.com
---
Benefits of Edfinancial Services
When you have applied for Federal Loans and you land up with an Edfinancial servicer, then you should visit their website which provides you an ample amount of information regarding loans. It is designed in such a way that borrowers can easily scroll through relevant topics and pieces of information.
One of the tools which they have is a student loan calculator which gives you an idea of repayment options and shows you calculations regarding interest to be paid.
There is an entire page for military benefits, if you have served or currently serving the country then there are lots of benefits and repayment options for you.
---
Edfinancial Services Reviews
Edfinancial servicers have received 12,900 complaints in one year. The Consumer Financial Protection Bureau usually receives these complaints from consumers.
Even the Better Business Bureau has received 34 complaints regarding the organization. Most of the complaints are regarding their billing process.
It's not always Edfinancial's fault, sometimes it is borrower's fault as well. Many cases happen when a customer makes a complaint regarding having more payment balance then they borrowed but they don't calculate the interest accrued under deferment or forbearance
Many borrowers also forget to update their billing address in case of changing their residence.
So, to dodge these types of problems you need to make sure your account details are up to date with your current phone number and mailing address. You should always be smart when you make a call to Edfinancial services by keeping the record of time, date, and the name of the representative you spoke with.
Issues with servicer
1 - Loan Transferring process complaints
As you don't get to choose which servicer you will receive for your student loans so you have no other choice than that. On top of that, you can't have control over changing the servicer. The servicer will automatically get changed.
During this process many borrowers face problems. Several borrowers have reported that Edfinancial has transferred their loan to a different servicer. They reported credit bureaus that the loans were delinquent loans transferred from Edfinancial to another servicer, and are being reported incorrectly. As wrongly reported by Edfinancial, the borrower's credit got tanked.
There was another case where the borrower was in their in-school deferment period and their servicer was transferred and Edfinancial had reported the loan as delinquent. The new servicer received and accepted the loan and reported it as current.
This type of complaint arises only when the company is not careful in reporting the forbearance and deferment loans.
2 - Slow Customer Service
What if suddenly you have a huge financial change in your life? It will raise your financial problems and it will affect your loan payments too. Fortunately, you have income-based repayment plans for this. Under Edfinancial student loan servicer, many borrowers have reported that due to bad customer service their application process for IBR has been quite slow.
One of the borrowers has reported that her application was rejected wrongly though she provided relevant documentation.
Source: pexels.com
3 - On the other hand excessive phone calls
Edfinancial services tend to frustrate borrowers by calling continuously if their loans have gone into default. In one of the cases, the borrower had gone delinquent on his loans and the company kept calling his Ex-spouse. After getting frustrated, she requested to be taken off the call list but they refused to do so and kept calling her.
4 - Problem with Loan Payments
There are some complaints related to loan payments for not getting charged properly on the principal loan amount. The principal amount is paid at the end after you pay all the outstanding fees and interest.
There was one complaint regarding the principle wrongly misapplied on the loan. One of the consumers had gone through the online payment service of Edfinancial's which is Kwikpay.
After having a 20 minutes phone call with a representative to adjust, the borrower used Kwikpay.
Before completing all the required process, the borrower applied for the loan and checked the account, and was charged for two loans when he just applied for one.
After making several phone calls, it got rectified.
---
How to make complaints about Edfinancial?
You could start by filing a complaint with Edfinancial's Customer Resolutions Unit if you are facing any difficulty while working with them.
Email: CustomerResolutionsUnit@edfinancial.com.
Despite doing this, if your issue remains unresolved, you could make complaints to the following:
You would do well to preserve records of conversations that you have, including the day, time, and information about the customer service representative that you spoke with. Also save copies of any letters, bills, or emails about your account.
---
Avoiding scams
1. Always be aware of your loan servicer, lender, types of loans, etc. So that you can make the right choices to save your money and time. If you are not aware of the kind of loan you are enrolled in, please the details to your servicer. And if you are unaware of the servicer check for details in NSLDS, or My federal student Aid. Most of the details are provided online, servicer, lenders, and contact details.
2. When servicers claim to help you with a loan forgiveness program always know which types of loans are eligible for forgiveness, and also remember any loan forgiveness program requires you to pay consecutive payments without fail and also for many years so that you can apply for forgiveness.
3. Ideally, consolidation, refinancing, etc are the services the loan servicer must provide for free, hence when charged extra, contact the customer support to know more details about it. Do not pay money for services that should be provided freely by the servicer.

4. Never share /give sensitive information like power of attorney etc to any lender /servicer. Always check NSDLS to know servicer.
---
How to settle disputes with Edfinancial?
You could approach the Federal Student Aid Ombudsman Group if a complaint fails to help. But this should only be used as a last resort. All the information on the Ombudsman Information Checklist before you contact them. You could use the following means to contact them:
Phone: 877-557-2575
By mail: U.S. Department of Education
FSA Ombudsman Group
P.O. Box 1843
Monticello, KY 42633
Student loans non-profits like The Institute of Student Loan Advisors could help you with free dispute resolution.
---
How to get in touch with Edfinancial customer service?
Their contact number: 1-800-887-6130
They operate from 8 a.m. to 8:30 p.m. ET from Monday to Thursday and from 8 a.m. to 6 p.m. ET on Fridays.
Address for loan payments:
U.S. Department of Education
P.O. Box 4830
Portland, OR 97208-4830
Address for general correspondence:
Edfinancial Services
P.O. Box 36008
Knoxville, TN 37930-6008
Email: Use the online form.
The only drawback of getting a Federal student loan is that you don't have the right to choose your servicer. This is not good news for borrowers because if you face any problems with Edfinancial then you can't do anything. You have no options to change your servicer.
However, on the bright side, they have a good website and their representatives are always ready to help borrowers to find the best repayment options.
You should always keep a close eye on your accounts and credit report to be sure that payments are charged appropriately.