Do You Have the Best Student Loan Servicer in 2022?
Learn the difference between lenders and loan servicers and find out what they do and how to get in touch with them in 2022.
Updated by Gowtham Ramesh on 20th July 2022
If you are currently applying or have recently applied for a Federal Student Loan, chances are you have probably come across student loan servicers. If you aren't already aware of what they do, then you might be left scratching your head as to what they are and what role they play in your student loans.
We know that the entire student loan process can get confusing, but don't worry. In this article, we'll take a look at what servicers are, what they do, and more. Is your loan being serviced by the best student loan servicer? Read on to find out!
What are Federal Student Loan Servicers?
The company or organization which provides your student loan is the lender. In the case of Federal student loans, the lender is the federal government — or to be accurate, it's the U.S Department of Education (DoE).
Once the federal government has lent you money to pay for your college education, you'll then need to work with student loan servicers to repay the DoE. It's a good idea to get to know what loan servicers do, as you may be working with them for a long period.
A student loan servicer is a company that manages or services the loan repayments, and its main job is to be an intermediary between you and your loan lender. It manages all the payments that are made by a borrower but can also do many other things beyond that. 
What Do Student Loan Servicers Do?
Loan servicers perform many functions. Let's take a look at them:
1. They collect and track your payments.
A servicer's primary purpose is to manage student loans, whether for the federal government or for private lenders. This means that even if you have a federal loan, you will be working with a private company as you repay your balance.
Once the first loan amount is given to you, your assigned servicer will get in touch with you. You must immediately register an account on the company's website to ensure you can keep track of everything (amounts you've taken out, payments you've made, and interest accrued). Your account is also where you can go to pay some of the interest before it gets added to your principal amount (capitalizes).
Your first loan bill will be sent to you six months after you've graduated or left school.
2. They can help you set up repayment plans and help you customize payments.
When your loan is first assigned to a servicer, you will most likely be placed on the standard 10-year repayment plan. It will remain on this plan unless you specifically ask to change it during the exit counseling session you get upon leaving school. 10-year plans mean you'll need to pay your balance back in that period, which essentially means you pay a fixed balance every month for a total of 120 payments.
Create an account with your servicer and get in touch with your bank when you need to start making payments. Servicers reduce the interest rate by 0.25%. If you have opted for automatic payment, it will save you around $1,000 in total payments based on the amount you owe and the term.
If you feel you might struggle to repay your loan in ten years or you are currently struggling with your monthly loan payments, your servicer can help you switch to a repayment plan that works better for you. It will cap your monthly payments at a percentage of your income.
Additionally, there may be times when you might want to pay off certain loans before the others (such as trying to pay down balances with higher interest rates). If you're reasonably able to add more to your payment every now and then, always talk to your servicer about how to apply the extra money. Otherwise, it will be paid toward your bill the following month.
3. They assist with forbearance and deferment.
If you want to temporarily halt your federal student loan payments due to hardship, your servicer can help. You can opt for deferment or forbearance for your federal loans. 
4. They help you certify your loan forgiveness eligibility.
There are situations when you may qualify for loan forgiveness, such as if you've been working in certain industries for a certain period of time. Your servicer can help you stay on track to receive your benefit by helping you to determine if you have eligible loans, and so on.
Note that if you do apply for loan forgiveness, there is a chance you may need to switch servicers. For example, if you apply for PSLF (public service loan forgiveness), you'll need to switch your provider to FedLoan (until December 2022) or MOHELA (after December 2022).
On Direct Loan Consolidation
Another thing that servicers can do for you is to consolidate multiple loans into one balance with a singular interest rate. You can do this by taking out a Direct Consolidation Loan so you won't have to deal with multiple balances, different interest rates, and multiple servicers.
Although loan consolidation certainly has its benefits, it also has its drawbacks. For example, you'll reset payments you've made that counted toward student loan forgiveness. Not even the best student loan consolidation servicer can bypass this disadvantage.
Can You Choose Your Federal Loan Servicer?
Generally, borrowers are not able to choose their loan servicer as the federal government assigns them. The Department of Education gives a score to loan servicer companies every three months based on loan collection success and customer satisfaction. The loans are then assigned based on the score of the loan servicer.
Unfortunately, even when you do the research and figure out the best federal loan servicer for you, you still cannot choose to have your loan serviced by them. The only time you can choose is if you take out a direct consolidation loan. With such a loan, you can sometimes choose the best federal loan servicer for consolidation — if your student loan(s) qualify. Remember that even if you choose the best loan consolidation servicer, you still cannot avoid some of the disadvantages of consolidating your loans.
How to Find Your Student Loan Servicer
Generally, your loans are assigned to the loan servicer by the U.S Department of Education after the initial amount is paid out.
Head to the National Student Data System, the central database for student aid under the U.S Department of Education, to find your servicer. You can also find out more about your loan balances and payments here.
To access your information, you need your Federal Student Aid (FSA) ID number. You should have received your FSA ID when you first applied for financial aid by filling out the Free Application for Federal Student Aid (FAFSA).
If you have a private student loan, you can take a look at the credit reports or loan statements. 
Is Your Loan with the Best Federal Loan Servicer?
What student loan companies are federal?
The federal government has assigned these companies specifically to service federal loans. These are the only servicers that the DoE is working with, so if anyone else contacts you saying you need to pay your loans to them, ignore them.
A few of the companies on this list will have their contracts come to an end in December of 2023, so your servicer may change then.
The current servicers are:
Great Lakes (although its loans are currently being transferred to Nelnet)
EdFinancial (HESC)
Aidvantage (Maximus)
MOHELA
OSLA
Nelnet
Because the Department of Education increased performance standard expectations when it extended these companies' contracts to the end of 2023, these companies are now the best student loan servicers 2022 has to offer. 
2022 Student Loan Servicers
There are currently six student loan servicers with contracts to the end of 2023, as seen in the chart below. This chart from the CFPB shows the total complaints received by each servicer from 12/1/2011 to 7/14/22 with regard to federal loan servicing.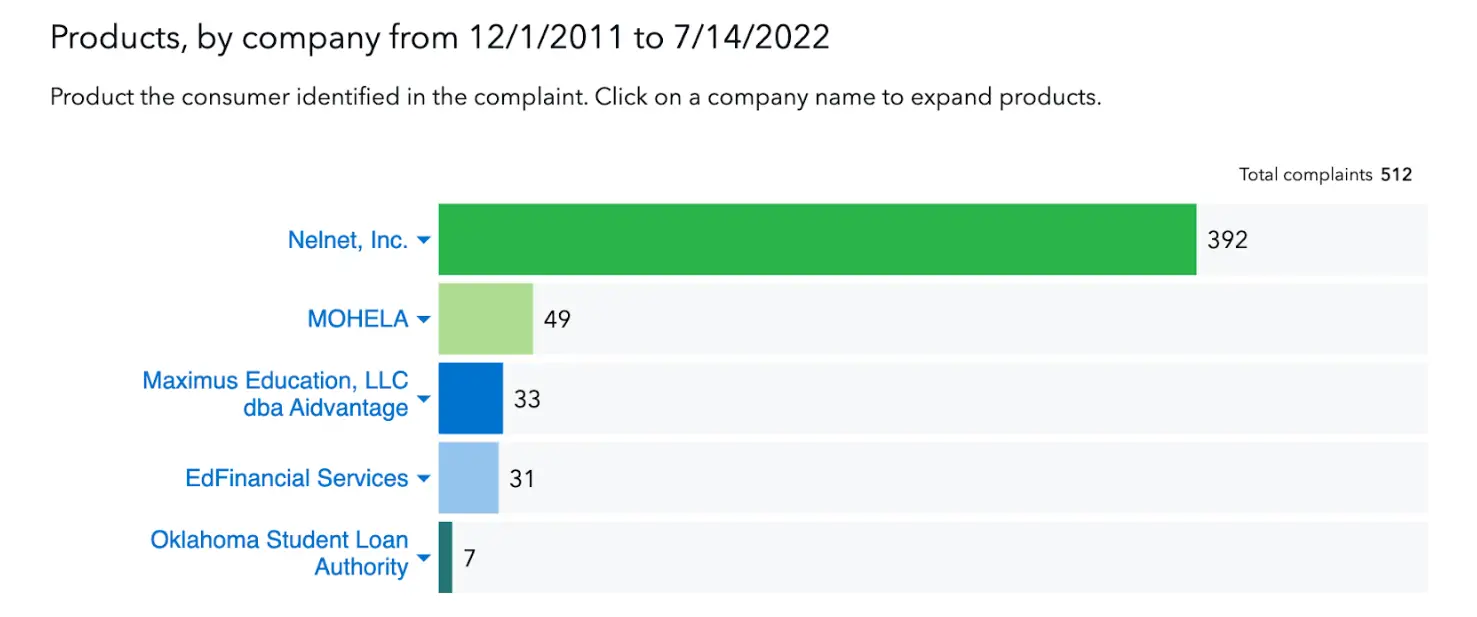 The reason for complaints varies, with a majority being about dealing with the servicer. Other reasons include struggling with repayment, incorrect report information, and more.
As you can see in this chart, Nelnet has the most complaints at 392, and OSLA has the least at 7.
Let's take a closer look at the servicers below.
Great Lakes is currently in the process of transferring all its loans to Nelnet.
Nelnet offers educational and financial services and provides several ways for borrowers to make payments. Its services include loan servicing and payment processing, education planning, and asset management. 
Mission
Providing superior customer experiences
To create an amazing work environment
To pursue opportunities for diversification and growth
To communicate openly and honestly
To give back to the community in which we live and work
Reviews
There are some drawbacks to Nelnet, one of which is their website which has a lack of transparency.
The company offers its customer service 24/7, but that doesn't always mean customers will be happy — just look at the 392 complaints against it on CFPB. Is it the best federal student loan servicer? Probably not. It's worth noting Nelnet was set to lose its contract in 2020 until it was given an extension to the end of 2023. But, to be fair to Nelnet, they are one of the largest servicers around. If you consider the fact that when combined with Great Lakes, Nelnet services 42% of federal student loans, the number of complaints is less egregious.
On the bright side, Nelnet servicing helps its student borrowers sign up for federal benefits such as forbearance, deferment, or income-driven repayment plans, and even provides some access to private loans through their partnership with some third-party companies.
Get in Touch with Nelnet
Phone - 1-888-486-4722
Mailing Address
Nelnet
P.O. Box 82561
Lincoln, NE 68501-2561
MOHELA (Missouri Higher Education Loan Authority) is a nationally-recognized leader in student loan servicing and higher education financing. It is headquartered in St. Louis, Missouri and has an operating center in Columbia, Missouri and another office in Washington, DC. MOHELA's prime focus is on student loan servicing.
Mission
MOHELA strives to provide its customers with a first-rate experience. To aid in repaying their student loans, they always try to listen, offer customized solutions to meet the specific needs of every customer, and provide superior guidance as a dedicated resource expert.
Reviews
Some say MOHELA is well-trained to understand federal policy and regulations which at this point should be expected considering MOHELA will take PSLF applications over from FedLoan at the end of December 2022. Others have clearly stated that this company is skilled in offering excellent customer service.
Get in Touch with MOHELA
Phone - 1-888-866-4352
Mailing Address
MOHELA
633 Spirit Drive
Chesterfield, MO 63005-1243
Aidvantage is an arm of the company Maximus, Inc. It services federal student loans and has recently taken on all of Navient's loans. It will be one of the five companies that will continue servicing loans after contracts with the DoE end in December 2023.
Mission
Aidvantage states right on its front page that it only has one mission: to help you manage the repayment of loans you owe to the US Department of Education.
Reviews
Unfortunately, Aidvantage does not appear to be doing very well in terms of reviews lately. There are a few reasons for the complaints, but the majority revolve around issues related to dealing with the company. To be fair to Aidvantage, they handle millions of loans — especially after absorbing Navient's. Thus, it only makes sense they'd have a few complaints.
Get in Touch with Aidvantage
You can reach Aidvantage through the methods here.
EdFinancial Services  is headquartered in Knoxville, Tennessee. It provides services that include answering questions, helping students with repayment plans, and processing student loan payments.
It's worth mentioning that EdFinancial will be one of five companies that the DoE will continue using after contracts expire in 2023.
Mission
Being in the industry for over 25 years, the sole mission of EdFinancial is to find a better way to deliver exceptional student loan servicing for students and families worldwide.
"Doing the right thing for our customers and each other makes the world a better place" is boldly written on their portal.
Reviews
Borrowers have reported that when they fell behind in payments, EdFinancial services always looked for a solution instead of casting blame or making them feel negative about their situation as other services did.
Get in Touch with EdFinancial
Phone
1-855-337-6884
1-800-337-6884
Mailing Address
EdFinancial Services
P.O. Box 36008
Knoxville, TN 37930-6008
Oklahoma Student Loan Authority (OSLA) was created in the year 1972 to function as a public trust by Oklahoma legislature for the benefit of appropriate funds.
Reviews
Reviews on OSLA from a few customers suggest that the visitors lack the required information they seek and need which could help them in deciding on how they move around. OSLA has a ton of reviews from people, both positive and negative.
One benefit of using OSLA servicing is that your OSLA student loans can be refinanced by taking out a new loan with some private lender which pays off all pending debts. Refinancing is one of two ways you easily switch loan servicers if OSLA services aren't satisfactory.
Get in Touch with OSLA
Phone - 1-866-264-9762
Mailing Address - (for general correspondence)
OSLA
P.O. Box 18475
Oklahoma City, OK 73154-0475
How to resolve issues with your Federal Loan Servicers
It's a good idea to get to know your rights as a loan borrower and educate yourself on your debt. You should also learn about manageable and cost-effective methods of paying down your balance. However, no matter how much you learn, that won't always prevent issues with your servicer. Here's how you can potentially resolve issues if they arise:
Loan Servicer
The first person that you need to contact if you run into any problems is your loan servicer. Get in touch with them and tell them your problems in specifics.Get a collection of all the records and documentation with the original copies. Take notes of all the names of the agents you had a conversation with and record them.
Ombudsman Group
If your queries or compliant are not solved by your servicer, then you can get in touch with the Federal Student Aid Ombudsman Group for assistance. Once your information on account of the problem has been documented, the group will help you to get it solved in an honest and convenient way.
Consumer Financial Protection Bureau (CFPB)
The CFPB is the final option to consider when both of the options cannot help or address the issue. Submit a complaint that consists of all the details of what the servicer is doing wrong. Then, the CFPB will get it to the servicer in order to address it. CFPB collects all the records of the complaints reported by borrowers.
Is There Anything You Can Do if Your Loan Servicer is One of the Worst?
If your current servicer has brought you nothing but problems, it only makes sense to wonder whether it would be possible to switch to a better one. Unfortunately, you cannot choose, and the DoE doesn't allow you to switch. 
Your only recourse of course is to do a direct loan consolidation, but it comes with its drawbacks. Similar to loan consolidation, you could also attempt to refinance your loans — but you will lose all your federal benefits, like your income-driven repayment plan and your chance to pursue federal student loan forgiveness programs.
How Do Loan Servicers Work for Private Student Loans?
If you hold private student loans from a bank, the Credit Union is more or less a transparent loan servicer who oversees the activities.
Private lenders service the loans by themselves, and then they contract the third-party servicer to manage the student loan. Under any circumstance, you are not allowed to choose your servicer.
Getting ahold of your original paperwork is the best thing to do after taking out your private student loan.
Later on down the line of starting repayment, you are most likely to get contacted by the servicer who then sends you bills, collects them, and processes your payments. It is also possible that your loans are sold by your lender. The current owner of your loan might not be a bank or financial institution.
For a Federal student loan, the servicer does many other things like modifying your repayment plans or setting you up for loan forgiveness. Private loans don't go under the same regulations, and you cannot assume that they will also offer you these student loan services. These loans are less flexible in adjusting your payments. If you are struggling to repay your loan, get in contact with your servicer on what he/she can do for you.
If you find yourself dissatisfied with the private loan servicer then try to resolve the situation with the servicer. You are still free to contact the CFPB for any help you may need.


| | | | | | |
| --- | --- | --- | --- | --- | --- |
|   | Minumum Credit Score | Apply in as little as | Variable APR | Fixed APR |   |
|   | Not Available | 15 minutes or less | 2.95 | 4.74 | Visit Lender |
|   | 640 | 3 minutes or less | 0.94% - 12.99% (1)1 | 3.39% - 13.95% (1)1 | Visit Lender |
|   | Not Available | 15 minutes | 1.13% - 11.23%¹ (with autopay) | 3.50% - 12.60%¹ (with autopay) | Visit Lender |
Your Loan Servicer May Change in 2023
Several federal loan servicers had their contracts with the Department of Education extended to the end of 2023. After those contracts expire, the loans will then get transferred to other servicers. Buckle up, because it might get confusing — especially since many things have been and will continue to change in the coming year or so.
Here's a quick recap on some of the changes thus far:
Navient's contract ended in December of 2021. All loans with Navient transferred to Aidvantage, the loan servicing arm of the American government services company, Maximus, Inc.
FedLoan Servicing, also known as PHEAA, will continue its contract to December 2022. It is currently the only loan servicer that handles PSLA (Public Service Loan Forgiveness) applications, but once its contract ends, all PSLA-enrolled borrowers will be transferred to MOHELA. The rest of the loans will be split up between Aidvantage, Nelnet, and EdFinancial.
Granite State is another servicer that ended its contract in December 2021. All of its loans were moved to EdFinancial.
Great Lakes has already started transferring its loan portfolio in March 2022. All Great Lakes loans will go to Nelnet.
MOHELA, Nelnet, Edfinancial, and OSLA Servicing, will continue to service loans until December 2023.
The US DoE has increased the performance standards required of federal student loans in October of 2021. These standards, aimed at increasing performance, accountability and transparency, are expected from servicers that got their contracts extended to the end of 2023.
Unfortunately, your loan servicer change may not end here, but it's not all bad news.
The US Department of Education recently resolved to shift and improve federal loan servicing. It is poised to sign new contracts soon, this time with five companies only. Once the contracts are signed, all loan servicing will be taken over by these new companies:
H. Cann & Associates
EdFinancial
MOHELA (Missouri Higher Education Loan Authority)
Maximus Federal Services, Inc.
Trellis Company
As you can see, three companies already service loans now. If your loans are currently serviced by EdFinancial, Maximus, or MOHELA, you may no longer see a change in 2023.
If your servicer's contract is ending in 2023, make sure that you save and download your payment history or ask your servicer for a copy. Make sure that you update your account with your new servicer — ensure all your contact information is current.
Frequently Asked Questions
Can I choose my loan servicer?
No, it is assigned to you by the US Department of Education after your loan amount is first disbursed. Your loan is disbursed in at least two payments annually and your loan servicer will contact you after the first payment.
Who do I contact for information regarding my Federal Perkins Loan?
Contact your school where you received your Federal Perkins loan, since there are chances that your school may be the servicer for your loan. Contact the ECSI Federal Perkins Loan Servicer at 1-866-313-3797 if you know that your Federal Perkins Loan has been assigned to ED.
Who do I contact for information about my FFEL Program Loan that isn't owned by ED?
If you have privately-owned FFEL Program loans, contact your lender for details about repayment options and tools for your FFEL Program loans that are not owned by ED.
How much does it cost to consolidate my loans or enroll for an income-repayment plan?
It is free. To do so, contact your loan servicer. If approached by an organization seeking a fee for consolidation or enrollment into a repayment plan, ignore them.
Who are the largest student loan servicers?
With all the changes going on right now, the largest loan servicers have been changing as well. Currently, the largest federal student loan organizations servicing your balances are: EdFinancial (HESC), MOHELA, Navient, Nelnet, OSLA Servicing, and Great Lakes (which is now having its loans transferred to Nelnet).
Are Navient and FedLoan the same?
No — Navient and FedLoan are separate entities. However, FedLoan is also known as PHEAA. You should know that both Navient and FedLoan will no longer be working with the Department of Education moving forward. If you have a Navient-serviced loan, your loan will be transferred to Maximus (Aidvantage) automatically. If your loan is serviced by FedLoan, your loan may be transferred to MOHELA or other servicers. More information is available here and here.
Can you choose your student loan servicer?
Unfortunately, no. There is generally no way for you to choose which servicer your loan will go to, simply because the federal government assigns them. Additionally, throughout the life of your loans, the US Department of Education may change and reassign your servicer for whatever reason they see fit. If your servicer changes, there is no cause for concern — your payments remain the same and your records transfer over automatically.
Conclusion
So which federal loan servicer is the best? Currently, it appears as though EdFinancial and OSLA have some of the best reputations on the CFPB. However, you cannot choose which servicer your loan will go to unless a direct consolidation loan you take out qualifies. Unfortunately, you are stuck with your current servicer even if you'd like to switch to your choice of the best student loan servicer. If you find yourself in a sticky situation with the company servicing your loan, lodging a complaint with the CFPB can help you greatly.