Student Loan Scams and Their Warning Signs
Several common student loan scams happen to charge upfront fees for loan consolidation and debt. Here are 9 warnings to spot the scam and watch for it when looking for student loan debt relief.
Updated by Gowtham Ramesh on 13th August 2020
Right now as we speak there is over $1.5 trillion stuck in student loan debt. Yes, that is billions of dollars being stuck with the students each year.
Well, it's always clear that once you have so much money stuck in one place, chances of scam increases. Scammers try to get your money through offers that have no real information or an idea about it.
If you come across for relief from your student loan and see a case that seems too attractive to be real, it's probably the scammers, as borrowers can't find themselves in the straight line of communication.
They commonly use advertising that you can get a part or full loans forgiven due to a pass in new law or rule.
While you believe it and pay them they just take the money and do nothing. Sometimes they might not rip you completely but charge you a one time or monthly fee for the signing of federal programs - where this program can be signed on your own for free.
In fact, the Consumer Finance Protection Bureau (CFPB) has issued warnings about it and what to look out when getting help from student loans.
Federal trade commission with 11 states and the District of Columbia came up with an Operation Game of Loans, which is a planned effort to address the student loans scams.
Under these court cases, a claim that the company had collected from the student loan under borrowers is around $95 million.
---
Table of contents
---
What is a scam?
When an organization is promising to you on giving a service or product for a fee but doesn't deliver it at all or provides the inadequate product.
A bad agreement is a sign
When a company is providing upfront information for everything it's going to give and do, meet the regulations but doesn't help you much as you thought or costed more than you figured, then it may be a bad agreement for you.
---
Getting help for student loan debt
While getting into the different kinds of scams that are going around the students, let's get some important points on getting help on your student loan debts.
There are a lot of companies posting information online that they can assist you with your loans. These kinds of advertising can be seen on Facebook, Google, and Mails (Yes! to your mailboxes and not your inboxes).
These postings generally consist of things that they will use to help you with settling your student loan debts.
The help might not available and it would be your decision to watch the loans on your own or hire a professional organization to manage the loans for you.
Why help is not available?
Enrollment in repayment programs is open for free of cost for Federal loan borrowers and can be fulfilled at studentloans.gov.

Payment amounts, requirements, and other qualifiers such as paying under IBR, PAYE and other repayment programs are set by Federal law.

Debt relief companies don't have the ability to negotiate with Federal student loan creditors to get a better deal.
---
9 Ways to spot a student loan scam
1. Charging you before you take a loan
It's a clear sign of a scam when a company charges you a fee before it provides at least a part of the service to you. It is a sign of an illegitimate organization.
2. Fees for a free service
If a company that tells that it will help you in filling out forms and help consolidate your federal loans or re-negotiate on the federal loan repayment plan, it is clearly a company trying to scam you.
3. Loan forgiveness promise
Federal forgiveness programs are based on your employment history and there are no private loan forgiveness programs available. Debt relief companies may promise to negotiate a part of the loan that's not guaranteed to work.
4. Lack of online data
If you couldn't find information about the plan which was given by a person who is offering the service anywhere on the company's official website or anywhere else, you might be dealing with a scammer.
5. Demanding to sign up
Make sure to stay away from any company that pressures you to sign up for their services or tries to force you into giving money. These can be found in unrequested phone calls.
6. Asking for social credentials
No legal companies that provide financial assistance will ask for your social credentials like social security number and login credentials. Several fake debt companies collect personal information and make use of them to lock people out of their accounts and asks for payments.
7. The signing of the power of attorney agreement
If a law firm is claiming to be a student aid company and asks you to sign up a power of attorney where they take over your accounts and request you to make repayment through them, then it might be a scam.
8. Too good for you
If you come across any policy or program for your loan which seems too good for your term, it's clear that its a scam and this is a golden rule of spotting it.
9. No professionalism
If you receive any posting from any company with misspelled words, grammatical errors and forcing you to signup in all upper case letters, then this is also a sign of a scam. Unprofessional communication skills is also a sign of the same.
---
Check the provider's legitimacy
We can evaluate the provider's legitimacy by keeping the following in mind:
Check business address
If the company is located in an area where it says it is, better call the nearby businesses and ask if they have heard of the company. You can also do the same by reaching to the local Chamber of Commerce. If no such address is found, then try to call and get the location. If that doesn't work too, it's definitely a trap.
Check the website
See if there is any content about the company. Does the information on the company is disclosed or hidden? Does it look professional enough? All these questions must be asked.
Terms and condition
Look into the terms and conditions of the company. Is there anything that seems to be vague or misleading? If yes, then that could be the cause that can potentially hurt your personal finances.
Past experience with the customer
Read the reviews of customers who have used the company's service before. Try to stick with review sites that have anti-fraud practices and mechanisms in place to make sure the reviews are real.
---
The Advance-Fee Scam
The Advanced Fee Scam involves a student loan company to tell you that it can get you a better interest rate and loan term. But in order to do that, it requires a small fee upfront for the service. They usually charge between 1% to 5% of your loan amount. Sometimes it's up to $1,000.
If you come across this scam please make sure to stay away from them. Under any period of time, you don't need to pay to get better interest on the loan. All legal loans provided by Federal or Private organizations don't require an advanced fee.
Although, if there are any payments that have to be paid, they will be deducted from the check or it will be included in the repayment amount as an installment over the repayment period.
Federal Student loans charge a 1% default fee and no origination fees. Private Loans charge either disbursement fee or origination fee, they are negotiable and vary from one to another lender. They never charge upfront.
The Third-Party Companies who help you with student loan debt might take a fee in advance. These fees would go into a deed that the company should get paid once as they have helped you sign up for a program. Look for a sentence like "We get paid once you have made your first payment on your new repayment program".
---
Worried about college tuition? Read student loans to find a solution
---
Loan Consolidation Scam
Are you a graduate who has multiple student loans? If yes, then consolidation (combining) of your loans will make it easier for you to manage your finances and make your monthly payment lower through the Direct Loan Consolidation Programs. Even Private loans can be refinanced into a new one with a low rate of interest.
Here, the scam is carried out by companies charging you a hefty sum of amount to consolidate your loans without providing you any help or consultation. Most of the time they do nothing after collecting money from people. These fees are named as processing fees, consolidation fees, and administrative fees.
The Department of Education (ED) has issued a warning and notice on its site about the consolidation fees on your loans, as there is no application fee and the process to consolidate student loans is easy.
Federal student loans are free for consolidation. Learn about student loan consolidation
For Private student loans, there are plenty of lenders who are ready to refinance your Federal and Private loans or both. Refinancing is totally different from consolidation where rather combining your loans here, you are actually taking another loan from a new lender to pay off your existing loans.
The comparing tools online will allow you to fill out the form to get various lenders rate in one place. Compare and choose the one that you think suits you.
---
Law Firm Student Aid Scam
Law firm companies calling themselves as student aid company saying that they will negotiate your student debt down for less than a thousand for a fee that are thousands of dollars is a scam.
Often, they ask you to sign a power of attorney agreement to hand over control of your student loan repayment accounts as the negotiation on the loan goes into default.
Typically what happens in a law firm is that they don't make any payment while the process of negotiation with your lender and your loans gets into default. At a certain point of time, they claim you can't pay your bills and try to negotiate a settlement of payment on that.

What happens to you, as a borrower is that your credit score will hit the rock bottom when you have given thousands of dollars to the law firm. In the end, you don't have any guarantee that you will be settling your loans.
Federal student loan debt is non-negotiable and no company can negotiate it so if any companies say that they will, it's a scam. Private student loans cannot be guaranteed that it will be able to negotiate your debts down.
Many law firms say it but will put the money from you into their pockets instead of paying off your debts. It's always better to stay away from companies that provide services to you which can be done by yourself for free of cost.
---
Student Loan Debt Elimination Scam
The most common student loan scam is student loan debt elimination scam. The key most important factor to keep in mind about student loan debts is that it cannot be eliminated unless you have qualifying reasons for the same and have Federal loans.
Companies claim that they can eliminate or reduce your student debt for free. If you come across this sort of message on the internet, by email or get a physical letter, it is a scam.
There are real student loan forgiveness programs available out there but scammers claim that there is no such thing that exists. The forgiveness is based on the income and career-based ability of forgiveness. It's better to contact the federal government on your student loan forgiveness than heading to an outside source.
---
What to do if you have fallen for the scam
You are not alone if you are affected by a student loan scam. Here are a couple of things what we can do to put our feets in.
Cut off all communication with the company
Try to cancel any contracts if you have signed any and demand a full refund. The company won't respond to it. In that case, notify your bank that this company will no longer serve you. Monitor financial activities. There is a small chance of getting sued if a breach of contract occurs.
Reach out to the loan provider
Call the person whoever you are making the student loan repayment to and explain the current situation and ask for what steps you can take. If the control is with the company you need to send a notarized letter revoking this control.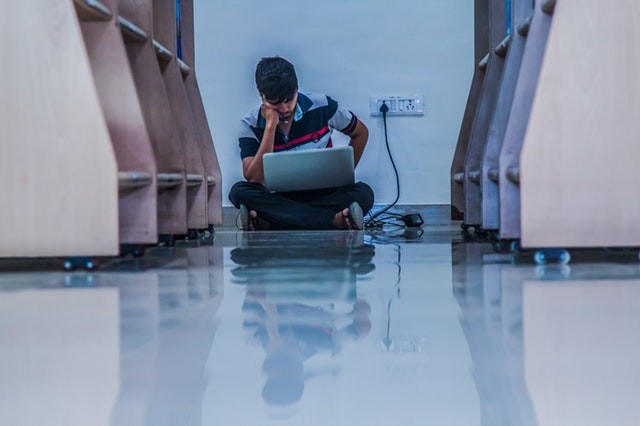 source - pexels.com
File a Complaint
Bring the scammer to justice and prevent others from getting victimized. Consider filing a complaint with the Consumer Financial Protection Bureau, FTC and state attorney general. If matters go right, you will be getting a Lawsuit out of it. Fill in the complaint with the Better Business Bureau, the Department of Education and your representatives in Congress.
Find Assistance
If you haven't acted on time after the scam, chances are your personal finance is in danger. Consider reaching out to a non-profit credit counselor to help you get back on track. Under the Department of Justice website, you can find a government-approved counselor.
---
Some well-known lenders
Scammers are well-known for their pretentious calls to customers. They claim to be from popular organizations and try to scam people who do not have enough knowledge about student loans or organizations. In case you receive any such calls, do NOT divulge any personal, professional or social information about you or anyone in your family. Below listed are the telephone numbers of official organizations. Should you receive any calls which you find suspicious, call the organization at their office.
College Ave Student Loans
Phone number: 844-422-7502 (Loan Applications)
844-803-0736 (Loan Servicing and Repayment)
Sallie Mae
Phone number: 855-756-5626 (New Student Loan Application)
800-472-5543 (Existing Student Loans)
Discover
Phone number: 1-800-DISCOVER
Common Bond
Phone number: 800-975-7812
Can Navient Lawsuits be considered as a result of a scam?
The U.S. Consumer Financial Protection Bureau along with the Illinois and Washington attorney general sued Navient in January 2017 followed by the attorney general of Pennsylvania in October 2017. The Mississippi and California attorney generals filed suits in June and July 2018 respectively.
The CFPB alleged Navient on the grounds of steering struggling borrowers towards multiple forbearances instead of income-driven repayment plans, misallocated payments and providing unclear information about how to re-enroll in income-driven repayment plans and how to qualify for a cosigner release
For any queries, you can contact Navient on their toll-free phone number: 800-722-1300
---
Conclusion
While looking for help in paying off your student loan debt, better stay away from companies that want money upfront or in any firm that makes you feel uncomfortable. Move away from any companies that promise that it can help you with federal loans and forgiveness with some fee, which isn't true. The federal government can help you with it for free of cost.
If you need any help or a better understanding of which type of loans to choose, how they work visit the respective sites and people. Head to the respective persons to clear the doubts that you have on the loans. Reaching out to the servicer about the repayment options on refinancing if you want a more favorable term.
Other Blogs You May Be Interested In -