Commission on Accreditation of Medical Physics Education Programs, Inc. (CAMPEP)
The Commission on Accreditation of Medical Physics Education Programs is a non-profit organization that accredits institutions who provide proficient medical physics programs, post-graduate, doctorate and certification programs.
Commission on Accreditation of Medical Physics Education Programs, Inc. (CAMPEP)
Commission on Accreditation of Medical Physics is a non-profit organization that helps to promote consistency and quality in Medical Physics education by continuous and efficient evaluation. This organization ultimately reviews and promotes Medical Physics programs.
The CAMPEP accredits graduate education programs, residency education programs, professional Doctorate in Medical Physics degree programs, certificate level programs, as well as continuing education programs.
Accreditation is granted only if the rigorous standards of education and training set by the CAMPEP are met by the institution.
---
History of CAMPEP
The accreditation of Medical Physics Educational Programs began in 1980.
Few programs to first receive accreditation include medical physics graduate programs in the Wayne State University (1988), The University of Wisconsin (1988), The University of Texas Houston (1989), and McGill University (1993).
CAMPEP was first formed and incorporated in Illinois in 1994.
The commission was first sponsored by three US organizations including American College of Medical Physics.
Though the Canadian College of Physicists in Medicine joined as a sponsor in 2001, it was replaced by COMP in 2010.
[Also Read: What is Accreditation in Colleges and Universities?]
It was in 2012 that RSNA and ASTRO joined. The Washington University School of Medicine's residency program was first such program to be accredited by the commission.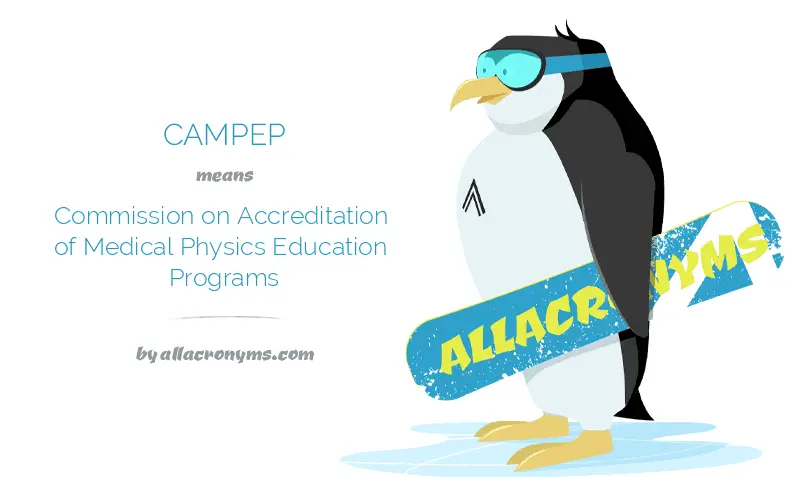 source - allacronyms.com
---
Purpose of CAMPEP accreditation
Few goals of the CAMPEP programs are given below.
The accreditation ensures the status of education and training that the candidate has undergone.

The programs that received accreditation are publicly identified.

The accredited programs should follow a continuous quality improvement regime.

To facilitate higher quality decision-making process, in the accreditation of the educational program.

Continuous review, assessment, and improvement of the accreditation process should happen.
---
Sponsoring organizations of CAMPEP
Some of the organizations that sponsor CAMPEP are given below.
American Association for Physicists in Medicine (AAPM)

American College of Radiology (ACR)

Canadian Organization of Medical Physicists (COMP)

Radiological Society of North America (RSNA)

American Society of Radiation Oncology (ASTRO)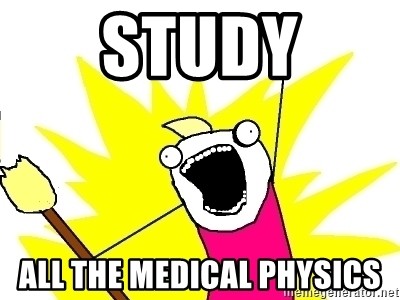 Source: Meme Generator
---
Eligibility requirements for CAMPEP accreditation
The eligibility requirements mandatory for accreditation from CAMPEP are as follows. 
The foundations in the United States that offer graduate degrees in Medical Physics must be authorized by an accreditation affiliation by the US Department of Education or the Council for Higher Education Accreditation.

Graduate guideline ought to be overseen and seen by an appropriate coordinating leading body of trustees, which is driven by the program boss or delegate and meets formally not as much as twice every year.

Students entering the Medical Physics graduate program ought to have a solid base in fundamental Physical Science.

There should be an adequate number of program resources accessible and school should have adequate time for educating and exhorting graduate & undergraduates.

The organization should have every single fundamental office facilities like instructive assets, registering assets, meeting rooms, varying media offices, and office bolster.

The foundation should express its feeling of obligation with respect to long-run cash related and the definitive help of the graduate program.

The program should have a structure that empowers open talks and correspondence and encourages the trading of information, experience, and thoughts.

Students ought to have diaries, books and different assets promptly accessible with them.

Graduates may be given a framework for standard assessment concerning the idea of their heading and the genuineness of their teachers and guides. The graduates may be protected from the ridiculous striking back.
---
Universities accredited by the CAMPEP
Few institutions accredited by the CAMPEP are given below.
Columbia University

East Carolina University

Florida Atlantic University

Georgia Institute of Technology

Hofstra University

Louisiana State University
---
Decision-making bodies of CAMPEP
The basic leadership bodies comprise of Board of Directors and Review Committees or Survey Councils.
The Board of Directors is the zenith body that takes every one of the choices with respect to accreditations. The Board of Directors are given below.
President

Vice President

Treasurer

Chairperson of the Graduate Training Program

Residency Education Program and Continuing Education Credit

Executive Secretary and 7 different individuals.
The survey councils are of three kinds - 
Graduate Education Program - 12 individuals including Chairperson and Vice Executive.

Residency instruction program - 11 individuals including the Chairperson and Vice Chairperson.

Continuing Education Credit Board - 10 individuals including Chairperson.
---
Conclusion
The CAMPEP is an organization that aims at advancement in Medical Physics. The contributions of CAMPEP since its inception have created trustworthy programs for students to take up.
Not only the educational arena but also the Medical Physics professional arena has been influenced by the organization. Before applying to any of the universities make sure that the program has received accreditation from accrediting agencies recognized by the United States Department of Education.
Frequently Asked Questions
1.When was CAMPEP formed?

CAMPEP was formed in Illinois in 1994.

2.How long is the provisional accreditation of CAMPEP valid?

Provisional accreditation is granted to institutions if students have not been graduated or admitted. In this case, the maximum duration of accreditation is 3 years.

3.What works are performed by Medical Physicists?

Medical Physicists play an important role in applying physics applications to diagnose or treat a disease. They continuously maintain and improve the quality of medical equipment.

4.What are the different accreditation statuses under the CAMPEP?

The various accreditation statuses under the CAMPEP include Initial Accreditation, Provisional Accreditation, Accreditation Deferred, and Accreditation Withheld.

5.How does CAMPEP receive its funding?

CAMPEP receives the resources for its functioning from sponsors including the American Association of Physicists in Medicine, American College of Radiology, American Society for Radiation Oncology, Canadian Organization for Medical Physicists, Radiological Society of North America and many more.

6.Does CAMPEP offer scholarships?

Though CAMPEP does not offer scholarships, it permits students to receive funding in the form of scholarships, grants, and loans.