What Is a Graduate Degree?
In this article, answer questions like, what is a graduate degree, what is a postgraduate degree, and more.
Updated by TCM Staff on 13th August 2021
While browsing through college programs, you might come across different programs of study and types of degrees. You might be wondering, "what is a graduate degree," or "what is a graduate program?"
A graduate degree is an advanced academic degree offered to a student after completing a master's program or doctorate program. Graduate degrees offer specialized education in any given field of study and offer countless benefits upon completion.
More and more students are considering graduate education. In the United States, 13.1% of people have graduate degrees, about 5% higher than 20 years ago.
Usually, you need to get an undergraduate degree before pursuing graduate studies. Here's everything you need to know about a graduate degree, including all the different types of graduate degrees, graduate degree meaning, benefits of a graduate degree, and more.
What Is a Graduate Degree?
The graduate degree definition is a degree program that you can usually only pursue after completing an undergraduate degree. Degree durations vary from 2-6 years, depending on the course and educational institution. Graduate degrees give a deep knowledge in a subject, and help students excel in professional life.
When you first picked your major and courses for your undergraduate studies, you might have noticed that there were tons of programs and courses to choose from. That's also true for graduate degrees, but the courses and programs are even more specific since graduate degrees are more specialized. Instead of Russian History in the 1800s, you might see a graduate specialization of Technology, Economy and Society in 1800s Soviet Russia, for example.
Graduate degrees require completion of 36-54 semester credits or 60-90 quarter credits.
Also Read: How many credits do you need to graduate college?
Graduate vs Undergraduate Degree
4 Benefits of a Graduate Degree
Graduate degrees offer many benefits. People embark on advanced study for personal growth and interest, as well as for career advancement. Here are 3 important benefits of obtaining a graduate degree:
1. Diversify Career Options
The US Bureau of Labor Statistics predicts that in 2022, 18% more jobs will require a graduate degree from prospective candidates. Additionally, graduate degrees can help you move up to higher positions in your current workplace. For example, some companies encourage their employees to obtain an MBA to grow their careers.
2. Improve Earning Potential
Professionals with graduate degrees earn an average of 28% more than professionals with only undergraduate degrees. Despite the high upfront cost of a master's degree, many graduate degrees offer a significant return on investment.
3. Broaden Your Professional Network
Graduate school offers you opportunities to broaden your network. You can join various organizations, attend graduate events, talk to your professors, and gain access to other career professionals in your field through alumni networks.
4. Indulge Your Interests
Graduate degrees are practical in their career and networking benefits. But, a less practical benefit is its fulfillment of a personal passion. To specialize in a graduate degree, a person is usually quite interested in the field. Graduate degrees offer you a way to dive into that field and learn to your heart's content.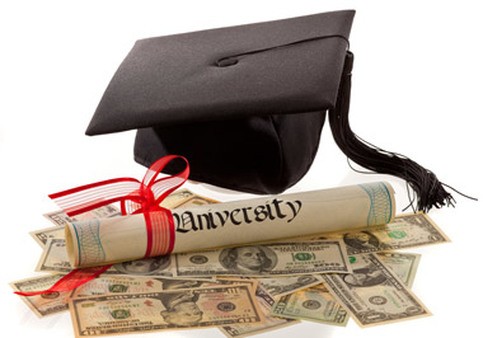 Source: Graduatedegreegenbutsu
Eligibility Criteria for Admission to a Graduate Degree Program
Completing a graduate degree isn't a walk in the park. Neither is getting accepted into a graduate program. Here are some common eligibility criteria for graduate degree programs:
Completed undergraduate degree (for a master's), with a specific GPA minimum and transcripts
Completed graduate degree (for a Ph.D.), with a specific GPA minimum and transcripts
GRE or GMAT score
Personal essay
Resume or CV
High school transcripts
TOEFL, IELTS, or PTE scores for international applicants
Types of Graduate Degrees
There are two types of graduate degrees: Master's degrees and Ph.D./Doctorate Degrees. Although many people commonly mean "master's degree" when they speak about graduate studies, doctorate degrees are also included in the graduate degree definition. You might wonder, "what is a postgraduate degree?" These are commonly doctorate degrees.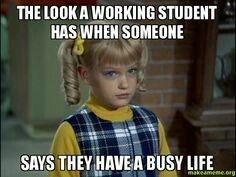 Source: Pinterest
What Is a Master's Degree?
A master's degree is the more common graduate degree choice for students compared to a doctorate degree. It offers specialized learning and study in a particular subject and usually requires 1-3 years for completion. The curriculum is rigorous and colleges expect students to look for research and innovation. You can enroll in a Master's Degree program after completing a 4-year undergraduate degree. Online master's degree programs are also available.
Why is a Master's Degree Important?
There are several reasons why a Master's degree is important. A few of the reasons are as given below.
If you're interested in a particular subject, it is a perfect degree for you. It provides specialization in the subject and also prepares you for the research on that subject.
The job opportunities increase after completing a Master's Degree as you become specialized in a particular subject. It helps in career development and can advance you to top positions in an organization if you have the relevant skills.
The degree can impress employers. If you wish to change the subjects which you've studied for an undergraduate degree, this would be a perfect chance for you.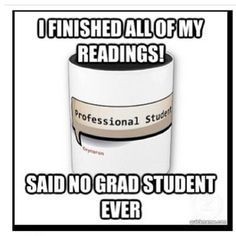 Source: Pinterest
Types of Master's Degrees
Here are the different types of master's degrees:
MA or Master of Arts- This degree focuses on the subjects of social sciences, humanities, or fine arts. Students receive lectures and seminars on various topics. An MA usually takes 2 years to complete. Some fields of study for an MS are MA in Political Science, MA in Spanish, MA in International Relations, and many others.
MS or Master of Science- This degree focuses on technical or science-based subjects. Some fields of study for an MS are MS in Environmental Science, MS in Mathematics, MS in Psychology, and many others. An MS usually takes two years to complete.
M. Phil or Master of Philosophy- The degree is a postgraduate research degree. It consists of independent projects and usually takes 2 years to complete.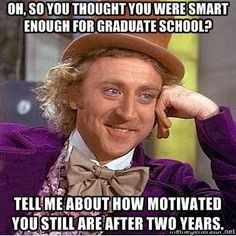 Source: Pinterest
Specialized Graduate Degrees
Here are some examples of specialized graduate, master's degrees:
M.Arch or Master of Architecture
MSW or Master of Social Work
MBA or Master of Business Administration
MPA or Master of Public Administration
MPH or Master of Public Health
LLM or Master of Laws
MA in Economics- The degree provides knowledge in the field of economics and includes concepts such as Financial Analysis, Macroeconomics Theory, Business Leadership, and Human Values, and more.
MS in Health Science- The degree provides knowledge in subjects such as Biostatics, Environment Health Sciences, Botany, and more.
MA in Information Systems and Technology- The course includes subjects such as IT Strategy, Information Systems, Enterprise Networking, and many others.
MA in Literature- The degree includes children's literature, philosophy, comparative literature, and more.
MA in Theology- The degree includes subjects such as world religions, history, and religion in various centuries.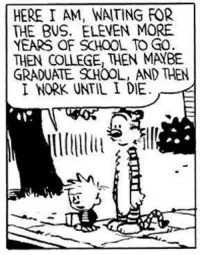 Source: Funny
Colleges/Universities That Offer Master's Degrees
Luckily, many universities and colleges in the United States offer master's degrees.
Career Opportunities After a Master's Degree
Here are some career paths you can take after graduating from a master's degree program:
Economist
Psychologist
Librarian
Clinical Therapist
Dietician
Genetic Counselor
Public Policy Analyst
Chief Executive Officer
What Is a PhD or Doctorate Degree?
Are you wondering, "what is a postgraduate degree," or "what is a doctorate degree?" A doctorate degree is the most advanced degree you can obtain. Doctorate degrees usually require at least 4 years for completion, sometimes even up to 8 years. Imagine the specialized nature of a master's degree — now, multiply that by 10. People that hold doctorate degrees are usually experts in their fields. Doctorate degrees also provide specific training for certain professional practices.
Doctorate studies are largely independent. Students spend a lot of their time researching a topic that's approved by a professor and form an original thesis for their dissertation. Universities and colleges often require Ph.Ds from candidates interested in job postings as a professor.
You can pursue a Doctorate Degree after completing a Master's Degree program. However, some universities allow students to pursue their Ph.D. directly after the completion of a Bachelor's Degree.
Eligibility Criteria for Admission to a Ph.D./ Doctorate Program
Here are some eligibility requirements that colleges use to consider candidates for a doctorate program:
Completed Bachelor's or Master's Degree (usually a Master's degree is required, but this varies by the program of study and institution)
High GPA
Professor mentorship
Standardized tests
GRE scores are mandatory.
TOEFL, IELTS exam tests for non-native English speakers
Statement/Essay of purpose
Ph.D. research proposal
Letters of recommendation.
Resume or a CV
Academic transcripts
Candidates must also present a viva (viva voce), or an oral test, to defend their theses. Vivas takes place in front of a panel of professors and can last up to 3 hours. Online doctorate degrees are available as well. Finally, doctorate degrees consist of 600-120 credits.
Types of Doctorate Degrees
Here are some of the different types of doctorate degrees:
Professional Doctorate Degrees
Professional doctorate degrees are in a particular field or subject. They provide application-based practices and require research work and analysis. You may need some experience before enrolling in this type of degree program.
Some examples of professional doctorate degrees include:
JD or Juris Doctor Degree: If you're interested in embarking on a career in law, you should consider enrolling in a JD program. The program takes 3 years to complete and teaches students about legal principles, practices, and institutions. Not only could you become a lawyer with this degree — you could also teach lawyers as a university professor. Completing a JD makes you an expert in the legal field.
Doctor of Public Health: This degree prepares you for leadership positions in the healthcare and public health sector. It provides skills in communication, management, and innovation.
Doctor of Business Administration: This degree helps you develop advanced knowledge of management and business.
Doctor of Nursing Practice (DNP degree): This research-oriented degree provides practice and application-based knowledge to students in the nursing profession. The degree is designed for careers in patient care and team administration in the healthcare and clinical setting.
Doctor of Public Administration: is aimed to develop leadership qualities in an individual and teaches them to make an impact on public and private organizations. It deals with issues such as criminal justice, good governance, public policy, and many others.
Doctor of Medicine or MD: This 4-year degree combines practical clinical and medical practices with coursework. If you want to become a doctor, you need to complete an MD program. MD students must also complete a residency program to gain real-time experience.
Doctor of Dental Surgery: This 4-year program combines theoretical and practical applications for students and dentists that wish to become surgeons. It provides training on dental anatomy and the care of the patients.
Research Doctorate Degrees
This type of degree is focused on traditional subjects and original, publishable research that deepens one's theoretical understanding of a subject.
A common research doctorate program is a Doctor of Philosophy, or a Doctor of Science.
Some examples of the Research Doctoral Degrees are:
Doctor of Arts (DA): A DA enhances the abilities of thinking and writing in various contexts such as nature, philosophy, religion, and many others.
Doctor of Science (DSc): A DSc is the highest level of degree you can attain in the field of science.
Doctor of Divinity: This degree provides expert knowledge of religious study.
Doctor of Philosophy: This degree is the most common doctorate degree, as it covers a wide range of academic fields.
Universities That Offer Doctorate Degrees
Many universities offer doctorate degrees, some of which are listed below:
Career Opportunities After a Doctorate Degree
Here are some career paths you can take after completing a doctorate degree:
Research scientist
Professor
Analyst in various sectors
Lawyer
Scientific advisor
Editorial writer
Government department advisor
Business developer manager
What Is A Graduate Degree Conclusion
If you want better access to job opportunities, you might consider pursuing a graduate degree. Benefits like networking, high earning potential, and career growth make graduate degrees attractive to prospective students. But, a graduate degree meaning isn't only found in practical benefits. Graduate degrees offer a unique opportunity to indulge in a specialized interest and fulfill your learning goals.