How to get a PhD: Steps and Requirements Explained
Interested in obtaining a PhD? Learn more about the steps to earn a PhD, careers with PhD, list of colleges offering programs and more.
College Monk — How to Get a PhD
A PhD is a postgraduate doctoral degree awarded to those students who produce an original thesis and make a significant research contribution to their respective field.
PhDs are available for those in a variety of different fields, and it's often considered the highest and most well-respected degree available. Earning a PhD truly establishes someone as an expert in their field and indicates the deepest level of knowledge on a particular subject.
What is a PhD?
PhD — technically short for Doctor of Philosophy — is a type of doctoral degree, often considered the highest-level degree one can earn.
A PhD is a type of research degree that requires students to do an extensive amount of research and produce an original work, known as a dissertation.
People often use their PhD as a launchpad to pursue a career in academia. But, it's also a popular option for those pursuing a career in STEM.
Those with PhDs make up a fairly exclusive club. Data from the US Census Bureau shows that fewer than 5% of the population holds a doctorate. And it's not surprising, considering it often takes up to eight years to achieve this coveted title and requires writing an original dissertation the length of a book.
A PhD is actually just one type of doctoral degree. PhDs are research-focused. The other type of doctorate is application-focused (also known as an applied doctorate).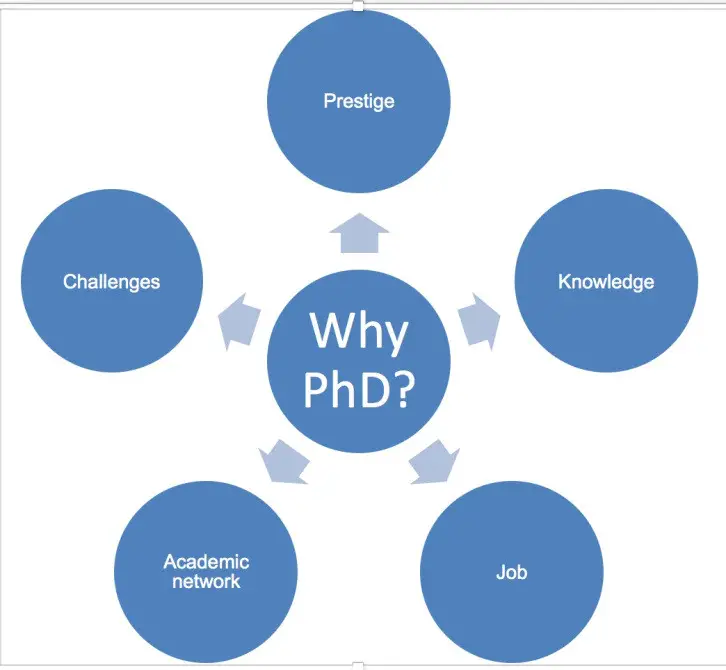 Source: https://strathsltresearchers.wordpress.com
PhD admission requirements 
Not just anyone can earn a PhD. Given how well-respected the title is, it takes a lot of work and very specific criteria to enter a doctoral program.
The most basic requirement that all PhD candidates must have is a bachelor's degree from an accredited institution. You won't be accepted without this. You also usually need a high GPA.
Another requirement is a statement of purpose. In this statement, doctoral candidates will describe why they're seeking a PhD, what they've done so far to prepare themselves, and what goals they plan to accomplish later.
Finally, PhD applicants will need several letters of recommendation. 
If you're considering pursuing a PhD, it's critical that you work to build relationships with professors and mentors who might recommend you. There's a lot of competition, especially for the top PhD programs, and excellent recommendations will help you to stand out.
Keep in mind that the requirements might vary somewhat from one school to the next, so it's important to do your research and decide ahead of time where you'll apply.
Steps to obtain a PhD
Earning a PhD is no easy feat. It takes most students years to do so. Let's look into the steps someone must take to get a PhD.
Step 1: Complete an undergraduate degree
Before you can take the next step toward your PhD, you'll first have to receive a bachelor's degree through an undergraduate program at a reputable university.
This education will provide the foundation for your more advanced coursework later. It's important that you maintain a high GPA throughout your undergraduate years.
Step 2: Complete a master's program
Once you complete your bachelor's degree, the next natural step is to pursue a master's degree.
Graduate school requires that a student take the Graduate Record Examinations (GRE) or the Graduate Management Admissions Test (GMAT). A master's degree typically takes about two years to achieve, and will be in a particular field of study.
While not technically required for a PhD, most people earn a master's degree before earning their PhD.
Step 3: Apply for a PhD program
Once you complete your graduate program, it's time to apply for your PhD program.
There are many doctoral programs to choose from, so it's important that you research and find the best fit for your field of study.
During the application process, you'll have to submit the following:
A completed application
Undergraduate and graduate transcripts
A resume
Your GMAT or GRE scores
Letters of recommendation
A statement of purpose
Step 4: Complete your coursework
When you begin your PhD program, you'll start by taking your coursework. 
As is usually the case with undergraduate and graduate programs, you'll likely have some required courses and some electives. Usually, students will prepare their own plan of study for the courses they'll take over the next couple of years.
Step 5: Prepare a research proposal
A research proposal is a document that outlines what, exactly, a PhD student will focus on during their research. 
A research proposal should include the major question or questions someone plans to answer with their dissertation, and how exactly they plan to arrive at that answer. 
Even though the proposal won't be a part of your final thesis, it plays a vital role in shaping your PhD.
Step 6: Complete a literature review
The literature review is the first thing you'll do before starting your project report.
In this review, you'll conduct an in-depth study of all the research in your field. During this phase, a doctoral student should critically assess the existing literature on their topic and find gaps they may be able to fill with their research.
Step 7: Research and collect results
Once a student has completed their literature review, they'll do more first-hand research and perform experiments to help answer the questions they're exploring for their dissertation.
Step 8: Produce a thesis and write a dissertation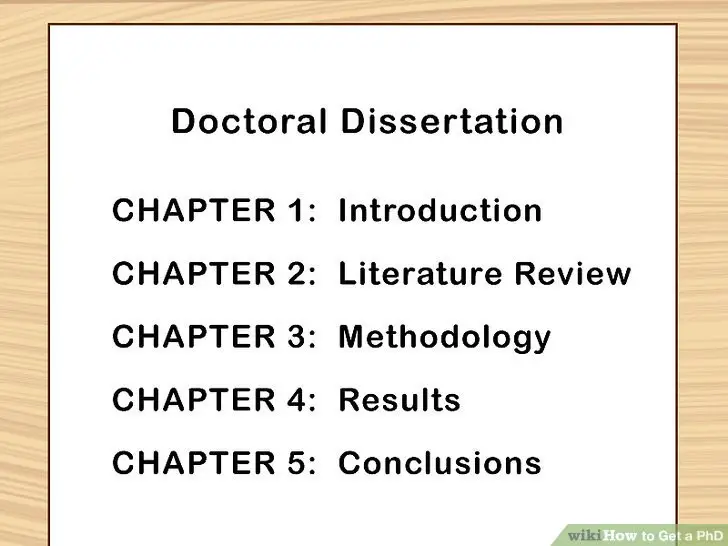 Source: https://www.wikihow.com
Once you've completed your research and gathered sufficient results, it's time to write your final thesis and dissertation. 
Though the two terms are often used interchangeably, your thesis is the argument or conclusion you've arrived at, while your dissertation is where you demonstrate your thesis.
Your dissertation is the culmination of all the research you've done. Dissertations are original work and often focus on a newly developed theory. A dissertation is roughly the length of a book, and can often take years to produce.
Step 9: Viva Voce
Viva voce is a Latin phrase that means "with living voice" or "by word of mouth." It's also the final — and one of the most important — steps in the process of earning a PhD.
Unlike other degrees, where you take a final exam, a PhD candidate must defend their thesis before a panel of appointment examiners. It's common for the examiners to ask many questions, and this process can often take several hours.
Once you successfully complete your viva voce, you'll be awarded your doctorate and can add that coveted "Dr." to your title.
Online colleges offering PhD programs
Many students choose to pursue a PhD through an online doctoral program for the flexibility and convenience it brings. 
Here are a few popular online PhD programs:
What can you do with a PhD?
A PhD is the highest-degree that someone can earn. But after all those years of work, what exactly can you do with your degree?
One of the most common career paths for someone with a PhD is academia. Those with a doctorate degree often go on to teach at universities or spend their careers performing research, not all that different from what they did to earn the degree in the first place.
But academia isn't the only option for PhD recipients, nor is it the most lucrative. 
PhD students often study STEM fields — science, technology, engineering, and math. Those industries are thriving today more than ever, making it a great field for those holding a doctorate.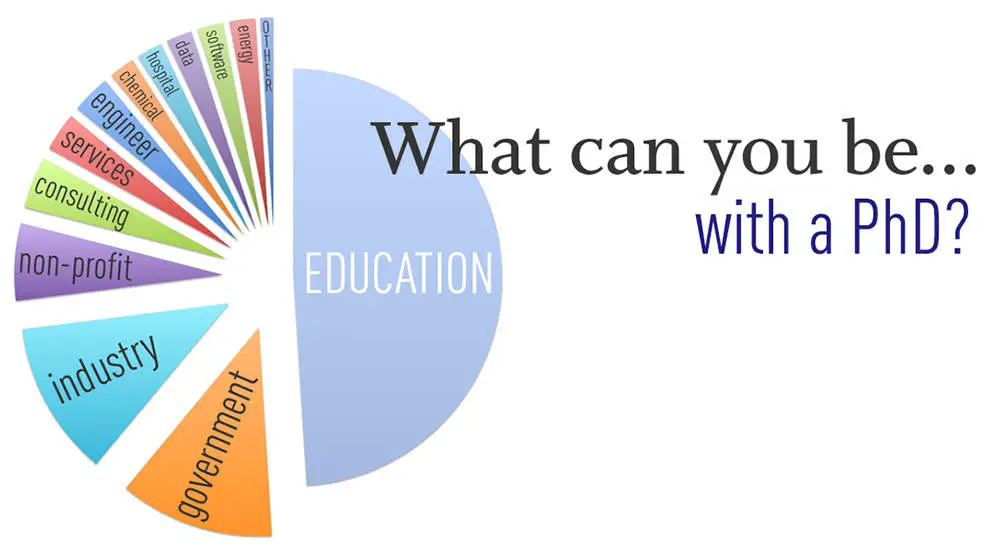 Source: https://www.jax.org
Some of the highest-paying PhD fields include:
Information assurance
Economics
Computer science
Biochemistry and molecular biology
Organic chemistry
Though academia and STEM may be the most common paths for PhD participants, they're hardly the only ones. There are many options available to someone with a PhD. Other non-STEM fields include clinical psychology, market research, business development, linguistics, and intelligence.
Conclusion
A doctorate is the highest level of degree someone can achieve. There's no doubt that it takes a considerable amount of work, and it takes most people years to achieve this recognition. 
It's important to understand these trade-offs before you get started. But once you earn your PhD, you will hold one of the most highly-respected titles in the academic field and have a lot of doors open to you.
Frequently Asked Questions
1.1) How long does a PhD take?

A. According to CBS news on an average, an American Student takes 8.2 years to complete their Ph.D. This can change according to various courses and in various countries.

2.2) What qualifications do I need?

A. In US Bachelors degree holders can also apply for Ph.D. For applying in a PhD program one should have completed 16 years of formal education. Qualification in the entrance test is also necessary.

3.3) Can I take PhD as a part-time?

A. Yes, part-time PhD is possible, and it has a more flexible schedule with classes and degree completion. In some programs, a minimum one-year residency is required. But, part-time PhD will take more time, and managing a part-time PhD will be more challenging.

4.4) What is M.Phil?

A. A M.Phil qualification is less advanced than that of a PhD. In this, the students are expected to master a content area and it can be mastered in two years. Moreover, the PhD dissertation takes more time than an M.Phil dissertation.

5.5) What are Financial Aid options available for me?

A. For Ph.D. there are a lot of financial aid opportunities available in the form of Scholarship and loans. Eg: National Science Foundation Graduate Research Fellowship Program.