What is Acceptance Rate?
A college's overall quality and prestige are determined in part by its selectivity, of which acceptance rate is the main indicator. Learn more about acceptance rates and the factors affecting it in this article.
Updated by Avinash H on 18th February 2020
The acceptance rate is the percentage of applicants who are accepted in a university. It is calculated by the total no of applicants against the number of students accepted. A lower acceptance rate gives an indication of a school being very selective in nature hence, admitting a fewer number of students. Despite the hype around this, the truth is, it does not really tell you much about the quality of the school. It's a measure of its exclusivity, not necessarily it's quality or worth.
In this post, we'll take a closer look at acceptance rates. If you're getting ready to apply to college, and you're wondering just what the acceptance rate hype is all about, keep reading.
---
Factors influencing Acceptance Rate
Well, it is difficult to predict the exact factors which contribute to the figure which a college puts up as the "acceptance rate."
However, the most obvious factors which we think can be the major contributors towards the acceptance rate are as follows:
It is vital to see how you perform compared to the average SAT and GPA of your required college.

Figuring out the acceptance percentage compared to actual enrollment for understanding the selection procedure of a particular college/university.

Taking a step ahead, establish a lot of context around the acceptance rate proportion compared to the school's tuition, fees, and financial aid.

Last but not least, compare every college's acceptance rate to that of other colleges.
It is usually a little tougher to get into the colleges having a lower acceptance rate because of the tough competition which one has to face to cut through their chance to achieve a seat. In the next section, let's look into some of the things one can do to ensure their chance of admission in the colleges having a lower acceptance rate.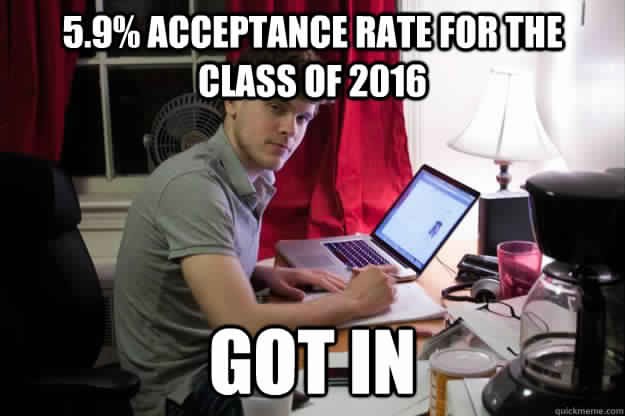 Source: www.quickmeme.com
---
Colleges With Lower And Higher Acceptance Rates
Now let's look into the list of colleges/universities with low and high acceptance rates respectively.
Lowest Acceptance Rates
Let's look into some of the well-known colleges with a low acceptance rate.
| | |
| --- | --- |
| Institution | Acceptance Rate |
| Harvard University | 6% |
| Yale University | 6.30% |
| Columbia University | 7% |
| Alice Lloyd College | 7.10% |
| Princeton University | 7.40% |
| Massachusetts Institute of Technology (MIT) | 7.90% |
| United States Naval Academy | 7.90% |
| College of the Ozarks | 8.30% |
Highest Acceptance Rates
Let's now look into some of the colleges which are popular as well as offers a higher acceptance rate.
| | |
| --- | --- |
| Institution | Acceptance Rate |
| Academy of Art University | 100% |
| Bismarck State College | 100% |
| Boston Architectural College | 100% |
| City University of Seattle | 100% |
| CUNY–College of Staten Island | 100% |
| Dixie State University | 100% |
| Granite State College | 100% |
| Indian River State College | 100% |
| Metropolitan State University | 100% |
| Montana State University-Northern | 100% |
---
Applying to Colleges with Low Acceptance Rates
In order to ensure their chance of getting selected into one of the colleges whose acceptance rate is lower, students should strictly have the following at their disposal.
GPA and standardized test scores like the SATs will both play a significant factor. Hence, students should ensure a higher GPA and a good SAT or GRE score. Many colleges or universities which top the league often expect way more than a high GPA or SAT score. They expect a student to have a few recommendation letters from their professors or a worthy portfolio which showcases their significant participation in extra-curricular or social activities.
Well having said so, is it only the colleges or universities with a lower acceptance are the ones who provide better education?
Let's also look into the benefits of getting into the colleges with relatively higher acceptance rate.
---
Benefits of Schools with High Acceptance Rates
Colleges with a lower acceptance rate are easier to get through. The more one is interested in colleges with higher acceptance rates, due to their specialized programs, unique locations, the more options it opens for one likely to choose from when it comes to the point of making a well-informed decision.
Colleges with high acceptance rates can be a good option for students with relatively lower grades, lower test scores, or those who are looking for colleges which provide better safety.
---
What does a super low acceptance rate tell me about a college?
A low acceptance rate actually does not convey much information about a college as a whole apart from the fact that it typically receives far more applications than what it finally accepts. While this might give an indication of the type of students who want to attend, but it is really not an indicator of the type of students who graduate from such a college or university.
---
Conclusion
While an acceptance rate tells you one thing regarding how many students are competing for admission in the particular college, but it conveys a very little information regarding the standard of the education that one might obtain once you're there. One should never get disheartened by the overwhelming acceptance rates — they might be true but for a few selective colleges.
There are several alternative high-quality colleges out there, and the overall national acceptance rate is actually increasing, and by applying to 14-15 different colleges also increases your chance of acceptance.