What to Wear to a College Interview
Wondering what to wear to a college interview? Learn all about professional interview attire and how it can bring you closer to college acceptance!
You just heard back from your college of choice, and they've asked you to come in for a college interview. Congratulations! That's one step closer to acceptance!
We know that you'll need to set aside time for your interview. Think about what the interviewer might ask, and brainstorm accomplishments and stories that will make them want you to go to their school!
But are you wondering what to wear to a college interview? How can you offer a great first impression with your appearance? We'll cover everything you need to know about what to wear to a school interview, college interview attire, college interview dress codes, and everything else you need to know to look sharp and feel confident!
Does Looking Good For Your College Interview Really Matter?
Your grades and accomplishments should speak for themselves, right? Wrong. No matter how good your grades are, your appearance speaks to all the things your college application doesn't. Your sense of professionalism, your level of care, confidence - you communicate all these things with your look. 
And, colleges want their students to display accurate and professional representations of their schools! Your look isn't only about you — it's about the college's reputation as well!
College Interview Dress Code and Ideas for College Interview Clothes
Is there a college interview dress code? Not an official code, but certainly an unspoken code! College advisors and staff will leave it to you to show up to your interview looking professional and sharp. You're an adult, and colleges won't waste their time babying you for your interview. 
Here are some ideas for college interview clothes that you can start with:
Dry cleaned or washed and ironed dress pants and dress shirt
Opaque dress shirt with a collar and buttons
Skirts and dresses that don't come above the knee
Tie 
Cardigan or sweater vest
Blazer
Closed-toe shoes
Leather handbag or satchel
Classy, simple jewelry
Belt
Can you wear jeans to a college interview? Certainly not. You have one day to make a solid first impression, so you can save your jeans for more casual occasions. 
How can you put all the above-listed clothing together? Read on to learn about clothing styling tips for your college interview. 
Styling Tips for College Interview Attire
Here are some tips for your overall style that will help you impress your interviewer. 
   1. Wear Neutral Colors
Is there any dress color for interviews in college? Yes — neutrals. Neutral colors are the common palette for business professional and business casual clothing. Black, grey, brown, white, and navy blue are some examples of neutral colors. 
These colors go with most accessories, shoes, and handbags, making it easy to style your outfit. And, they ensure the interviewer's attention is on you and your interview, not the clashing or loud patterns and colors of your clothing. 
Save eccentric patterns and bright colors for a party or luncheon —for now, you want to channel coolness, calmness, and professionalism. 
    2. Clean Your Nails
Nails are a small part of your appearance in size, but massive in vision and impression. Believe us - your interviewer will notice long claws, dirt under your nails, and vibrant-colored fake nails. 
Ladies might wonder: is it OK to wear nail polish to an interview? We think so, as long as the color is subtle and not too attention-grabbing.
Keep things clean and simple by cutting your nails to a reasonable length, cleaning the dirt from underneath them, and perhaps adding a soft nail polish if you like,  for female students.
    3. Don't Show Too Much Skin
This goes for both men and women. Ladies, keep skirts and dresses at the knee-length and don't pick a shirt that shows too much cleavage. Men, always wear pants and a long-sleeved shirt. No matter your gender, you should aim to channel a conservative look. Showing too much skin might look unprofessional. 
    4. Iron Your Clothes
Don't show up to an interview with a wrinkled shirt, pants, or dress. This looks unprofessional, as it tells the interviewer you couldn't be bothered to care about the state of your clothing. Iron or steam your clothing to remove wrinkles — or even better, take them to the dry cleaners. 
    5. Shower and Fix Your Hair
This should be a given, but we'll add it just in case. Make sure your hygiene is perfect for your interview. Shower the morning of or the night before, wear deodorant, and maybe spray a light amount of a neutral, not-too-strong cologne or perfume. 
Your hair should be washed and combed. Ladies might wonder: is it ok to wear your hair down for an interview? Wearing it down, up, natural, or styled doesn't matter so much as long as you look neat and put together. 
What to Wear to A College Interview: Female 
Female prospective college students have so many options when it comes to college interview attire! 
You can pair silky dress shirts or oxford shirts with a wool cardigan to add some texture and body to your outfit. You might consider a short heel to add some length, but flats are fine as well. Opt for neutral colors, but feel free to add a subtle pop of color through your accessories. 
And, you can have fun with jewelry as long as your pieces aren't too extravagant. Opt for a classy stud pair of earrings, a simple gold-colored bracelet, or a soft pendant necklace. 
You should ensure you feel comfortable, so avoid heels if you can't walk in them, and make sure your clothes aren't too loose or too tight.
Here's an example of a great college interview outfit for female students: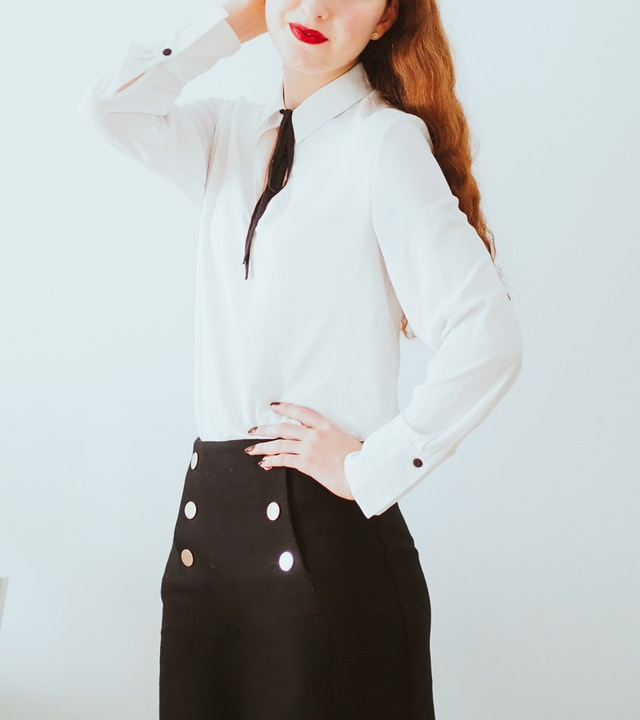 College Interview Outfit: Male
Surprisingly enough, men have just about as many options as women when it comes to college interview attire! While we recommend neutral colors, men can add a light-colored blazer to add some movement to their look. 
Avoid bow-ties and loudly colored neckties, and make sure your shoes are closed-toe, shined, or at least clean, and professional. Put everything together with a classy, simple wristwatch and a belt to keep everything in place. 
Here's an example of a great interview outfit for a male student: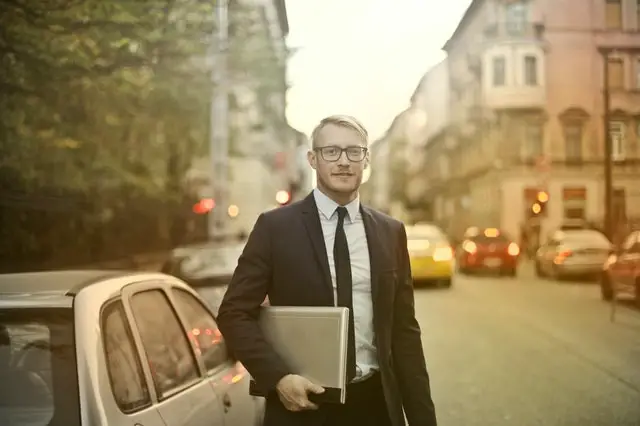 Tips for Virtual College Interviews
With the COVID-19 pandemic, many schools opted for online learning models and thus, virtual college interviews as well. Make no mistake — your college interview attire should remain the same whether you're interviewing in person or virtually. Here are some college interview attire tips for your virtual interview:
    1. Keep the Background Clean
Your background is part of your attire in a virtual interview. Make sure it's clear of clutter.
    2. Wear Pants
With new work-from-home models, it might be tempting to skip the pants, wear boxers, and keep the camera on your shirt and torso. This might have disastrous consequences if you forget even for a moment and stand up! 
    3. Allow the Camera to Show Your Torso
Make sure your camera shows your torso and not just your head and neck. You put effort into your outfit, so your interviewer should see it!
What NOT to Wear For College Interview Attire
Let's run through a quick list of faux pas for your college interview:
Jeans
Crop tops
Sheer clothing
Loud patterns and colors
Sandals
Running shoes
T-shirts
Wearing any of the above items will tell your interviewer that you don't take them or their college seriously enough to put effort into your appearance. 
Conclusion
First impressions matter and can set the stage for your entire college career. Keep the above tips in mind when deciding what to wear to a college interview so that you can look, feel, and appear your best! If you're preparing for your college interview, check out our article about what it means to be offered a college interview.