When Do ACT Scores Come Out? Important 2022 - 2023 Dates
After taking the ACT, your next question might be, "when do ACT scores come out?" In this guide, we'll tell you everything you need to know about the wait.
When it comes to ACT results, how long does it take for you to get yours? Once you walk out of the test center, you're probably instantly wondering, "how long does it take to get my ACT score back?"
It's normal and even expected that you may feel nervous while you wait for your test scores. 
After all, the ACT, or American College Testing, is a standardized test that universities use to evaluate student college applications. 
The test also plays a role in determining scholarship eligibility for students, as well as overall admission eligibility. A good ACT score can help you get scholarships to pay for higher education. Scoring high can also improve your chances of getting into your school of choice, even if admissions tend to be on the competitive side.
Knowing your ACT composite score (and individual section scores) can help you decide whether you need to retake the test or not. Your results will also indicate where you need to put in a little more work so you can do better next time. So, when do ACT scores come out?
In this article, we answer all your questions, such as "when are ACT scores released?" and "how do I send my scores to colleges?" Let's get right to it!
When Do ACT Scores Come Out? ACT Score Release Dates 2023
When do ACT scores come out, March 2023? For some people, particularly those who took their ACT on February 11, 2023, the answer is yes. If you'd like to know more about the estimated score release dates (and even the answer to the question, "when do June ACT scores come out?"), check out the table below.
| | |
| --- | --- |
| Your Test Date | Estimated Release Dates |
| Jun 11, 2022 | Jun 21 - Jul 5, 2022 |
| Jul 16, 2022 | Jul 26 - Aug 9, 2022 |
| Sep 10, 2022 | Sep 20 - Oct 4, 2022 |
| Oct 22, 2022 | Nov 1 - Nov 5, 2022 |
| Dec 10, 2022 | Dec 20, 2022 - Jan 3, 2023 |
| Feb 11, 2023 | Feb 21 - March 7, 2023 |
| Apr 15, 2023 | Apr 25 - May 9, 2023 |
| Jun 10, 2023 | Jun 20 - Jul 4, 2023 |
| Jul 15, 2023 | Jul 25 - Aug 8, 2023 |
Estimating Your Score Release Date
Wondering, "when do ACT scores come out for a 2022 national test date?" There's a relatively easy way for you to estimate the earliest dates you might receive your test results.
ACT scores usually come out ten days after the test date at the earliest. ACT Writing test scores take longer. They are usually available two weeks after multiple-choice scores are released.
Given this knowledge, you can start making for your estimates for your result release dates.
ACT test dates are usually scheduled for Saturdays. Add ten days, and you'll likely get a date that falls on a Tuesday. Remember that although you can get your results within ten days, it's not unlikely your results may come late for various reasons.
So if you're asking yourself, "when will the October ACT scores be available?" you can simply make your estimate as above.
What Time Do ACT Scores Come Out?
Part of answering the question, "when will ACT scores come out?" is knowing what time ACT scores typically come out. Let's go over the ACT results time really quickly below.
ACT scores come out once a day (in batches) at 12 am Central Time (11 pm Mountain Time, 10 pm Pacific Time, and 1 am Eastern Time).
If you're really anxious and can't wait much longer, you can stand by and refresh the page every few minutes on your estimated release date. However, we recommend you check once a day and stay busy to reduce your anxiety about your scores.
How to Get Your ACT Scores
Another question students might ask after taking the ACT is, "how do I get my ACT scores?"
To access your ACT results, follow these steps:
Step 1: Log on to your ACT account.
Step 2: On the ACT Student homepage, click on "Your Test Dates and Scores" in the left column 
Step 3: Select your ACT test date, then click "View Your Scores."
Step 4: Enter your password once more to verify your account. Then, you will see your composite ACT score (out of 36), followed by the section areas and subscores.
Step 5: Click "Download student report pdf."
Step 6: Keep the pdf file, or print a copy in desktop format. 
When Do Schools Receive Your ACT Scores?
How long do ACT scores take to send to your schools of choice? 
Schools typically receive ACT scores one week after the requested date. Colleges receive ACT scores once every two weeks. Some colleges, however, can obtain scores more frequently depending on how they've indicated their frequency preferences.
Regular score reports can take up to a week in processing. And although you can make estimates as to when you might expect your results, the exact dates can and will vary depending on the school and when you first ordered your report. Colleges will always receive your multiple-choice and essay scores in the same result, which means if your writing section results have not yet come out, colleges won't have received any score reports.
It's worth mentioning that if you've set up a few colleges to automatically receive one of your four free reports, there's a pretty good chance they'll get your scores before you even find out about them.
The provision for a priority report reduces the length of the scoring process to two working days after you make the request. Priority score reports are available to the schools three to four business days after you submit the request.
How to Send Your Scores to Colleges
Sending your scores to your colleges of choice is a relatively simple process. When you register for the ACT, you get four free score reports you can set to send automatically to your schools. You'll need to set which schools you want the reports to go to during your online registration.
There are advantages and disadvantages to having your scores sent automatically to your colleges. By sending them automatically, you can take advantage of the free reports that come with your exam registration. However, there's a pretty good chance you may want to see your scores beforehand so you can decide whether to do an ACT retake. In that case, it'd be best not to send your reports automatically.
Unfortunately, if you choose not to take advantage of the free results, you'll need to pay $16 for each report. Luckily, you may be able to qualify for a waiver of this fee.
Why Does It Take So Long to Get My ACT Score?
You have to wait how long for ACT results? Don't worry — it's really not all that bad. You can receive your ACT scores (on the multiple-choice section) as soon as ten from when you took your exam. However, it's entirely possible your scores may take longer for one reason or another.
It's perfectly normal to feel anxious while you wait for your ACT test score release. In fact, many other ACT test takers like you likely wait with bated breath wondering, "what time do ACT scores come out?" and double and triple-checking the answer  to the question, "when are ACT scores released in 2023?"
We showed you the ACT score release dates for 2022 to 2023 above. But if you're well past the estimated dates and you still haven't gotten your ACT test results, what gives?
You're probably even asking, "why are my ACT scores delayed?"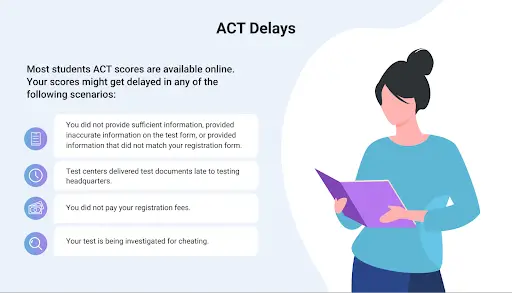 Most students' ACT scores are available online. Delayed scores might be the result of any of the following scenarios:
You did not provide sufficient information, provided inaccurate information on the test form, or provided information that did not match your registration form.
Test centers delivered test documents late to testing headquarters.
You did not pay your registration fees.
Your test is being investigated for cheating.
The reasons above may not be the only reason why your scores might be late. Sometimes, it could be late for an entirely benign reason. It's not uncommon for results to arrive within six to seven weeks from the exam date. Sometimes, it can take up to eight weeks.
If you're taking the ACT outside of the U.S., then you should prepare for the possibility of waiting for a longer period of time to receive your results. It may take three to four weeks for your multiple-choice scores to come out and an additional two weeks to get your writing score.
In some cases, ACT results may get delayed, but all results should be out within a maximum of eight weeks of the test date.
If you took the ACT test outside the U.S., then you will have to wait for around three months at most. 
Read on to learn more about how ACT grading works, what a good score on the ACT is, and when you can expect to receive your results.
How Does ACT Grading Work?
When you take the ACT, it's important to understand how ACT grading works. This makes it possible to dissect your composite score to determine how you did overall. Knowing how a composite score is reached also allows you to better figure out where you can improve your ACT test score.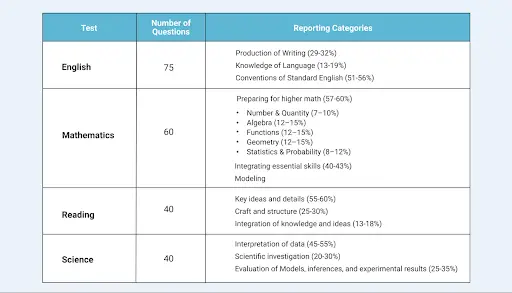 The ACT comprises five sections: English, math, reading, and science — then the optional writing exam. Each section is further broken down into different topics within that subject.
Each of the multiple-choice sections of the exam is scored on a scale from 1–36, with higher scores indicating that you performed better. The writing exam is graded on a scale of 2–12.
Each section of the exam focuses on testing the student on the material they should have learned through their junior year of high school. 
For example, the math test focuses on things like algebra, geometry, and statistics. The English exam, on the other hand, focuses on knowledge of language and writing.
Learning how your ACT test score is computed allows you to get a better understanding of how you did once you get your ACT scores released. When you receive your results, you'll get to view your score on each section of the ACT. Your score report will also provide your percentile ranking within your state and nationally, as well as a detailed breakdown of your skills in each subsection of the exam.
What Is the ACT Readiness Benchmark?
The ACT Readiness Benchmark is the score that the ACT believes is necessary for a student to have a good chance of succeeding in their first year of college.
College classes can be difficult, and not all students may be able to handle the rigor of the classes, studying, homework, and exams. The ACT hopes to help students learn about the subjects that they're prepared to move forward in.
The ACT bases the benchmarks on whether a student can reasonably expect to earn a B or higher, as students who earn Bs in their first-year courses have a higher chance of completing college. The benchmarks are calculated using the college results and ACT scores of actual students from across the country.
If your ACT scores are higher than the ACT Readiness Benchmarks, you can reasonably expect to succeed when you go to college.
What Is a Good Score on the ACT?
There are many ways to measure whether an ACT score is good or not. For example, you could say any score that's higher than the one you expected to get is a good ACT score.
In general, a good baseline for a good ACT score is the ACT's College Readiness Benchmark. If you can surpass the benchmark, it indicates that you have a good chance of succeeding in college.
Of course, if you're applying to highly prestigious and competitive schools, you don't want to settle for reaching the benchmark. You'll want to surpass it because higher scores often mean a better chance of getting into the school of your choice. 
A good way to compare your score to that of other students is to look at the percentile that you fall into. This shows what percentage of students you outperformed on the test. For example, if you are in the 75th percentile for the English exam, you performed better than 75% of the students who took the test.
The average score for each section in 2020–2021 was:
Science: 20.6
Composite: 20.7
That means that earning a 21 in each section will put you in the top half of students.
Related: Learn more about the highest ACT score possible
Conclusion
So when do ACT scores come out? In summary, ACT multiple-choice test results can come out as soon as ten days after your exam date. If you took the ACT written test, you'll need to wait at least two more weeks to receive that score as well. Use this information to guide your estimates as to the earliest possible dates for your scores' release. Remember that your ACT timeline won't be exactly the same as others, so don't panic if your results don't come out right away. You may want to wait up to eight weeks before you reach out for assistance.
It's completely understandable to feel anxious while you're waiting for your ACT results. Just remember that disappointing test scores don't automatically mean your applications are doomed — you can attempt another retake if you need to. Good luck!
Not sure if you need to submit your ACT results? Learn more about colleges that require ACT test scores.
Here are some other articles from The College Monk that you might be interested in: