When do ACT Scores come out
Learn about the ACT results release date for the 2021–2022 academic year.
When Do ACT Scores Come Out? ACT Release Dates (2021–2022)
Learn more about ACT results and ACT score release date schedules for U.S and non-U.S students for 2021–2022.
The ACT, or American College Testing, is a standardized test that universities use to evaluate student college applications. The test also plays a role in determining scholarship eligibility for students, as well as overall admission eligibility. 
After taking the ACT, students might wonder: "When do ACT results come out?"
ACT scores usually come out ten days after the test date, at the earliest. However, in some cases, it may take six to seven weeks after the test date for students to be able to access their ACT test scores. 
ACT Writing test scores take longer. They are usually available two weeks after multiple-choice scores are released. 
A good ACT score can help you get scholarships to pay for higher education. Our database contains scholarships based on your eligibility, state, application deadline, and more.
If you're taking the ACT outside of the U.S., then you should prepare for the possibility of waiting for a longer period of time to receive your results. It may take three to four weeks for your multiple-choice scores to come out and an additional two weeks to get your writing scores.
In some cases, ACT results may get delayed, but all results should be out within a maximum of eight weeks of the test date.
If you took the ACT test outside the U.S., then you will have to wait for around three months at most. 
Read on to learn more about how ACT grading works, what a good score on the ACT is, and when you can expect to receive your results.
ACT results dates
After taking a test, students could wait as long as two to three months to learn about their results.
ACT test dates and ACT score release dates differ for U.S. and non-U.S. students. See the table below for a detailed list of ACT test dates, registration deadlines, and score release dates for both U.S. and international students. 
ACT scores release dates (2021–2022, U.S. students)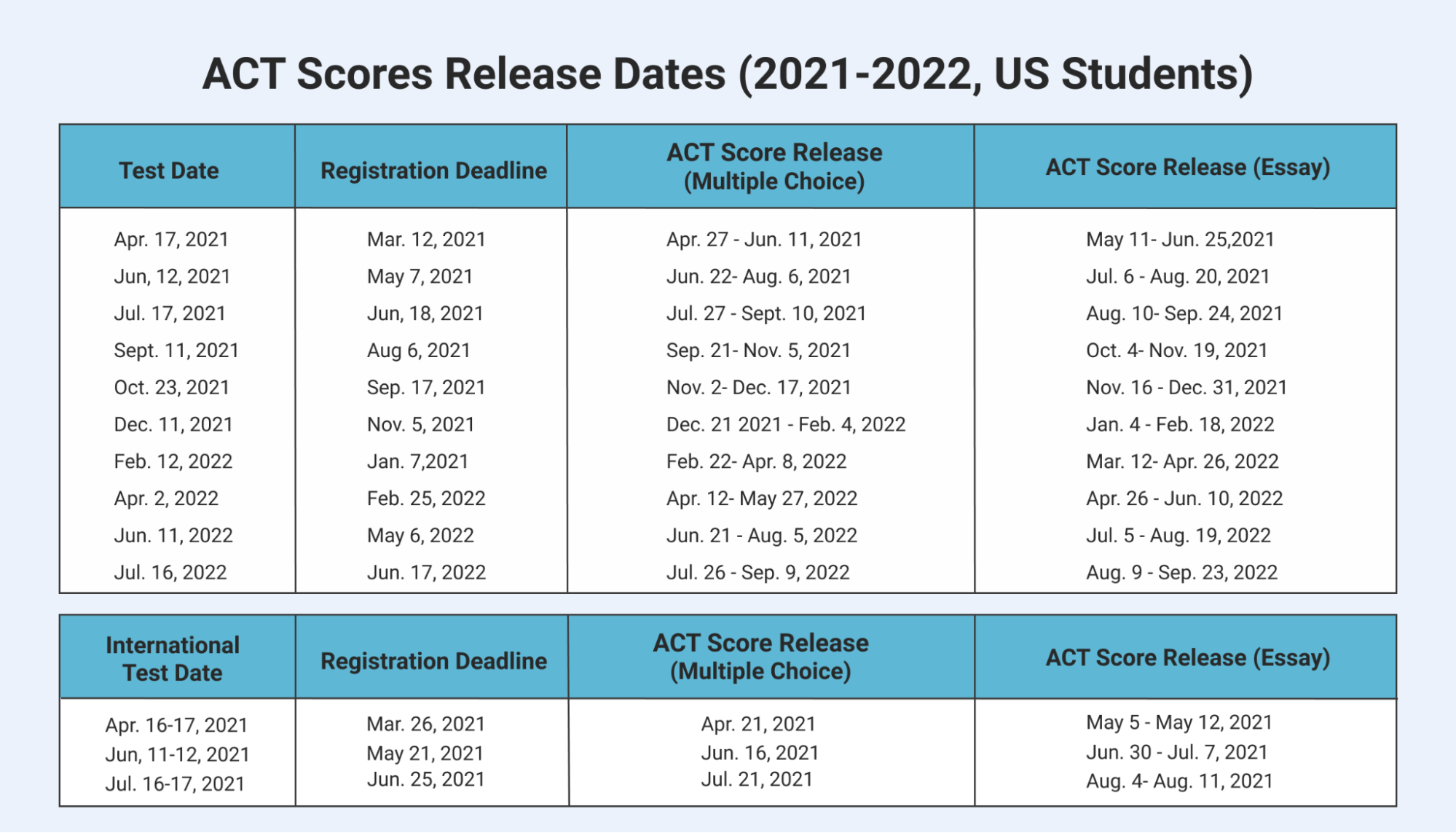 This table shows the exact ACT result dates for U.S. students who take the test in 2021-2022: 
Test Date

Registration Deadline

ACT Score Release

 (Multiple choice)

ACT Score Release (Essay)

Apr. 17, 2021

Mar. 12, 2021

Apr. 27 - Jun. 11, 2021

May 11 -  Jun. 25, 2021

Jun. 12, 2021

May 7, 2021

Jun. 22 - Aug. 6, 2021

Jul. 6 - Aug. 20, 2021

Jul. 17, 2021

Jun. 18, 2021

Jul. 27 - Sept. 10, 2021

Aug. 10 - Sep. 24, 2021

Sept. 11, 2021

Aug 6, 2021

Sep. 21 - Nov. 5, 2021

Oct. 4 - Nov. 19, 2021

Oct. 23, 2021

Sep. 17, 2021

Nov. 2 - Dec. 17, 2021

Nov. 16 - Dec. 31, 2021

Dec. 11, 2021

Nov. 5, 2021

Dec 21 2021 - Feb. 4, 2022

Jan. 4 - Feb. 18, 2022

Feb. 12, 2022

Jan. 7, 2021

Feb. 22 - Apr. 8, 2022

Mar. 12 - Apr. 26, 2022

Apr. 2, 2022

Feb. 25, 2022

Apr. 12 - May 27, 2022

Apr. 26 - Jun. 10, 2022

Jun. 11, 2022

May 6, 2022

Jun. 21 - Aug. 5, 2022

Jul.  5 - Aug. 19, 2022

Jul. 16, 2022

Jun. 17, 2022

Jul. 26 - Sep. 9, 2022

Aug. 9 - Sep. 23, 2022
ACT score release dates for 2021 (international)
Now, let's check out the ACT score release dates for international students:
International

Test Dates

Registration Deadline

ACT Score Release

(Multiple choices)

ACT Score Release (Essay) 

Apr. 16-17, 2021

Mar. 26, 2021

Apr. 21, 2021

May 5 - May 12, 2021

Jun. 11-12, 2021

May 21, 2021

Jun. 16, 2021

Jun. 30 - Jul. 7, 2021

Jul. 16-17, 2021

Jun. 25, 2021

Jul. 21, 2021

Aug. 4 - Aug. 11, 2021
Also, Read ACT Test Dates
You can also read about ACT test dates.
What time do ACT scores come out?
ACT scores are released once a day (in batches) at 12 am Central Time (11 pm Mountain Time, 10 pm Pacific Time, and 1 am Eastern Time).
When do schools receive your ACT scores?
Schools typically receive ACT scores one week after the requested date. Colleges receive ACT scores once every two weeks. Some colleges, however, can obtain scores more frequently. 
The provision for a priority report reduces the length of the scoring process to two working days after you make the request. The ACT scores are available to the schools in three to four business days after you submit the request.
What Causes Delays in ACT Score Releases?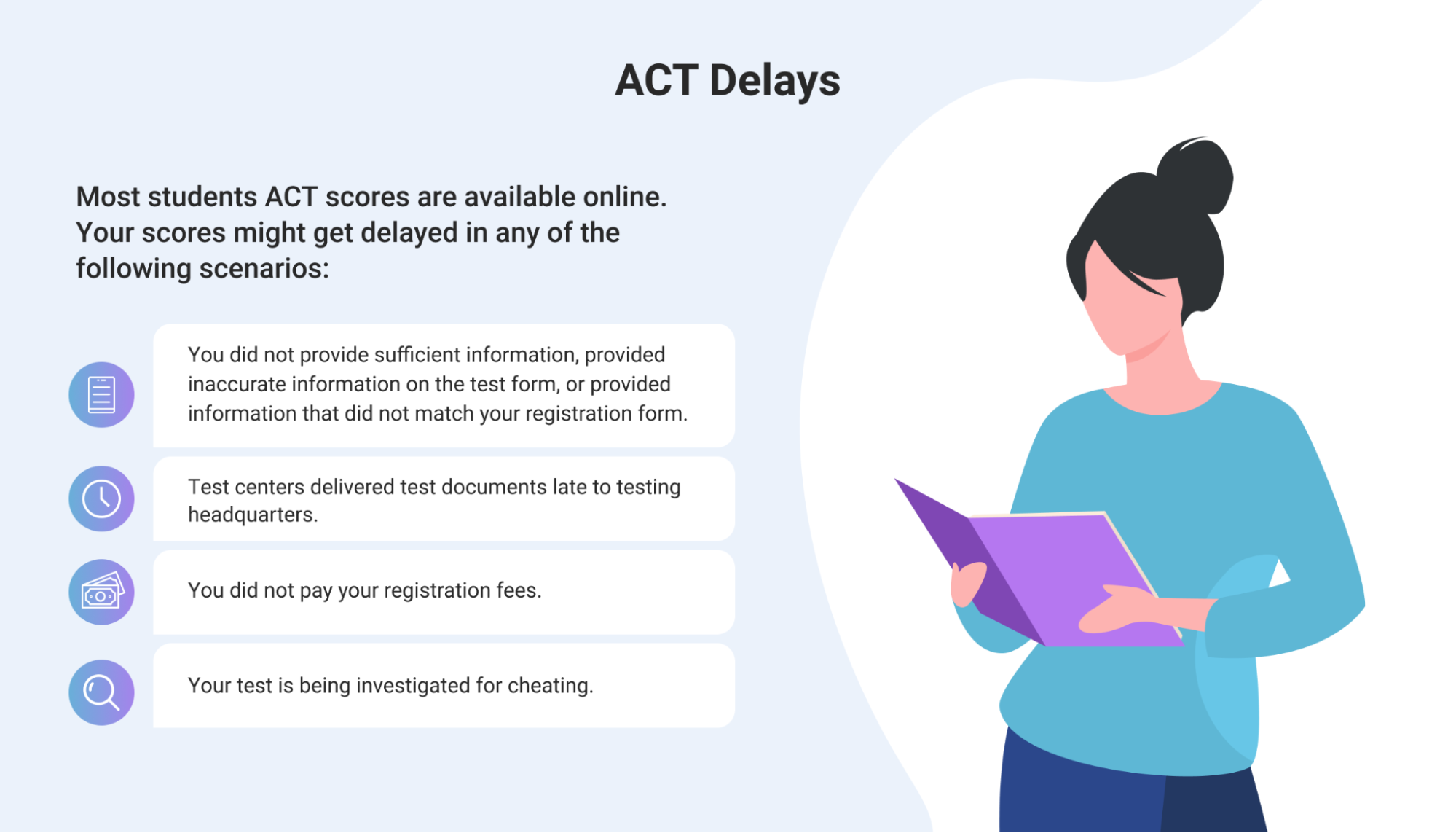 Most students' ACT scores are available online. Delayed scores might be the result of any of the following scenarios:
You did not provide sufficient information, provided inaccurate information on the test form, or provided information that did not match your registration form.
Test centers delivered test documents late to testing headquarters.
You did not pay your registration fees.
Your test is being investigated for cheating.
How does ACT grading work?
When you take the ACT, it's important to understand how ACT grading works.
Sections of the ACT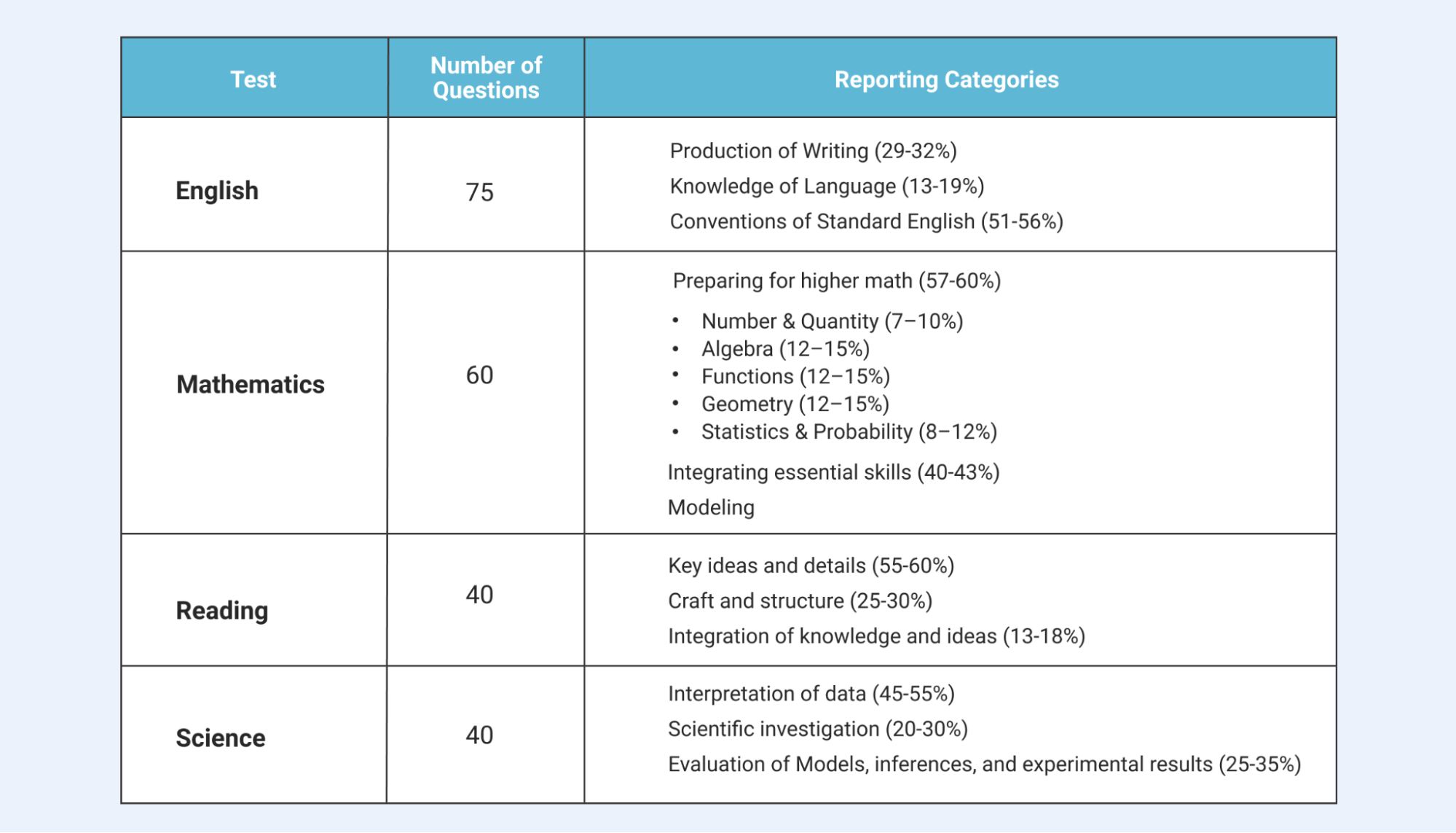 The ACT is broken down into five sections: English, math, reading, science, and an optional writing test. Each section is further broken down into different topics within that subject.
Each of the multiple-choice sections of the exam is scored on a scale from 1–36, with higher scores indicating that you performed better. The writing exam is graded on a scale of 2–12.
Each section of the exam focuses on testing the student on the material they should have learned through their junior year of high school. 
For example, the math test focuses on things like algebra, geometry, and statistics. The English exam focuses on knowledge of language and writing.
When you receive your ACT results, you'll get to view your score on each section of the ACT. Your score report will also provide your percentile ranking within your state and nationally, as well as a detailed breakdown of your skills in each subsection of the exam.
How to get your ACT scores
Another question students might ask after taking the ACT is, "how do I get my ACT scores?" 
To access your ACT results, follow these steps:
Step 1: Log on to your ACT account.
Step 2: On the ACT Student homepage, click on "Your Test Dates and Scores" in the left column 
Step 3: Select your ACT test date, then click "View Your Scores."
Step 4: Enter your password once more to verify your account. Then, you will see your composite ACT score (out of 36), followed by the section areas and subscores.
Step 5: Click "Download student report pdf."
Step 6: Keep the pdf file, or print a copy in desktop format. 
What is the ACT Readiness Benchmark?
The ACT Readiness Benchmark is the score that the ACT believes is necessary for a student to have a good chance of succeeding in their first year of college.
College classes can be difficult, and not all students may be able to handle the rigor of the classes, studying, homework, and exams. The ACT hopes to help students learn about the subjects that they're prepared to move forward in.
The ACT bases the benchmarks on whether a student can reasonably expect to earn a B or higher, as students who earn Bs in their first-year courses have a higher chance of completing college.
The benchmarks are calculated using the college results and ACT scores of actual students from across the country.
If your ACT scores are higher than the ACT Readiness Benchmarks, you can expect to succeed when you go to college.
What is a good score on the ACT?
There are many ways to measure whether an ACT score is good or not. For example, you could say any score that's higher than the one you expected to get is a good score.
In general, a good baseline for a good ACT score is the ACT's College Readiness Benchmark. If you can surpass the benchmark, it indicates that you have a good chance of succeeding in college.
Of course, if you're applying to highly prestigious and competitive schools, you don't want to settle for reaching the benchmark. You'll want to surpass it because higher scores often mean a better chance of getting into the school of your choice.
A good way to compare your score to that of other students is to look at the percentile that you fall into. This shows what percentage of students you outperformed on the test. For example, if you are in the 75th percentile for the English exam, you performed better than 75% of students who took the test.
The average score for each section in 2020–2021 was:
That means that earning a 21 in each section will put you in the top half of students.
Conclusion
Students should keep themselves updated on ACT score release dates and check the ACT account website from time to time. Staying updated helps you catch delays quicker, which allows for a smoother and hassle-free college application.
Here are some other articles from The College Monk that you might be interested in: